The 2019 NFL season is right around the corner, and here are this year's five main storylines to follow in the NFC.
As many NFL teams begin training camp this week, there's no emotion for NFL fans right now other than excitement. The season is finally here. This week will be the last week until February of 2020 without some sort of NFL game. The annual Hall of Fame Game will be on Friday, Aug. 1 between the Atlanta Falcons and Denver Broncos.
There are numerous storylines to pay attention to this season. There are multiple matchups to already circle on the calendar. Will certain teams who missed the postseason last year become playoff contenders this year? When will the New England dynasty finally end? Will the Cleveland Browns live up to the hype? So many questions to answer.
I'll be giving and discussing the 10 main storylines to follow in the NFL for the 2019 season. It'll be a two-part story, with this article regarding the five main storylines in the NFC. The second part will be the five storylines in the AFC.
That being said, let's talk about the NFC.
1. New York Giants: How will the Eli Manning-Daniel Jones situation pan out?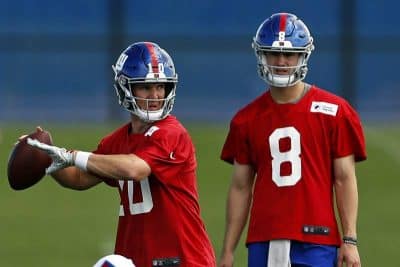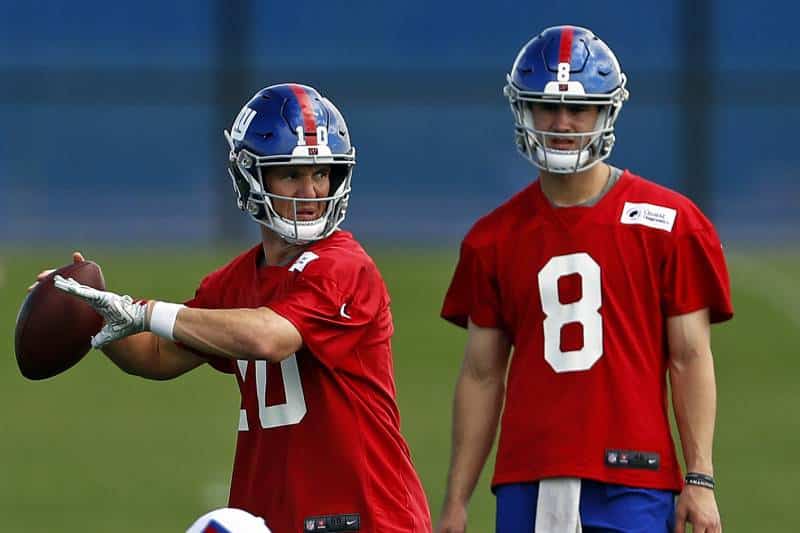 With the No. 6 pick in the 2019 NFL Draft, the New York Giants selected quarterback Daniel Jones out of Duke. It was the first time the Giants took a quarterback in the first round since they drafted their current starting quarterback Eli Manning in 2004.
So will the Manning rein finally end in 2019? Will Jones sit for a while before getting the nod to start? There are numerous ways this could pan out.
It seems when drafting a quarterback, some teams want to follow the "Patrick Mahomes model." This refers to the Kansas City Chiefs selecting Mahomes with the No. 10 overall pick in the 2017 draft and sitting him behind Alex Smith his rookie year. Mahomes only played in one game, the final game of the regular season. It was essentially a meaningless being that Kansas City had already made the playoffs.
This gave Mahomes the time to learn so he could gain the knowledge and tools to be as prepared as possible for when he got the starting job. The Chiefs then traded away Alex Smith to the Washington Redskins prior to 2018, Mahomes became the starter, threw 50 touchdowns, and won the NFL MVP award.
Because of that, some NFL teams now consider that method in order to prepare their rookie quarterbacks who they want to become the eventual starter. The Giants are one of those teams.
Giants general manager Dave Gettleman also brought up the "Green Bay model," which refers to Aaron Rodgers sitting behind Brett Favre for three years before getting the starting job. Following this specific model would mean Eli playing until he's 40? 41? Many fans would hate that and there's no doubt about it.
Despite head coach Pat Shurmur stating in June that every quarterback on the roster would be ready to play, this doesn't mean there'll be any sort of competition at the position.
Manning will no doubt be the starter for 2019. Jones needs to sit for the year and learn and be ready to go. I love Eli just as much as the next guy does, but I believe this will be his final year, at least as a Giant. Jones will get the nod for 2020 and the organization will go from there.
If the Giants start out bad like they did the past two years and/or Eli doesn't stay healthy, we could see Jones sooner rather than later. Look at last year when the Giants started out 1-7. Fans were calling for backup quarterback Kyle Lauletta. It could happen this year too with Jones.
However, if anything, Jones will sit for the year and become the starter for his sophomore campaign.
2. Philadelphia Eagles: Can Carson Wentz stay healthy and prove he's worth a big contract?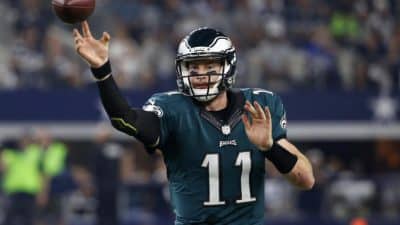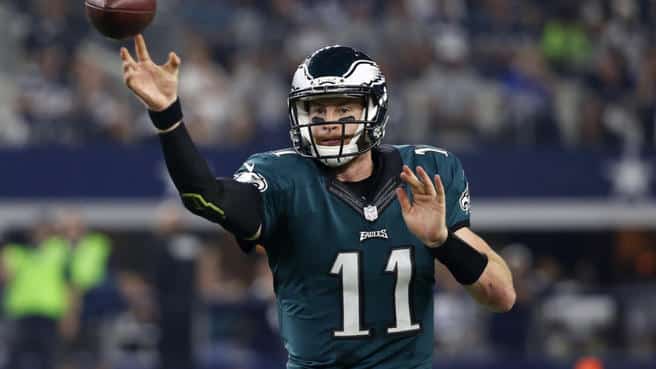 Carson Wentz signed a new deal with the Philadelphia Eagles this offseason—four years, $128 million. According to Over The Cap, Wentz will be the fourth-highest-paid quarterback in the NFL in 2019. His career stats are good, completing 63.7% of his passes with 70 touchdowns, 28 interceptions, and 10,152 passing yards.
However, Wentz's record as a starter is only 23-17. Take out his 11-2 record from 2017 and you have a guy who's 12-15 as a starter since entering the league in 2016.
Not to mention, Wentz has a history of injuries. He only played in 13 games in 2017 due to Grade 3 ACL and LCL tears in his knee. He then played in only 11 games in 2018 due to a back vertebral fracture. In the last two seasons, the Eagles have played in five playoff games, with Wentz playing in zero of them.
Luckily for the Eagles, they had Nick Foles as a backup the last two seasons. Foles was loved by the city of Philadelphia and played great when they needed him the last two years, leading them through the playoffs and winning Super Bowl 52. In eight starts the last two seasons, Foles went 6-2.
However, the Eagles don't have Foles anymore, as he signed a deal with the Jacksonville Jaguars this offseason. The Jags feel as if he'll be the missing piece that will help them return to the playoffs.
So, without a true, starter-type quarterback to back Wentz up, how will the Eagles fare if Wentz does indeed go down again? Will they still win as they did with Foles and prove its Doug Pederson's system that works? Who knows at this point.
What we do know, though, is that Wentz absolutely needs to stay off the injury cart this year. In order to prove he's worth this big, new contract, the 27-year-old quarterback must stay healthy and get back to his form of play before the injury that ended his 2017 season and campaign run for the NFL MVP award.
I believe he'll be able to do that, as the Eagles and Wentz will begin to take more precautionary measures towards future injuries than they've had in the past.
3. Minnesota Vikings: Can Kirk Cousins bring his team back to the postseason?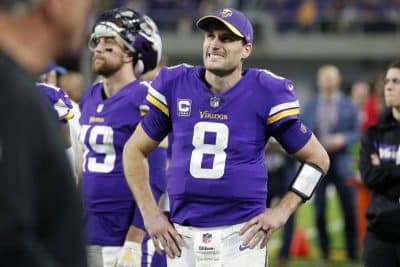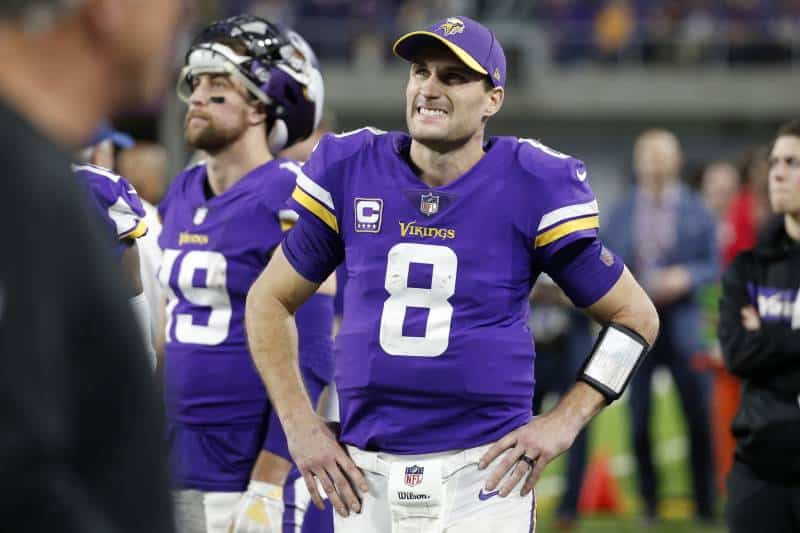 The Minnesota Vikings were one of the hottest teams in the NFL in 2017. They finished 13-3 atop the NFC North, ultimately losing in the NFC Championship Game to the Eagles.
Not to mention, they mostly did it with quarterback Case Keenum, who went 11-3 in 14 starts that year.
Keenum ended up signing a two-year deal with the Broncos prior to the 2018 season, as the Vikings signed former Redskins quarterback Kirk Cousins to a three-year, $84 million deal.
Cousins, who made the Pro Bowl in 2016, was believed to be the missing piece that would bring the Vikings from just a division title to a Super Bowl title.
However, that hope was sort of lost when the Vikings failed to make it back to the postseason in 2018. A team that just saw 13 wins the previous year, finished the year 8-7-1.
Cousins, despite completing 70.1% of his throws for 4,298 yards, 30 touchdowns, and only 10 interceptions, failed to really propel his team to new heights. The Vikes were Super Bowl contenders going into 2018. When you come in as a new quarterback in those circumstances and then fail to even make the playoffs, it's not a great look overall.
Cousins needs to become a true leader in 2019 and prove he can do more than just produce good statistics. He has a good team around him with great receivers in Stefon Diggs and Adam Thielen. If he can just step it up and take the Vikings back to the playoffs, I believe he'll win over the hearts of the Minnesota fans.
He'll get it done too, in my opinion. Going into the second year of head coach Mike Zimmer's system, and having over half of their opponents be non-playoff teams from last year, I believe Cousins will be able to lead this organization back to January football.
4. Tampa Bay Buccaneers: When will Jameis Winston play up to the hype of a No. 1 pick?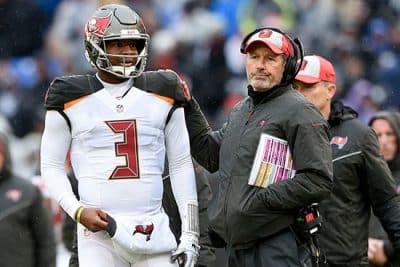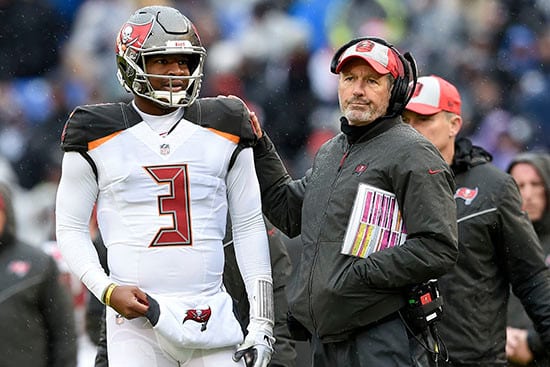 With the No. 1 overall pick in the 2015 NFL Draft, the Tampa Bay Buccaneers selected Heisman Trophy-winning quarterback Jameis Winston. The Bucs thought they landed their quarterback of the future which would bring the franchise to stardom, something they really haven't seen much of since their Super Bowl 37 victory in February of 2003.
Winston lived up to the hype in his rookie year. He completed 58.3% of his throws for 4,042 yards, 22 touchdowns, and 15 interceptions. His efforts landed him the Pepsi Rookie of the Year Award and his first Pro Bowl nod.
However, Winston hasn't impressed much on the field since that debut season in the pros.
His touchdown to interception ratio has stayed positive (1.52 to 1) and his lifetime completion rate is 61.6%. However, he's failed to become a winning quarterback for the most part. His overall record as a starter since entering the league in 2015 is 21-33. Not great for a guy who was supposed to be the best quarterback of that draft class.
This past year, Winston was much of the same. He threw 19 touchdowns to 14 interceptions with 2,992 yards and a completion percentage of 64.6% through 11 games. No, they're not awful numbers, but merely average for a No. 1 overall pick. He wasn't even the clear-cut starter in 2018, as the job went back and forth between himself and current Miami Dolphin Ryan Fitzpatrick.
Winston has also had numerous off-the-field issues. These date back to an alleged sexual assault when he was at Florida State University in 2012 to an incident where he allegedly groped an Uber driver in 2016. The former resulted in a settled lawsuit. The latter resulted in a three-game suspension at the very beginning of the 2018 regular season.
All-in-all, Winston needs to clean it up both on the field and off the field. He has the size, tools, and potential to become a great quarterback in this league. That's why his inconsistency is such an issue.
If he doesn't perform well in 2019, I believe the Bucs will look to part ways at some point. That being said, my prediction is this: Winston won't be in Tampa in two years. Just my prediction and I'm sticking with it.
5. San Francisco 49ers: Can Jimmy Garoppolo be as effective after the injury?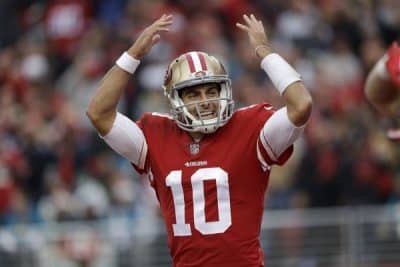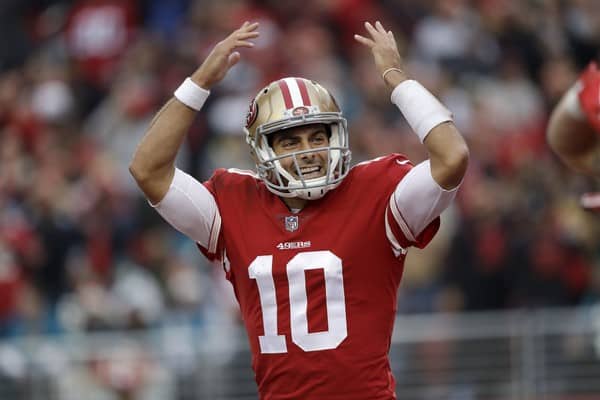 In October of 2017, the San Francisco 49ers hit a home run when they only gave up a second-round pick for then-Patriots quarterback Jimmy Garoppolo. He spent his time mostly as a backup in New England, only starting in two games. However, many people saw something in Garoppolo that had "future starting quarterback" written all over it.
Garoppolo started out great with the 49ers, as he started the final five games of the regular season, winning all five of them. At the time, it extended his career record as a starter to 7-0. He won his two starts the previous year in New England when Tom Brady was suspended for the first four games of the year.
In those five starts (six games in total) for the 49ers in 2017, Garoppolo completed 67.4% of his throws for 1,560 yards, seven touchdowns, and five picks. The 49ers went from one of the laughing stocks of the league that year to a team that became red hot towards the end of the season.
The team ultimately began the season 1-10 and ended 6-10.
The Niners came into 2018 as a playoff contender-type team, looking to get things going with Garoppolo as their full-time starting quarterback.
However, in the midst of a Week 3 loss to the Kansas City Chiefs, Garoppolo went down with an injury. Doctors ultimately diagnosed him with a Grade 3 ACL tear and his season came to a quick and abrupt end.
He was 1-2 as a starter on the year with 718 yards, five touchdowns, and three picks, completing 59.6% of his throws.
Garoppolo should be good to go as far as getting healthy for the 2019 season, but will he return as effective of a quarterback? Think of quarterbacks who've gotten season-ending knee injuries before, such as Robert Griffin III, who never returned as great as he was during his rookie season.
Teddy Bridgewater was gearing up to become the franchise quarterback for the Vikings before tearing his ACL prior to the 2016 season. Where's he now? A backup in New Orleans.
So can Jimmy G still be the quarterback that he was before the injury?
My prediction is yes. I can't see this guy's career getting shut down in the way that it could. He's too talented and too valuable of a player to not end up as one of the greats. The Niners see that too, being that they signed him to a five-year, $137.5 million deal prior to the 2018 season.
Garoppolo and the weapons around him, such as running backs Jerick McKinnon and Tevin Coleman, wide receivers Deebo Samuel, Dante Pettis and Marquise Goodwin and tight end George Kittle, have to come together this season. They're in a tough division, having to face Jared Goff and the Los Angeles Rams, Russell Wilson and the Seattle Seahawks, and now Kyler Murray and the Arizona Cardinals twice a year.
All I'm saying is this: Look for a big year from Jimmy G.
Follow Ryan on TWITTER