Jeff Gorton still has plenty of questions that need to be answered for the New York Rangers and you'll be surprised at who may have some solutions.

Following game No. 82 in April, the New York Rangers skated off the ice a dejected team surrounded by far more questions than answers.
Fast forward just three months later and now this Blueshirt hockey team has found a new identity. The additions of Adam Fox, Vitali Kravtsov, Igor Shesterkin, Jacob Trouba, Artemi Panarin and new president John Davidson has transformed the club from rebuilding to newly constructed.
Yet, there are still plenty of unanswered questions and concerns that continue to surround the team. The improved squad that appears on the team's website come with baggage that may not simply be put away in a closet. The business side of the sport is not nearly completed and questions must be addressed in order to move forward.
What has happened in the recent past may now plague the team yet again as general manager Jeff Gorton looks to redo the salary cap in order to put the best team on the ice in September.
Trades, buyouts and demotions are all options as the organization looks for ways to sign new contracts, rid themselves of some horrendous deals and fine-tune the lineup with opening days just 79 days away.
Social media is filled with ideas and suggestions to make things better for our Blueshirts. Since we don't really know what the plan JD and Gorton are preparing, the Ranger fans, bloggers, and podcast creators have all come up with their versions of what needs to be done to improve the Rangers come training camp.
This writer is tired of the speculation game. Who should be traded, what player should be moved to the AHL, maybe buyout this guy, this player isn't worth his contract and on and on. It's exhausting coming up with so many scenarios to keep the conversation going until the team decides it's next move.
The "what if" question with Panarin seemed never-ending, then the contract status of Kaapo Kakko continued until that was answered last Thursday.
I have my own blogger page aside from being a writer for Elite Sports NY. So in order to get some different views, ideas, or some funny suggestions, I asked the fans who follow my Ranger Proud page on Facebook a simple question:
What's Next?
I asked the Rangers fans what they thought the next step or steps should be for the organization. Who better to ask then the people who bleed red, white and blue?
For the record, Ranger Proud has its own opinion. Short, sweet and to the point, the salary cap is the first problem that needs to be addressed. As of Monday afternoon, the Blueshirts have only $7 million in available cap space.
The Chris Kreider situation is a major hurdle. He's going to want a five-to-six-year deal in the neighborhood of $6 million to $7.5 million per year. Just look at what the Flyers gave Kevin Hayes and what the Minnesota Wild gave Mats Zuccarello earlier this month. I don't see this as a viable source of money and funds and would look to move Kreider and try to retain as little salary as possible.
Vladislav Namestnikov has $4 million coming to him this season. He needs to be traded and with such a high price tag the team would be lucky to get a third-round pick without any salary retention. He needs to be moved quickly for the team to get the best value for his services.
What about Ryan Strome?  I believe the club needs to keep him and extend his contract. He might be the most versatile player on the squad next to Jesper Fast.
The elephant in the room needs to be addressed and that's a buyout. Brendan Smith is the most logical option and is a less long-term effect than Kevin Shattenkirk would be at this point of his contract.
There can be so much more said, but this is about what the true die-hard fans think. So let's hear what the best fans in the NHL had to say about their hockey teams.
The Fans Have Their Say
We start with a pretty direct comment from Michael W Bergin Jr. who wrote, "We're log jammed with D some of these kids gotta start having playing time."
Obviously, he is in for buying out a defenseman to gain some salary and get some kids in the blueline.
Another comment about the defense by DeeDee Wyne recommended the team "get rid of Shattenkirk because he can't skate backward.'" Ouch!
David D Brown Jr., who was very confident and optimistic about the next few moves, wrote, "$8 million in cap space left. Still have to sign Trouba, Buch, Lemieux, and DeAngelo. My Christmas list is, Trade Kreider, Nemestnikov. Buy out Smith and Shattenkirk, then trade for Gusev from Vegas.  The following season, Hank and Staal come off the books, with a little tweaking, life will be good! We will light nets up all over this league."
You have to just admire the thrive of the Rangers fan. Two years ago, all was lost with the "letter to the fans." Now, RangersTown is as upbeat as they have been in the last 10 years.
My podcast partner at The Bleed blue Show and fellow Blueshirt fan, Steve Azul, commented, "I've thought they made the right moves for the situation at hand. It's great the question is being asked what the fans think. Fans should think for themselves and express their thoughts ..for good or bad. The fans rule the nest when it comes to opinions. They are what makes everything about the Rangers happen in this city."
Want some more strong ideas, then look no further than Sean McCarty, who wrote, "Buyout Smith, trade Buch and Nemestnikov. Sign Trouba, and Lemieux. Keep Kreider (at least till deadline) he's a good leader and has lots of experience. Let DeAngelo go. Keep Shatty for another year, see if he improves with a better core of defensemen, if not then deal with him next year. Staal is a great veteran for rookies, Hank is still solid, Georgiev is back up with Igor seeing some time in the NHL to see what he does."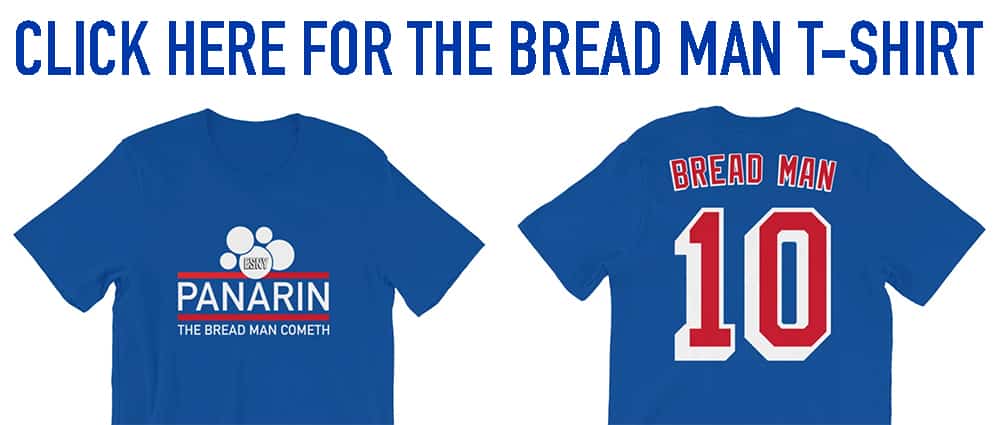 Erik Peterson, an Administrator of the Rangers Road Warriors fan page, had an excellent view of what he believes should be done to resolve the cap situation.
"The Rangers need to move salary. The obvious choices are Shattenkirk, Vlad, Mr. Smith, and possibly Ryan Strome. Yes, Kreider is all we have heard mentioned but teams are not going to give you as much for a player on an expiring contract plus he is what the Rangers need which is a strong winger on a predominantly Euro team. This means Mr. Gorton needs to be creative in deals. This is my order;
1. Trade Shatty with a high pick and prospect (Lias Andersson) Buyout Marc Staal and send Mr. Smith to Hartford.
2. Sign Kreider to an extension.
3. Sign Trouba and the RFA's.
4. Maybe add a veteran center like a Brian Boyle, Oscar Lindberg, or Brassard at low cost."
There are no conclusions, only strong opinions.
Rangers fans never hold back and are never short of views or their own opinions of what they believe will make the team better for next season. Being an opinionated fan in New York City is nothing new. What is new, however, is talking again about the boys scoring goals, winning games, and, maybe, just maybe, getting back to the playoffs.
Who needs bloggers or the so-called social media experts when fans like these people are here to speak their minds about their favorite hockey team?
Thanks to everyone who commented on the Facebook pages, it's appreciated.
Follow Frank Curto on TWITTER