How many goals, assists and points will Kaapo Kakko put up in his first NHL season with the New York Rangers?
The past two weeks seem like a dream for New York Rangers fans. Just 10 days after drafting a future franchise player in Kaapo Kakko, they signed elite winger Artemi Panarin to a seven-year, $11.6 million contract.
Up until signing the Breadman on July 1, it was tough for Ranger fans to talk about anything but Kakko. Who could blame them?
Kakko, the second highest ranked prospect of the draft, has great hands and a scoring touch with great size to go with it. He is also coming off an incredible performance at the IIHF World Championships and set an SM-Liiga record for goals scored by a player under 18 with 22.
Yes, fans … Kakko is going to do some great things for this team. However, let's not expect him to put up a 40-50 goal season right away.
Kakko is only 18-years-old. So we can expect the Finnish winger to make a run at the Calder Trophy, but not the Art Ross or Maurice Richard Trophies … at least not yet. One day, we can expect him to be making a run at a milestone like that; but for now, for this year, let's predict some numbers for Kakko's rookie season.
Something Obvious To Take Into Consideration
Now before we start, let's put forth a warning, because Ranger fans, like fans of all New York teams, they expect a lot right here, right now. If Kakko does not come storming out of the gates immediately, do not panic.
It's normal for a young player to experience some growing pains and make some rookie mistakes. Kakko is jumping from SM-Liiga to the NHL. He needs to make some adjustments.
A Smaller Surface
The Finnish winger is going to the NHL sized rinks that are 200 feet long and 85 feet wide. His home rink for TPS Turku was 30×60 meters. In feet, that's 98×196.
Though it's just a significant gain and loss, Kakko will have more length in the NHL, but not as much width. This is going to be the biggest adjustment he has to make in getting used to having not having as much space.
Two of Kakko's strengths are having great hands and a high hockey IQ. This decrease in size is not terrible, but in a sport like hockey, just a couple feet can mean the difference between making a play or getting stood up.
Potential Linemates
The Rangers have a lot of options up front. In other words, Kakko has a lot of potential linemates. However, the first line might not be the one he makes immediately, keyword: immediately.
The top line is all but set with Panarin, Mika Zibanejad and Chris Kreider or Pavel Buchnevich. With the potential star power on that line, it's safe to say they will stay together assuming the Rangers don't move Kreider before the season starts.
Head coach David Quinn has a reputation of putting younger guys on a short leash. That is to say, it would not be surprising if Kakko does not find himself in the top six right away. However, Kakko might be so good that Quinn will have no choice but to keep him in up there.
Even when ruling out the top line, the Rangers are still deep at center with the likes of Lias Andersson, Filip Chytil, Brett Howden, Vladislav Namestnikov and Ryan Strome. Given how Andersson and Chytil are very close to Kakko in age already, maybe it would be a good idea to put Kakko alongside one of them so they can develop their chemistry together early. They can potentially play together for a very long time.
Meanwhile, alongside a veteran like Strome, Kakko can possibly boost up his assist numbers. Strome is coming off a year that saw him put up a 17.3 shot percentage. If Kakko plays alongside Strome, and he can duplicate that excellent shot percentage, Kakko can potentially earn a lot of assists.
Some of the centers mentioned above can also be used as wings. Along with them, there's Pavel Buchnevich (or Chris Kreider) Jesper Fast, Vitali Kravtsov and Brendan Lemieux.
Like Andersson and Chytil, maybe it's best to put Kakko alongside a player that's close to him in age. Kravtsov, who was picked in the first round last year, can compliment Kakko's playmaking ability with some of his own. Another skill player, Buchnevich, can potentially serve the same thing.
Alternatively, if Quinn wanted to add some more physicality to complement Kakko's size, players like Fast and Lemieux can fill that role. Those players might not be the most skilled, but if Kakko can bring some of his to one of their lines, they will surely benefit.
Regardless of who he ends up with, Kakko brings two things coaches love in a forward, skill and size. If Quinn is looking for someone to make a play, he has Kakko. If Quinn is looking for someone to help set the tone, he has Kakko. In short, Kakko is versatile and can fit many molds.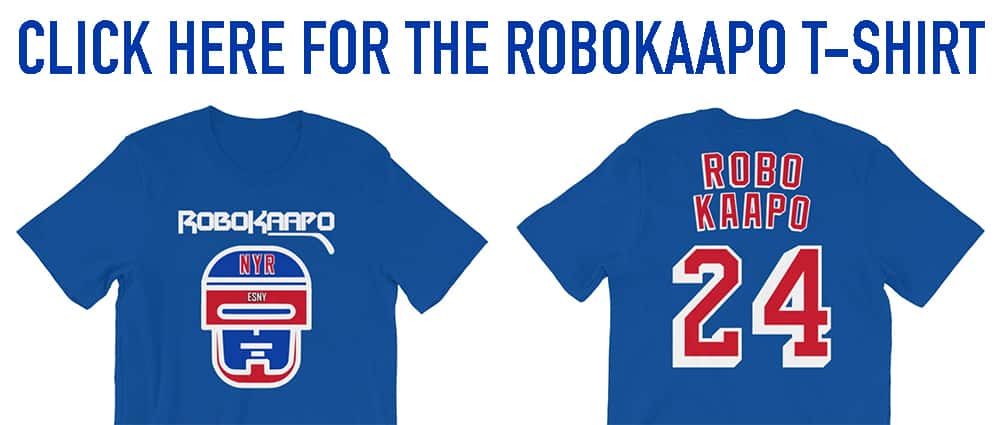 Stat-Line Prediction
Let's finally touch on the statistics. Let's be a little bold on this one. In his first year as a Broadway Blueshirt, Kakko will put up 30 goals and 35 assists for a total of 65 points.
This total gives Kakko one more point in his first year than another former Liiga player, Patrik Laine, (64 in 2016-17). Kakko might not make a giant impact immediately, but he will still have a very productive season.
Kakko is a skillful and strong player that can play alongside just about all of his teammates. No matter what line Kakko is on, he can be productive. The Rangers have all types of players for him to play alongside, so Quinn has plenty of options to see what works for his Finnish talent in this league.
Also, the Metropolitan Division lost two great goalies that helped carry playoff teams, Sergei Bobrovsky and Robin Lehner. Kakko, as well as the Rangers, might be able to take advantage and put more pucks into the net.
Finally, if the Rangers do move Kreider and Kakko is the player we all expect him to be, he might actually find himself on the first line sooner rather than later. If that happens, his numbers can potentially be even better than what's predicted above.
Kakko can possibly be the Rangers first Calder Trophy winner since Brian Leetch in 1989. Of course, he has some competition from kids like the one who was picked before him, Jack Hughes.
No matter what happens, Kaapo Kakko is going to provide New York Rangers fans a lot to look forward to.