The New York Rangers lineup could look a lot differently on opening night next season. Here are a couple of the possible combinations.
The New York Rangers have their full schedule. They will open the season on Thursday, Oct. 3, 2019, against the Winnipeg Jets at Madison Square Garden. That matchup has high stakes already, Jacob Trouba vs. Neal Pionk. However, that story can wait until that day.
Fans are looking for the Rangers to make a big step next year. They loaded up with a lot of young talent, drafted a franchise forward in Kaapo Kakko, and are looking to make some splashes in free agency. So, in anticipation for this upcoming season, let's project some opening night lineups for the Rangers.
Of course, there's still a lot of pending factors. Free agency does not start until July 1 and there are still some trade rumors circulating. The night of the draft, TSN analyst, Bob McKenzie reported that Chris Kreider and Jimmy Vesey are likely to be traded.
The Rangers also met with highly anticipated free agent Artemi Panarin. One of these scenarios is likely to happen, maybe even both. It's still early, but let's play some armchair coach. Here are some projected Ranger lineups for Oct. 3.
Current Roster
Forwards
Chris Kreider-Mika Zibanejad-Pavel Buchnevich
Jimmy Vesey-Ryan Strome-Vladislav Namestnikov
Jesper Fast-Filip Chytil-Kaapo Kakko
Brendan Lemieux-Brett Howden-Vitali Kravtsov
Scratches to rotate in/out of the lineup: Lias Andersson, Boo Nieves
Defense
Kevin Shattenkirk-Brady Skjei
Jacob Trouba-Tony DeAngelo
Adam Fox-Marc Staal
Scratches to rotate in/out of the lineup: Libor Hajek, Ryan Lindgren
Goalie
Henrik Lundqvist
Alexandar Georgiev
Analysis
This lineup is pretty self-explanatory. First, Pavel Buchnevich gets promoted to the first line in hopes of creating the spark Mats Zuccarello left. Next, on the second line, Vesey, and Vladislav Namestnikov are top six forwards with Ryan Strome centering them.
On defense, Kevin Shattenkirk and Brady Skjei remain the top pair since they were a pairing last year and they have more seniority. On the second line, Trouba is not thrown at the top right away. He is with Tony DeAngelo, who is coming off a very impressive season. However, given his expectations, Trouba may earn himself a spot on the first line once he finds his game as a Ranger.
Next, on the third line, we put the aging veteran Marc Staal to go with Adam Fox. The rookie is in the lineup on opening night since he was a Hobey Baker candidate and was a big pickup for the Rangers this offseason. If the Carolina Hurricanes were not as deep on defense as they are, Fox would be making a name for himself in Raleigh, North Carolina.
However, since Fox is still young, he will have some growing pains and adjustments to make. It's safe to assume that Fox, along with Libor Hajek and Ryan Lindgren, will be rotating in and out of the lineup.
Head coach David Quinn has shown he's not afraid to bench anyone. Just ask Shattenkirk.
Speaking of benching, same can be said for some of the forwards because the prospects are coming. The highly anticipated Vitali Kravtsov signed an entry-level contract and will be competing for a roster spot this year. With all the talk about Kakko, last year's first-round pick has been overshadowed. Kravtsov drew a lot of attention at prospect camp and it won't be surprising to see him on the roster on opening night.
You may also notice Kravtsov is on the fourth line with Brendan Lemieux and Brett Howden. Well, Quinn has a tendency to put some of his younger guys on the fourth line. So it's safe to assume Kravstov, or any other young players for that matter may start their season there. If any of the young guy's struggle, expect them to be rotated in and out of the lineup.
Because of all these young guys, the Blueshirts have a similar problem the New York Yankees have. They have a lot of young up-and-coming forwards the same way the Yanks have so many talented outfielders. However, if your problem is you have a lot of good guys and you don't know which ones to use, then that is a good problem to have.
Now for every rule, there is an exception. Quinn seems to give the young guys a really short leash. The exception, in this case, maybe Kakko. The second overall pick looks like he's NHL ready. Given how impressive and high profile Kakko's been, Quinn might be forced to keep him away from the fourth line, unlike the other young guys. Just imagine the backlash if Kakko is only getting fourth line minutes, especially after leading Team Finland in goals on their way to the gold.
Now, Kakko being on the third line still puts him on a bit of a leash, but not as short of a leash as his other young counterparts. Given Quinn's track record so far, Kakko will probably not be a top-six forward right away. However, if he is the player we all expect him to be, he will find his way there really soon. Quinn will certainly not take issue with that.
Howden didn't put up great results last year, so he is at fourth line center. Lemieux isn't explosive on the scoresheet either, but he fills the tough guy role fittingly, just like his dad. Also, being alongside a skillful playmaker like Kravtsov may boost Howden and Lemieux's production.
Now, you may notice someone is missing from this lineup, Brendan Smith. The night before the draft, general manager, Jeff Gorton said to the media he's considered buying out Smith, Shattenkirk and/or Staal. It's safe to assume one of these guys will be gone, but for here we are going with Smith since he has the lowest cap hit. Shattenkirk and Smith are not completely immovable though, they have partial no-trade clauses where they can submit a 10 team no-trade list.
Finally, at goalie, there is no surprise. Henrik Lundqvist is still the King. Alexandar Georgiev stays the backup. If Georgiev struggles, then we may see Igor Shesterkin sooner rather than later.
Now, let's get creative.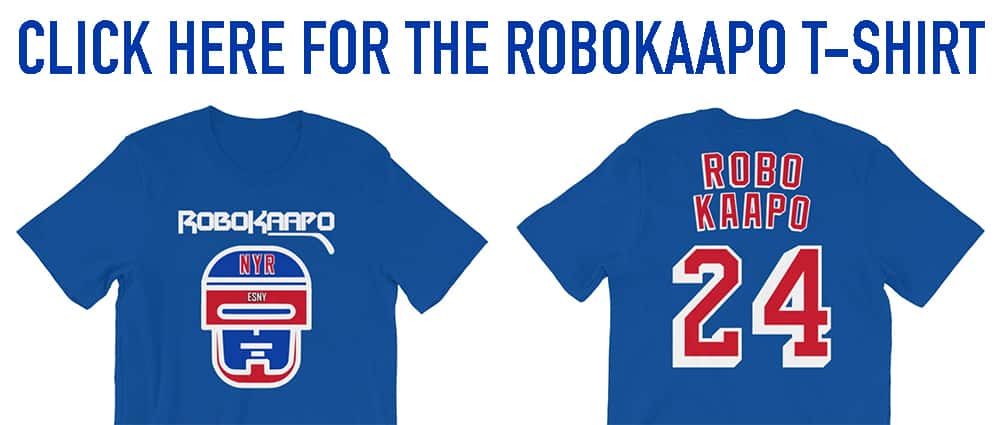 If Kreider and Vesey get traded and they sign Panarin
It's an unfortunate part of the business, but it's a necessary one. If the Rangers trade Kreider and Vesey, it will be hard because those two grew up in this organization. However, next year, both players' contracts expire. Gorton and company do not want to let them walk in free agency and get nothing in return. Would we like them to stay? Yes, but in a salary cap sport, sacrifices must be made. Especially if New York wants a big free agent like Panarin. Here is a projected lineup with Kreider and Vesey traded to make room for Panarin.
It's too early to know for sure where they will be sent if they get traded. Teams like the Boston Bruins, Buffalo Sabres, and Colorado Avalanche have shown interest. The Rangers may get a player or two in return. However, for this case, let's assume the Rangers will trade them for cap space and picks. This makes cap space that can help sign Panarin.
Forwards
Artemi Panarin-Mika Zibanejad-Pavel Buchnevich
Vladislav Namestnikov-Ryan Strome-Filip Chytil
Jesper Fast-Brett Howden-Kaapo Kakko
Brendan Lemieux-Lias Andersson-Vitali Kravtsov
Scratches to rotate in/out of the lineup: Boo Nieves
Defense
Kevin-Shattenkirk-Brady Skjei
Jacob Trouba-Tony DeAngelo
Adam Fox-Marc Staal
Scratches to rotate with Fox: Libor Hajek, Ryan Lindgren
Goalies
Henrik Lundqvist
Alexandar Georgiev
Analysis
Buchnevich and Mika Zibanejad remain on the top line. If Buchnevich could not create the spark Zuccarello (or Kreider) left behind, then Panarin certainly will. The Rangers add one of the more elusive wingers in the NHL.
In four seasons, Panarin scored 30 goals twice, the other two times, he scored 27 and 28. The Bread Man is coming off a career year where he notched 87 points (28 goals, 59 assists) in 79 games. Very convenient, considering his linemate Zibanejad is also coming off his best pro season. Last year, Zibanejad reached a career high in goals (30), assists (44) and points (74).
So, the top line is set up for success. It is just a matter of the two of them getting to know each other out there. Once they gel, Buchnevich (or whoever Quinn puts alongside them) will surely benefit.
Panarin fills in Kreider's hole. On the second line, Filip Chytil gets promoted to the second line to fill the void left by Vesey. Chytil made great strides last year, he was the first teenager in Ranger history to score a goal in five straight games. He's shown a lot of promise and the Rangers are excited to see more.
Also, Lias Andersson finds himself in the lineup this scenario. Originally, we had him projected to be one of the scratches to rotate in and out of the lineup. Andersson has not quite progressed to the likes of his fellow 2017 first round pick, Chytil.
Andersson is still looking to find his feet. With Kreider and Vesey's absence creating space, Andersson is going to have more chances to grow, but he may still be rotated in and out of the lineup. Again, having too many options is a good problem to have. Also, this trade needs to happen if Andersson wants more opportunities.
Conclusion
It's all speculation at this point. Other than the top line, nothing is guaranteed. Fortunately, there is still time to figure this out.
New York can still make a trade, whether it just be clearing up cap space or adding more depth. They can also buyout one of the aforementioned contracts that are handicapping them in order to make more cap room. Then, of course, there is free agency starting Monday. Whether it be Panarin or a player of a lesser profile, the Blueshirts are slowly but surely making themselves a desirable destination for free agents.
What will the real lines be on opening night? We will find out on Mean Girls Day.
Wow, I'm sorry; that joke was terrible.
We will find out on opening night, Thursday, Oct. 3.