Mickey Callaway is struggling to manage his bullpen, but the New York Mets manager is working under difficult circumstances.
The New York Mets are no stranger to heartbreak, anger, misfortune, or any other synonyms you could find while thumbing through a thesaurus. Wednesday marked the most demoralizing loss of the 2019 season and the bullpen was the primary culprit. Although manager Mickey Callaway deserves a fair amount of blame, he's only partially at fault for the sorry state of the Mets' bullpen.
The Los Angeles Dodgers took advantage of New York's pen. After Noah Syndergaard gutted out six innings, he handed over the ball to three of the team's most reliable relievers. Robert Gsellman and Jeurys Familia both allowed a run in one inning of work.
However, Callaway handed the ball off to his lockdown closer, Edwin Diaz, with a three-run lead. Surely, everything was still in control. But in the blink of an eye, the Dodgers finished off their epic comeback and left Mets fans questioning the decision to stay up until the wee hours of the morning.
First-year general manager Brodie Van Wagenen made the bullpen a priority in the offseason. He brought in Familia and Diaz to solidify the backend of the bullpen. This would allow Gsellman and Seth Lugo to take on more fluid roles and give Callaway some added flexibility.
Unfortunately, Van Wagenen's aggressive offseason hasn't paid off. Entering Thursday, the bullpen currently ranks 22nd in the majors with an ERA of 4.76 per MLB.com.
Pressure on Callaway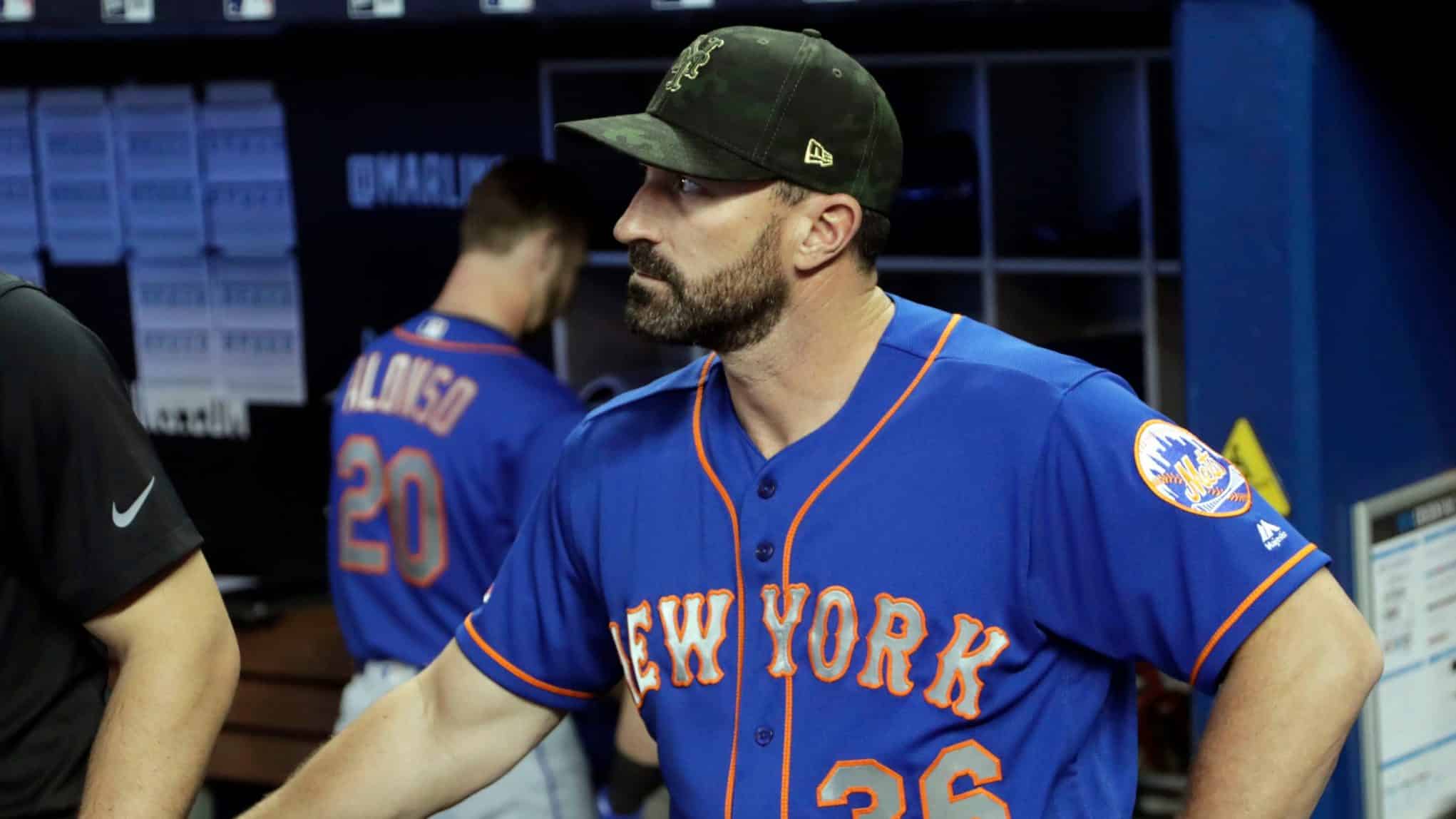 It's easy to forget that fewer than two weeks ago, Callaway's job was in serious jeopardy. Ultimately, Van Wagenen and the organization gave Callaway a vote of confidence. Regardless, that kind of pressure on Callaway shouldn't be overlooked.
As a result of Van Wagenen's brash offseason talk, the Mets are expected to compete for a spot in the National League Wild Card Game at the very least. Despite Van Wagenen's public endorsement of Callaway, it's clear that the second-year manager isn't 100% safe.
It's impossible to climb inside Callaway's mind, but it's reasonable to believe that this added pressure could influence the in-game decision-making process. Whether that means leaving his starter in for longer than anticipated or going to a reliever who probably needs a day off, a manager in win-at-all-costs-mode before June hits is a bad look.
Again, it's impossible to know how much Callaway's fraught job security is affecting his ability to manage. However, his heavy reliance on Diaz over the last two weeks is concerning.
Edwin Diaz Uncertainty
First off, Diaz is a stud. Don't let his 3.22 ERA fool you into thinking he's been anything but a lockdown closer this season. He has 13 saves in 15 opportunities and has only allowed eight runs in 22.1 innings of work. Four of those runs came during his 0.1 innings of work on Wednesday.
This meltdown from Diaz should be a blip on the radar, but it looks like a direct result of overuse. Callaway turned to Diaz four times in five days. Moreover, Diaz has pitched eight times in the last 12 days so it's clear that he needs a day or two off to catch his breath.
But there seemed to be some confusion between Callaway and Diaz on Thursday. Prior to Thursday's game, Callaway said Diaz might be available for the fifth time in six days. Conversely, Diaz made it clear that he was not available.
Mickey Callaway said Edwin Diaz might be available tonight, despite pitching the past two games and four of the past game.

Diaz said he is not available tonight.

— Tim Healey (@timbhealey) May 30, 2019
It's only natural for Callaway to lean on his All-Star closer. However, his recent, aggressive approach with Diaz flies in the face with the early plan for the 25-year-old flamethrower. In April, the Mets vowed to avoid any four-out save situations with Diaz. The idea was that this would be an effective way to manage his workload.
They later walked back their self-imposed "three-out rule" on Diaz. That's fine. There's no need to set specific rules for each and every pitcher on the roster. But for all that talk about managing Diaz's workload, Callaway and the Mets still feel the need to bring in their closer for non-save situations like they did during Tuesday's 7-3 victory.
With all this said, it bears repeating that Diaz is a stud. He's not the problem, but his extensive use is a direct result of the lack of depth on the rest of the unit. He's one of the only reliable arms Callaway can turn to and that could be the death knell for the 2019 Mets.
Lack of Depth
Outside of Diaz and—to a lesser extent— Gsellman, who can Callaway trust out of the bullpen? Lugo is still on the injured list and Familia is a shell of his former Mets self. Out of the trio of Tyler Bashlor, Drew Gagnon, and Daniel Zamora, Bashlor has the lowest ERA with a 4.91. Hector Santiago allowed a run on three hits in his appearance on Thursday.
In summation, Callaway doesn't have many reliable options at his disposal. How can he fix the bullpen? It's not so simple. For one, the starters need to pitch better and go deeper into games as a whole. Jason Vargas wriggled in and out of trouble for seven innings and only surrendered one run on Thursday. That's a positive start. Of course, if the bats get hot, they can help provide some cover for a struggling bullpen.
Or the Mets could open up the checkbook and sign Craig Kimbrel. After June 3, there's no draft pick compensation attached to Kimbrel. There are no more legitimate excuses. If there's no major change, fans will continue to watch a shaky bullpen struggle to close out games while relying heavily on a couple of arms.
All the pressure seems to be on Callaway, but Van Wagenen was the architect of the current bullpen. He's the one who declared that the Mets were the team to beat in the division. Put up or shut up. Sign Kimbrel or watch the season slip away.