New York City FC fans are battling to keep members of fascist groups out of their team's matches and far, far away. 
Tommy's problems that come from supporting his favorite soccer team is a bit more severe than other fans around the MLS, or around the world. His problems don't mirror losing a seat or discount.
On April 27, 2019, before New York City FC's last home game versus Orlando City SC, Tommy expressed that three members of a fascist group who usually attend NYCFC games walked inside a bar and told the bartender to eject him out so they can confront him.
"The last home match three of these guys showed up to the bar they know where I drink at burst in and told the bartender they had to kick me out," he said in a phone interview. His voice raised through the phone as if to imitate the agitators.
"I was told I was supposed to get outside and face them."
As it has been reported by numerous news outlets as HuffPost, various fascist groups have been attending NYCFC's home games since the club's opening season in 2015.
They reportedly sing racist chants, hold up fascist banners, post white-power stickers around, recruit for new members, post pictures of themselves on social media with weapons, took part in an assault on left-wing protesters on the Upper East Side on Oct. 12, 2018, and were involved in a brawl with New York Red Bulls fans on Aug. 9, 2015.
In New Jersey and immediately encounter crowd trouble ahead of the New York derby (Red Bulls-City). Video: pic.twitter.com/slY3hYn5aM

— Rob Harris (@RobHarris) August 9, 2015
At most, Tommy noted that there have been 30 to 40 members of the fascist groups at New York's home games in section 236. They're mainly Hispanic groups, but one of them is also Polish.
Tommy is one of the founders of The True Blues, a group that's been asking the club to ban the fascist groups out of the Yankee Stadium. This obviously makes him a target.
The New York native had two friends with him at the bar, but he didn't step outside.
"I had a couple of friends there, but they were both older and younger and not people who are into fighting, and I wasn't going to drag these folks into a brawl," he said.
"I was never particularly a tough guy when I was young and I'm certainly not now that I'm over 50. And also, I think it would be terrible for what we're trying to accomplish for us to be getting into brawls with people.
"And I also promised the club that I'm not going to do that and to the best of my ability nobody that I'm involved with is going to get into physical violence."
Tommy called the club when the enraged group asked him to step outside.
"I called the club and said, 'Hey, so the guys that I told you a month ago were threatening to kick my [butt], well they're here to kick my [butt]," he said. "It will be really appreciated if you could at least send some securities over to escort me to the match so I can get to the match."
Twenty minutes later, security guards did escort the devoted soccer fan to the game, which New York drew, 1-1, with Orlando.
Is Tommy scared about what he's vocally fighting against for his beloved club?
"I mean yeah, I'm sure nobody likes to be physically threatened. But what's scarier would be letting these guys win," he said.
Tommy has been a diehard NYCFC fan since their first season in the MLS, he goes to about every single home game, can't go to away games anymore because he doesn't think it's safe—members of the fascist groups attended New York's away game against D.C. United on April 21.
And of course, worth mentioning, Tommy is a David Villa fanatic and thinks the club should've kept him on the team even if he had to play on a wheelchair.
Since he started supporting NYCFC, Tommy has seen many fans stop going to the team's home games because of fear of the fascist groups.
"I know more than several people who will not attend NYCFC's matches anymore strictly because of the Neo-Nazis," the True Blues co-founder said.
"I've talked with reporters and just regular citizens who said that there are people in the Cosmos League, in youth leagues who will not deal with NYCFC's sponsored events because of the reputation of the club."
Tommy previously highlighted that it has somewhat become The Bronx Blues' identity of being a fascist-friendly club.
"Overseas, increasingly, there are people, who never been to NYCFC matches maybe never been to New York City but consider NYCFC a fascist club, a fascist-friendly club," he said.
The club has tried to stop the fascist groups from attending their home matches. NYCFC Nation writer Nick Chavez tweeted that the team banned "'Proud Boy' Irvin 'Irv' Antillon" on Oct. 25, 2018, 13 days after he was involved in the brutal riot on the Upper East Side aforementioned.
According to an anonymous Bronx Blues' fan, Irv used to ride New York City Supporters Club's bus with other fans to away matches.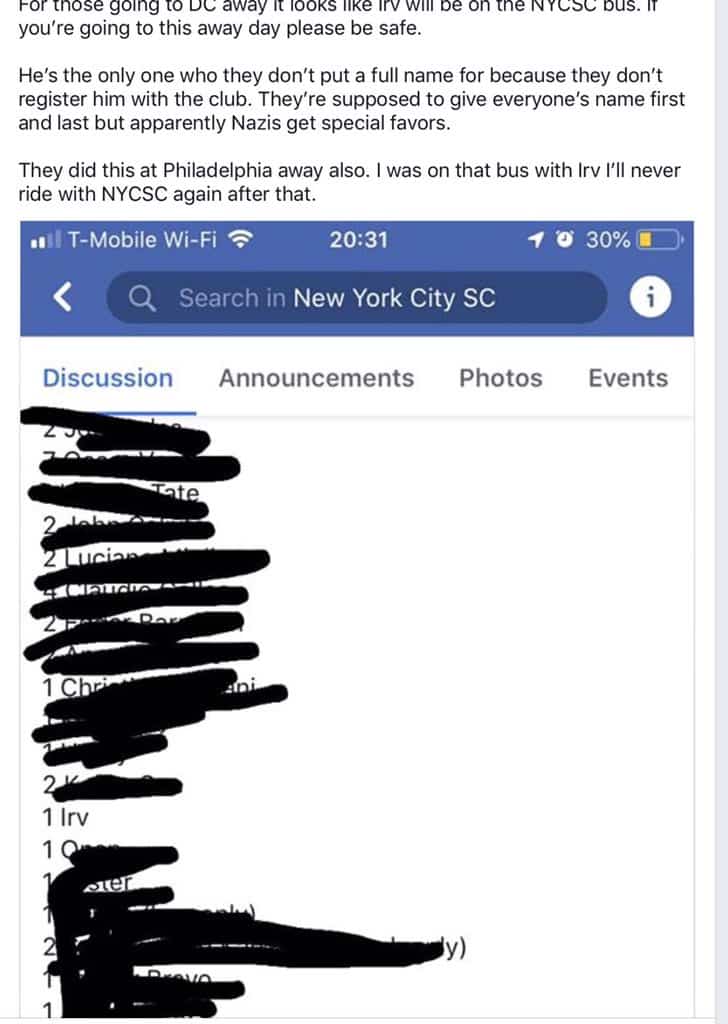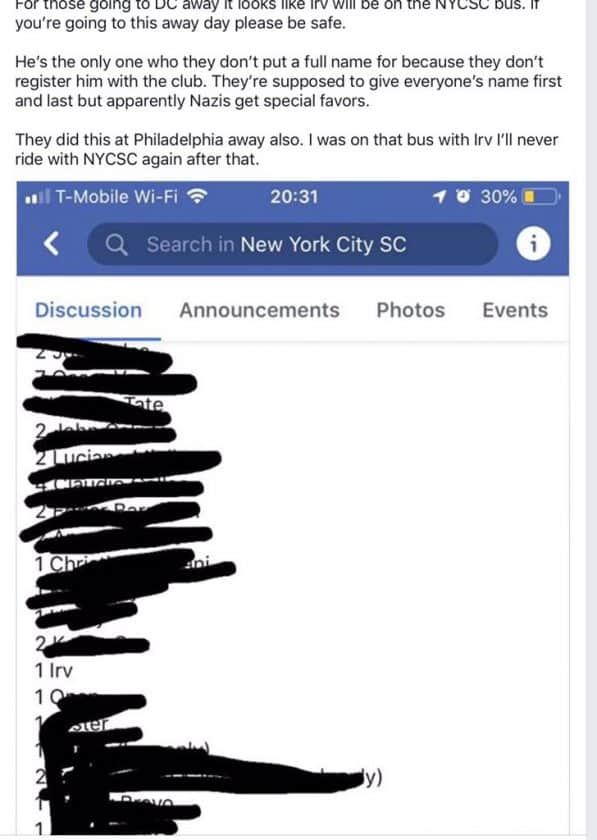 Although this NYCFC fan would never ride the bus again because he saw the controversial leader there, Tommy shared that other New York fans have posed for pictures with fascists on Twitter.
Even after Irv's ban, more unwanted characters returned to the Yankee Stadium this season. Sports reporter Kyle Schnitzer tweeted that the club banned a number of fans again on May 15. The team won't play at home until June 6.
#NYCFC has banned a number of fans in the past week for violating the NYCFC and MLS Fan Code of Conduct. The club says it will continue to take action against anyone who violates the policy.

— Kyle Schnitzer (@Kyle_Schnitzer) May 15, 2019
"The club did not announce but one reporter who covers the beat said informally on social media that an unknown number of people were banned by the club shortly after [I was threatened at the bar], with no indication of who or why," Tommy said.
"I can only assume that the club finally took actions on the people that I reported months ago had been threatening me physically."
The NYCFC supporter feels like the club should've been more radical and consistent since 2015 when the skinheads started to attend the team's home matches.
"This has been going on since two matches into the existence of the club," he said. "And the club has been informed about this repeatedly since 2015. They've got a load of information about this. That's why people like me are now making such a fuss because we and many others have been complaining to the club about this its entire existence.
"People had a lot of faith in the club especially when the first set of bans went through at the end of 2015. And then when the people showed up again in 2016, the club did take actions. But then they allowed these people to come back in 2017."
It is speculated that one of the main reasons the club weren't so radical in ejecting the troublemakers out of their stadium was because it hasn't been reported that they attacked anyone at the Yankee Stadium. However, NYCFC did revoke Irv's season ticket after he was charged with assault in the riot on the Upper East Side.
Fans like Tommy are not only aggravated because they claim that NYCFC wasn't urgent in dealing with the skinheads, but also because they believe the club have previously opposed the people who are protesting against those skinheads.
Some MLS fans are not even sure if New York banned the fascists or the fans trying to get rid of them.
Hopefully they banned the right people .

— Marcos ??⭐️⭐️?⭐️⭐️ (@ryder_mc3) May 15, 2019
Tommy explained how he was once ejected out of a game for holding an anti-fascist flag.
"I was tackled by four police officers and carried out," he recalled. "To the best of my knowledge, it happened based on the words of the front office."
It's not the first time a New York/New Jersey MLS team had to fight against Nazis going to their games. According to reporter Leander Schaerlaeckens via Vice, fascist groups were attending New York Red Bulls' home games in their inaugural season in 1996, when they were known as the MetroStars.
A supporters group named, ESC, helped drive them out of the MetroStars games. Guess who was a member of that group: The man with the story, Tommy.
***Editor's note: The words in this story come from the perspective of one individual. Elite Sports NY neither confirms nor denies the factual storytelling in this article. "Tommy" has previously tweeted Antifa messaging, a group whose words and actions have been far from peaceful in recent a longstanding history. Research it yourself, dig deeper and come to your own conclusion.