The second-round of the 2019 NBA Playoffs lived up to its exciting billing. Which series was the most entertaining?

Ithink it's safe to say that the waiting paid off… the Basketball Gods finally rewarded us with a truly incredible three weeks of playoff hoops.
Considering the pain and suffering we endured during the historically anti-climatic first-round, the second-round was well deserved. Three weeks ago, I introduced my first "Entertainment Value Rankings" column to ESNY. I'll get into the scoring in just a second, but it should be known that not one first-round series (of the eight total) scored above a C grade. Round 1 was that bad.
We knew that round two would be a different story. The NBA bracket provided us with a bounty of intriguing second-round face-offs: a rematch between the Boston Celtics and the Milwaukee Bucks, a battle between two Eastern Conference title contenders in Philadelphia and Toronto, and a sneaky-enticing matchup between two Pacific Northwest sleepers, the Denver Nuggets and the Portland Trailblazers. Bu best of all? Houston vs. Golden State Part II: a series that many considered to be the "real" NBA Finals due to the championship pedigree of both ballclubs.
I'll tell you one thing: round two sure held up to its impressive billing. In fact, I'd argue that the 2nd-Round actually exceeded expectations. There was competitive basketball nearly every night for three full weeks. The stars showed up big. We saw breakout performances by young stars and role players. It's almost become glazed over at this point, but one series treated us to the longest playoff game since 1952.
Fifty percent of the series went seven games. Golden State-Houston felt like a seven-game series just because of the incredibly close scoring margin. Furthermore, three of the four closeout games were within one possession with less than a minute to go.
Oh, and no big deal, but we had our second series-ending dagger of the playoffs. Absolute madness.
But anyways, the rankings.
If you didn't check out my "Entertainment Value Rankings" article from last round, go ahead and do so. It will provide a more thorough explanation of the grading system. (Even if you don't feel like reading the whole thing, AT LEAST read the first couple of paragraphs to get an idea of how this all works.)
Our grading system: the Official Entertainment Value Rankings 5-figure scale:
Rivalry. Do these teams hate each other's guts? Were there any fights? Were there any secret tunnels involved? Fights obviously count for a lot, but for the sake of this edition, so do previous playoff meetups. This component will be graded out of 5.
Star power. Are there major, major stars in the series? If so, are these players fun to watch? Are these stars distributed evenly between both teams? This component will be graded out of 5.
Competition. Was this series an even matchup? Going a full seven games certainly counts for something, but it isn't necessarily the end-all-be-all. This component will be graded out of 5.
Signature moments. I'm just going to copy and paste my answer from the last edition of this column because it was pretty thorough (really feeling myself, I know): "This can mean a variety of things. It can refer to a singular highlight (i.e. a game-winner), individual performance (i.e. LeBron's Game 1 from last year's finals), or even team performance (i.e. 2014 San Antonio Spurs' ball movement versus the Big-3 Miami Heat). Regardless, it's out of 5."
Fun to watch. This is, by far, the most important component of all. Was I glued to the TV for every single second of the series? Did I ever catch myself scrolling on my phone while the game was on? Did I, at any point, get up and start working on menial household tasks because I was that damn bored? I'll be fully honest. Last edition, I rigged this category to drop the final score of Blazers-Thunder. (I hate watching OKC.) Was it moral? No. Fair? Absolutely not. But, I still stand by my decision to make this category out of 20. And I'm stubborn. So it's staying at 20.
Let's get it started.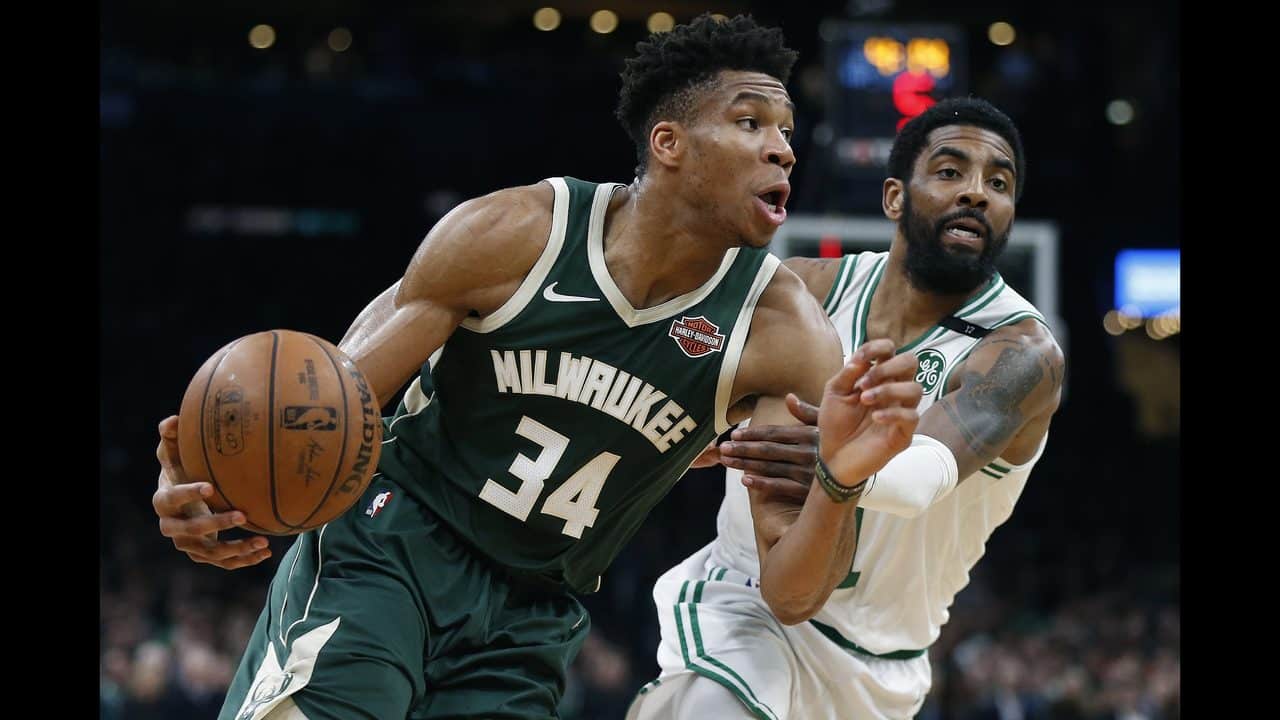 #4 Milwaukee Bucks (1) vs. Boston Celtics (4)
This was my personal pick for "most likely series to go seven games" prior to the tip-off of Game 1. That's right, I expected Celtics-Bucks to be more competitive than Sixers-Raptors, Nuggets-Trailblazers, and even Warriors-Rockets. Why? Well, last year's meetup between the two was a total slugfest. The series went 7 and birthed some truly miraculous rivalries: Giannis Antetokounmpo vs. Al Horford, Khris Middleton vs. every Boston perimeter defender, and the headliner, Terry Rozier vs. Eric Bledsoe.
The stakes were even higher this year as both teams improved greatly. Boston added two All-Stars back into the fold: Kyrie Irving and Gordon Hayward. Milwaukee, meanwhile, disposed of the legend himself, Joe Prunty, and brought in one of the best coaches in the whole league, Mike Budenholzer. That's like a Kris Humphries to Kanye West-level upgrade.
Unfortunately, the "on paper" matchup was a hell of a lot more enticing than what actually transpired on the floor. After losing Game 1, the Milwaukee Bucks took care of business convincingly by winning the next four straight. Boston's chemistry issues that had plagued the team all season long flared up at the worst possible time. Most heartbreaking of all, Terry Rozier went back to being… Terry Rozier.
Rivalry: Kind of explained this above, but there's some bad blood between these two. Score 5/5.
Star Power: Giannis always earns big points in this category. After feeling his way out through Game 1, he put up vastly impressive stats over the remainder of the series: 28.4 points, 10.8 rebounds, 5.2 assists, 52.9 percent from the field, and 41.2 percent from three. If that isn't a LeBron-like stat line, then I don't know what is.
In terms of top-to-bottom talent, no team had a longer roster of bonafide guys than the Boston Celtics. Last season, Jayson Tatum and Jaylen Brown pushed LeBron James and the Cleveland Cavaliers all the way to seven games with their scoring. Although both players struggled with identity issues this season, the pedigree of playoff performance was certainly there. Al Horford is an overlooked Top-5 center. And then, of course, there's Gordon Hayward and Kyrie Irving. Score 5/5.
Competition: Game 1 was cruel – it got my hopes up. Al Horford's defensive clinic on Giannis had my mind racing. The questions began to pile up: "Is Al Horford one of the five best players in the Eastern Conference?" "Is Milwaukee's depth overrated?" "Was Boston on cruise control this year?" "Is Giannis still a year away?"
One thing was certain in my mind: we were in for an absolute classic. These teams appeared even. Giannis, the most unsolvable player on the planet finally had a solution; it was the same guy who gave him problems just a season ago.
In Game 2, Milwaukee punched Boston in the mouth. Giannis struggled with Horford early but eventually began to penetrate like the MVP we know and love. His heightened playmaking opened up driving lanes, but perhaps the biggest development was his three-point shooting. For the majority of the series, Giannis canned 50 percent of his shots from deep – attempting around 3 per game. What originally seemed like a fluke became a law: Giannis needed to be accounted for behind the arch.
The anti-Morey ball folks won't like this, but Giannis hitting even just a handful of three-pointers completely changed the nature of this series. Early on, Boston deployed a dropback system to contain Giannis' potency at the rim. For a game and a half, the strategy worked. But eventually, Giannis broke through. Here's why:
This clip is from Game 3. At this point, the Greek Freak had already canned 5 of his 9 total three-pointers. Al Horford bit on this attempt like he was Ray Allen in the corner. What resulted was a wide-open dunk.
Antetokounmpo had the Celtics shook, and their defensive stranglehold fell into shambles. Milwaukee would win games 2-through-5 by an average margin of 16.25 points. As it turns out, the 60-win team was a real title contender after all.
While Giannis was shining for Milwaukee, Boston crumbled faster than a mud house on a faultline.
Kyrie Irving, Boston's All-NBA point guard, turned into Brandon Jennings with a signature shoe line. Irving dropped 104 total points on 102 shots against the Bucks. That's almost tough to do it's so bad. His former All-Star teammate, Gordon Hayward, wasn't much better. Gordo averaged a minuscule 7.4 points, 3.2 assists, and 3.0 rebounds. His shooting splits were hideous: 34.3 percent from the field and 33.3 percent from deep.
This should have been more competitive than it was. Let's leave it at that. Score 2/5.
Signature moments: Al Horford's Game 1 performance certainly deserves a mention. He was flat-out amazing in the face of the Greek Freak.
From the Bucks' side of things: George Hill was stealthy good, and earned a mention on my list of the most underrated players of round two. Eric Bledsoe had his moments. Giannis didn't miss a beat. His 39 points from Game 4 might have been the most quietly dominant performance of the postseason. *Whispers, so no Bucks' fans can hear me* I mean, I barely remember it happening.
Weirdly enough, the most entertaining player might have been Kyrie Irving. Kyrie was sooo bad that it was almost a spectacle. I've never seen someone force so many long contested twos. His struggles versus Milwaukee became more interesting than the games themselves. The dude was flat-earth, errr, I mean, flat-out awful. Score 4/5.
Fun to watch: Whoever can successfully psychoanalyze the 2019 Boston Celtics and pinpoint exactly what went wrong deserves a Nobel Prize. And yes, I realize that the odd combination of roster overlap, a poor mix of younger and older players, Gordon Hayward sucking, too many free agents, and Kyrie being… himself doomed the C's. But still, it's blasphemous that a team this talented lost in the second-round. I will never understand it.
In 50 years we'll be bouncing our grandchildren on our knees, telling old wives tails about the 2019 Celtics. "Ahhh, what could have been!" I know I will be.
In a way, the pedigree of the Celtics made this series weirdly hard to watch. I, personally, just couldn't escape that sinking feeling of disappointment. The 2019 Celtics were my least favorite type of team. They were lazy on defense, egotistical on offense, and had the chemistry of a bad Tinder date. The Celts reminded me of a disappointing movie sequel. All season long, we juiced this group up just to see them fall flat on their faces when it counted most. I haven't been this disappointed since Batman vs. Superman.
Anywho, score 13/20. 
Final score: 29/40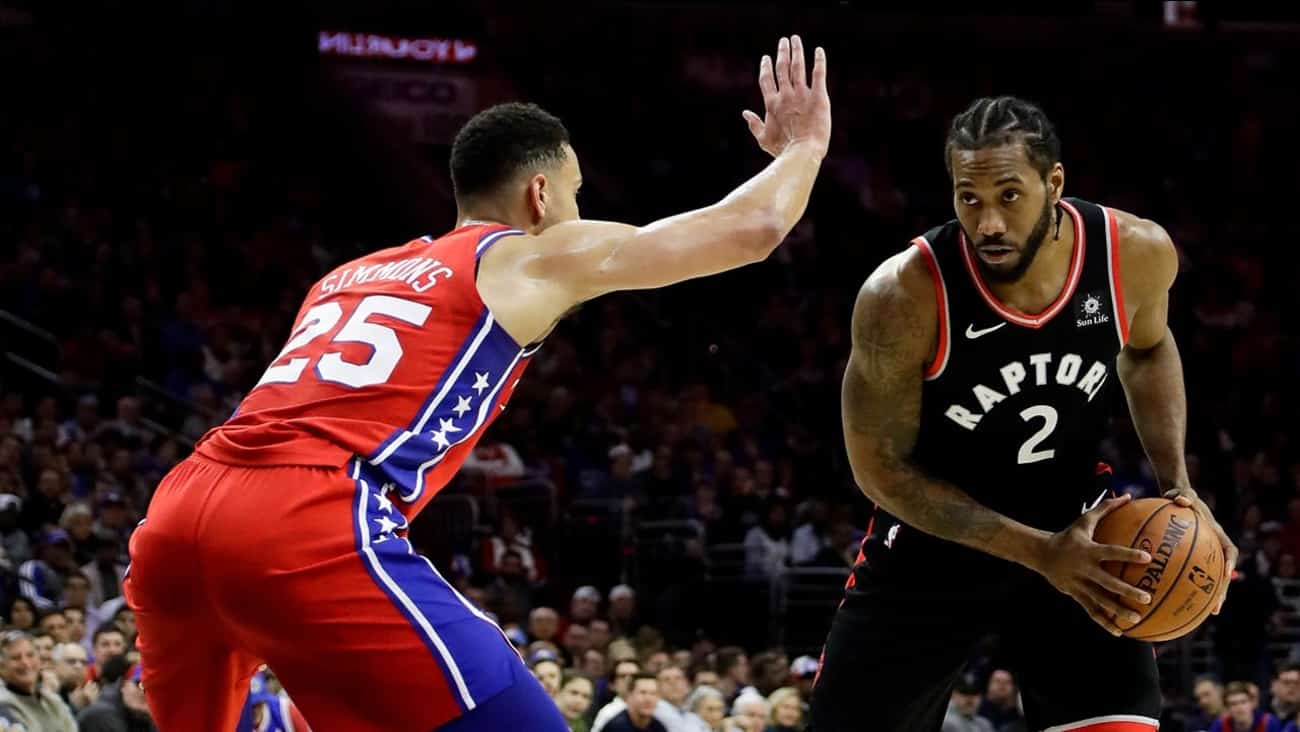 #3 Toronto Raptors (2) vs. Philadelphia 76ers (3)
The Eastern Conference's 2-3 matchup certainly lived up to the hype; it took seven games to determine a winner. Ultimately, that winner was decided by the friendly home bounce of the Scotiabank Arena rims.
Rivalry: This might be a slightly zesty take, but did this series let anyone else down in the rivalry department? Philly has had issues with everyone, literally EVERYONE during the playoffs: Boston, Brooklyn, and even Miami altercated with Joel Embiid, Ben Simmons, and the rest of the Philly crew.
Yet this series was weirdly… timid? Embiid wasn't his normal trash-talking self. Simmons didn't have the opportunity to go face-to-face with anyone (as he likes to do). Toronto matched the persona of their mild-mannered star, Kawhi Leonard. Pretty unspectacular theatre for the fans who expected fist-to-cuff fights. Score 2/5.
Star power: One of the things I liked about this matchup was the win-now-attitudes of both teams.
After accumulating assets for years, the Sixers unloaded their war chest for Tobias Harris and Jimmy Butler. With those two in the fold, Philadelphia compiled the most talented starting lineup west of Golden State. (Along with James Ennis and not much else.)
Toronto, on the other hand, made an even larger splash. Masai Ujiri swung big. Real big. In dealing franchise cornerstone DeMar DeRozan for Kawhi Leonard, Ujiri played the ultimate game of cat and mouse. Should he win big, the Raptors could end up with an undisputed top-5 player for the next half a decade. However, should Ujiri's experiment fall short, Toronto would almost certainly enter a period of rebuilding.
The stakes were abnormally high. The series' winner would potentially extend their contention window; the loser would face a long summer of questions and uncertainty.
Speaking of that, can I talk about Kwahi Leonard now? I want to talk about Kawhi Leonard now.
Has there been a bigger winner than Kawhi Leonard? Nikola Jokic, maybe? Kawhi entered the 2019 postseason with more questions than answers. Some doubted his mental toughness, his commitment to the game, his health, and even his ability to play the game.
Yet, here we are… six weeks in, and Kawhi is now neck-and-neck with Kevin Durant for best player in the league. Kawhi is doing a damn good Michael Jordan impersonation. Durant, meanwhile, is the back-to-back Finals MVP averaging 50/40/90 shooting splits. I can't remember a time when the league was in a better spot. Score 5/5.

Competition: Spoiler alert – I'm going to give this a perfect score because of the down-to-the-wire Game 7. But I'm doing it begrudgingly.
While Toronto-Philly will forever be cherished because of Kawhi's big moment, this series was secretly pretty spotty. 4 of the 7 games were won by 10 points or more. Even in Game 2 — which was ultimately decided by 5 points — Philly gained the advantage at the 6:30 mark of the first quarter and never relinquished that lead.
Still, Game 7 was so outrageously exciting that anything less than a perfect grade would be uncivilized. Score 5/5.
Signature moments: Was this the most thrilling buzzer-beater of the 21st century? Maybe next to Derek Fisher sinking the Spurs? I'm genuinely asking.
Time held still as Leonard's fadeaway jumper Milly-Rocked around the rim. It nearly shut NBA Twitter down. It's a true one-of-one. There may be other Game 7 series-ending daggers in the future, but none of them will be as suspenseful as this one. Score 5/5.
Fun to watch: Oh boy. A lot to unpack here.
As thrilling as Game 7 was, I had my gripes with this series. A majority of these games were pretty sloppy, and the blame can be attributed to both sides.
For Philadelphia, there was a clear lack of chemistry. The Sixers led the playoffs in turnovers with 16.5 per game. Overall, the roster construction was kind of… awkward? Tobias Harris, a good-not-great shooter, was placed in an ill-fitting spot-up role and predictably flopped. Ben Simmons faded in and out of games, and the more I watch him, the more it's clear he's on the wrong team. (Similar to Giannis, I think he needs to be surrounded by 3-to-4 shooters at all times.)
Perhaps the most disappointing of all was Joel Embiid. The Process had more ailments than Gordon Hayward had made baskets, and it greatly detracted from Embiid's level of play. Whether or not he was actually unwell, his health became the predominant Philly narrative, and it frankly got immensely tiresome.
Toronto's struggles were simple: outside of Kawhi, the Raptors can't hit a f—ing shot. Through 12 games, the Raptors have shot 32.7 percent from deep. Versus Philly, Danny Green caught Joe Harris-itis, and went from a league leader in three-point percentage to a sub-32-percent shooter. Marc Gasol was even worse. Pascal Siakam faded as the series extended, and Toronto's bench unit was flat out disgusting. Nothing like paying Norman Powell and Fred VanVleet a combined $18 million!
Toronto and Philadelphia's institutional flaws flared up incongruently, thus resulting in a back-and-forth series of blowouts. So yes, Kawhi's game-winner was unbelievable, and it somehow topped Dame's 30-foot step back from last round. But there will always be a degree of "what could have been" when I look back at this series. Score 17/20.
Final score 34/40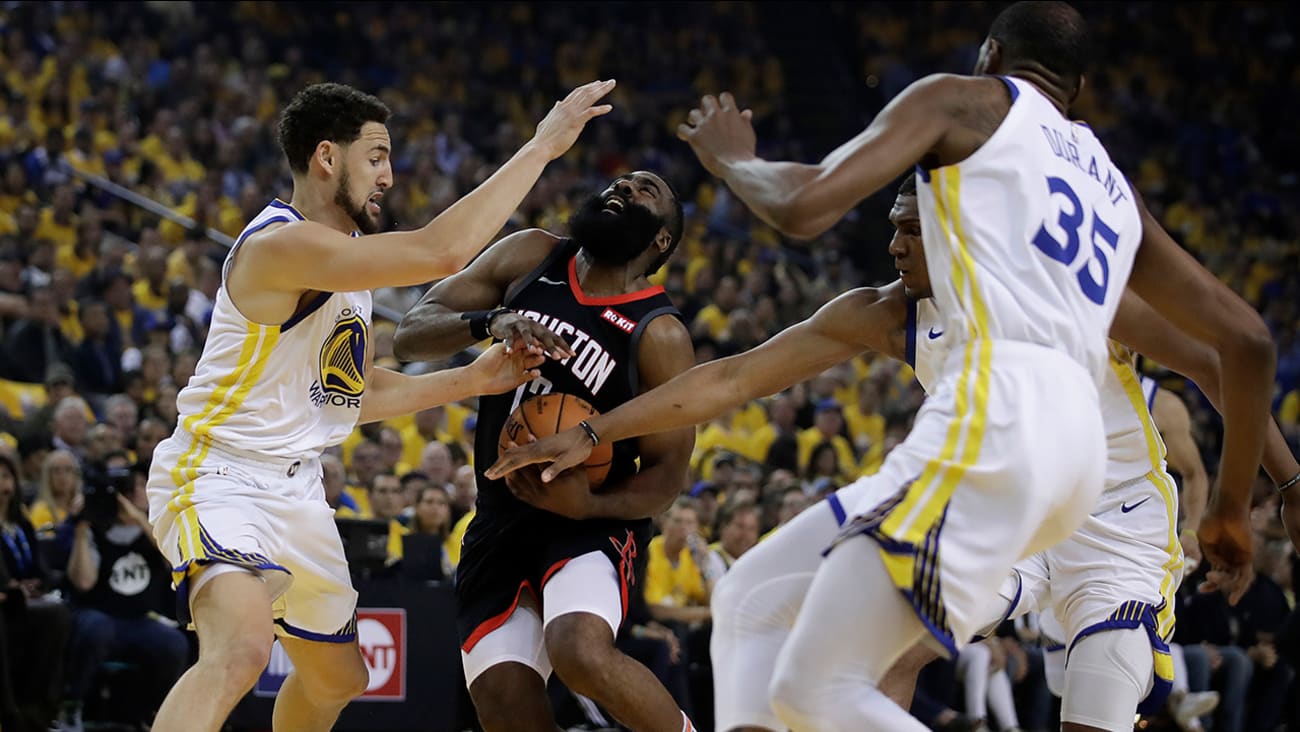 #2 Golden State Warriors (1) vs. Houston Rockets (4)
Golden State-Houston provided us with a second-round series for the ages. In 2018, Houston pushed the Golden State superteam to seven games during the Western Conference Finals. This year, some felt that Houston was even better; James Harden found a way to improve after winning the MVP, and the Rockets' roster retooled with even more tantalizing offensive players. Not to mention, Houston laid the absolute smackdown against a stealth-Conference Finals contender (Utah) during round one.
For the second straight season, Houston and Golden State were the two best teams in the association by a considerable margin. To most, this was the NBA Finals.
Rivalry: Is there anyone that Golden State hates more than Houston? Although tempers never really flared up, the series certainly felt contentious. Score 5/5.
Star power: James Harden was the most unstoppable offensive player during the regular season. Kevin Durant was, and still is, the most unstoppable player of the postseason. Somehow, I've gone two full sentences without bringing up 2-time MVP, Stephen Curry. Holy crap, talk about a gauntlet of talent. Score 5/5.
Competition: I still have no idea how competitive Houston-Golden State Part Deux truly was.
Game 1 was really tight. Unfortunately, it was overshadowed by officiating controversy and referee BS. God that was annoying. In Game 2, Golden State reminded the world "Hey, we have four All-Stars!" and beat the living bejesus out of Houston. After the conclusion of Game 2, the hot takes were flying. Most of them were along the lines of "last year's Rockets team was so much better, Houston suuuuuuuuuuuuuucks."
Ah, gotta love one game overreactions. Houston stormed back in Games 3 and 4 to even the series at 2-apiece. Stephen Curry put together one of his worst playoff performances to date in Game 3. Klay Thompson found a way to outdo his Splash Bro with an even more stinkerific Game 4. James Harden, meanwhile, dropped an outstanding 79 total points during Houston's two home games.
The series was in a balance until the 2:20 mark of the third quarter in Game 5. Kevin Durant isolated in the right corner and pulled-up for an 18-footer. Then this happened…
I don't know if I've ever been so stressed out at such a late hour. Durant's injury sent my mind into an all-out sprint. My 1 AM search history that night looked flat-out crazy – it was littered with WebMD landing pages and YouTube videos of just about every Achilles tear in NBA history.
Ultimately, Durant's injury wasn't as bad as the footage suggested, but it was clear that the guy wouldn't play for the rest of the series. After Chris Paul's disappointing injury last season, the Rockets earned some weird form of poetic justice via a KD calf sprain. The series was theirs to lose.
… and they lost it. They fucking lost it. Nice job, you bums. Way to roll over and not win another game. Score 4/5.
Signature moments: Game 3, in which Durant scored 45 and Harden scored 41, was breathtaking.
But to me, nothing holds a candle to the Warriors' Game 6 performance. It was classic "strength in numbers" stuff from Golden State. Andre Iguodala hit 5 of his 8 three-pointers. Klay Thompson fueled the first-half with some outrageous threes off the dribble. Draymond Green crashed the boards like a madman and pushed the pace in transition. Kevon Looney straight up outplayed Clint Capela. Best of all was Stephen Curry, who reminded us all that he's an unquestionable top-5 player.
I'd argue that Game 6 was Golden State's best victory of the five-year run, and it's not even close. Props to them. They earned it.
Fun to watch: It's no secret: I'm a Warriors' hater. Sue me.
But I want to formally tip my hat to Golden State. They were flat out incredible in Games 5 and 6. Depending on what happens in Clipperland, they should be the prohibitive favorite to come out of the West next year. Even if Durant leaves, this team still has so much left in the tank.
As for Houston: congrats! You guys did it! You somehow outdid the Boston freaking Celtics as biggest cock-tease of the NBA playoffs!
Seriously, how, HOW did you not force a Game 7? Losing the series on your home floor. Really?
I, for the life of me, will never understand what happened to Houston's defense during Game 6. It was almost as if the team completely forgot how to switch screens altogether. The help defense? Gone. The trapping at midcourt? Nonexistent – at least until it was too late. Why didn't the Rockets double Curry on every single possession? What happened?
Meanwhile, the Rockets also lost their mojo from three. Is this just a reoccurring thing every season? Houston drying up from deep when it matters most?
Clint Capela found a way to get worse in every aspect of his game in the midst of his prime. So that's great. Chris Paul is unfortunately super washed. And now their owner is sending signs that he wants to avoid the luxury tax… again. Gotta love Tillman Fertitta!
If you can't tell, I'm disappointed in Houston. I vouched for them just a month ago, and they do this? I haven't even mentioned their super whiny move of sending the league office an audit tape of missed calls from last year's Game 7. Come to think of it, Houston deserved to lose. Christ. Now I'm all rilled up. I need a walk to cool off. Score 17/20.
Final Score: 36/40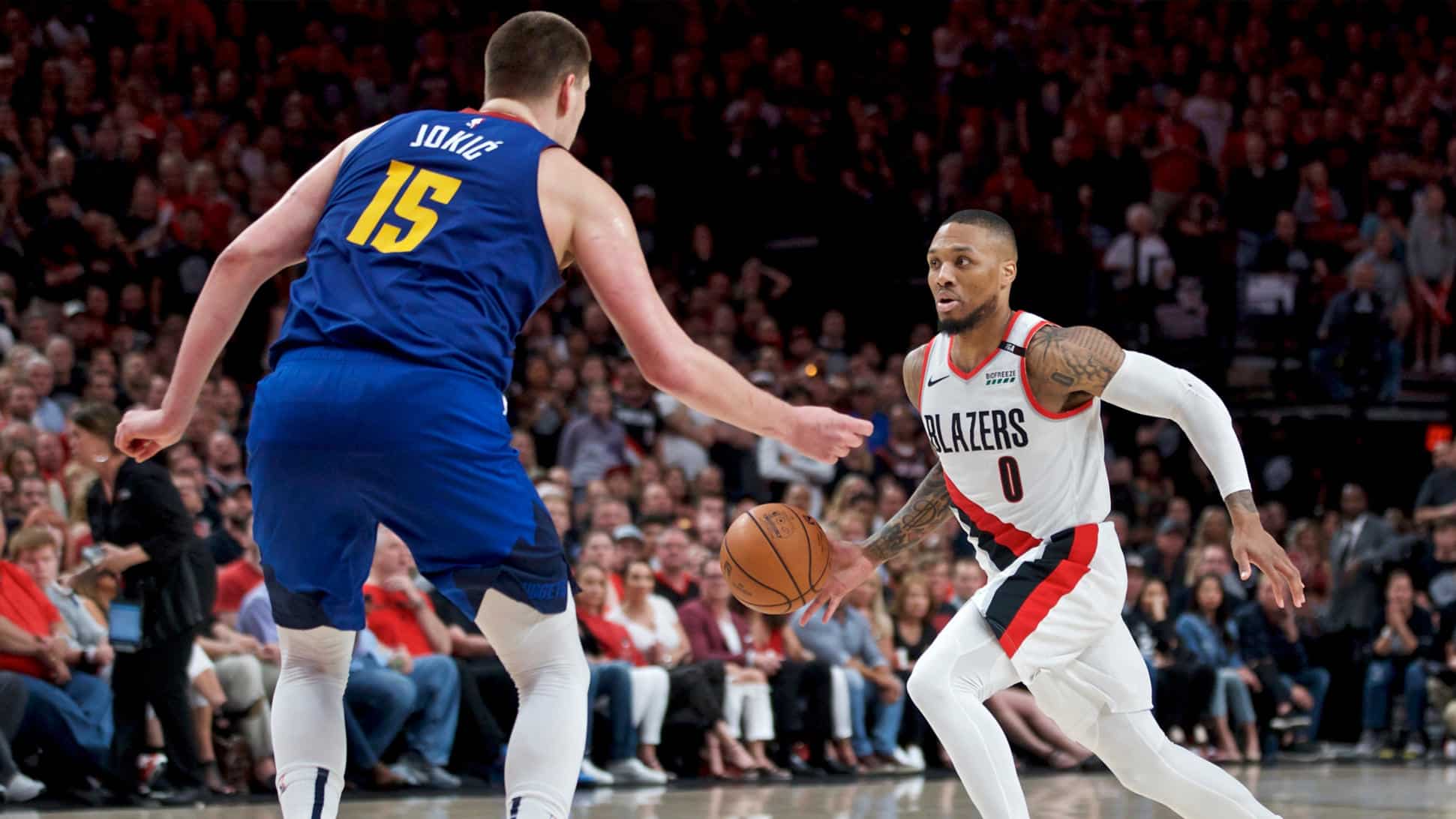 #1 Denver Nuggets (2) vs. Portland Trailblazers (3)
If you had told me that Denver-Portland would be my favorite series of the second round, and, perhaps, a contender for favorite series of the last four years, I would have probably laughed in your face. (Other great series include: Golden State-Cleveland from 2016, Golden State-Houston from 2018, Golden State-Oklahoma City from 2016, LA-San Antonio from 2015, and LA-Houston from 2015.)
It was three weeks of pure euphoria. And now I'm sad it's over. Really sad.
Rivalry: None really. The Nuggets and the Blazers are two overlooked, seldom-discussed franchises from the same general area. So maybe that counts for something? I don't know. Score 2/5.
Star Power: If a center who passes like 7-foot Steve Nash, is built like a Jelly Donut, shoots 40 percent from deep, and works the post like prime Tim Duncan doesn't do it for you… then… perhaps you should watch a different sport. The French Open is coming up, so maybe some tennis?
Me? I like Nikola Jokic. A whole lot, actually. Like, 2,000-word article levels of a lot. After this series, I'd say he should be a consensus top-7 player in the association. Also, Damian Lillard and CJ McCollum are very good. Score 5/5.
Competition: Let's go over the qualifiers – the series went seven games. Four of the seven games were within 7-points or less. It also featured the longest playoff game in NBA history.
Do I really need to say more? 4 OVERTIMES. RODNEY HOOD!!! Score 5/5.
Signature moments: So many good ones to pick from.
Nikola Jokic was a frustratingly consistent force. To say that he took advantage of Portland's glut at center would be a massive understatement. Look at the dude's raw numbers. They're nuts. His young pick-and-roll dance partner, Jamal Murray, put up 30 points in Games 3 and 4, all while establishing himself as one of the best under-23-year-old point guards in the league.
Damian Lillard was pretty iffy during the series, but he did have a spectacular Game 5. I'd say that Portland's high screens worked pretty nicely for Dame Dolla.
And then, of course, we can't forget CJ McCollum, who was capital C CLUTCH in Game 7. CJ clinched the series on 3-straight left elbow jumpers from nearly the exact same spot. Even better: the guy made the best play of the series by pinning Jamal Murray's layup to the glass. I couldn't believe my eyes when CJ freaking McCollum became a 6-foot-3 LeBron James during that monster chase-down block.
However, what made this series special wasn't so much the output from the stars (CJ/Dame/Jokic). Instead, it should be remembered by the multitude of breakout performances from the role players. Portland, especially, came up to bat in this regard.
Enes Kanter might have turned himself into a $10 million player after his Game 1 performance. After being labeled as a "can't play" guy by Billy Donovan — and after getting waived by the 17-win New York Knicks — Kanter got the last laugh. He certainly wasn't shy about it on Twitter, either.
Rodney Hood was on the fast-track to dropping off the face of the earth before his stint with Portland. Just a year ago, Hood was super-glued to Cleveland's bench while getting handed DNPs like a mailbox receives grocery store coupons. Now, he's arguably Portland's third-best player. The dude dropped 9 clutch points during the fourth overtime period of Game 3 as well as 25 big ones during Game 6. You think Kanter is going to get paid? Wait until you see Hood's next contract.
Oh, and one last shoutout. Zach Collins is a player. Sure the guy struggles with foul trouble and still can't really shoot, but he was one of the main reasons why Portland won on the road during Game 7. If there's one guy who can swing the series versus Golden State, it's Zach Collins.
I wish every playoff series was like this one. We live in a star-driven league — and it's great — but goddammit it's fun to get the unexpected from the guys at the end of the bench. Portland didn't have the best player in the series, yet they won by being a sum of their parts. Talk about a storybook ending. Score 5/5.
Fun to watch: Portland-Denver provided us with the longest playoff game in NBA history, it included 3 other intense playoff slugfests and most of all, it introduced me to my new favorite player: Nikola Jokic.
In fact, I want to thank this series for opening my eyes to the beauty of the Denver Nuggets. I love what they're building. They run a modern system, full of crisp ball-movement and gorgeous motion, and I seriously can't get enough of it. This goes without saying, but Denver is my new favorite team outside of the New York area.
In hindsight, Denver's performance in Game 7 was pretty predictable. If you watched the nervous final game of the Spurs' series, you knew that the Nuggets were in danger of repeating history against Portland. Once again, the Nuggets looked terrified of the moment. Guys were missing free throws left and right. Jokic whiffed on a couple of bunnies. Torrey Craig attempted one of the most ill-advised three-pointers I've ever seen. With an average age of 24.7 years old, the Nuggets pick the worst time to look like… well… a group of 24-year-olds.
But let's not dwell on that. Let's instead appreciate the wholesome team effort that both of these young ballclubs put forth. 28 quarters and 4 overtime periods later, I still feel like we didn't get enough Denver-Portland basketball. Please, Denver and Portland, for the love of God. Please retool accordingly. Let's ensure that this series is an annual playoff tradition. Score 20/20.
Final score: 37/40