Although the first round of the 2019 NBA Playoffs was slightly underwhelming, it had its fair share of drama, big moments, and gritty rivalries. Today, we're taking a look at which series were the most entertaining.

The first round of the NBA Playoffs has come and gone, and, in all honesty, they never really felt like they got started. Of the eight series played, four were gentlemen's sweeps, two were actual sweeps, and the other two featured an in-between eras San Antonio Spurs team and a half-asleep Golden State Warriors juggernaut. In short, it wasn't pretty.
I couldn't blame you if, at any point during the first round, you gave up on the NBA altogether and pursued a more exciting sport (i.e. Tiger Woods winning the Masters, the Stanley Cup Playoffs, the NFL Draft, your buddy Dan's beer league softball tournament, etc.).
However, for NBA obsessives like me, it became a mission to sit through these underwhelming matchups. Well, mission accomplished. After two and a half unfulfilling weeks, I can officially say I played spectator to what some are debating to be the worst first-round of the NBA playoffs ever.
One of the first articles I ever wrote was similar to this one. Back then, I used far less advanced statistics, barely used any game footage, knew considerably less terminology, and was generally a snarky asshole. I simply ranked the first-round of the NBA playoffs according to how much I liked each series.
Meriam Webster defines entertainment value as "the ability to be entertaining," which, to me, is a pretty solid definition. But it doesn't fully encompass the meaning of the word, especially in consideration to the brutal, brutal schedule of the first round.
For those of you who commit to the NBA Playoffs as I do, your weekends are shot. No, literally. For three weekends in a row, games start at 12 p.m. ET and run all the way to 1 a.m. Weekdays aren't much better; games start at 7:30 p.m. ET and run until 1:30 a.m. I've been in what I call my "basketball bunker."
For nearly a month, the only sounds to leave my television speakers have been: the squeaks of basketball shoes on the hardwood, blown whistles, and that dope Cranberries song from the Mazda 3 commercial that seems to come on after every single timeout break. (Seriously, how much money did Mazda shell out to earn this much air time? Has every major company gone broke, leaving Mazda as the only Fortune 500 with a budget for a TV slot? I just have so many questions … )
All of this basketball comes with a toll: I'm suffering from serious Stockholm Syndrome. I haven't seen friends in weeks, outside of watching the occasional game at the local bar. I think my girlfriend's head is going to explode if she has to watch one more Nugget-Spurs game. If I don't unglue myself from the TV soon, there's a good chance you'll see this mug all over dating apps.
With all that said, here's my definition of entertainment value as it pertains to playoffs: "Is this series worth utterly decimating my social life for?"
If you answered with an emphatic "yes," then this playoff series would rank high on the entertainment value scale.
Let's dig deeper; we're going to use a balanced, NASA-approved, 5-figure scale that I definitely did not come up with on the subway:
Rivalry. Do these teams hate each other's guts? Were there any fights? Were there any secret tunnels involved? This is pretty self-explanatory. As a viewer, you should feel legitimately nervous about the safety of certain players and/or the fans. Example of a high score: the Thunder-Grizzlies 2014 first-round series, in which Zach Randolph was suspended for Game 7 after throwing punches at Steven Adams. This component will be graded out of 5.
Star power. Again, pretty self-explanatory. Are there major, major stars in the series? If so, are these players fun to watch? The second question is an important one to ask. The presence of Apex LeBron James would earn a higher score than Tim Duncan. Perhaps the most essential question of all: Are these stars distributed evenly between both teams? You'll see why this question is so important shortly. This component will be graded out of 5.

Competition. 

Was this series an even matchup?

"Competitive" doesn't necessarily mean "did the series go 7?" (Although it definitely helps). A great example: last year's Celtics-Cavaliers series, which was a six-game slough of blowouts until Game 7. This series would score a 4/5 instead of a perfect 5 out of 5.
Signature moments. This can mean a variety of things. It can refer to a singular highlight (i.e. a game-winner), individual performance (i.e. LeBron's Game 1 from last year's finals), or even team performance (i.e. 2014 San Antonio Spurs' ball movement versus the Big-3 Miami Heat). Regardless, it's out of 5.
Fun to watch. This is, by far, the most important component of all. Was I glued to the TV for every single second of the series? Did I ever catch myself scrolling on my phone while the game was on? Did I, at any point, get up and start working on menial household tasks because I was that damn bored? This one is scored out of 20. Originally it was worth 10, but that prompted one specific series to rank higher than I would have liked it too. Thus, I had to cheat the system and bumped this up to 20. Sue me.
Alright. Let's get into rating some playoff series.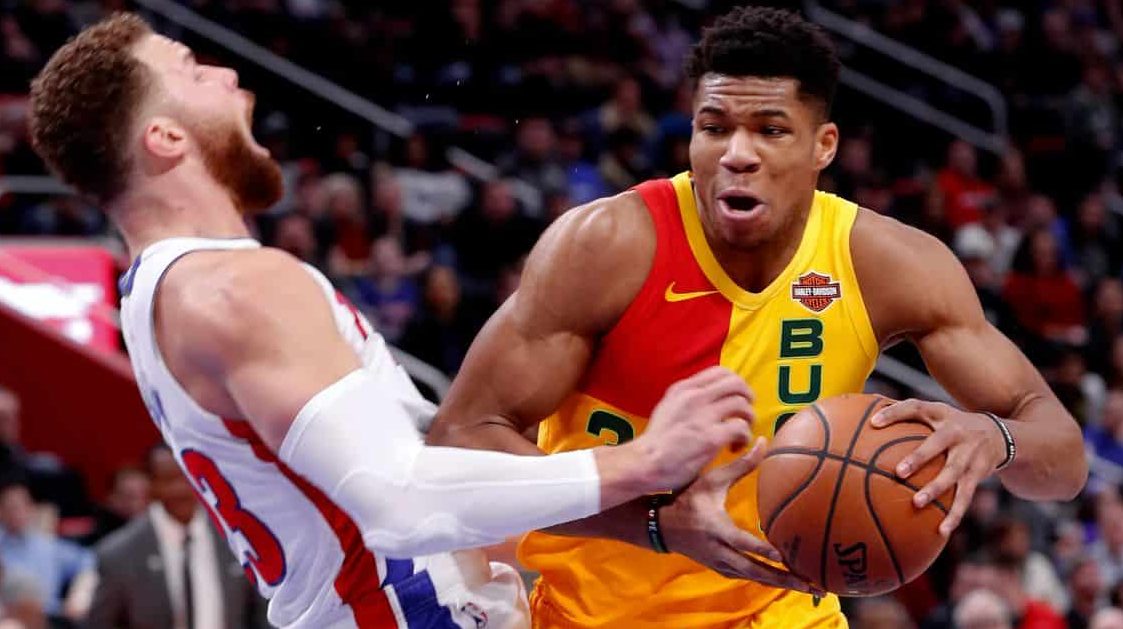 #8 Milwaukee Bucks (1) vs. Detroit Pistons (8)
The series between the 60-win Bucks and the clawing-for-dear-life Pistons ended swiftly; the Bucks won in 4 quick games and beat the Pistons by an average of 23.75 points per game. Blake's face in this photo perfectly depicts how I imagine the Pistons (and their fans) looked after drawing Giannis in round one.
Rivalry: In order for there to be a rivalry, there needs to be at least at some level of respect between both ballclubs. Winning by 23+ points doesn't suggest that the Bucks felt that way about the Pistons. Score 0/5.
Star power: Giannis Antetokounmpo automatically bumps this score up. I don't even care who he's playing. The Bucks could romp a sixth-grade B-team and I would still give the series at least a 3. Blake Griffin also boosts the grade up. I've loved watching Blake play basketball this season; the guy basically rebuilt his game to suit his athleticism-sapped body. His comeback story in Detroit reminds me of the famous scene from "Revenge of the Sith" in which Anakin Skywalker was left burnt to a crisp on the Mustafar embankment, only to be picked up by Emporer Palpatine and rebuilt as some sort of half-metal, Jedi-destroying machine. (AKA Darth Vader, for those of you who didn't catch on… am I really Star Wars shaming? Jesus, I need to get out more). That's who 2019 Blake reminds me of, for some reason. Score 4/5.
Competition: Oh boy. Let me start by saying this: I predicted that this series would be a four-game sweep. When I saw this tidbit casually pop-up on my Twitter feed …
Yahoo Sources: Pistons star Blake Griffin likely to miss the first-round series against Bucks with left knee injury: https://t.co/E5NRkf3hkR pic.twitter.com/2vadXXoJwD

— Vincent Goodwill (@VinceGoodwill) April 15, 2019
…I frantically hopped on Google Chrome to search up "can the NBA bring back 5-game series RIGHT NOW?" (Hint: they can't.) Score 0/5.

Signature moments: AKA the saving grace for this series. Even if he's playing less than 30 minutes per game, The Greek Freak is always capable of curating magnificent performances full of TV screen-shattering dunks and pride-sucking blocks. Sh–, man, the dude dropped 41 points on 23 shots.
This series also included perhaps my favorite moment of the first-round. Following a blown call, Blake Griffin began to join the home crowd in a not-so-amicable chant regarding the referees:
Blake joined in with the crowd on "refs, you suck" chant ? pic.twitter.com/hhqsMwJP2V

— Bleacher Report (@BleacherReport) April 23, 2019
If that isn't funny, I don't know what is. Long live Blake. Score 3/5.
Fun to watch: If you watched even one single second of this series, you need to seek help immediately. This has to be the worst playoff series since the 2016 Grizzlies-Spurs first-round matchup. (In which BOTH Marc Gasol and Mike Conley were injured). 1/20.
Final score: 8/40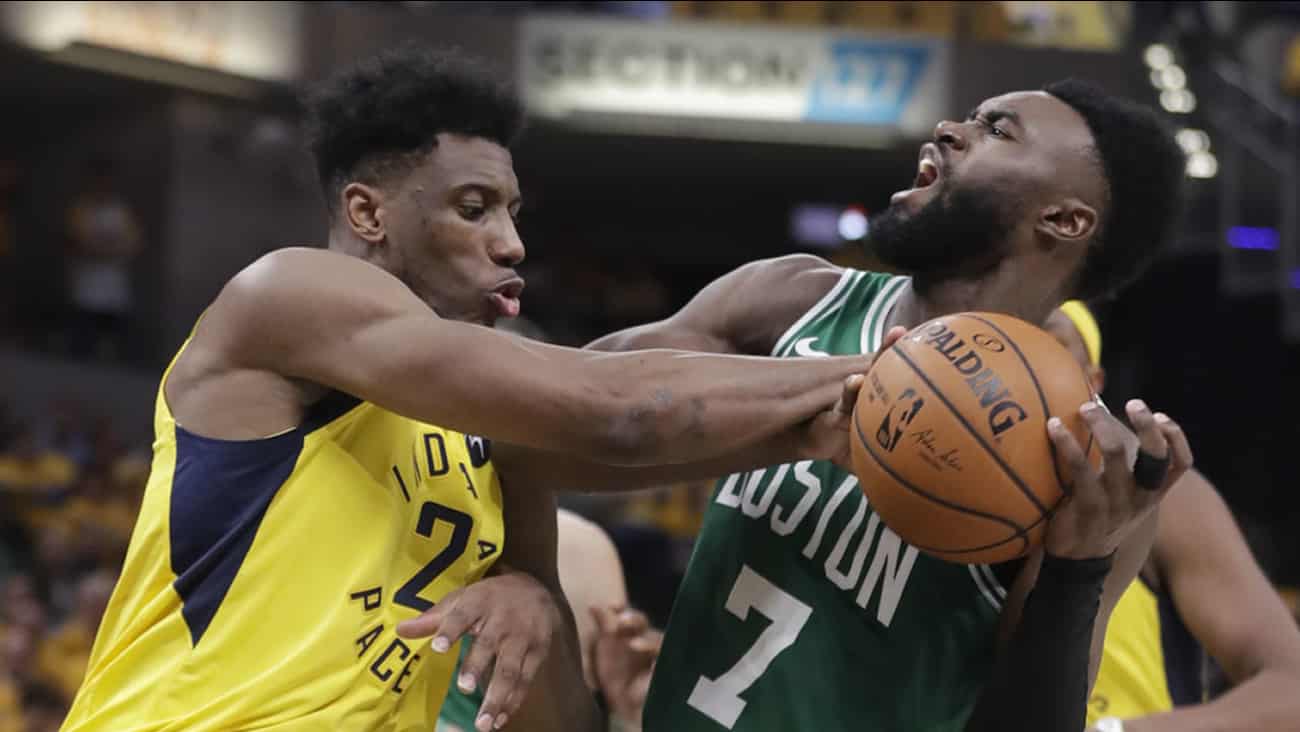 #7 Boston Celtics (4) vs. Indiana Pacers (5)
Given the 4-5 matchup, many projected a pretty good series. Not to mention, after a very tumultuous season in Boston, a Celtics burnout didn't seem like the craziest thing in the world. Unfortunately for narrative sake, that didn't happen. The Celtics swept in four.
Rivalry: Not really a ton to work with here. No bad blood, no history. These two teams faced off near the end of the regular season, ultimately resulting in a Kyrie Irving game-winner. So maybe that counts for something? Score 1/5.

Star power: Remember how I was talking about the balance of power when prefacing this category? This series is the perfect example of why that is important. The Pacers — a ragtag team playing without their star player, Victor Oladipo — ultimately fell short and ran out of gas down the stretch. As it turns out, having buyout guy Wesley Matthews run the offense isn't the best way to win a playoff series. (Especially when it comes to inbounding). The Celtics, meanwhile, were led by Stage-5 killer Kyrie Irving to guide them across home plate with his nasty clutch gene. Score 2/5.
Competition: This one never really felt like it was going to swing Indiana's way. Even though the Pacers led early in three out of the four games, you always had that sinking feeling that playoff Kyrie would show up and do his thing. Score 1/5.
Signature moments: I'm gonna keep it 100. Part of me wants to throw in highlights of Kyrie's 37. But then part of me has no interest in even acknowledging its existence. To me, Kyrie is simultaneously the most exciting player in the league and a bit boring. He's so good at ballhandling, finishing inside, and shooting that he's impossible to stop. In a way, that almost makes him predictable. Yes, I realize that I sound like a full-fledged hater. Score 1/5.
Fun to watch: Look, it's 2019. I like my playoff teams capable of breaking 100. In this series, we were lucky if either squad topped 95. It was horrific, offensively speaking. In fact, there was a sick, sick part of me that wanted to drop this series below Bucks-Pistons. But I can't. The Milwaukee-Detroit matchup wasn't even worthy of NBA TV time. For that reason alone, I'm scoring this a 4/20.
Final score: 9/40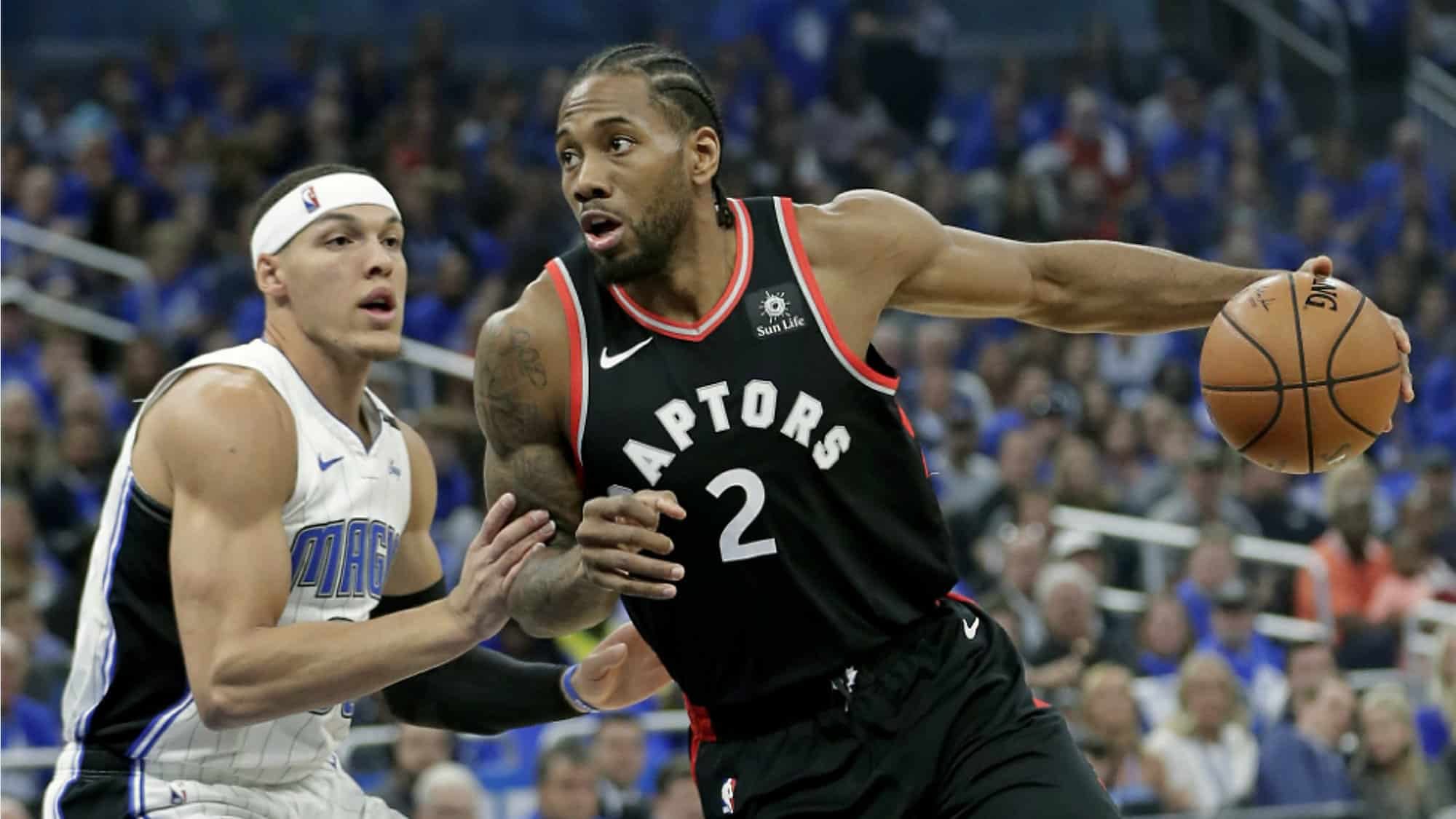 #6 Toronto Raptors (2) vs. Orlando Magic (7)
After an incredible Game 1 (more on this in a second), it appeared as if the Orlando Magic were going to give the Kawhi Leonard-led Raptors a run for their money. Unfortunately, the Raptors proceeded to take care of business convincingly during an easy gentleman's sweep.
Rivalry: None. Zero rivalry here. I think Orlando was just happy to be in the playoffs. Score 0/5.
Star power: Alright, I'm going to TRIGGER some people here, but I'm scoring this series pretty low. Kawhi Leonard, for as great as he is, is a brutally boring superstar. If you like watching smart line-drives to the basket and well-balanced midrange Js, by all means. But for me, I really can't stand watching Kawhi unless he's in a competitive series. On the flip side, I couldn't even tell you the Magic's best offensive player. Their go-to guys were DJ Augustin and (shudders) Evan Fournier. Score 1/5.
Competition: Game 1 was truly incredible. I'm going to save most of my Game 1 thoughts for the "fun to watch" section. But everything else about this series was "meh." This statistic pretty much sums up just how underwhelming Games 2-through-5 were:
The Raptors lost Game 1 then outscored the Magic by 75 the rest of the series. That's the most-lopsided Games 2-5 ever by a team after losing Game 1.

— Dan Feldman (@DanFeldmanNBA) April 24, 2019
Ouch. Hey, Orlando, at least you're in the playoff history books for something! Score 1/5.
Signature moments: All right, f— it. Let's talk about Game 1. The fact that DJ freakin' Augustin scored 25 points in a pivotal playoff game and absolutely kushed a cold-blooded game-winner is still beyond me.
How did a career backup become possessed by the ghost of Michael Jordan? Was this all a simulation? Is the government trying to control us through a barely 6-foot journeyman? The world will never know.
If it hadn't been for the New York Giants picking a projected third-round QB with the sixth overall pick (AHHHH), Augustin's career-night would have been the craziest sports-related thing of the month.
Pascal Siakam's sweet 30-point performance from Game 3 is worth noting. There is a small part of his game that reminds me of a great deal of Kevin Durant. There was a while where seemingly every young player was compared to KD: Brandon Ingram, Caris LeVert … hell, even Kevon Looney. Yes, Kevon Looney (whose career-high is 19 points) was compared to the NBA's best scorer.
But the way that Siakam leverages length, speed, and footwork to finesse his way to the basket for butter-smooth drives is incredibly reminiscent of KD. The dude just glides to the rim. Now, obviously, that shot is a million miles away from even being 5 percent of KD's sweet stroke. It's going to be near impossible to catch up to one of the greatest shooters of all-time. But there are aspects of Siakam's game that I love; they are the same traits that I will forever cherish in Durant.
Anywho, some solid moments overall. Score 3/5.
Fun to watch: After Game 1, I went on my podcast (Beers and Ball – go check that out) and said that Orlando-Toronto was the best series of the first-round. For a week, I diligently stuck to that scorching hot take. Eventually, I had to change that stance.
It's a shame, too. Based on that one game sample, Toronto-Orlando was gearing up to be an incredibly physical, old-school defensive bloodbath. The Raptors are currently the second-stingiest team of the postseason with an all-defensive-worthy trio of Siakam, Kawhi Leonard, and Danny Green. Kyle Lowry is still a tremendous irritant at the point guard position, and Marc Gasol is a steady low-post deterrent who made life a living hell for Nikola Vucevic. (Vuc, an All-Star this year, put up numbers that were borderline NSFW. They were that bad.)
The Magic were one of my favorite teams to watch during the latter portion of the season; their two games vs. the Nets (who I cover here at ESNY) were immensely competitive. There's a lot to like about this Magic team. Terrence Ross is a fearless off-the-bench sparkplug who can sink some truly outrageous three-pointers:
Jonathan Isaac is my new secret NBA crush, and he should be yours as well. Defensively, he's an absolute menace, capable of matching up with guys 1-through-5, if need be. Anyone who can effortlessly poke away steals from Kawhi Leonard's massive hands gets a round of applause from me. Also, notice (in the video below) his defense with the 50 seconds remaining in the second quarter:
Jonathan Isaac was absolutely everywhere in the first half on defense. pic.twitter.com/0RWM19097W

— Ben Taylor (@ElGee35) April 20, 2019
First, Isaac completely dampers an aggressive drive from the lightning-quick Pascal Siakam, forcing Spicy P to dish to a wide-open Marc Gasol. Then, in two quick steps, Issac dashes over to erase Gasol's opportunity from three. Words cannot even begin to describe how incredible that is, especially for someone at his stature (closer to 7-feet). I wouldn't be shocked if, at some point, Isaac makes First-Team All-Defense. He's already far along in his trajectory.
Aaron Gordon greatly raised his stock in this series as well. He did an admirable job defending Kawhi Leonard, pushing the Raptors' star off his spots on numerous occasions. I think that if he played his correct position (PF), he could be an integral piece to a very good team. Unless Orlando is fully committed to moving Isaac to the five (they should be), this may mean that Gordon is expendable.
But anyway, enough about Orlando. If you can't tell, I care much, much more about them than Toronto. Let's get to that score. 13/20. Go Magic.
Final Score:  18/40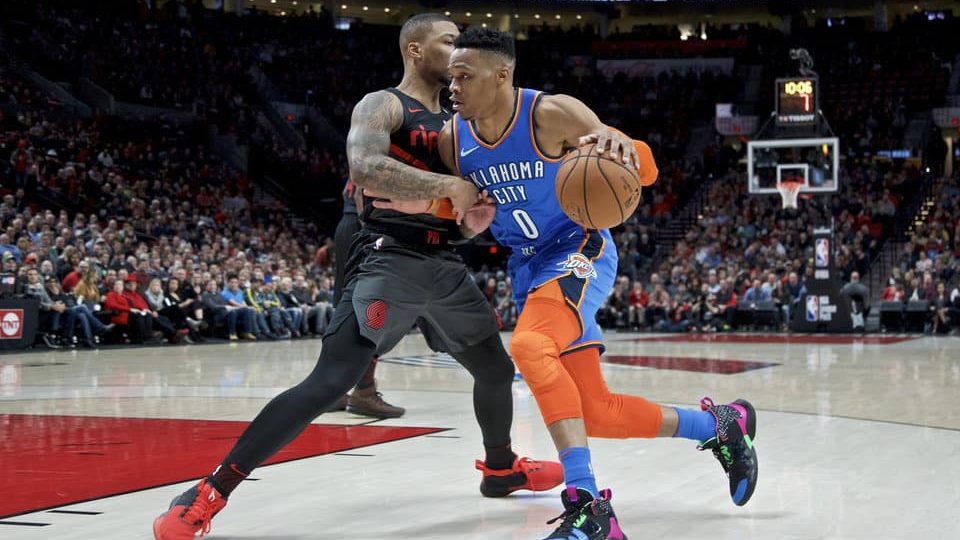 #5 Portland Trailblazers (3) vs. Oklahoma City Thunder (6)
The Portland Trailblazers provided the Oklahoma City Thunder with their third-straight first-round bounce via a gentlemen's sweep. For Oklahoma City, it's back to the drawing board and difficult summer ahead. Portland, meanwhile, has a chance to advance to the Western Conference Finals.
Rivalry: The Damian Lillard–Russell Westbrook beef was miraculous. It gave the NBA life amidst a truly awful first-round. There was a plethora of trash-talking. There were staredowns. The beef even included ultra-disrespectful celebrations. In all honesty, I can't remember a playoff rivalry like this in quite some time. Damian Lillard obviously got the last laugh, but it was riveting to watch two A-List superstars jaw at each other. Score 5/5.
Star power: In terms of star distribution, this was the most balanced first-round series by a longshot. Each team had its own MVP candidate – for Portland, it was Damian Lillard; for OKC, it was Paul George. Then there's Mr. Triple-Double himself, Russell Westbrook. CJ McCollum — a player who averaged 23 points just two seasons ago and would have been an All-Star in the Eastern Conference — was somehow the fourth best player in the series. That's a lot of high profile guys and they were split up two apiece. Score 5/5.
Competition: You could make an argument that, especially with how Game 5 ended, this was a pretty competitive series. But realistically, we kind of knew who was going to win after Game 1. Portland's pick-and-roll heavy system was problematic for OKC from the jump. It took Billy Donovan five full games to realize that Steven Adams — who recorded a -11.2 net-rating throughout the series — was utterly unplayable. However, even if Donovan had made the Jerami Grant-small-ball five adjustment earlier, I sincerely doubt it would have made the difference. Portland seemed like a bad draw for OKC, unfortunately. Score 3/5.
Signature moments: …
O game winner de Damian Lillard ao som de Titanic ??

— DIDICO DA NBA (@didicodanba) April 25, 2019
Russell Westbrook is gonna be seeing this face in his dreams all summer #DamianLillard #NBAPlayoffs pic.twitter.com/mlmpiUC0A1

— Samuel Farrell (@SamuelJdidit) April 25, 2019
…5/5 for that face alone.
Fun to watch: Oh boy am I ready for the backlash for this one. Remember how I said I had to cheat the system and bump the "fun to watch" category up to 20 points? This series was the reason why. Damian Lillard has been the best player of the postseason (outside of a fella by the name of Kevin Durant, who has apparently gone nuclear for three weeks straight). His series-winning dagger in Paul George's face was perhaps the most clutch postseason shot since Kyrie Irving's Game 7 three.
But I'm going to be straight with you: I hated watching this series. Like, despised it. Even in Game 5, it wasn't until the last five minutes that I really locked-in.
I know for most fans, the OKC-Portland series will be atop of their own entertainment value lists. I get that. On paper, it had everything. But for some reason, I found myself drifting to my phone, dishes, laundry, etc. throughout all five games. I'm still struggling to figure out why this series didn't grip me. All five games moved pretty slowly; both teams ranked within the top-6 in fouls per game. Maybe that's it.
I also have a thing against playoff holdovers. I hate them. I like fresh blood. This series featured two of them. Neither seemed particularly likely to stay in the playoff hunt for long. The core of CJ, Dame, Al-Farouq Aminu, Mo Harkless and (insert big bruiser) has essentially been Portland's homeostasis since 2016. Eventually, the Blazers' inability to defend the perimeter will bite them in the ass. It's just a question of "when?"
Even with the addition of Paul Geroge, the Thunder really haven't changed much either. Year after year, they're pegged as a conference finals sleeper based on a tenacious defense. In general, OKC is full of long-armed, supremely athletic 6-foot-7 guys (i.e. Terrance Ferguson). But then, every season, roster construction kills this team at the worst time. Those 3-and-D wings go cold with the bright lights shining. It's the same thing every season.
If you can't tell already, I passionately dislike watching the Thunder. Look, I get the Westbrook thing. The guy is a generational athlete who is incredibly fun to watch IF you can get past his flaws.
That is a massive "if," and it's one I can't overcome. Part of the issue with this series was the Lillard-Westbrook duel. Lillard represents everything that Westbrook isn't. He's a prolific outside shooter, plays within himself, and is balanced around the rim. Westbrook, on the other hand, barfs up out-of-rhythm threes, loves low percentage long-twos, and has never displayed finesse when charging to the basket. But, he's also a freaking warrior, who dives for loose balls like he's the twelfth-man. When he's hot, there's no stopping the guy. He's the box scores vs. advanced stats argument in human form. There's no right answer in that argument; both sides make compelling cases. It's all about what you like as a fan.
… and as a fan, Westbrook's shtick simply doesn't appeal to me. Neither did this series. Score 7/20. (Ducks as tomatoes are thrown his way.)
Final Score: 25/40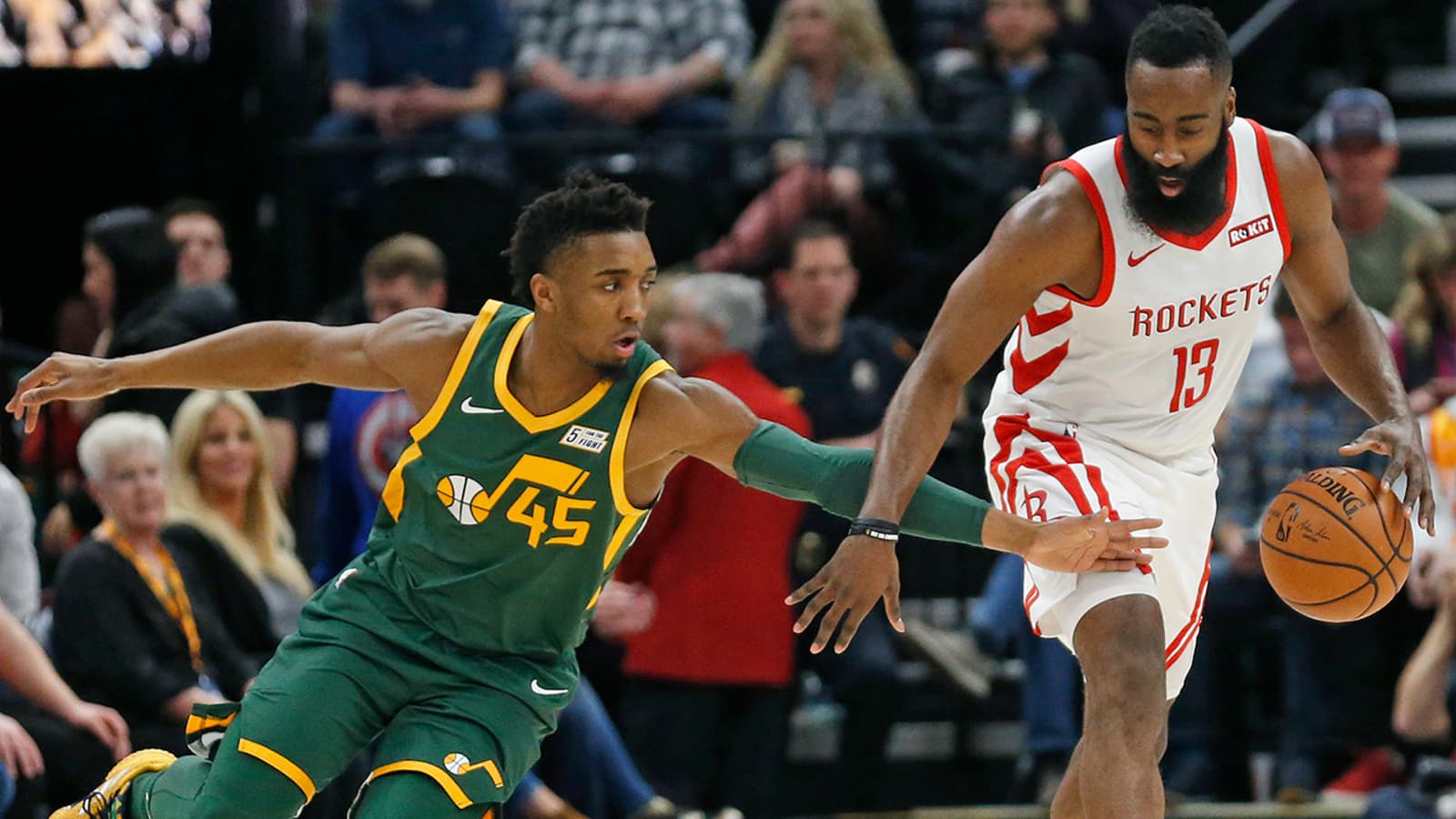 #4 Houston Rockets (4) vs. Utah Jazz (5)
For the second straight season, the youthful Utah Jazz and the Houston Rockets met in the postseason. And, for the second year in a row, Houston disbanded of the Jazz in five loosely competitive games.
Rivalry: Similar to the Bucks-Pistons series, I just never felt like Houston took Donovan Mitchell and the Jazz seriously. They knew the outcome of the series before Game 1 even started. For that reason, I'm going with a 1/5.
Star power: Even with Donovan Mitchell becoming Lance Stephenson with a signature shoe, and Rudy Gobert getting stretched beyond his limits by Houston's offense, this series had a ton to offer for the casual fan. Why?
This guy. James Harden is similar to Westbrook in that's a love-or-hate player. I, personally, am firmly in the camp that digs his game. Especially the 2019 James Harden.
The Beard essentially took the blueprint from Stephen Curry's 2016 season and blew it up to another level. He attempted 13.2 threes per game and has made a highly difficult shot — the stepback three — his most lethal weapon on offense; so much so that Utah devised its entire defensive system into giving Harden free walks to the rim. That's absurd. Even better, Harden patched up the remaining holes in his game through the addition of a fairly reliable floater and some effort on defense.
I understand despising the way Harden plays basketball, I really do. The free throws are annoying. The flopping gets old quick. Similar to Kyrie, he can almost feel too efficient. But Harden is basketball in 2019. He might be the best player in the league. If he wins the chip this year, he's going to quickly move up the all-time pantheon. Score 4/5 based on Harden alone.
Competition: Per usual, Batman Villian Quin Snyder piloted a truly magnificent defense. Utah's defensive system on Harden was outright ridiculous. But to a degree, it worked; the Beard's percentages were way down.
If Utah could've pieced together an even halfway-decent offense, then this series would have been a completely different story. The Jazz could best be summarized by Ricky Rubio's crunch-time three-point attempt from Game 5:
Absolutely nobody:

Ricky Rubio: Kobe! pic.twitter.com/OizWVMy4ZQ

— Dan Greenberg (@StoolGreenie) April 25, 2019
To quote the great @SportsTalkBarry: tough scene. Score 2/5.
Signature moments: Nothing really to report here. Donovan Mitchell going full inferno during Game 4 was pretty cool. Score 2/5.
Fun to watch: (Dear reader, be prepared for heavy praise of the Houston Rockets). Is it just me, or is this year's Rockets squad WAY more fun than last year's group?
This wasn't the case at the beginning of the season. Houston broke apart what made last year's group so special: the defense. The Melo experiment was laughably bad. In hindsight, suggesting that James Ennis could fulfill even 50 percent of what Trevor Ariza brought to the table was incredibly misguided. Chris Paul looked washed for the first three months.
But then Daryl Morey did what Daryl Morey does. He maneuver. He finagled. Morey grabbed Danuel House off the scrap heap, subsequently lost him due to contractual issues, and then found a way to resign him after months of stagnation. Kenneth Faried was rescued from the depths of hell in Brooklyn. Even Austin Rivers looks okay in Houston's system.
Together, Houston is lethal again, bringing 48 minutes of stranglehold defensive coverage. Not to mention, their offense is fitted with the correct amount of shooting. Houston might be better suited to taking down the Warriors than ever before. I know I'm in the minority with this one, but I have fun watching Houston. The Jazz aren't bad either. Score 16/20.
Final Score: 25/40.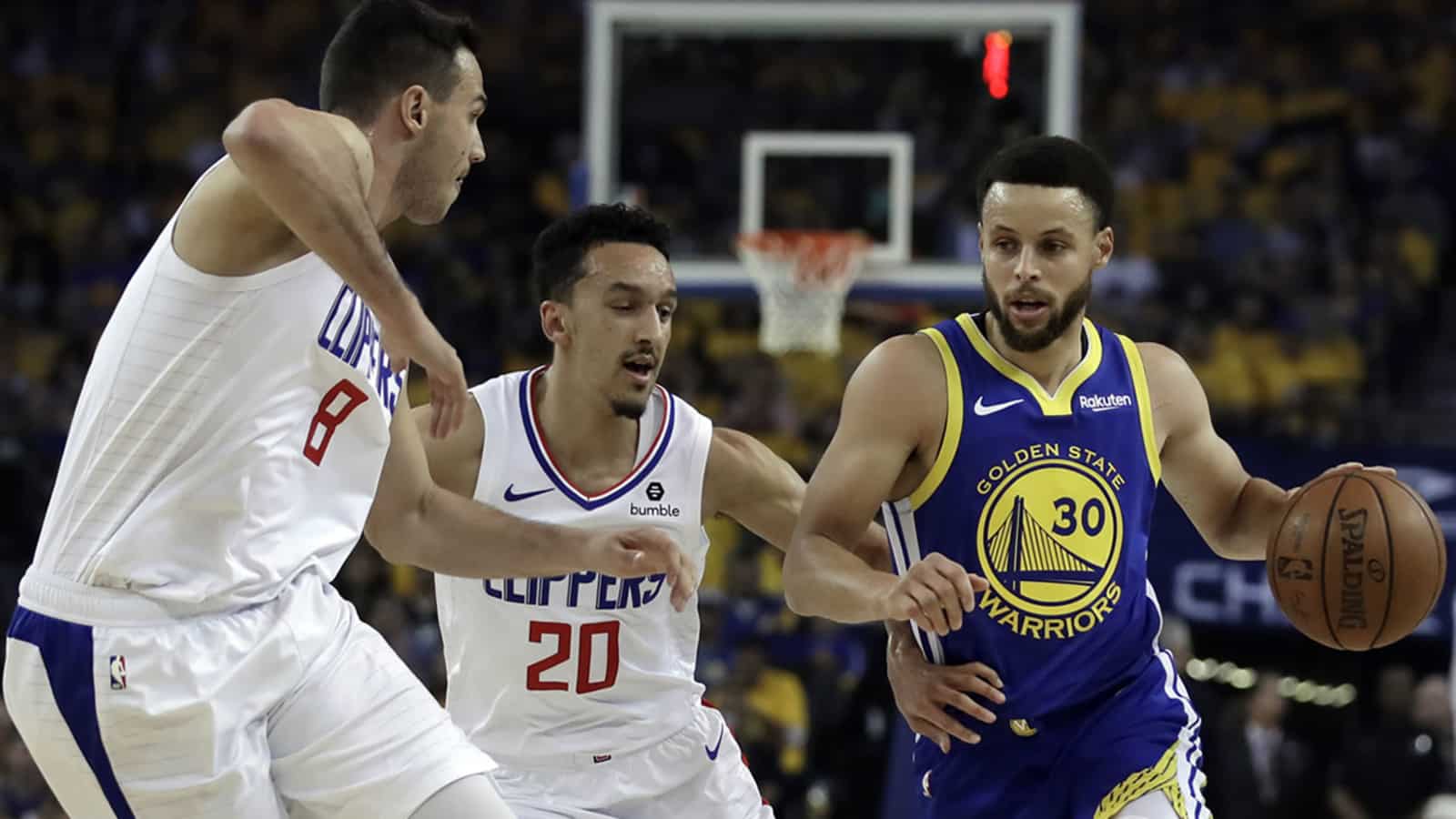 #3 Golden State Warriors (1) vs. LA Clippers (8)
In what ended up being a pretty shocking series, the Golden State Warriors required six games to disband of the rag-tag Clippers. Questions about the Warriors' stability have never been more pronounced.
To a degree, I was correct. Pat Bev continued to be an irritant. But KD handled business like a grown man (more on that in second …). By the end of the series, these teams were acting all lovey-dovey over each other and it was … kind of bizarre? Isn't there a long-lost rivalry here? What are we doing exactly?
Great postgame interview honestly
pic.twitter.com/KhpwaflF5U

— Chris Long (@JOEL9ONE) April 27, 2019
Watching Draymond Green show actual respect for a player on a different team was even weirder. Where is the edge? I want fights!
Draymond Green respects Montrezl Harrell A LOT. Like, a lot a lot pic.twitter.com/brDg0LP83L

— Drew Shiller (@DrewShiller) April 27, 2019
This was a far cry away from the disdain that Brooklyn and Philadelphia had for each other. Unlike Philly, Golden State seemed to hold its upstart, overachieving competitor in high regard. Perhaps they shouldn't get too comfortable, though; LA could be Golden State's biggest rival in the Kevin Durant sweepstakes. Score 3/5.
Star players: Five All-Stars vs. zero. Hmmmmm. 3/5 (just for KD and Steph being really f-ing good).
Competition: I've been so conflicted on this – was the series really that competitive? To LA's credit, it went six games. But at the same time, even while it was happening, it never really made sense how LA managed to steal two games

on the road

from Golden State.
There are times when I wish that playoff performance could count towards the NBA awards. This series offered concrete evidence that the Coach of the Year award should belong to Doc Rivers.
Even as a write this, I still have no idea how to grade this one. I'm going to tentatively give the West's 1-8 matchup a 2/5. Deep down, you knew that Golden State wasn't actually going to a blow a 3-1 lead to a team whose best player is Lou Willaims.
Signature moments: The Golden State Warriors — a former 73-win team who blew a 3-1 lead in the NBA finals — managed to squander a 31-point advantage to a playoff team starting two rookies. You couldn't write a better script. It was good to see the ole' 3-1 memes back for even just one day.
Oh, and don't think I forgot. That KD guy we keep talking about? Well, he's still pretty good at basketball.
Kevin Durant scored 166 points on 72.8 percent true shooting over the final four games of that Clippers series. That's apocalyptic.

— Zach Harper (@talkhoops) April 27, 2019
Lord help us. The Harden-Durant second-round face-off has some incredible upside. Score 4/5.
Fun to watch: If you put a gun to my head and told me to pick the most exciting games of round one, they would go as follows:
Golden State Warriors – LA Clippers Game 2
Portland Trailblazers – Oklahoma City Thunder Game 5
Philadelphia 76ers – Brooklyn Nets Game 4
Toronto Raptors – Orlando Magic Game 1 (AKA the text-your-friend-to-ask-WTF-is-going-on-with-DJ-Augustin-game)
Golden State Warriors – LA Clippers Game 5
Oh yeah, Golden State-LA owns 3 of the top 5 games of the playoffs. In Game 2, the LA Clippers — who lost their best player at the trade deadline — overcame the biggest playoff deficit of all-time to defeat the defending back-to-back champs.
Game 5 may have been just as impressive. At this point, LA was down 3-1 against a team with arguably the greatest semblance of talent ever. Only 11 teams have come back from a 3-1 hole, and none of them have done so against a team as talented as the 2019 Golden State Warriors.
Yet, LA didn't care. They beat the brakes off Golden State for most of Game 5. Unfortunately for LA, Kevin Durant began to take things personally in the fourth. Durant started to pour it in, executing pristine crossovers before gliding to the rim on numerous occasions. In the span of 5 minutes, Durant single-handily erased LA's ten-point edge and turned it into a two-point Golden State advantage. The writing was on the wall; Golden State would win in five.
Sike. LA would close it out on a 9-3 run. 9 and 3 have a least common denominator of 3. Factor things out, that 9 and 3 turn into a 3 and a 1. 3-1. See, things truly do come full circle!
Let's all ignore what happened in Game 6. Game 5 was the perfect cap to a truly magical year in Clipperland. In all honesty, this might have been the franchise's best season – even better than the peak Lob-City. Let's hope LA is rewarded accordingly in free agency. Score 14/20.
Final Score: 26/40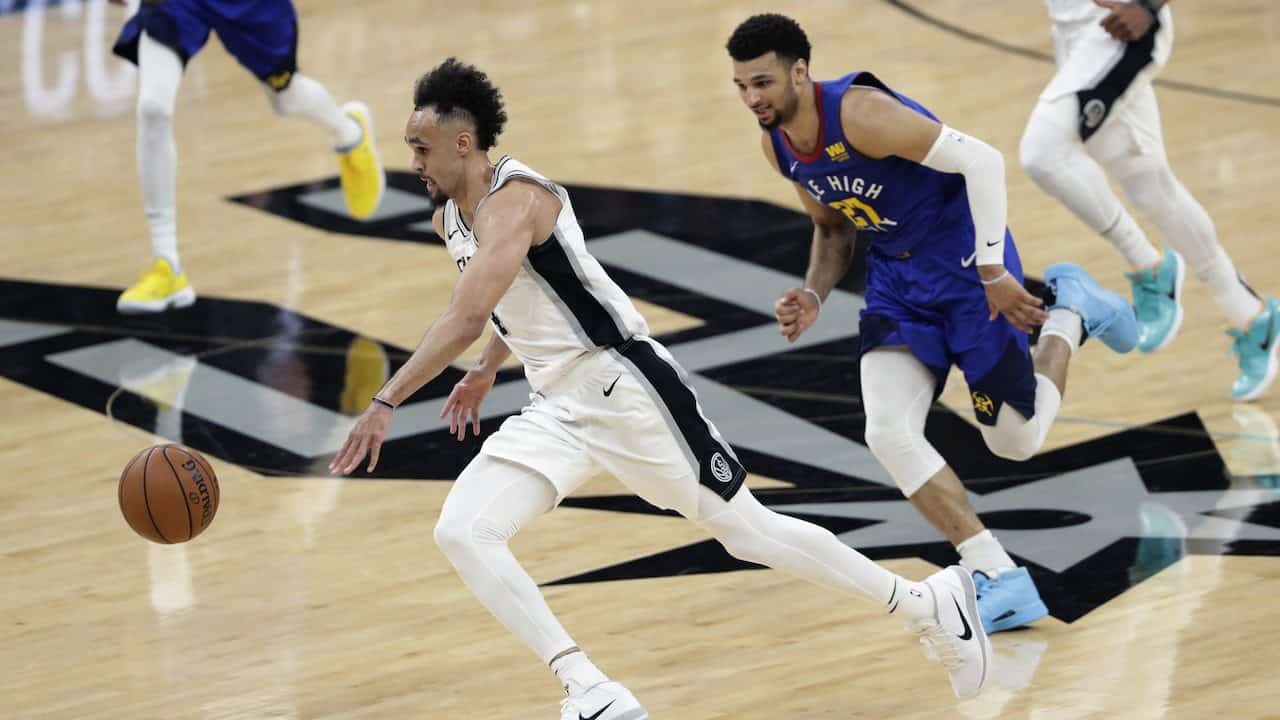 #2 Denver Nuggets (2) vs. San Antonio Spurs (7)
To the surprise of most, the West's 2-7 matchup was the first round's longest series; Denver-San Antonio went a full 7-games.
Rivalry: To my knowledge, there's none to be found. Maybe a contest of "which team do people give less of a shit about?" (Just kidding Spurs and Nuggets fans!) 0/5.
Star players: Okay, technically each team has at least one star on its roster. LaMarcus Aldrige and DeMar DeRozan are perennial All-Stars. However, both players' skill sets are pretty outdated (Boy I'm wearing out my welcome in San Antonio). Denver, on the other hand, features one of the league's premier talents in Nikola Jokic. The Joker was number 3 on my personal MVP ballot; he was sensational this year. But unlike Giannis or Joel Embiid, his game is built more on finesse and picture-perfect passing than brute scoring. It's more fun to root for a guy if you know he's capable of detonating in a flash. Score 3/5.
Competition: As I said before, Spurs-Nugs was the only seven-gamer. That has to count for something, especially in comparison with the rest of the playing field. Score 5/5.
Signature moments: Derrick White's Game 3 performance is why I love the NBA playoffs. White, San Antonio's second-year point guard, made a name for himself. He's the quintessential Spurs player – it's a miracle he's in the league.
White started at junior college. And it wasn't even a school with a formidable athletics program; Johnson & Wales is known for its cooking classes of all things. By happenstance of his coach transferring to Colorado-Colorado Springs, White managed to tag along and play D-II ball. Then, White hit a massive growth spurt and shot up to 6-foot-5. Next thing you know, he's in the league playing for the Spurs – the best developmental franchise in the NBA.
While many other young stars floundered in the playoffs (looking at you, Donovan Mitchell and D'Angelo Russell), White broke out in front of our eyes. Game 3 was full-send Derrick White. (Ugh, I just threw up in my mouth a little after writing that.)
The kid's game is tremendous. The way White paces himself is well beyond his years. Not to mention, I can't remember a guard who is this good at block shots this early on. The Dwyane Wade comparison is dangerous to make (especially with the way Donovan Mitchell has looked this year), but White gives me shades of Flash with his defense.
I can't forget about my boy Big Yoke (as I like to call him). Nikola's 43-point performance was every bit as surprising as it was impressive. It isn't that he can't get to 40 on a regular basis. It's more that he chooses not to. Scoring 40 isn't Jokic's style — he's a pass-first center.
But damn, watching Jokic body dudes down low and launch high-release threes has been a spectacle. Outside of Damian Lillard and Kevin Durant, I think the Serbian Center might be the biggest winner of the first-round. Many (myself included) worried that his first go-around in the postseason would be difficult, just because of the heightened intensity and the… um… running. (Let's just say that Jokic isn't in the greatest shape of all time).
Yet, Big Yoke hasn't missed a beat. He averaged 22.3 points, 11.7 rebounds, and 8.8 assists versus the Spurs. He looked unstoppable. Score 3/5.
Fun to watch: So look, this series went 7. Yes. It had some big performances. Sure. But have you looked at the scoring margins of each game? Not great!
It doesn't help that both of these teams suck on the road. Denver is greatly aided by the altitude; the Spurs are just a historically great team on their home floor.
In all honesty, this was one of those series that probably should've ended at 5 or 6 games but dragged on to 7. I watched every single game and most of them were solid. But again, it would have been nice if we had gotten at least a couple of close games. Also, the Spurs forgetting to foul in Game 7 didn't help anything.
With all of that said, I'm going to score this a 15/20.
Final Score: 26/40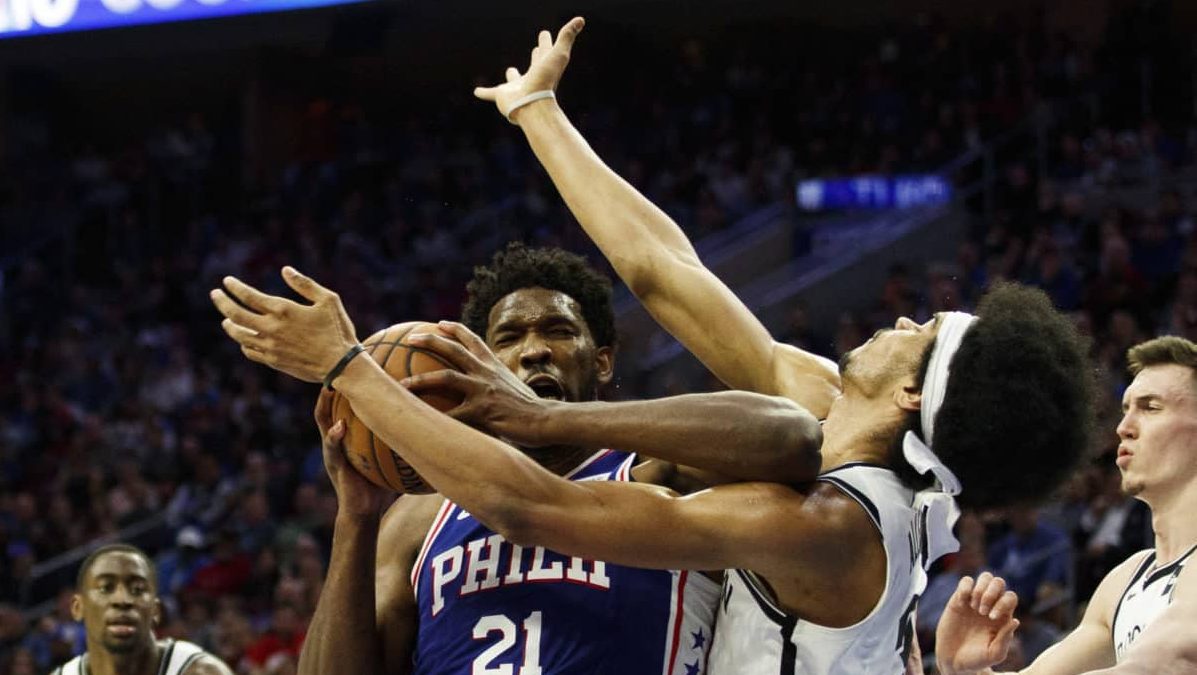 #1 Philadelphia 76ers (3) vs. Brooklyn Nets (6)
What a shocking turn of events! Brooklyn Nets' writer picks Brooklyn Nets-Philadelphia 76ers as his favorite playoff series. Who could have seen this coming?
Really, though, this series had everything: close games, big performances, and a heated rivalry. Let's get into it, shall we?
Rivalry: Outside of Russ v. Lillard, was there a better first-round beef than Jared Dudley and Ben Simmons? For all his efforts, Simmons just couldn't erase the underlying tension.
First, Dudley shuts Simmons down in transition during Game 1, prompting me to write one of the most ridiculous columns of my life: 1,700 words on Jared Dudley. Seventeen-hundred. On Jared Dudley!
Then, Dudley follows up his big game by talking the most dismissive shit: he calls Simmons "average" in the half-court. Boss move.
Simmons retaliates by acting as if Dudley is a part of the concessions crew at Barclays:
#Sixers PG @BenSimmons25 responds to Jared Dudley's comment about the #NBAAllStar being "average" in half court. pic.twitter.com/0BQTtHOnUL

— Keith Pompey (@PompeyOnSixers) April 18, 2019
"It's Jared Dudley, man."
Ouch. That smirk hurt. Reminder number 3,000,000 that Australians are huuuge badasses. (Number 299,999,999 is this video.)
Oh, but we're not done yet. After sinking a big three-pointer in the face of Philly's defense, Jared Dudley decided to pay homage to Michael Jordan's "Wings" poster.
Jared Dudley looks like he should be hoopin at LA Fitness ? pic.twitter.com/P44piIIymx

— Sports ON Tap (@SONTHighlights) April 21, 2019
I've saved the best for last. Near the end of the first half in Game 2, Philly's Joel Embiid attempted a vigorous spinning hook-shot. While making his move, Embiid delivered an elbow squarely in the chops of poor Jarrett Allen.
Fans were not happy. Players weren't either. Those feelings were magnified when Embiid and his running-mate, Ben Simmons, were laughing at the podium about the entire incident. The guy who took it the most personally was the man of the hour, Jared Dudley.
Joel Embiid fouled Jarrett Allen in similarly rough fashion during Game 4, and Dudley decided to take things up another level. He charged head-first into the 7-foot-2 Cameroonian center. A scrum quickly evolved. The fight leaked all the way into the stands. Dudley and Jimmy Butler were ejected from the game. Tempers were flaring.
Philadelphia has always been happy to play the villain. This series wanted all the smoke. Every last puff of it. Score 5/5.
Star power: Outside of the Golden State Warriors, Philadelphia features the most star-laden team of the 2019 NBA Playoffs. In theory, Brooklyn has an All-Star, too. Philadelphia's defense had issues with stopping point guards all season long. Brooklyn's D'Angelo Russell is a really good point guard. Seems like a problem to me.
It's clear that we were worried about the wrong guy. D'Angelo Russell's growing pains were put on full blast: his turnovers were up, his shot selection was shoddy, and he just wasn't prepared for the gravity of the situation.
His teammate, Caris LeVert, was. LeVert looked every bit the string bean, herky-jerky swingman we all fell in love with at the beginning of the year. I couldn't get enough of it. In fact, I wrote a full piece about his first-round breakout here. Score 3/5.
Competition: This series was a gentleman's sweep. I recognize that. But it wasn't a five-game beat-down like Toronto-Orlando or Houston-Utah. In fact, you could make the case that Brooklyn-Philadelphia was more competitive than Portland-OKC. Because, unlike the Thunder, at one point, the Nets had a real avenue to win.
Following Game 1, in which Brooklyn upset Philadelphia on the road, hot takes were flying.
"Can this Philly team win a title?" "Can Brooklyn pull off the upset?" "Is Ben Simmons overrated?" "Do the Sixers need to break up this core?" "Will Embiid ever be healthy?" "Are the Sixers the most disappointing playoff team since the Nash–Dwight–Kobe Lakers?"
It will be overlooked by most, but Game 4 was neck-and-neck until the very end. Unfortunately for Brooklyn, Embiid made the best pass of his career to an open Mike Scott, while D'Angelo Russell dropped the ball out of bounds for a costly series-ending turnover. Brooklyn-Philadelphia could have easily been tied at 2-apiece. But alas, it wasn't. For that reason, I'm scoring this a 3/5.
Signature moments: *insert entire answer from the "rivalry section"*. Also, Joel Embiid was very, very good. Simmons' Game 3 was nice, too. 4/5.
Fun to watch: If you're into fist-to-cuff fights, breakout performances, a great deal of exciting star power (is there a more fun under-25 one-two punch than Embiid/Simmons?), and non-stop drama, then this was the Magna Carta, Holy Grail for you. Brooklyn and Philadelphia represented the modern-day David and Goliath story – except in this version, Goliath comes out on top. Make no mistake, David put up a valiant fight for 4 games. But the right team won. For Nets fans, that sucks. But for the average NBA fan, that's a good thing. If all goes right, Brooklyn and Philadelphia will share a heated playoff rivalry for years to come. Score 17/20.
Final Score 32/40