Make no mistake, the second-round of the NBA playoffs has been defined by the stars. Kawhi Leonard, Kevin Durant, Nikola Jokic and Giannis Antetokounmpo are the undisputed MVPs of round two. It's no coincidence that, for three of them, their respective teams hold a 3-2 series advantage. (The fourth — Giannis — disposed of the Celtics in five quick games.)
As essential as it may be to have a top-tier star, role players can be just as important. Guys who do the dirty work on defense, work the boards, and create bail-out plays on offense can be the make-or-break differences between a championship team and a second-round bounce.
Here are three lesser-known players who have made a big imprint on the 2019 NBA Playoffs.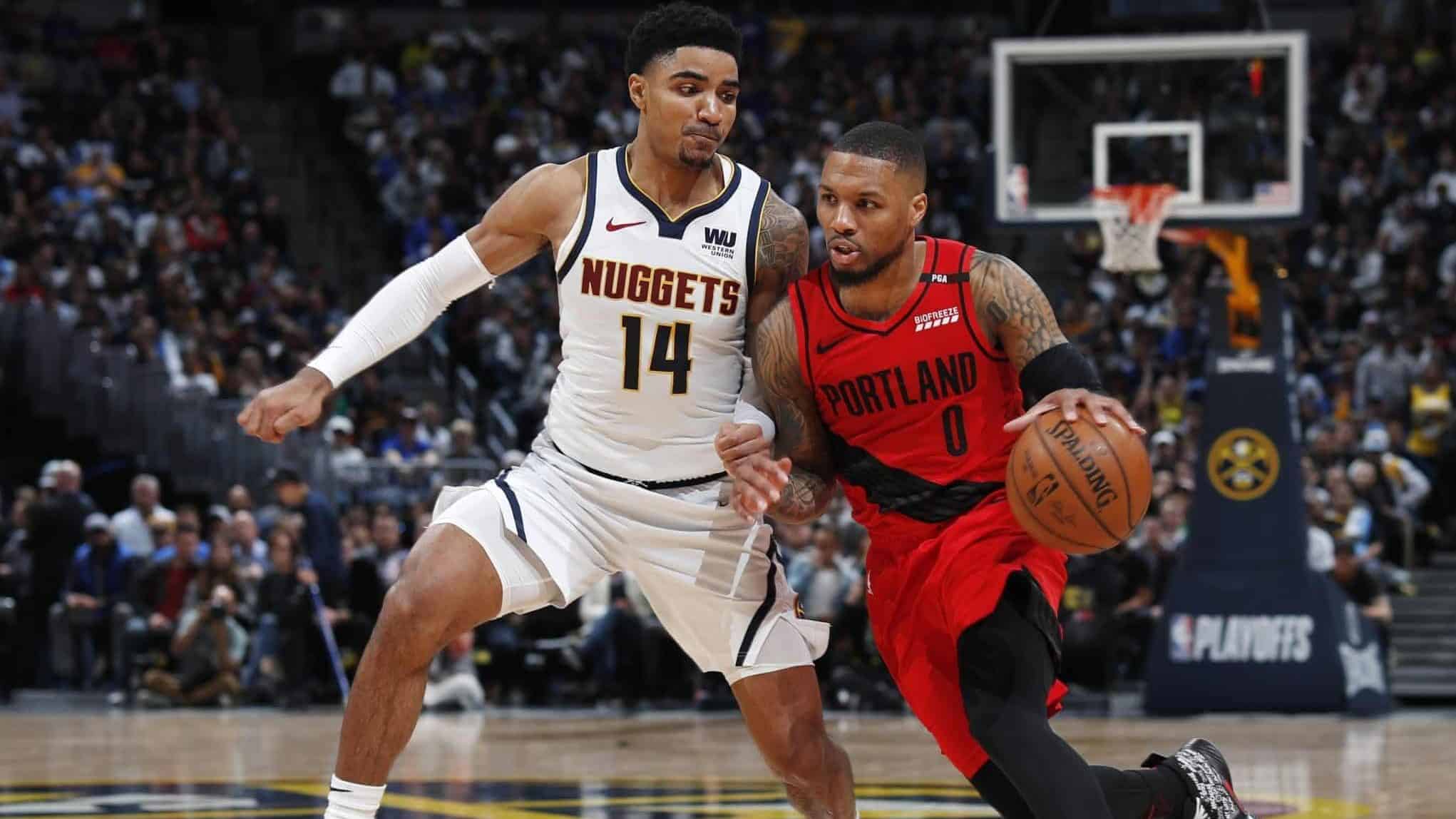 The secret is out: I love the Denver Nuggets.
Nikola Jokic has quickly become my favorite player not wearing a black-and-white Brooklyn jersey. Actually, scratch that. Remove the "not wearing a black-and-white Brooklyn jersey" part. The Joker might be my favorite player, period.
His teammate, Gary Harris, isn't far behind.
Harris' rise wasn't as unexpected as some of the other members of this list. Drafted 19th by the Chicago Bulls in 2014, he and Jusuf Nurkic were quickly dealt to Denver for Doug McDermott during a draft-day trade (big yikes). Harris made waves early, quickly establishing himself as a key piece of Denver's youthful rotation. With immense two-way impact for such a young player, Harris even picked up some Most Improved Player buzz prior to the 2017-2018 season.
While Harris didn't come away with the award, it wasn't due to a lack of improvement. Versus Portland, he's showcased exactly how far he's come since being drafted.
Coming into this series, the Portland Trailblazers were listed as +120 to take down the Denver Nuggets. Even though Denver held the advantage during the regular season series, many projected Portland's star power to be too much for Denver. Damian Lillard was coming off a series-winning three-point buzzer-beater, and in large part looked like the best player of the first-round. To most, there was no stopping Dame Dolla.
Gary Harris didn't get that memo.
Through five games, Harris held Lillard to 14-of-36 shooting (38.9 percent) and 5-of-19 from deep (26.3 percent). His ability to stay in front of the shifty All-NBA first-teamer has been astounding. With quick hands and a photographic-like memory of Lillard's moves, Harris has wreaked havoc while defending in one-on-one coverage.
The Blazers have done all they can to free up space for their star point guard. They've set ball screens at mid-court to take Harris out of the action early. Portland has attempted rescreen after rescreen to halt Harris in his tracks with a big body. For the most part, it hasn't mattered. For every Portland scheme, Harris has the counter. Notice, below, how Harris gets lost on Al-Farouq Aminu's pick only to sprint back into the play and thoroughly reject Lillard's toes-on-the-line three-pointer. Dynamic stuff.
As if guarding Damian Lillard — an MVP candidate this season — wasn't enough, Denver has also slotted Harris onto Portland's other dynamic scoring guard, CJ McCollum. McCollum, the Batman to Lillard's Robin, has gotten just about every shot he's wanted versus Denver. Against Harris, however, it's been a dramatically different story.
Harris has guarded McCollum for 146 possessions through five games, and he's held Portland's midrange assassin to 12-of-29 shooting and just 3-of-10 from deep.
Guarding Portland's two best players on defense has not slowed down Harris' offense. Harris has averaged 13.2 points on 41.7 percent from the field. His shooting percentage is greatly weighed down by his uncharacteristically low three-point marksmanship; Harris missed 15 of his total 18 three-pointers versus Portland.
He's picked up the slack by being astoundingly good around the rim. Through five games, Harris made 20 of his 32 total restricted area shots. He's taken full advantage of Portland's glut in rim protection.
As a finisher, Harris is an up-and-under connaisseur. Capable of finishing with both hands, Gary Harris has pulled off some truly breathtaking finishes at the basket.
Oh, and one last thing. The dude is clutch. Small sample alert, but Harris has shot 57 percent from the field and 50 percent from three in playoff games that are decided by five points or less.
Like many of the guys on this list, Harris isn't a household name. If the Nuggets can finish this series off in 6 or 7 games, there's a good chance you'll see Harris make a big impact on the Western Conference Finals.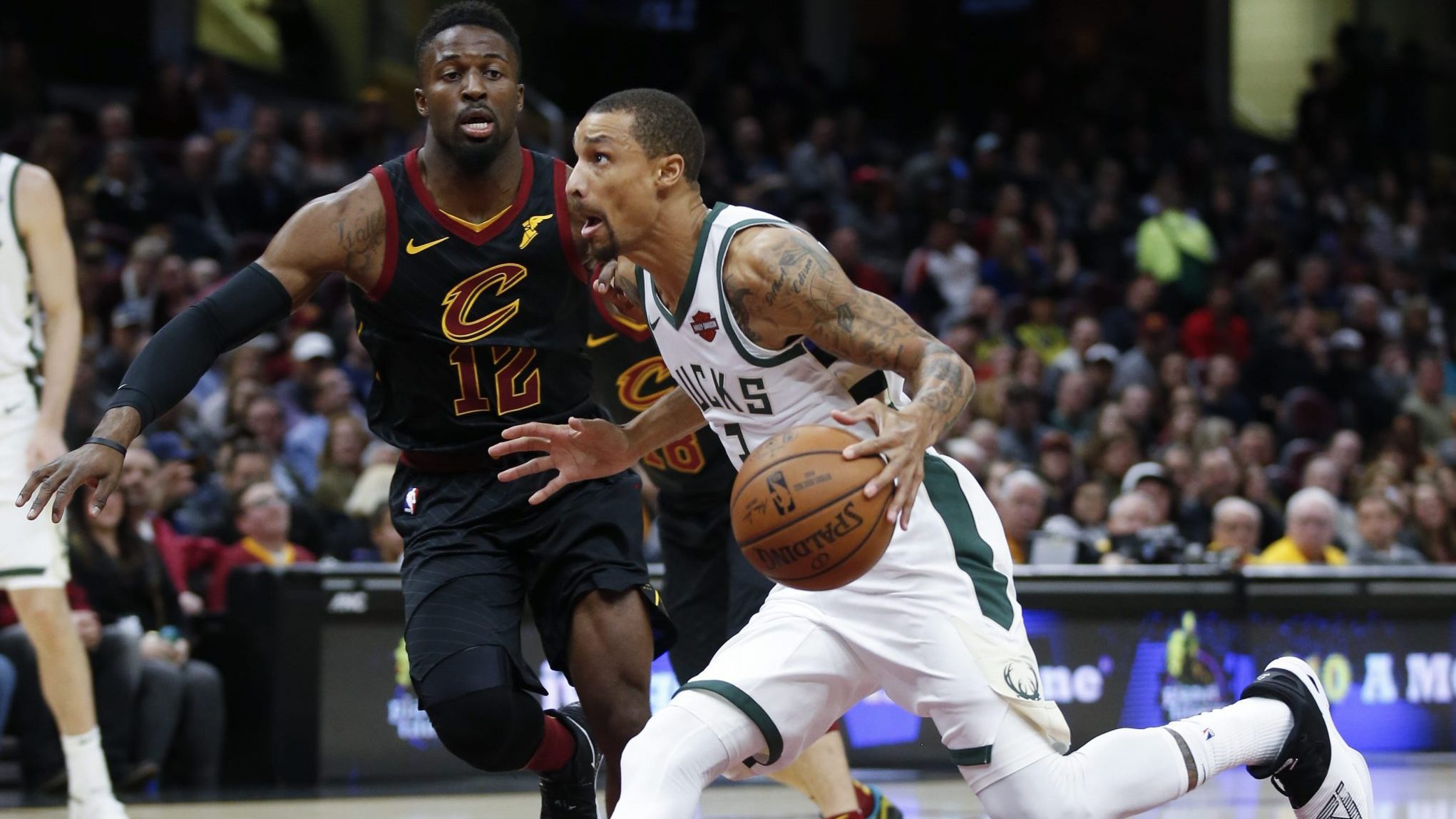 I couldn't believe my eyes when I saw the numbers.
Through these playoffs, Hill has averaged 12.1 points, 3 assists, 0.4 turnovers, 54.7 percent from the field, and 41.4 percent from three.
Remarkable would be a disservice when attempting to summarize Hill's resurgence.
Just five months ago, Hill was on the fast-track to being out of the league. Hill joined the Bucks in December via a trade and put up middling numbers. Milwaukee represented Hill's fifth team in two-and-a-half years. Hill had already flamed out from two losing rosters, Sacramento and Cleveland, due to lack of playing time and poor effort. It wasn't looking good for the former IUPUI star.
George Hill was a new man versus the star-laden Boston roster. Hill has always been a solid outside shooter with a career average of 37.8 percent, so he's been a seamless fit within the Bucks three-point-happy offense.
What's been shocking about Hill's play has been his tenacity off the drive. Hill's 23 total drives were the fourth-most for any Milwaukee player during the second-round. More impressive was his efficiency: Hill scored on 8 of his 13 total shots attempts via drives and recorded a 69.6 scoring percentage.
Some of these makes have been particularly gorgeous. Here, he nails a fall-away 7-foot jump shot off high-glass over the outstretched arms of Kyrie Irving. Talk about an advanced finish.
I just about fell out of my seat when Hill blew by Boston's defense for a powerful dunk. (Nice effort, by the way, Kyrie…)
At 33 years old, he's certainly not the defender he used to be. Age has sapped his dexterity on that end of the floor. However, depending upon the possession, George Hill can still be pretty pesky. Notice how Hill comes as close to hand-checking Kyrie Irving as humanly possible, sticking his arms into Irving's vision without violating the rules. His friskiness clearly makes a difference; Kyrie settles for a contested long two-pointer.
At $18 million per year, this will likely be Hill's last season with Bucks. He has $1 million of partially guaranteed money next season, so expect the Bucks to waive or trade him.
Even so, Hill's impact has been immeasurably important to the Bucks' Conference Finals run. Someone will pick him up next season.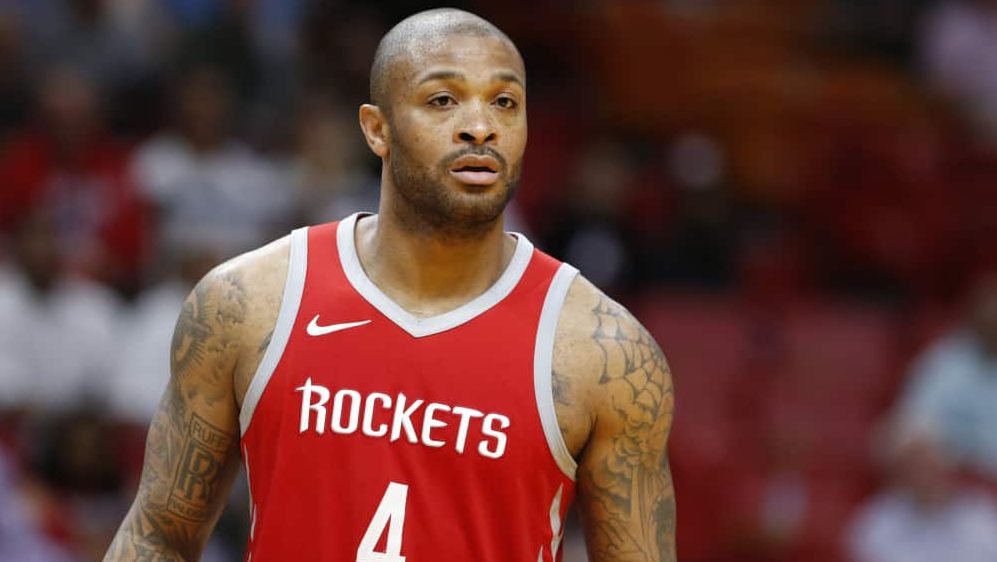 P.J. Tucker – F, Houston Rockets
Tucker is probably the biggest household name on this list. Yet, I still feel he deserves more shine.
In my eyes, he's been Houston's second best player versus the Golden State Warriors (behind James Harden. Eric Gordon makes a strong case, too.) This season, Houston shelled out almost $55 million in salary to Clint Capela and Chris Paul. Tucker, who earned about $8.4 million this year, is outplaying both of them.
What's been the most remarkable about Tucker's run is his minutes total. At 34 years old, you'd assume that Tucker is on the downswing of his career – likely playing fewer minutes per game.
Nope. Not in Houston. Through ten games, Tucker participated in 38.1 minutes per game – the tenth-highest average of the playoffs. These haven't been easy minutes, either. Rockets coach Mike D'Antoni has used Tucker as a small-ball five to counter the Warriors' deathly Hampton's Five lineup. At just 6-foot-6, that is an exhausting task for an undersized player like Tucker.
Ready for things to get even crazier? On top of a grueling minutes average, Tucker has been tasked with guarding Kevin Durant — AKA the best damn basketball player in the entire world. Stopping Durant is impossible, but making him work his ass off for points is the best a defender can do.
Tucker has done that and more. Here, he presses Durant into a contested 20-footer that nearly shatters the backboard.
Tucker, with lightning quick hands, has displayed top-notch expertise as a steals-man, ranking eighth on the playoff leaderboard with 1.6 per game. Below, you'll see he rips the ball from Durant's 7-foot-5 wingspan during a drive.
A couple of things make this impressive…
A) It's Kevin Durant.
B) Durant is freaking impossible to keep pace with once he puts his head down. Yet, Tucker shadows KD step for step.
and C) Tucker manages to avoid fouling Durant while slapping the ball out of his hands, even as the Golden State superstar flops during the attempted layup.
It should come as no surprise to anyone that Houston's defense is significantly worse when Tucker is off the floor. The team allows nearly 6 more points per 100 possessions when Tucker sits.
Glancing at Tucker's on/off numbers, I was surprised to see how much he impacts the offense. Houston's offense scores at a rate of 111.4 points per 100 possessions with Tucker in the fold. With him out of it, that number plummets to just 97.4 points. That's not just bad. It's lottery-team bad.
Per usual, Tucker is knocking in his corner threes. He's canned 2 of his 5 total shots from the left corner and is 5 of 9 from the right.
However, even while shooting 47.4 percent from deep, the shooting isn't his biggest addition to Houston's offense. Tucker's rebounding has been the skeleton key to Houston's second-chance, three-point-cascading system. In fact, Tucker has grabbed the sixth-most offensive boards of any second-round player.
Tucker's impact on the boards has changed the nature of this series. In Games 1 and 2, Houston was outrebounded 86-104 by the Warriors. Games 3 and 4 were a different story. Houston won the rebounds battle 103-124 (along with the games themselves). Tucker was the biggest contributor, grabbing 13 boards in Game 3 and 10 rebounds in Game 4.
Even more important were his 10 total offensive rebounds in that two-game span. Not only did they create a plethora of second-chance opportunities, but his offensive boards greatly got the home crowd involved. There's a reason that Tucker is considered the heart and soul of the Houston Rockets. Plays like this:
If Houston is able to pull off the series upset, it will be in large part due to Tucker's all-out grit. Let's hope he gets rewarded accordingly with a flashy championship ring.