The New York Rangers offseason storylines to follow involve John Davidson, the Russians, Kaapo Kakko and contract situations.
With the regular season and the NHL Draft Lottery in the books, the New York Rangers now shift their focus toward the offseason. This summer marks a crucial step in the Broadway Blueshirts' rebuild, as the front office will look to accelerate the team's rebuild.
While it should be an exciting next few months, Jeff Gorton and company will have some extremely difficult decisions to make. This offseason could be the one that defines the Rangers' rebuild.
New York could continue to trust the process and stick with the plan, or management could attempt to turn a corner this offseason and reestablish the Blueshirts as contenders. We can speculate all we want, but only time will tell.
Here are some storylines to follow this offseason:
Making the Rangers Great Again
As a result of Glen Sather's decision to step down from his role as team president, the Blueshirts are in search of a replacement. Sather and team owner James Dolan will lead the search for New York's new headman. Jeff Gorton's job is not at risk, as he will remain the franchise's general manager.
When it comes to finding the man who will work alongside Gorton to bring the Rangers back to relevancy, New York hasn't cast its net wide nor far. The Blueshirts' brass currently has only two candidates in mind: Steve Yzerman and John Davidson.
The Rangers were interested in bringing in Yzerman, the architect of the Tampa Bay Lightning, but "Stevie Y" was set on returning home to the Detroit Red Wings. The Hall-of-Famer will assume the role of general manager in Hockeytown.
Now the Rangers are praying that John Davidson takes after Yzerman and returns back to his roots. Davidson, a former Rangers goaltender turned MSG broadcaster, has spent the last number of years as the president of the Columbus Blue Jackets.
Davidson would be an excellent hire for the Blueshirts. The only setback could be prying him away from Columbus, especially with the success they've had thus far this postseason.
The Luck of the Draw
Thanks to the fortunate bounces of Gary Bettman's ping-pong balls, the Rangers were able to take a major step forward in their rebuild. Just a couple of weeks ago, New York landed the coveted second overall pick in the 2019 NHL Entry Draft.
This was the ideal landing spot for Jeff Gorton, as one of Kaapo Kakko or Jack Hughes will fall into his lap. The Blueshirts will add a franchise-altering talent with this pick, marking Broadway's first true superstar since the days of Marian Gaborik and Jaromir Jagr.
Hughes and Kakko both play very different styles; however, they are equally effective. Kakko is a big Finnish sniper, who relies on his size, his strength, and his blistering shot. Hughes is an American playmaker, whose specialty is his quickness, his speed, and his vision. Both are quality options. With the second pick in the draft, the Rangers will receive quite the consolation prize.
Want to learn more about Hughes and Kakko? Check out my scouting reports on the two future superstars.
The Russian Five
No, I'm not talking about the Detroit Red Wings of the late 1980s. I'm talking about New York's five Russians. Vlad Namestnikov, Pavel Buchnevich, and Alexandar Georgiev had all already made the voyage over to the NHL, and now at least two more Russians will be added to the mix. Vitali Kravtsov and Igor Shesterkin will be joining the Rangers next season. This is a game-changer.
Kravtsov, the ninth overall pick from the 2018 draft, has seen his stock rise dramatically after a solid year in the KHL. It has gotten to the point where the 19-year-old is being regarded as one of the league's top prospects. We'll see if he lives up to the hype, but one thing is for sure — he should provide a boost to the Blueshirts' inconsistent and sometimes anemic offense.
We also can't forget about Igor Shesterkin (Shestyorkin?), who will finally make his long-awaited arrival next season. But what does this mean for the rest of the Rangers goaltenders? I'll get back to that in a little bit.
You might have noticed that I said the Rangers would be adding at least two more Russians. Yes, that was on purpose. There's the possibility that New York's promising defenseman Yegor Rykov also decides to jump ship on the KHL and makes the move over to North America. But more importantly, I was thinking of Artemi Panarin, who could join John Davidson in the move from Columbus to Broadway. Sign me up!
Big-Name Hunting
Speaking of Artemi Panarin, the Rangers will definitely be looking to bolster their roster via trades and free agency. Panarin will be Jeff Gorton's top target when he likely hits unrestricted free agency on July 1st.
In order to make the Panarin acquisition a reality, Gorton is probably going to have to pony up and hand Panarin a blank check. The proposition of playing in Florida, where there is no state tax, and having the chance to reunite with former coach Joel Quenneville will definitely be attractive to the Russian superstar. The Rangers are going to have to give Panarin an offer he can't refuse.
Luckily, there are plenty of other high-end players that could become available, who will serve as back-up plans. Guys like Matt Duchene, Erik Karlsson and Anders Lee could all become UFAs, and others such as Mitch Marner and Brayden Point will be RFAs. Could Gorton make an unprecedented move, and offer sheet Marner or Point? It's definitely enticing. And it would not shock me.
I believe the Rangers will make a run at Karlsson, who has long been linked to the Blueshirts. They have the cap space, and they need help on the back-end. Karlsson's injury history could be the only concerning factor that scares off New York's front office. I don't think Karlsson would be opposed to joining the Rangers and taking a run at Lord Stanley's Cup alongside fellow Swede Henrik Lundqvist.
If things don't work out in free agency, the Rangers could also address their blue-line needs through the trade market. The combination of a disappointing first-round exit and a salary-cap-crunch could cause the Winnipeg Jets and Nashville Predators to try and shake things up. This could result in the departures of Jacob Trouba and P.K. Subban respectively.
I can't imagine that the Blueshirts wouldn't take a swing at acquiring either one of these two stud defensemen. The only problem is that Jeff Gorton would have to offer up a significant package that would likely include Chris Kreider.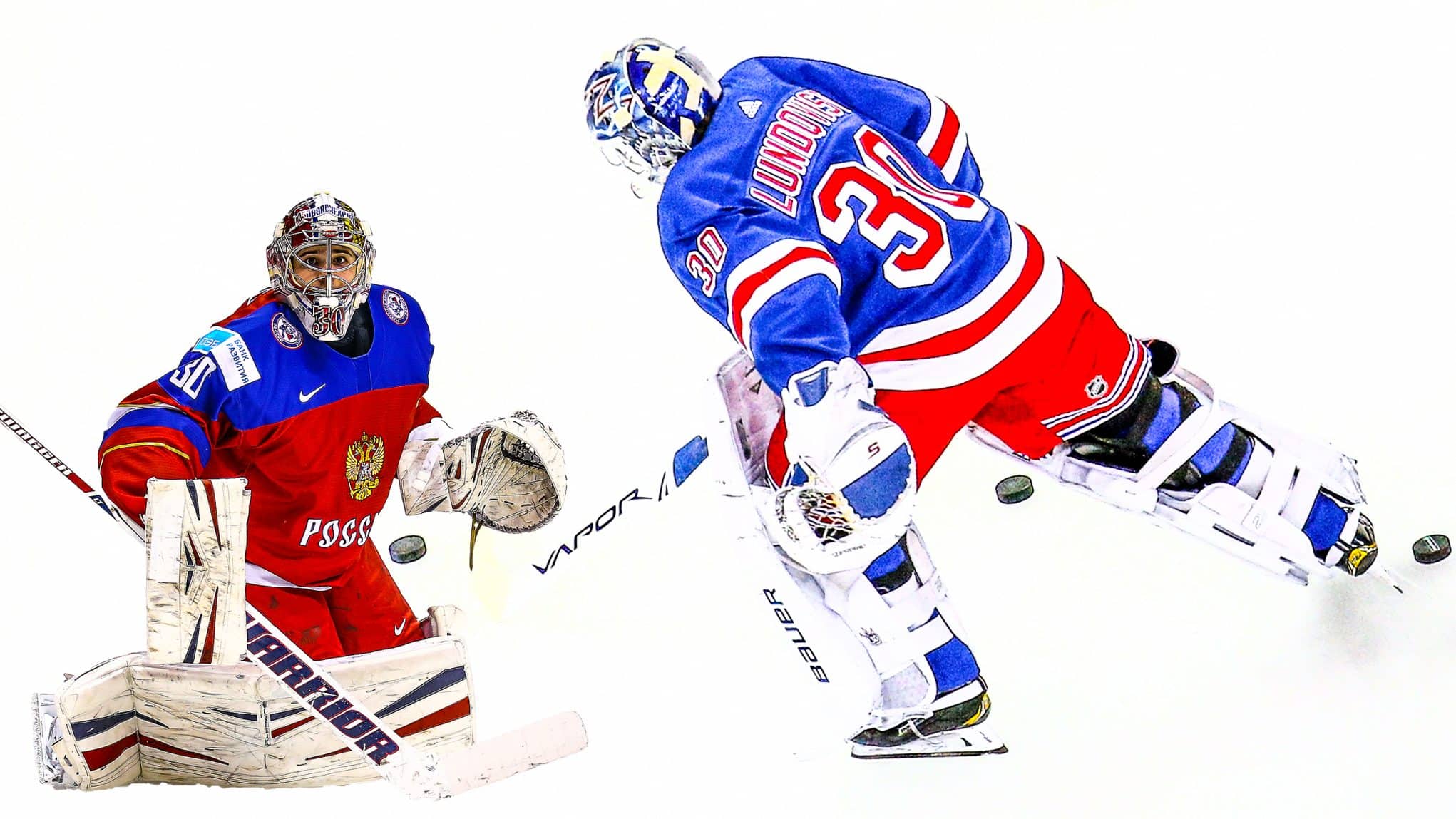 The heir to the King
Back to Igor Shesterkin. He joins New York's crowded goal-crease that is already occupied by an aging stud in Henrik Lundqvist and an up-and-comer in Alexandar Georgiev. The addition of Shesterkin will only make things more complicated.
First thing's first, Henrik Lundqvist isn't going anywhere anytime soon. This leaves the Rangers with a bit of a dilemma. Georgiev has shown flashes of great potential, and he put together a solid 2018-2019 campaign. On the other hand, Shesterkin comes over as the NHL's top goalie prospect and the man who was regarded as the expected heir to King Henrik prior to the unexpected rise of Georgiev.
The two Russian netminders could battle it out to see who gets to back-up Lundqvist and eventually take over the reins as the Blueshirts' goaltender. The problem is the loser of this battle is likely going to become expendable. There's no point in having Georgiev or Shesterkin sit in Hartford for the next couple of years. A trade is necessary.
One of Georgiev or Shesterkin will likely be dealt, yet as crazy as it sounds, the Rangers would probably be better off saying goodbye to Lundqvist and investing in the Russians. I'll have more on this another time.
Thank you, Mats and Kevin!
Not only were Mats Zuccarello and Kevin Hayes productive Rangers and fan favorites, but they have also been doing their part to help New York's rebuilding efforts.
Mats Zuccarello and the Dallas Stars are three wins away from advancing to the third round of the Stanley Cup Playoffs. If the Stars are able to defeat the St. Louis Blues in their series, the Blueshirts will end up with Dallas' 2019 first round pick. Additionally, it is looking increasingly likely that Zuccarello will re-sign with his current team. If this were to happen, the Stars would owe the Rangers their 2020 first round pick.
But don't forget about Kevin Hayes. Hayes' Winnipeg Jets were ousted by the Blues in the first round of the 2019 playoffs. This means that their first round pick, which is owned by the Blueshirts, won't be any higher than the 22nd overall pick.
Moreover, I still wouldn't be too surprised if a Kevin Hayes reunion were to come to fruition.
Contract Conundrums
Lastly, Jeff Gorton is going to have to make some interesting decisions on his youngsters this summer. Pavel Buchnevich, Tony DeAngelo, Neal Pionk and Brendan Lemieux are all set to become restricted free agents, and all four of them will likely be returning to the Big Apple. The question is what their next contracts will look like.
All of these guys have shown flashes of promise, but they have also all disappeared at times, or been a liability as in Neal Pionk's case. In just a couple of months, we'll truly get to see whom the front office has faith in.
Signing all of the aforementioned players to bridge-deals would be a colossal mistake that would put the Rangers in salary-cap-hell for years to come. On the other hand, you don't want to take too much of a risk and end up being locked into six years of Neal Pionk, especially if he continues to play the way he did this past year. It's all about minimizing risk and maximizing rewards.
If I were in charge, I would try to sign Buchnevich, DeAngelo, and Lemieux to long-term contracts with a low AAV (average annual value). With the addition of Adam Fox, there's no place for Neal Pionk on New York's blue-line. I'd trade him for whatever you can get.
---
This offseason could be a rebuild-defining summer. It's currently a time of nervous excitement in New York. The Rangers could put themselves in a prime position for sustainable future success, or they could end up making a costly mistake that sets them back a couple of years.
Regardless of what happens, get your popcorn ready. There is a lot to pay attention to this summer.
Follow Brian on TWITTER