It was only a matter of time before New York Rangers prospects Igor Shesterkin and Vitali Kravtsov came over, but let's slow the roll. 

While in the midst of a rebuild, the one glimmer of hope usually experienced happen when prospects are introduced. For the New York Rangers, those prized prospects are named Igor Shesterkin and Vitali Kravtsov.
Both players have been given a ton of hype from social media and the Rangers themselves, making fans itching to see them over in North America. While the hype surrounding them is warranted, the Rangers need to be careful to not overhype them and eventually rush them if they truly aren't ready to take the next step.
For years, teams have hyped their prospects which is great because it gives fans hope for a time where their team will be competitive once again. The problem with all of this is when there's hype, there will always be unrealistic expectations. Look no further than the situation Lias Andersson fights on a daily basis.
Andersson was selected seventh overall in the 2017 NHL Entry Draft and presented to the fan base as the most NHL ready prospect in the draft. While that's the perfect way to calm the storm of a fan base freaking out because of a team passing up on Casey Mittelstadt, Michael Rasmussen and Owen Tippet. It also created unfair expectations for the then 18-year-old.
Now, two years later, Andersson has yet to find a home in the Blueshirts' top six, Some are ready to start calling the 20-year-old a bust after a relatively small sample size.
Fast-forward to today with the Rangers on the verge of signing Shesterkin and Kravtsov, the 25th and 35th best prospects in the league, according to NHL Network. Both players will be given a chance to show what they can do in training camp this fall with the hopes of eventually making the team.
While that is great to hear, and you love to see both players feel they are ready to come over and play at the NHL level, it's not a big deal if they don't start the year on the Rangers roster in 2019-20.
Shesterkin has done nothing but impresses Ranger fans already with his sparkling .953 save percentage playing in the KHL. Some already have him pegged in as the backup netminder next season before he's even dotted his I's on the contract.
It's okay to be excited, but we have to sit back and remember this will be the first time he'll be playing fulltime in North America. He's going to have to adjust to playing on a smaller rink, with not as strong of defense like the one in front of him in the KHL. He might struggle early on, and that's okay because New York has the option to send him to Hartford where he can see the minutes he'll need to develop.
For Kravtsov, the Rangers surprised the NHL world when they selected him ninth overall a season ago and the early returns have been encouraging for the 19-year-old. As a teenager playing amongst men in the KHL, Kravtsov dazzled, scoring 21 points (eight goals, 13 assists) in 50 games. He also put up 22 points in 23 tournament games, the talent is clearly there, but it isn't guaranteed it translates to the NHL right away.
The hope is that the experience gained while playing with an older crowd in the KHL has Kravtsov prepared to play in the NHL. But just like Pavel Buchnevich, it might take some time.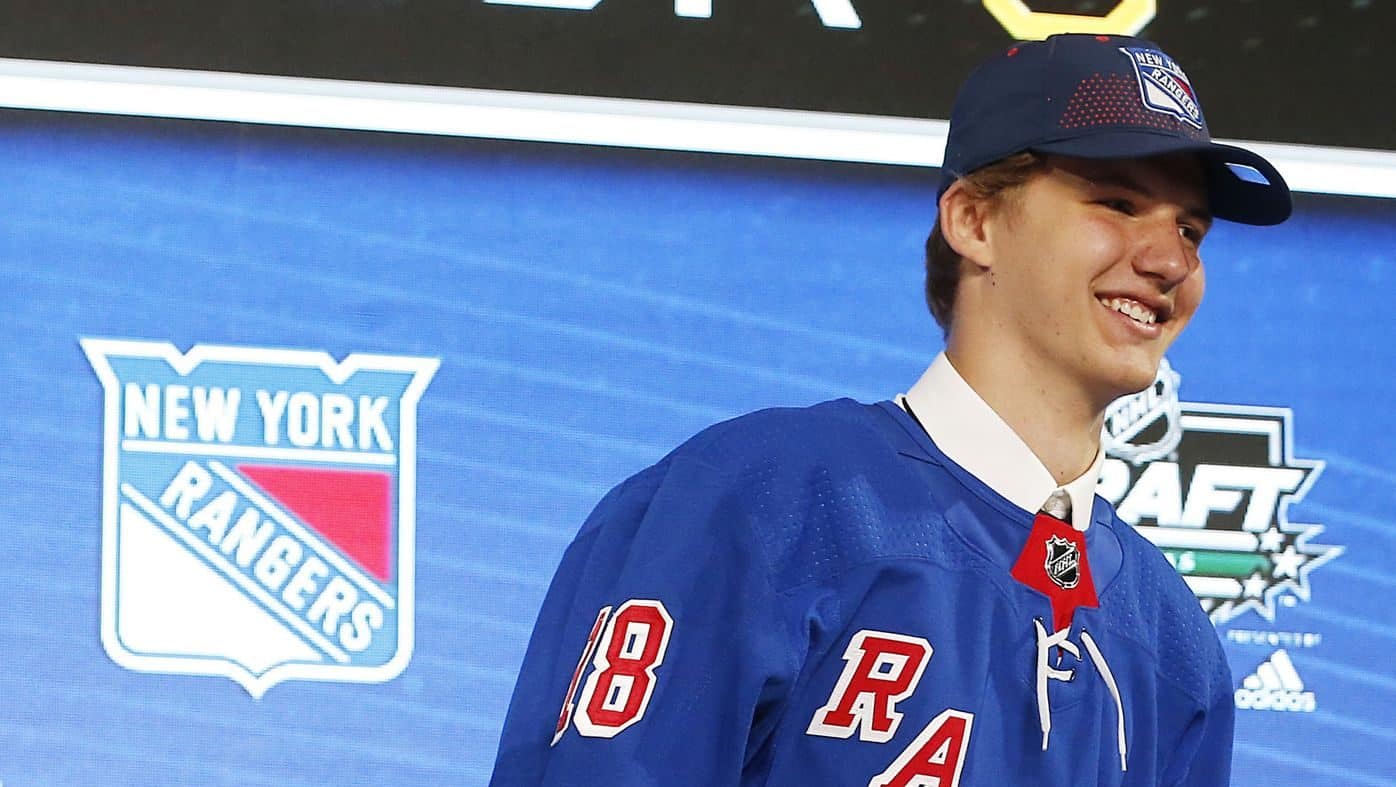 We all know how head coach David Quinn hands out ice time. Players are asked to work hard in practice and compete on a nightly basis. Whatever decisions he makes, he does so with the best interest of the team and the players in mind. We saw him scratch Filip Chytil, Buchnevich and many others this season with the hopes of getting the best out of them. It worked, for the most part, so there is an extremely high chance he'll employ that method with Kravtsov and Shesterkin.
Should it happen with the two of them, there is no reason to panic at all. It is just going to be part of the development process, one in which Quinn showcases a great track record with and he showed just that in his first year behind the Rangers bench.
We live in a world where everyone is looking for immediate results, and for a rebuilding team with 13 players 25-years-old and younger, that is unfair to ask for and expect. So don't rush to judge if the early returns for Shesterkin and Kravtsov aren't what you expected. Give them the time to figure it out. When they do, it out it will be a fun few years on Broadway.