New York Mets starting pitcher Noah Syndergaard decided to take down a Yankees fan with some old-fashioned trash talk.

There isn't a better professional Twitter user than Noah Syndergaard.
New York Mets starting pitcher, otherwise known as Thor, the name the kids label him, took to Twitter late Thursday night to put a Yankees fan on check.
You just got swept, but OK

— Noah Syndergaard (@Noahsyndergaard) April 12, 2019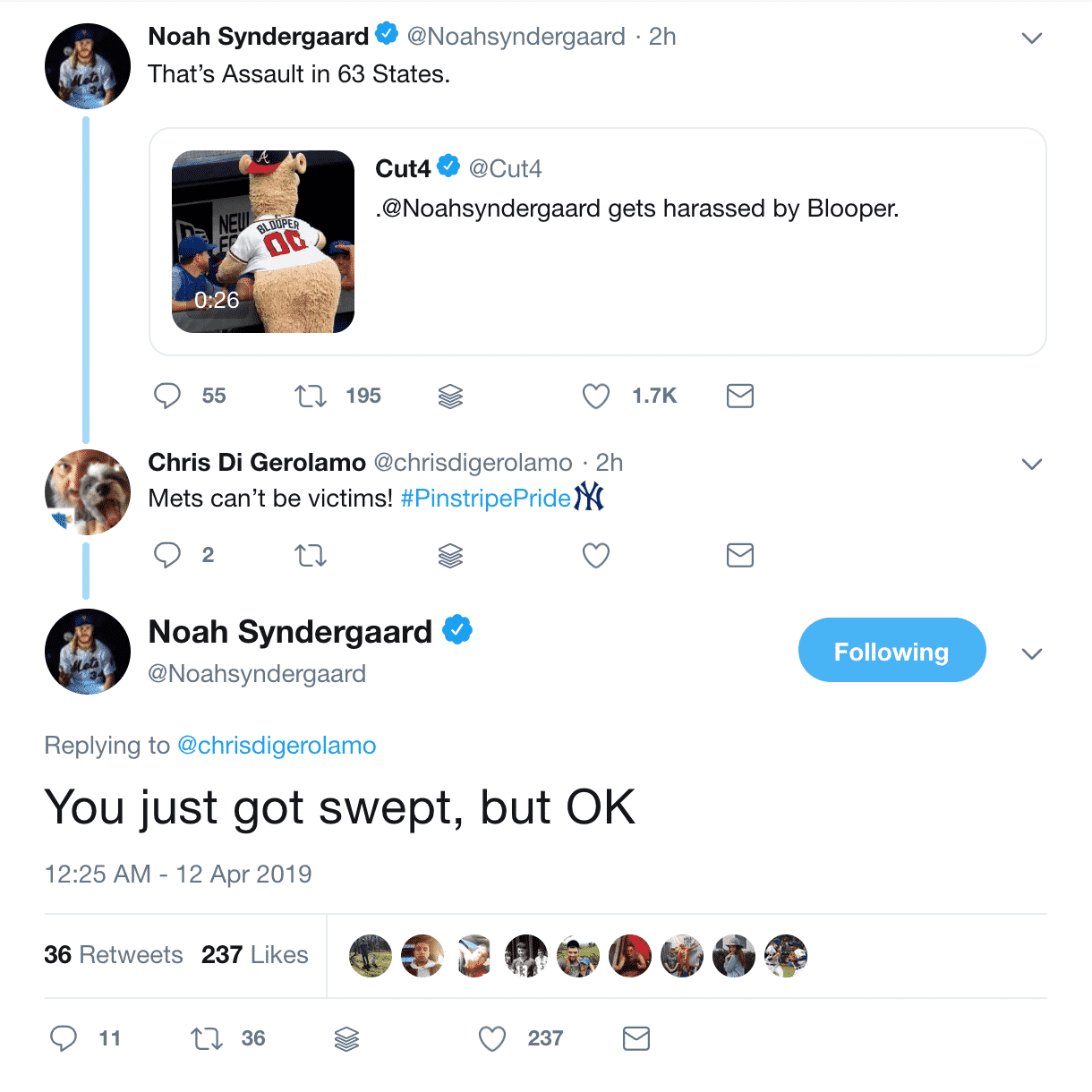 "You just got swept, but OK."
Twitter account @chrisdigerolamo, clearly a Yankees fan, felt the need to chime in on Syndergaard's tweet. The power righty decided to keep it short but extremely sweet.
The master social media ballplayer once again struck a magnificent chord.
The Bombers are currently licking their wounds after a three-game series sweep at the hands of the Houston Astros. Gary Sanchez has become the latest to hit the dreaded IL shelf.
The Mets, on the other hand, improved to 8-4 on Thursday night after a victory over the Atlanta Braves.
On Wednesday night, Syndergaard pitched a gem (prior to the seventh inning) in a win over the Minnesota Twins. He surrendered four runs on five hits while striking out seven in seven innings pitched (98 pitches).
There's an entire season left to be played, but, for now, the injury-riddled Yankees play second-fiddle to the red-hot Mets. Noah Syndergaard's club is ready to take on the Braves in Game 2 while the Yankees open a three-game set against the Chicago White Sox in the Bronx.