With Glen Sather in charge, the New York Rangers have had nothing but stability. Now, they are facing a huge decision finding his replacement.

For the last 19 years, Glen Sather has been the one constant for the New York Rangers, Jim Dolan and Madison Square Garden.
In an era that has seen the New York Knicks go from a competitive team into a complete mess, Sather has somehow been able to keep the stink surrounding the basketball team from ever coming near the Blueshirts. He's done it all, including gaining complete control of the hockey operations staff with Dolan staying away. It's a system Dolan's been trying to implement with the Knicks the last few years but has failed to find the right mix.
Now, as the 2018-19 comes to an end, Sather is ready to relinquish control of the one area Ranger fans have never had to worry about for almost two full decades. All of sudden, the Rangers now find themselves facing one of the most important decisions they've had to face during this rebuild: finding a proper successor to Sather.
There are plenty of directions the Blueshirts can go when looking for Sather's replacement. They can choose from in house and promote someone who knows the plan and how the organization works, or they can go from outside the organization. New York will have to choose if they want to go with someone who has experience or go with someone who's done it in the past and knows the ins and outs of running an organization.
While there are plenty of options surrounding the Rangers, they need to be careful otherwise there can be significant repercussions.
Now you might be saying to yourselves, "Well, Glen isn't the one making the moves; it's Jeff [Gorton]." What you have to remember is Jeff Gorton answers to the president. If he has a move on the table that the president doesn't like, they have the power to nix whatever deal is in place. So clearly, this transition affects everyone all the way from the top to all the way at the bottom.
Where New York and Dolan cannot go to is giving this job to someone who does not have the experience of working in an NHL front office. At this stage of the rebuild, it would be a huge mistake going that route considering what's at hand. While they might be qualified for the job, the experience is probably the most important part of doing this job. How many times have we seen someone without experience go into a situation and look lost, eventually putting the franchise back years?
Looking for an example? Go no further to when Dolan gave Hall of Fame coach Phil Jackson full control of the Knicks. His first move was to bring in a coach with no coaching experience at all, he caused a rift with the franchise's biggest player, Carmelo Anthony, and he even caused problems with Kristaps Porzingis, perhaps the only good thing to come out of his tenure.
Simply put, experience has to mean something when making a decision of this magnitude, especially in the situation the Rangers find themselves in. It's not like New York is contending and can ease a new president in along the way. They are in one of the most important phases as an organization in the last two decades meaning whoever gets this job must hit the ground running and mistakes cannot be tolerated.
This decision also has implications on many others throughout the organization. While talking on "The Michael Kay Show" April 5, Sather could not guarantee the job security for both general manager Jeff Gorton and head coach David Quinn.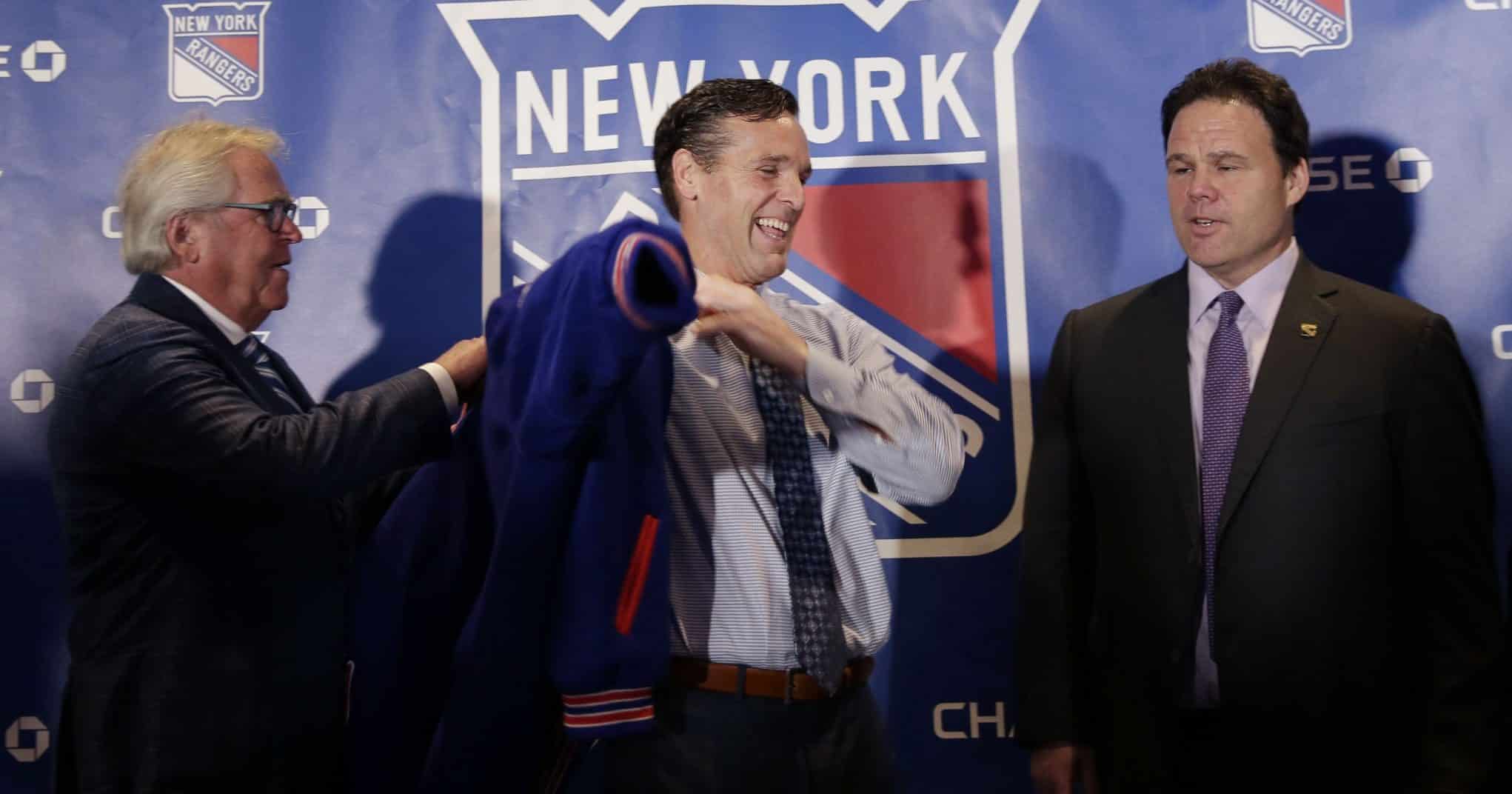 Let's start with Gorton because he's really done a masterful job at turning the Rangers aging pieces into young assets. His resume has always been impressive. The work he did in Boston having a large impact on some of the key players on their roster now. But take away his work in Boston and look at what he's done in New York.
He's accumulated seven first-round draft picks in the last three years after the franchise went four straight seasons without having a single first round pick. He's also accumulated great young talent in Brendan Lemieux, Ryan Lindgren, Libor Hajek, and Brett Howden improving a depleted farm system.
His plan seems to be working and a new president might not see eye to eye on that plan. If they don't and decide to go separate ways, the Rangers will be taking steps backward rather than taking a step forward. Gorton has been an integral part of this process and really should have his job secure for the work he's been able to do the last few seasons.
For Quinn, the Rangers look like they found the perfect coach to lead a young rebuilding team. All of his players seem to have his respect whether they are a veteran or a rookie and seem to go out there and play for him every night. He has a great rapport with his team and is doing great work developing guys like Pavel Buchnevich, Mika Zibanejad, Brady Skjei, and Chris Kreider.
There is absolutely no reason for a new president to come in and make major moves to this team because there is already a very solid foundation already in place. While it was a foundation Sather and Gorton have built together, it looks like a foundation that can help the Rangers get out of the bottom-six of the league over the next couple of years.
Whoever the next president is should look to add to the plan the New York Rangers have set in place the last three season, not completely uproot it and go in a different direction. If they make the mistake of hiring the wrong person, who knows how far back they can set themselves.