With the season winding down for the New York Rangers, the one player who's really turned on the jets is Vladislav Namestnikov.
This recent hot streak began with the Feb. 15 matchup against the Buffalo Sabres, in which he had two goals and an assist. Over the past 13 games, New York Rangers forward Vladislav Namestnikov has found his stride with 11 points. He is shooting the puck, using his hand-eye coordination to tip sailing pucks on net, and, overall, playing at a higher level.
He has seen first line minutes and has also seen third line minutes this season. Even more, he has been among the many that have made there way all the way down to a healthy scratch from head coach David Quinn.
His point total for the season is still not comparable to his time with Tampa Bay, which is obvious. The situations could not be any more different, as he was on a line with Nikita Kucherov and Steven Stamkos last season. With the Rangers, he has spent time with a plethora of line-mates, and let's face it, they don't combine to equal either Kucherov or Stamkos. Overall, his best linemates with the Rangers this season have been to the right of Ryan Strome and Jesper Fast, as well as to the right of Brett Howden and Jimmy Vesey.
Namestnikov has also been a little of everything for the better part of this season. Surprisingly, he has seen more time on the penalty kill than the powerplay this season. At 97.3 minutes of time on ice with the man down, he eclipses his powerplay minutes by 9.3 minutes. No.90 has also seen an increase in defensive zone starts this season as well, with 59.3 percent at even strength.
The Russian Federation native has also shown more than an offensive game this season. He has been an agitator and all-around two-way forward for the Rangers. He is one of eight Rangers players that have gotten 100 or more shots on goal this season. In addition, Namestnikov is one of six that have over 100 hits or more. but, only Mika Zibanejad and Chris Kreider and himself are forwards with both. With the 116 hits and 101 shots, Namestnikov has also gotten down to block 53 shots, a career high.
With the all-around play of Namestnikov, it has been easy for him to adjust to the different roles. He has been able to bang bodies with the best of them and just be a team player. When he was with Tampa Bay, he excelled offensively with the two all-stars around him. Now, he has had to be in a completely different role with a completely different team. It wasn't a quick turnaround either, as he struggled at the end of last season with the Rangers. Even still, this season didn't start off with a bang either. But, after 65 games of putting on a Rangers uniform, he has come around.
These last 13 games have been his best as a member of the New York Rangers. He has been a main contributor, alongside Strome, for the Rangers as of late. At the trade deadline, it seemed that Namestnikov would be parting ways alongside Mats Zuccarello and Kevin Hayes. But instead, he remained and is proving his case for where he will fit in 2019-20.
There is another Russian player that many were ready to see in the late stages of this season, Vitali Kravtsov. But, as it was reported yesterday, he won't be released from his contract in the KHL. Namestnikov would have been a good mentor to the young winger, but with his contract situation, it won't happen until next season.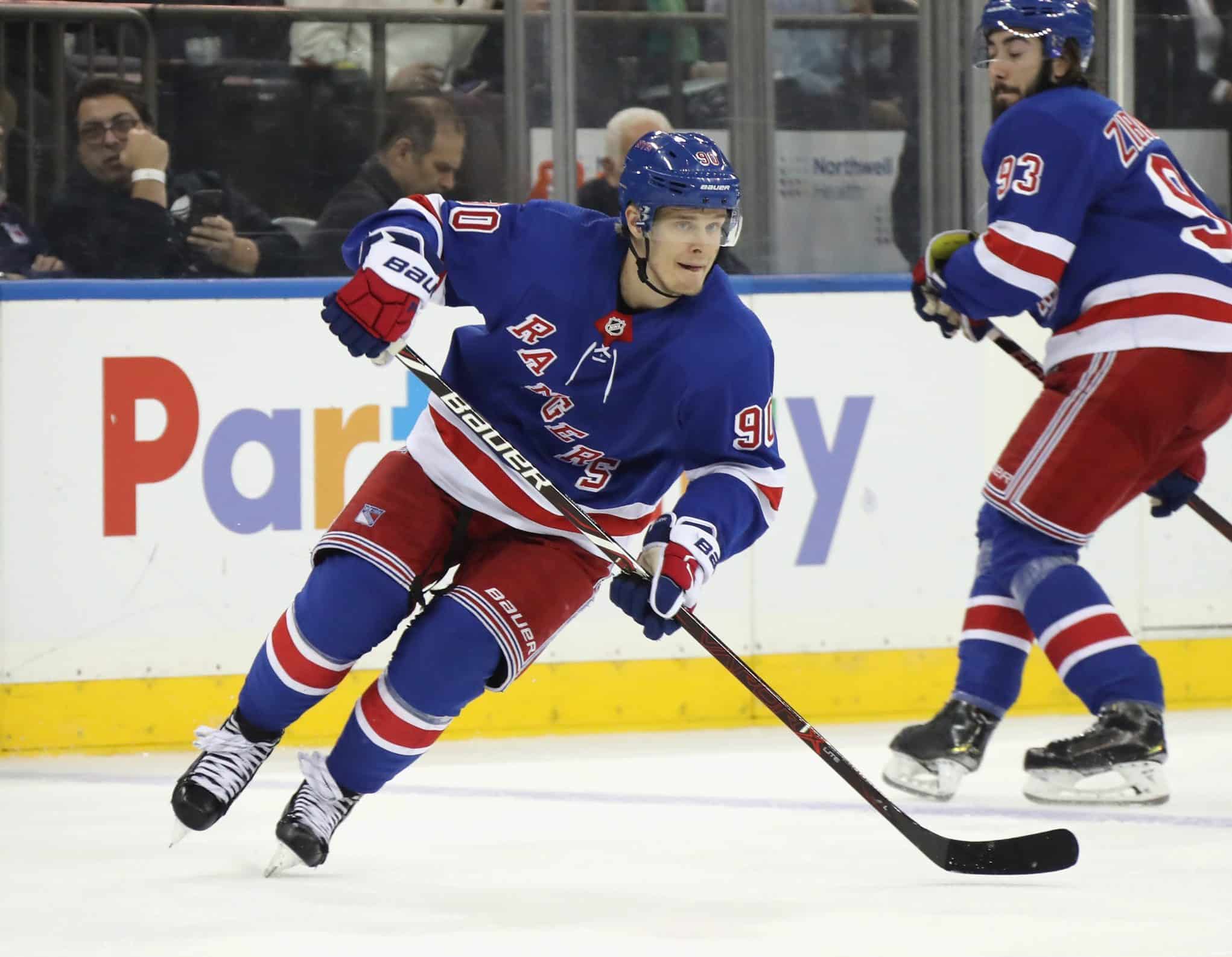 As of right now, he is on the first line with Zibanejad and Filip Chytil. This season has seen just about every variation and mash-up under coach Quinn. With big games coming up against Vancouver, Detroit and Minnesota, next years draft position can change by the outcome of this week. Namestnikov hasn't been as successful against the Western Conference, then the East. With only five points in 25 games, most of his point production has been against eastern conference rivals.
For the Rangers, it is coming down to the wire and every player is under the microscope. At the very least there are two players going to be drafted in the first round of the Entry Draft and three in the second round. Free agency is also going to be huge as there is going to be some big names out there with Artemi Panarin and Erik Karlsson leading the pack.
Even still, the Rangers finally have a better Namestnikov. After the dreadful ending to last season and the lackluster start to this one, he has done a 180. He has been able to fit in any situation on even strength or powerplay, even the penalty kill. With 13 games left until the summer begins for the Rangers, Namestnikov place for next season will be determined. Will he continue to just fit in where there is a body needed, or will he be a mainstay in the top six forwards?