Plenty of batters get hot in spring training. However, that success doesn't always translate to the regular season.

Spring is finally in the air, and so are New York Yankees home run balls.
Gleyber Torres and Troy Tulowitzki have already rocked the Sunshine State by hitting dingers in their first at-bats of the year.
We missed this kid. pic.twitter.com/BcdB8LRMGr

— New York Yankees (@Yankees) February 23, 2019
Torres hit his against the rival Red Sox; Tulo slammed his against the Toronto Blue Jays, the team that is paying him almost $20 million to not be on their team.
These could be signs of great things to come in the 2019 regular season, but not necessarily. The pitchers are still working out the kinks from winter—and some of them haven't yet pitched above single-A.
So, let's look at five of the best offensive players from the past 10 years of Bombers spring-training and see how they ended up playing in the regular season.
Greg Bird, 2017
In 2017, Greg Bird essentially obliterated spring on the way to starting the year in the middle of the Yankees' lineup. The lefty first baseman cranked eight bombs and drove in 15 runs in 51 at-bats, slashing an insane .451/.556/1.098.
He had just missed the entire 2016 season while recovering from shoulder surgery, and he was trying to prove that his 11-homer performance in 157 at-bats as a 22-year-old in 2015 wasn't a fluke.
Unfortunately for Bird, his training-camp prowess deserted him once the season started, thanks to a ball he fouled off his foot in his final tune-up game. He went on to hit just .190/.288/.422 with 9 homers in 170 plate appearances.
Present-day Bird is off to hot grapefruit-league spot again, going 3-for-5 with a dinger and a double in his first three games. However, now he'll have to beat out Luke Voit for the starting first base job.
Mark Teixeira, 2009
Mark Teixeira's first impression on Yankees fans was an incredibly good one.
He had just signed an eight-year $180 million mega deal, and he made the Bombers look like genius's right off the bat by slashing .433/.485/.800 in spring. The then 29-year-old added five long balls and 15 RBI as part of a 26-for-60 showing.
Obviously, he couldn't keep that pace up for the next 162 games, but he did give his best performance in pinstripes, slashing .292/.383/.565. He also jacked 39 round-trippers and plated 122 base runners.
Sadly, the remaining seven years were a downhill trip. Teixeira never hit above .256 again, and his retirement—and the next dude's—in 2017 spring training marked the beginning of the current Baby Bomber rebirth.
Alex Rodriguez, 2011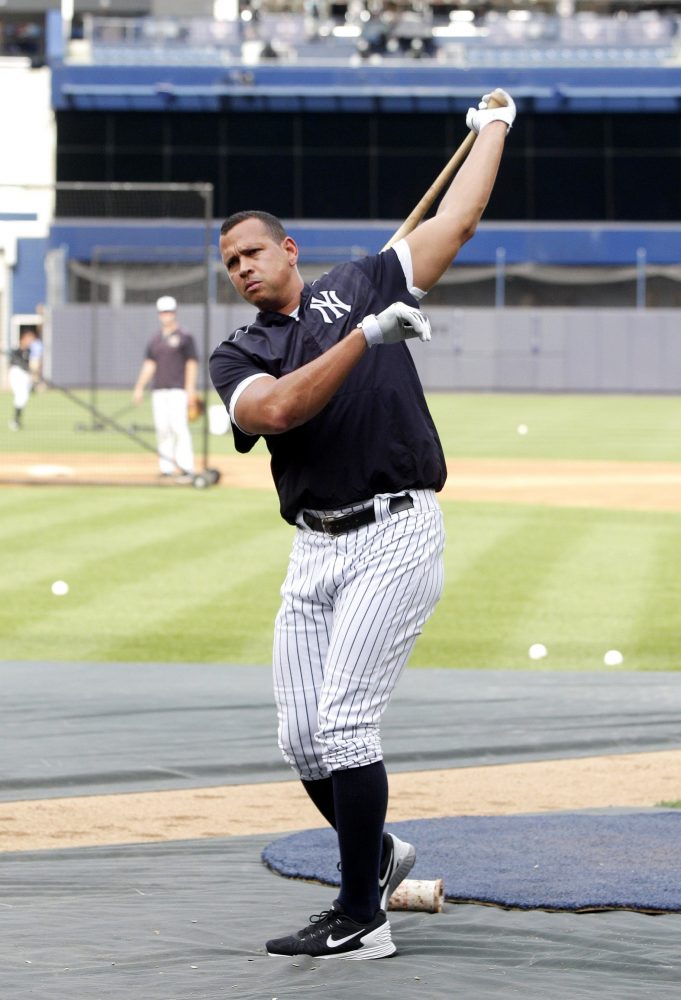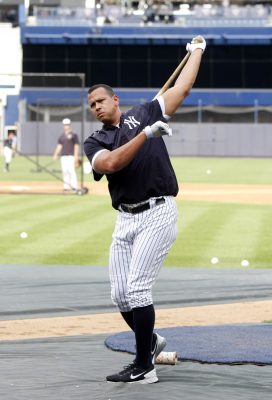 The other washed-up superstar who retired right before the 2017 campaign, Alex Rodriguez, had an offensive explosion in the 2011 Yankees camp.
A-Rod, then 34, crushed six dingers and drove in 15 runs over 49 at-bats while slashing .388/.444/.898.
He went on to put up 16 homers, 62 RBI, and a .276/.362/.461 slash line. Those numbers weren't bad, considering he only played 99 games while suffering through an injury-plagued season.
Two years later, he missed an entire campaign for PED use, and now he's all over TV embarrassing Bombers fans all over again.
Gary Sanchez, 2017
Going back to 2017, Greg Bird's monster camp overshadowed an awesome run by Gary Sanchez.
Sanchez was coming off an insane 53-game stretch at the end of 2016 in which he hit 20 home runs. He picked up exactly where he left off, putting five in the stands in 19 spring contests, adding 16 RBI—one more than Bird had.
The backstop's .373/.429/.765 line wasn't too shabby, either.
By the end of the 2017 regular season, El Gary had collected 33 bombs and 90 RBI in only 525 plate appearances. He also played in his first All-Star game and won a Silver Slugger award.
Kevin Youkilis, 2013
Known more for his time on the execrable Boston Red Sox, Kevin Youkilis played his final big-league year with the Yankees in 2013. He teased fans by hitting six long balls and driving in 14 runs in spring.
The regular season did not go so well. Youkilis hit .266 with two homers in 72 plate appearances to start the season. He only had 46 plate appearances the rest of the way, with a recurring back injury shutting him down.
He ended up hitting .219/.305/.343 for the year.
What it all means
Spring training is exciting because it's the first taste of baseball after a long offseason. That's one reason when a player steps up and goes off in camp, it's always tempting to predict that he'll keep it going all year long.
Sometimes that's true. Mark Teixeira in 2009 is a prime example.
And then there's Greg Bird and Kevin Youkilis, who are proof that the opposite is just as possible—whether because of injuries or intense regressions to the mean.
An even stronger example is former Yankees prospect Dante Bichette Jr., who homered in his only two spring at-bats in 2012. Bichette has yet to make it to the MLB, and he's currently playing on an independent-league team.
Basically, what happens in Tampa, stays in Tampa, and that's not always a great selling point.