With the trade deadline upon us, there might be some different New York Rangers on the move other than the ones on the trading block.

The trade deadline is finally here and the New York Rangers are already extremely busy.
After trading fan favorite Mats Zuccarello on Saturday night, the team is expected to move center Kevin Hayes along with veteran defenseman Adam McQuaid prior to Monday's deadline. These players have been rumored to be on the trade block all year, so their availability really should not surprise folks.
While Hayes and McQuaid might be on the table for a possible trade, there might be some other names out there teams could be interested in trading for. The Rangers are a team that does have some significant veteran talent and that talent could just very well be on the move prior to the deadline.
Before we go any further, I want you to think of this for a minute. Out of all of last year's trades, which deal was the most surprising of all? Without a doubt, it had to be the Ryan McDonagh and J.T. Miller deal, a trade that caught all of Rangerstown off guard. It brought tons of young talent, along with draft picks to help the Rangers build for the future.
The idea behind a rebuild is to accumulate all the possible assets you can through prospects and the draft. It is one of the very reasons trades like the Zuccarello deal needed to happen. With that in mind, let's take a look at some players who might secretly be on the trade block with the deadline quickly approaching.
Vladislav Namestnikov
Vladislav Namestnikov has come a long way considering where he was a year ago after arriving in New York. Under head coach David Quinn's tutelage, Namestnikov has turned himself into a legitimate NHL forward who can play in any situation.
Should anyone have brought Namestnikov's name in any trade speculation before, you would probably second guess why a team would pull the trigger considering he's struggled to score goals. Well over the last six games, the 26-year-old winger is starting to find the scoresheet again scoring six goals in that span.
He's looked like a completely different player over the last week or so, and it wouldn't be much of a surprise if a team felt he could add something to their bottom nine forward groups. Should a team make a move for Namestnikov, they won't just be getting a rental considering he is in the first year of a two-year deal signed last summer.
Namestnikov won't flash the fanciest of packages, but he could bring in draft picks in the middle rounds or younger prospect who still has the jury out on him.
Chris Kreider
If one name has been brought up in the crazy amount of rumors over the last couple of weeks, it's been Chris Kreider's.
Teams like the Boston Bruins and Toronto Maple Leafs have all reportedly checked in with general manager Jeff Gorton about the availability of Kreider and have all been told it's a big price tag. The offer coming the Rangers way would have to be one Gorton cannot say no to, it needs to be an offer that basically blows him off his feet.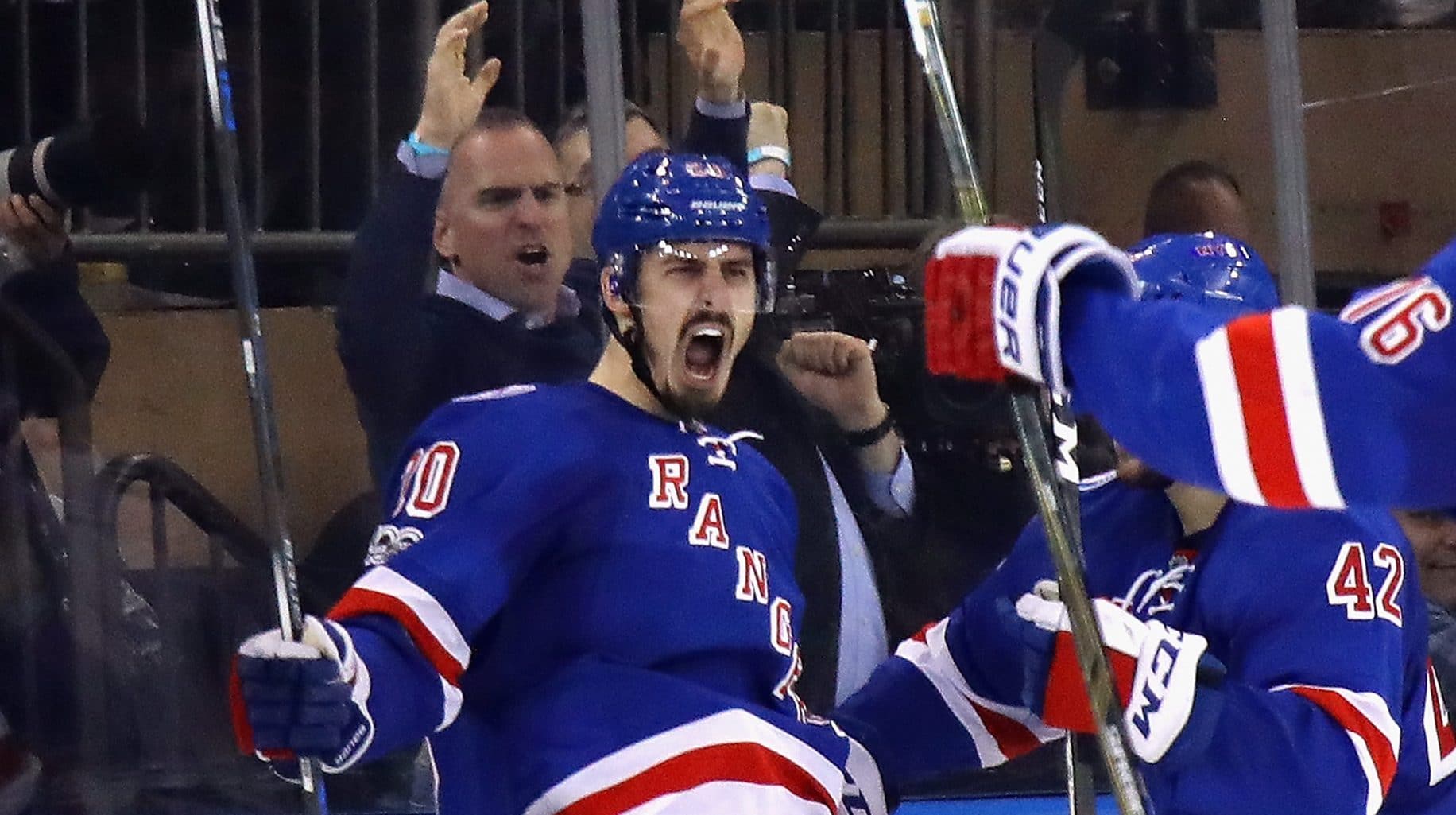 Kreider is in the middle of a career year with his 26 goals and 21 assists and with one more year remaining on his deal with a team friendly $4.6 million cap hit, the Leafs and Bruins are showing significant interest. Despite the interest, there has yet to be an offer that's blown away Gorton and the expectation is for Kreider to remain a Ranger at the end of the season.
In the event Kreider is moved, it would be a deal that should most definitely bring the Rangers back at least one first round pick, along with significant prospects to help move this rebuild along. It needs to be a deal of that magnitude for the Rangers to pull the trigger, and clearly, no team has yet to make an offer that lucrative.
Ryan Strome
Ryan Strome has turned his season, and perhaps his career, around ever since coming to the Rangers in a November trade. After starting out slow, Strome turned himself into one of the most reliable Rangers on the ice while adding a scoring touch to his game that had somewhat been missing in Edmonton.
Over the last week or so the team has reportedly been receiving calls on the 25-year-old center and why not considering the 18 points he's put up with New York in just 43 games. A team in the mix for Strome would be looking to add to their bottom-six forward group and needing to add some secondary scoring. That is the type of player the former number five overall pick has turned into.
If a deal is made surrounding Strome, it would be like a possible Namestnikov trade that would probably include a third, fourth, or fifth round pick in the draft.
---
To be clear, no one is saying the Rangers need to move these three players. If they did, it would make the NHL roster weaker than it already is making competing games tougher than it already is. But don't be surprised if you hear a team in talks with New York about one of them.
Remember, anything can happen this time of year. Just look no further to last years deadline as proof.