After the New York Rangers traded fan favorite Mats Zuccarello, all that's left to do is remember the good times. 

Mats Zuccarello was never supposed to get this far.
Like many other players of his size, some felt Zuccarello would never turn out to be anything more than a bottom six type player—one who would be pushed around and never had a chance to contribute offensively. Someone you would just be wasting your time on deploying on a nightly basis.
Boy, was everybody wrong.
After leaving the Rangers for a stint in the KHL during the 2012-13 season, Zuccarello would make a triumphant return to New York and help lead the way to so many fond memories. His return just felt right. It was almost like a breath of fresh air had returned to the lineup, one that helps describe Zuccarello to a tee.
But it wasn't the offensive production that brought fans to the stores buying his no. 36. It was how he played the game. It was standing up to a Zdeno Chara despite a huge size difference. It was being the first and last player in on the forecheck with the puck back deep in the offensive zone. It was how he would always no matter what stand up for his teammates.
Zuccarello would turn all of the doubt and questions surrounding his future and become one of the most important Rangers during their run of contending for the Stanley Cup. He would lead the Blueshirts in scoring four times, including three straight seasons (2015-18).
As time went on, he turned himself into one of the best two-way players the Rangers put out there on a nightly basis seeing time in all situations. It didn't matter if it was at even strength, on the power play, or on the penalty kill; you would eventually always see Zuccarello on the ice.
Throughout his time with New York, he became a model for success, a player you would want your younger guys to look up to on a nightly basis. He executed with his tenacity along with his never-give-up ability. Everybody always knew when he was on the ice for the ball of energy would always be involved no matter the situation.
Just to show how tenacious of a player, a person, Zuccarello is, he worked his way all the way back from getting hit in the head with a puck during the first round 2014 Stanley Cup Playoffs. He would go on to miss the remainder of that playoff run, but it was clear the Rangers were missing a major piece to their lineup.
They were missing the glue that held a tight-knit group of people together.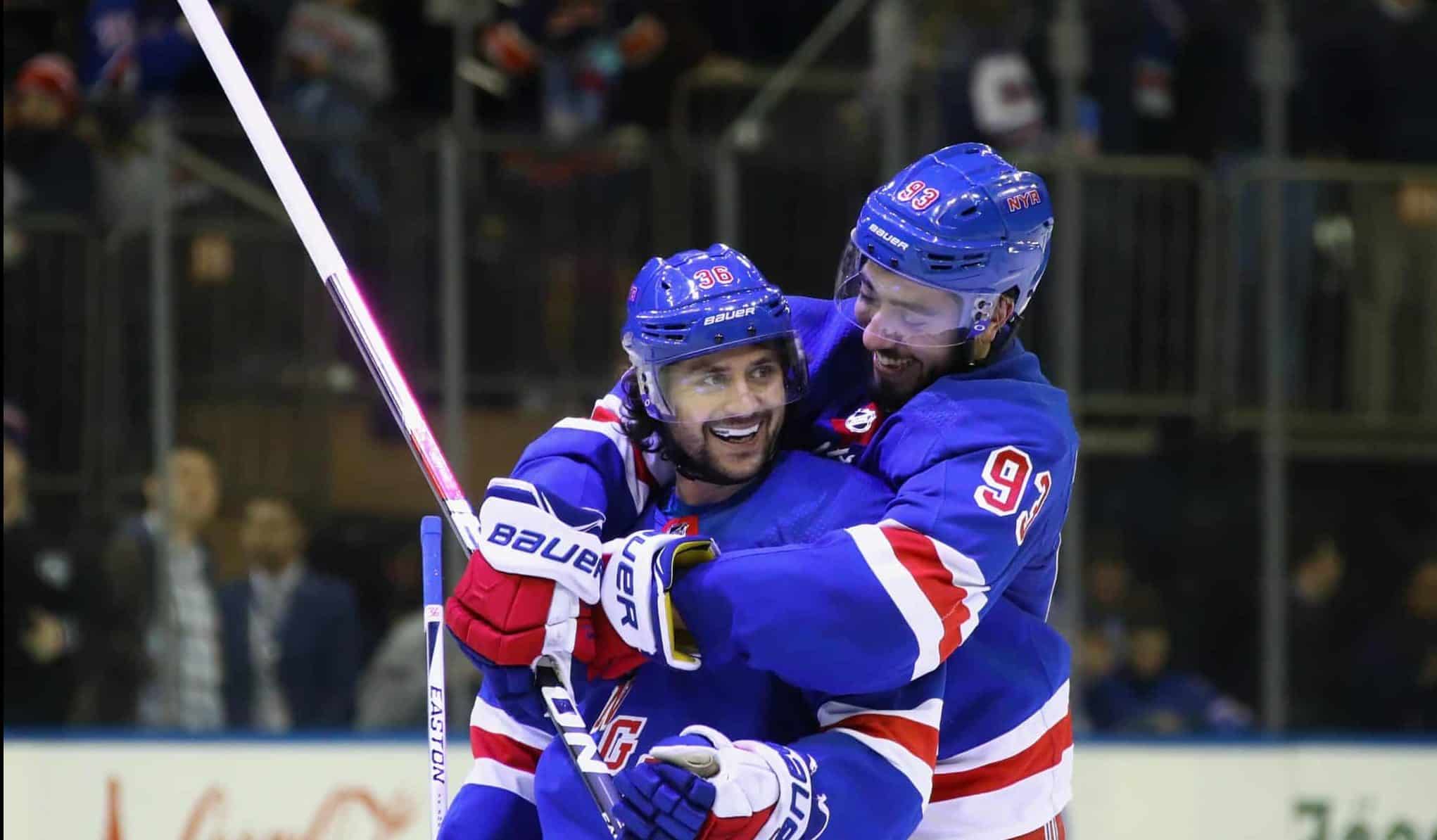 The Rangers would never end up getting back past the second round in Zuccarello's final years as a Blueshirt, but that was never an excuse for him to stop trying any harder than he's tried in the past. Perhaps that serves as the reason fans voted him the Steven McDonald Extra Effort Award three times in the last five years.
Zuccarello always knew the Rangers plans entering this season and how the likelihood of him staying a Blueshirt at season's end was slim. Clearly, it affected his game and resulted in him getting off to one of the worst starts to a season any Ranger fan can remember from him. But like always, he went on to rebound and showed the fan base he would be okay even though nothing surrounding his situation was changing.
It takes a lot for the city of New York to rally behind a player. Just look how hard it is for newer players to adjust in any sport the city has to offer. Simply put: it doesn't matter the name. All are expected to bring greatness. While Zuccarello was never the superstar, he would take that bolt of energy he brought every night and inject into the veins of the Blueshirt faithful, something no fan would take back at all.
The New York Rangers and Mats Zuccarello would never get to the promised land together, but they were able to accomplish some of the best hockey this city has seen in the last two decades. They provided hope that continues to live on with each passing day no matter what's surrounding the team.
While Zuccarello's time as a Ranger comes to an end in a way no one wanted, he went out the way he came in: fighting all the way to the end.