With little cap space to spare, the New York Giants must make sure to make free agency count. Here are three difference-makers to target.
The official free agency period for the NFL starts on March 13, 2019, at 4 p.m. ET. Teams will be looking to improve their rosters while attempting to retain their stars. This will be a pivotal period for the Giants to lock up desired players.
The New York Giants will be looking to fill a lot of team needs (right tackle, outside linebacker, and free safety, to name a few) this offseason. An ideal time for acquiring players to fill these needs will be the free agency period.
Here are three free agents the Giants should target:
The Giants offensive line did not look great in 2018, again.
Eli Manning was sacked 47 times, ranking sixth most in the NFL. The Giants offensive line did not only flounder in the passing game, but also struggled in the run game. There were not many holes for Saquon Barkley to run through, resulting in many tackles for loss. By the end of the season, it was clear that the Giants needed a serious tune-up in the offensive line department.
The current right tackle for the Giants is Chad Wheeler. Wheeler did not have an amazing season at right tackle for the Giants, to say the least. He ranked 78th in the NFL amongst tackles with a Pro Football Focus (PFF) rating of 47.4. Wheeler's play was noticeably poor in the run game where he ranked last in the NFL amongst all offensive lineman in run blocking. If the Giants would like to protect their star running back, Saquon Barkley, they will need an upgrade in the right tackle position.
A notable target for the Giants is Daryl Williams who was drafted in 2015 and is currently 26 years old. Williams has only played one full season since being drafted. For the first time, in 2017, Williams was able to start 16 games, and he rewarded the Panthers with his outstanding play. During the season, Williams had a PFF rating of 86.5, ranking third amongst all tackles in the NFL. Williams play also made him the number one ranked right tackle.
Unfortunately for Williams, he suffered an MCL tear early in the 2018 training camp. He was held to only 56 snaps in 2018 before he was unable to play due to his MCL tear. This left teams to question if he can still play at a high level.
Williams is still very young and has had a long time to recover. This means a full and healthy recovery should be very plausible. The injury Williams suffered will lower his asking price making him an ideal fit for the Giants. Not to mention that Williams also played for Dave Gettleman who is known to target his past Panthers players.
The Giants should look to pursue Williams in free agency. The addition of Williams could give the Giants offensive line the boost they need.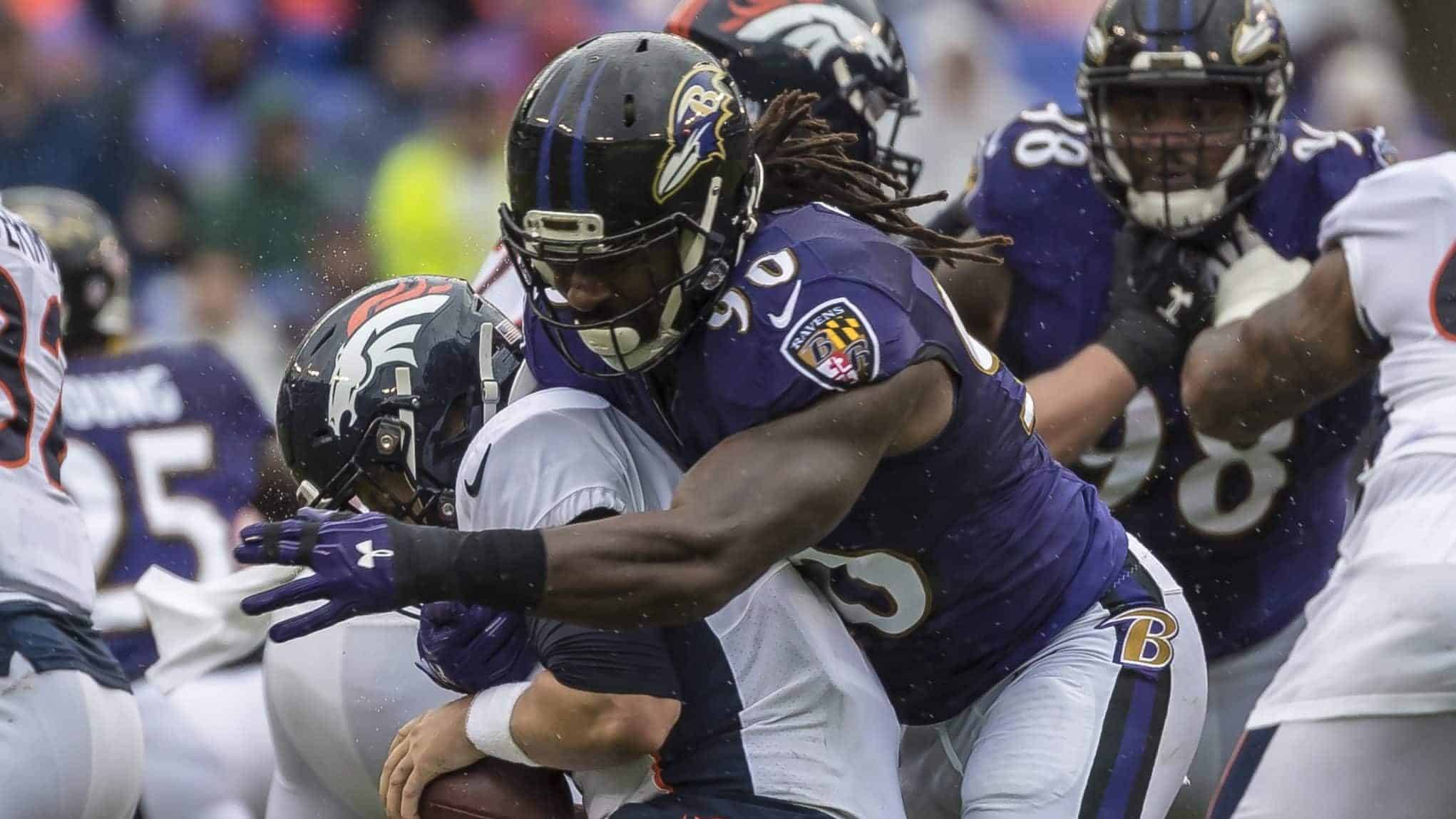 Za'Darius Smith, OLB:
The Giants provided little-to-no pass rush in 2018, finishing the season with a mere 30 sacks. This ranked them second to last in the NFL in sacks. This was not only a one-year thing for the Giants because they had 27 sacks in 2017, finishing fourth to last in the NFL. This does not align with the characteristics of a standard Giants team as they have always been predicated on having great pass rushers.
With guys like Lawrence Taylor and Michael Strahan, the Giants were often able to get after the quarterback. This trait helped the Giants win four super bowls. If the Giants would like to return to their previous glory, they will need to improve the pass rushing unit.
The current outside linebackers for the Giants were not great in the run or passing game during the 2018 season. Olivier Vernon stands out as the best outside linebacker for the Giants but his status as a member of the team in 2019 is questionable. The fact that he has missed nine games over the past two seasons and has not lived up to his hefty contract could be the reason.
If Vernon doesn't return, the Giants are left with Lorenzo Carter and Kareem Martin. (Giants cut Connor Barwin late last month.) While Lorenzo Carter is a promising young talent that will be expected to build upon his rookie season, it does not look like Carter is starting material quite yet. For Kareem Martin, he did not have a great first season with the Giants. Martin did not apply much pass rush (1.5 sacks) and did not read his keys well, often getting baited on read-option plays. It is evident that the Giants need to improve in the pass rush game. Adding a new outside linebacker might just do the trick.
Za'Darius Smith is a very talented and young outside linebacker. Like Daryl Williams, he was drafted in 2015. He has been playing behind Terrell Suggs ever since. Smith has started 16 career games—due to his time backing up Suggs—and this past season was, by far, his best. Smith started only eight games but had 45 tackles, 8.5 sacks, one forced fumble, 10 tackles for loss, and 25 quarterback hits. Smith's productivity is very intriguing because he put up elite numbers for starting eight games.
What may be greatest about Smith is that he is 26 and will be flying a little under the radar this offseason. Smith will not go unnoticed but will be overshadowed by big-name free agent pass rushers. Some of these people are Demarcus Lawrence, Dee Ford Trey Flowers, and Jadeveon Clowney. This and Smith's inexperience will result in him to probably not come at a very high price.
Smith would not only bring his talents to the Giants but could also help players. He would help players like Olivier Vernon, who excel with elite pass rushers on the opposite side. Targeting Smith seems like an amazing move that could help the Giants light the spark that they need to make their pass rush dominant again.
The Giants secondary was average in 2018 but could definitely use an improvement. A major improvement needs to come from the passing yards allowed category where the Giants ranked 23rd in the NFL. The team's secondary as a whole has also not been great defending the run. They should look to revamp their secondary and the free safety position seems like a good place to start.
The Giants have suffered from poor free safety play for a while. With people like Andrew Adams, Darian Thompson, and, currently, Curtis Riley, the Giants have not been able to find one good and consistent starter. Riley may have been perceived as having a great season in 2018 but I found his play very peculiar.
[membership level="0"]
A positive is that Riley had the second best passer rating allowed when targeted (39.5) amongst all safeties. However, he also missed a league-high 23 tackles for his position. This hurt the Giants a lot because other people had to pick up his slack. Curtis Riley, like his predecessors, does not seem to be the answer for the Giants.
The Giants should look to target a more experienced safety that could compliment Landon Collins, assuming he returns. If Landon Collins were to leave this offseason, targeting a veteran defensive presence in the secondary would be an absolute must. Either way, the free safety position should be under rigorous examination this offseason.
A person the Giants should pursue, for the free safety position, is Adrian Amos. Amos is a young talent that has seen improvement each year since entering the league. The Bears drafted him in 2015, and he has been an instant starter ever since. Amos saw his best season this year when he had 73 tackles, nine pass deflections, and two interceptions. Amos was a key contributor to the success of the Chicago Bears. (They had arguably the best defense in the NFL.)
Adrian Amos seems like a great target for the Giants due to his young age (25) and the smaller contract he may receive. The safety market has been down over the past few seasons and there are other big-name safeties (Tyrann Mathieu, Haha Clinton-Dix, and Lamarcus Joyner) in this free agency class that may nerf his contract.
Acquiring Amos with a smaller contact than others at his position should be possible. This would be very beneficial for the Giants. They would be able to finally have a quality, veteran presence at the free safety while not overspending. Amos would also be a great addition to the secondary.
He could really help Landon Collins out if he were to return. If not, I think Amos could be the next leader for the Giants secondary. He could help improve the defense by leaps and bounds.