Mika Zibanejad is now the New York Rangers best active player. Today, we explain how he's put forth this tremendous career season.
Currently, in a career-defining season with the New York Rangers, Mika Zibanejad has shown his ability to be a complete player. How has he been able to shine through a rather disappointing season?
The 25-year-old has been a very versatile and extremely lucrative player for the New York Rangers since his arrival. And now, he has already eclipsed a new career high in points, is four goals away from his first 30-goal season and has the hottest streak of points in Rangers history.
How exactly has he done it?
Under first-year head coach David Quinn, the Swedish centerman is still seeing first line minutes but seeing the most playing time of his career. In the 58 games this season, he has spent an average of 20:15 on the ice, just over two minutes more than last season.
He has been on the ice extensively with Chris Kreider and Jesper Fast to his left, and both Mats Zuccarello and Pavel Buchnevich on his right. The best line combo, however, is when Kreider/Zibanejad/Zuccarello is on that first line. With those three present, they scored 21 goals and allowed 10, which is the 14th best line in the NHL in terms of production.
Back in late January, No. 93 spoke on the effectiveness of the line, which supplemented the most points between teammates on the Rangers roster.
"We're talking a lot and we're trying to use each other out there as much as possible – trying to use the things we're good at and try to implement that to our game," Zibanejad said. "It's just clicking for us right now."
And it has clicked since. Zibanejad has registered six goals and four assists in his last eight games. All of his six goals have included an assist from either Zuccarello or Kreider.
Zibanejad has shown the ability to take over the game, even in even-strength play. With an open mind of those on the ice, he has been able to facilitate the puck for 21 assists.
The powerplay has also been especially helpful for Zibanejad's point total. He has scored nine goals and assisted on 11 others this season, which is just one off of his career high set last season at 21. His nine goals lead the Rangers on the powerplay.
Not only is Zibanejad scoring in bunches, but he is scoring them in the most crucial period of the game, the third. He has registered nine goals and 13 assists in the third period. Coupled with this, is his ability to score when in clutch moments. With five game-winning goals, he is tied for 14th in the NHL.
The supplement of play time and being able to primarily focus on getting the puck on the net has been a booster for Zibanejad. This is a great thing for the Rangers, as his enhancement has given them the true first line center that was needed. Now the focus must be in filling the holes under him.
Keeping Mats Zuccarello is a top priority. As the trade deadline is closing in, more and more teams are reportedly interested in Zuccarello. Unless the return is more than a couple of high draft picks, keeping that top line of Zibanejad/Kreider/Zuccarello should remain intact.
Zibanejad is the most valuable player on the New York Rangers roster. His contribution is unmatched on offense, in terms of overall dominance of the opposition. He is on pace for 37 goals and 45 assists if he continues to stay healthy for the rest of the season. If so, this would be the first time a New York Ranger would hit the 80 point plateau since Marian Gaborik did it in 2009-10.
Zibanejad has also been able to do some of the other things on the ice as well. He is third on the team in hits with 101 and has also gotten down to block 45 shots, good for seventh on the Rangers. He has shown to be a complete player, on both ends of the ice and Coach David Quinn has realized that. Even so, he noticed it enough to do something that Zibanejad hasn't done his entire career.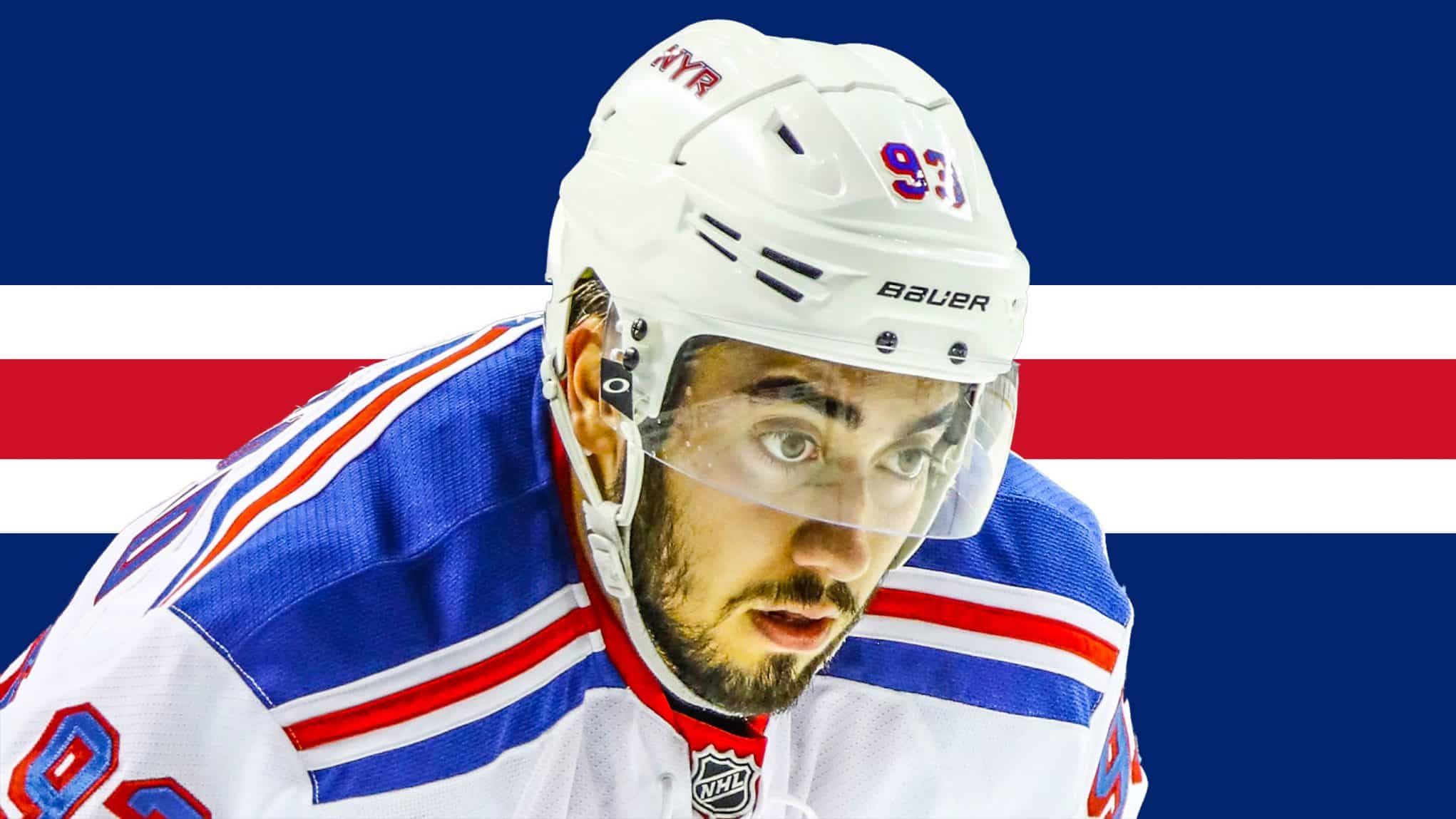 At even strength, he has taken 54.8 percent of his face-offs from the defensive end of the ice, and the other 45.2 percent in the offensive zone. Up to this point in his career (including this season), he has been seen more time with offensive zone starts (55.4) than defensive (44.6).
The change seems to have helped him develop a more creative game. With being able to win face-offs with their backs against the wall, plays can be set up with momentum to create better scoring chances when entering the zone.
Zibanejad, at this point in time, has already made 2018-19 a career year. Everything from here will just be icing on top. Finishing this season and keeping his pace will help his confidence as the number one center for years to come. Zibanejad has been a complete player, as lethal on offense as on the draw. With only a few more days to go until the trade deadline, the uncertainty of Zuccarello will have a direct impact on the Rangers future.
But for Zibanejad, his confidence is only building. He is under contract until the 2021-22 season, and the Rangers should be out of this rebuilding phase well before then. He can continue to improve throughout his prime years and be a leader to the younger players like Brett Howden and Lias Andersson. The Rangers can return to being a Stanley Cup contender, sooner than you may think.