Whether or not serious noise is made at the NHL trade deadline, the New York Rangers call-up options are aplenty.
The NHL trade deadline is quickly approaching, which means that change is coming for the New York Rangers. A year later, Jeff Gorton is right back in the hot-seat, as the Broadway Blueshirts are prepared for an encore of last year's sell-off.
The 2018 trade deadline meant the departure of Rick Nash, Ryan McDonagh, Michael Grabner, J.T. Miller, and Nick Holden. Feb. 25, 2019, will likely result in the loss of fan-favorites Mats Zuccarello and Kevin Hayes, as well as a goodbye to veteran defenseman Adam McQuaid.
Outside of the aforementioned trio, everything is up in the air. Because of the Rangers' rebuilding state, almost everybody is up for grabs. Even a guy like Chris Kreider could be pried away from the Blueshirts if a team is willing to pony up and pay a fair price.
Don't forget about players like Vlad Namestnikov, Jesper Fast, Jimmy Vesey, and Ryan Strome who could all serve as quality depth pieces on a contending team. There are also the big names signed to big contracts: This group consists of Kevin Shattenkirk, Brendan Smith, and Marc Staal. Finally, there are slumping youngsters such as Pavel Buchnevich, Neal Pionk, and Tony DeAngelo, a group whose futures are still up in the air.
When it's all said and done, the post-deadline Rangers are going to look a lot different than the current squad. Similarly to last season, you can expect the Boys in Blue to plummet down the standings in the final 20 games of the season, as they will trot out a young, inexperienced, and less talented group.
This year's trade deadline fire-sale is set to open up a plethora of roster spots, and the Blueshirts will fill these voids by making some call-ups from their AHL affiliate: The Hartford Wolfpack. Today, I look at which prospects could be getting a chance to prove themselves with the big club at the tail-end of the 2018-19 campaign.
With the passing of the trade deadline, Vinni Lettieri will likely get another chance to prove that he's an NHL-caliber forward. This could serve as Lettieri's last chance to convince the coaching staff that he is more than a fringe NHLer.
Lettieri is a really hard guy to figure out because he's a very skilled player, but he's also not a top-six forward. Lettieri is a third or fourth line player, yet he's not a grinder, in reality, he is a point-producer. This is why he has been unable to stick in the NHL, as he has not been suited to properly play his role as a checking-line winger.
The 24-year-old has tallied 28 points in 30 games with the Wolfpack this season. He has five points in 37 career NHL contests over the last two years. This is Lettieri's final chance to prove himself. We'll see if he can take advantage of it.
Lias Andersson's next NHL stint is a big one. The seventh overall pick in the 2017 NHL Entry Draft has yet to become a full-time NHL player. Andersson was called up after the trade deadline a season ago, and impressed, despite scoring only two points in seven games.
Andersson surprisingly failed to make the team out of training camp this summer, as his solid performance was overshadowed by the team's other young centermen: Filip Chytil and Brett Howden. Andersson started the season in Hartford until he was promoted to New York, where he played 21 games and scored a mere four points while serving as the Rangers' bottom-line center. The 20-year-old was then demoted back to the AHL, where he has played ever since.
Unfortunately, Andersson has also struggled in the minors, as he has notched only 19 points in 34 games thus far. These are disappointing numbers from such a highly-touted prospect. The doubts are starting to rain down on the former top-10 pick. If the Swedish center wants to bring back the hope that Rangerstown once had for him, he must silence the doubters at the end of this season.
Ville Meskanen
Another prospect, this one much lesser known, could be on his way to the Big Apple in a couple of weeks: Ville Meskanen. The 23-year-old winger was brought in from Finland last summer, and he has performed nicely in his first season in North America.
Meskanen ranks third among Wolfpack forwards with 29 points in 52 games. The young Finn projects to be nothing more than a third-line forward, but his early success in the AHL warrants a tryout with the Blueshirts for a couple games at the end of this season.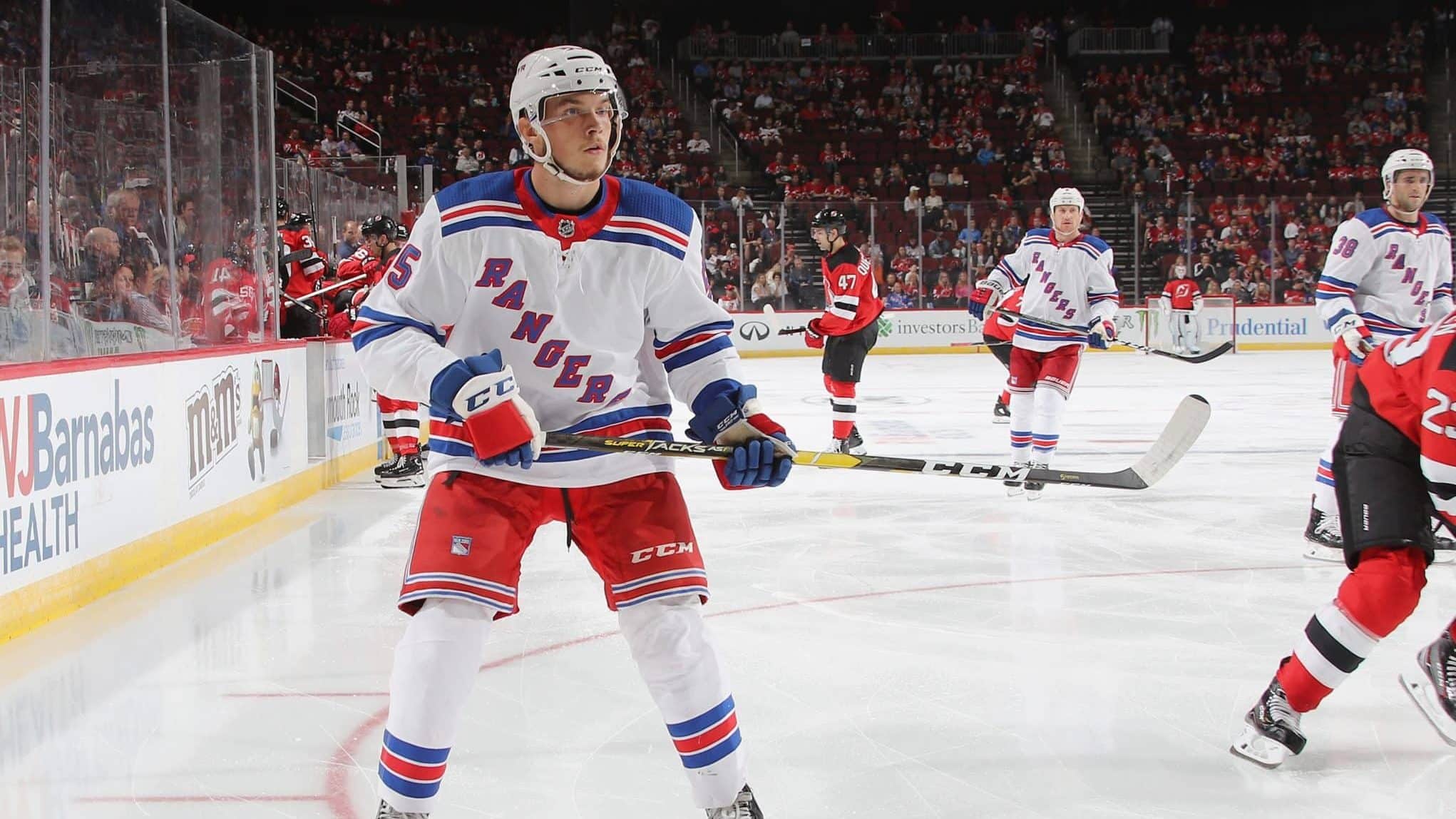 After playing three strong games with the Rangers earlier this season, it would make sense to recall Ryan Lindgren again after Jeff Gorton clears up his team's logjam on the back-end. The 21-year-old blueliner is not a flashy player, but he is a fiery and fearless stay-at-home defenseman.
The Minnesota native and former second-round draft pick paired nicely with Kevin Shattenkirk, as his game perfectly complemented number twenty-two's offensive style. Lindgren has posted eight points in 46 games with the Pack and was pointless in his three games on Broadway. Despite his lack of production, Lindgren certainly makes an impact on the ice. In fact, David Quinn's squad won all three matches in which the young defenseman participated.
John Gilmour is in a situation similar to Vinni Lettieri. He is tearing it up in Hartford; however, he has not quite proven to be an NHL defenseman just yet. Following his call-up after last year's trade deadline, the 25-year-old has five points in 28 games.
Gilmour is very similar to Tony DeAngelo and Neal Pionk in that he is undersized, an elite skater, and offensive-minded. He now needs to prove that he can be as effective defending in his own end of the ice as he is when it comes to breaking out of pressure. If Gilmour plays well enough, he could earn some consideration to become a future member of New York's defense-core. The time is now for the young Canadian, this is his last chance to show that he can play at the highest level.
---
Follow Brian on TWITTER