Kevin Shattenkirk and the New York Rangers are doing their part in the fight against cancer with Kancer Jam gatherings.
The New York Rangers deal with many tough opponents on the ice. However, on Saturday afternoon, the Blueshirts, along with many of their passionate fans, fought against something that has affected the lives of millions, cancer.
How did they do it? By hosting a charity Kan Jam tournament.
Rangers defenseman and New Rochelle native Kevin Shattenkirk, along with the Jam Kancer in the Kan Foundation, held the second annual "Shatty Jam" sponsored by Mustang Harry's. Proceeds of the event went to the Children's Hospital of Montefiore and to the Garden of Dreams Foundation. Shattenkirk was thrilled with the turnout.
"It means a lot," Shattenkirk said. "Last year just getting it off the ground was special to me. This year seeing how much it has grown and the ability to really show people what we did last year, it has really helped us fundraise more money and it's really been humbling to see how many people come out and support this event and support what we're trying to do here."
The tournament was held at House of Sports in Ardsley, New York. In attendance were many Ranger fans, cancer survivors and the entire Blueshirt roster (with the exception of Henrik Lundqvist, Fredrik Claesson, Mats Zuccarello, Marc Staal, and Brenden Smith).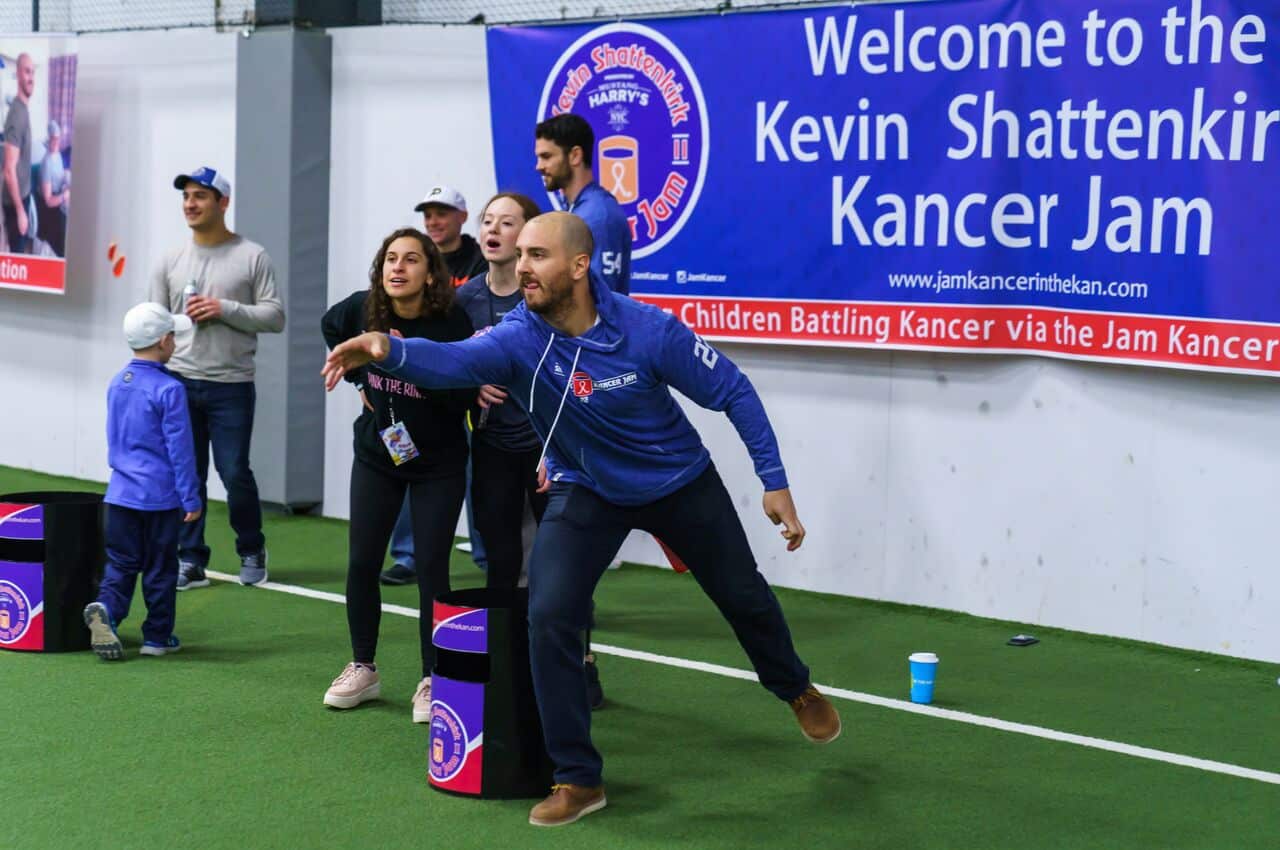 Shattenkirk started throwing this event last year after seeing New York Islanders forward Anders Lee throw an event of his own with Jam Kancer in the Kan. Last year, Shattyjam raised $98,051. This year's event is another huge success. The tournament raised $140,699, which put the Jam Kancer in the Kan Foundation over $1 million raised to date.
"We're at about 40 grand more than we raised last year," Shattenkirk said. "We're going to be able to donate a lot more money to the Children's Hospital of Montefiore and to Garden of Dreams. I think just seeing a lot of returnees coming, people who helped us out last year, they're willing to do it again, and a lot of new faces, that we are going to be able to really expand this thing and get the word out on how much fun we're having here."
Shattenkirk is very close to the founder of the Jam Kancer in the Kan Foundation, Jamey Crimmins. In 2014, Crimmins started the foundation while training for the NYC Marathon. Crimmins discovered the game of Kan Jam at a family reunion. Mourning the loss of his father-in-law and a close friend who succumbed to cancer, Crimmins came up with the idea for a community fundraising tournament. The first Jam Kancer tournament was held on Sept. 20, 2014, in the backyard of his friends, the Goldbergs. They raised $14,196 and it has been growing ever since.
"I've lost a few family members," Crimmins said. "Cancer hasn't really been too kind to us. That's kind of the idea why we started Jam Kancer in the Kan."
"We have pretty much become like family," Shattenkirk said. "We all want one thing and that's to find a cure for this disease and if we're not doing that we're just trying to make these kids feel like kids, and they have a chance to just enjoy life as much as I can."
Another inspiration to Crimmins' and the Jam Kancer in the Kan Foundation was Fenov Pierre-Louis. Battling Neuroblastoma, Pierre-Louis was the face of the organization. Despite going through many hardships, he always had a positive attitude. Unfortunately, Pierre-Louis succumbed to his disease on July 18, 2018. He was only 17-years-old.
"Everything we do, we try to do so that there's not another Fenov and a kid will survive instead of dying from cancer," Crimmins said.
The foundation had a banner of Pierre-Louis with his quote, "Even the smallest amount of help and sympathy you can provide to a child with cancer can mean the absolute world." The foundation has a page with his full story dedicated to him on their site.
In his charity work, Shattenkirk has built relationships with many fans. One of those fans was 17-year-old Derek Zacchino. A hockey player out of Bethpage, New York, Zacchino had surgery on Feb. 1 to remove Glioblastoma and has been in remission ever since. Seeing everyone come together for this event was special for Zacchino.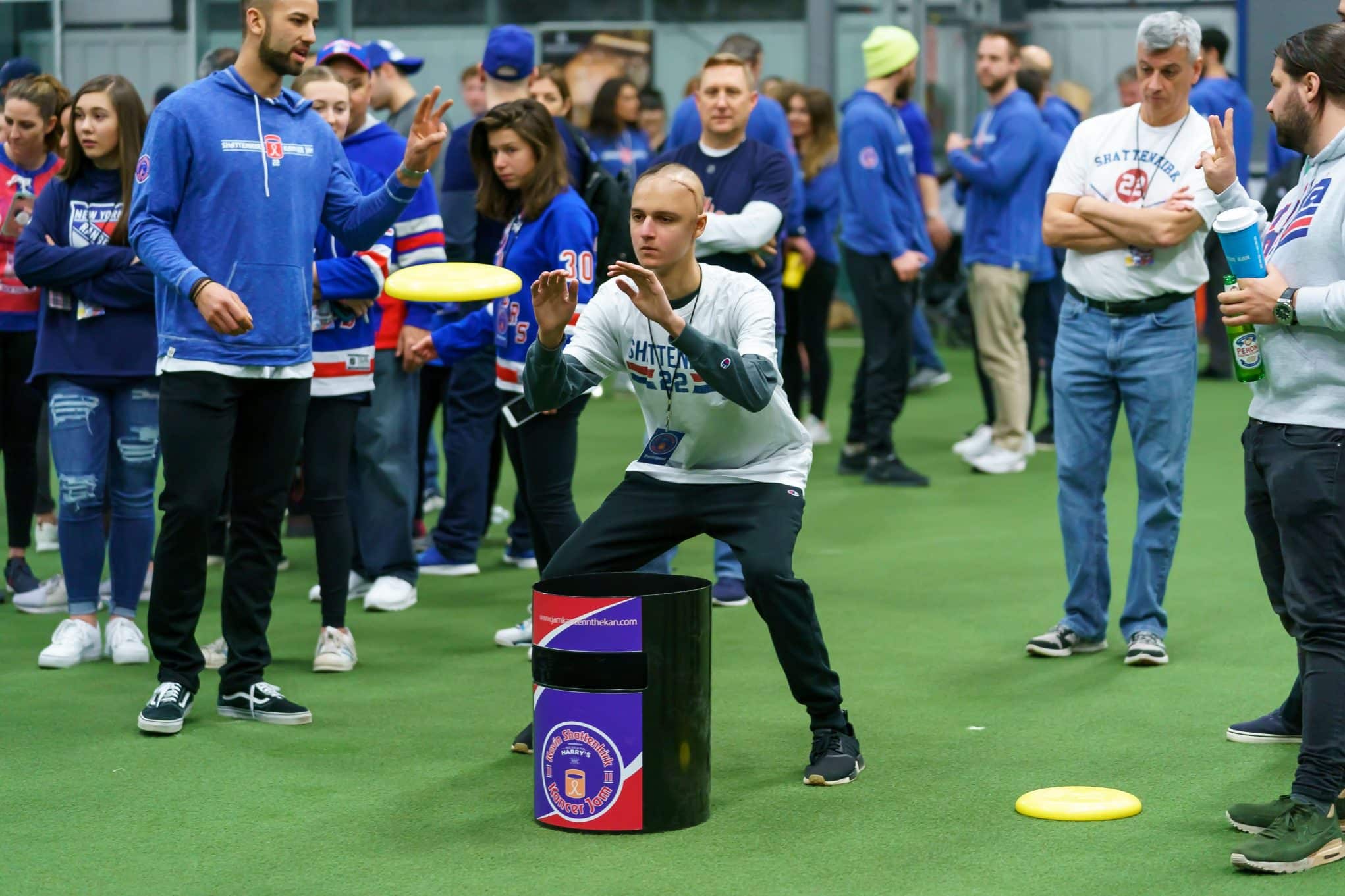 "It means a lot," Zacchino said. "A lot of people have been reaching out to me ever since I have been diagnosed, everyone has been trying to pitch in and do their part."
"It's just an amazing thing that people give their time," Derek's dad, Don Zacchino, said. "It just shows you what humans are capable of. The way they go out of their way to help people, to make people feel better, it's just amazing."
Another fan highlighted at the event was 11-year-old Michael Savare. After being diagnosed with Acute Lymphocytic Leukemia at the age of two, Savare beat the disease after three and a half years of treatment.
"(Shattenkirk) is wonderful," Michael's mom, Jodi Savare, said. "We are so happy that he hosts this event every year. He raises so much money for children. It's a wonderful honor to be invited year-after-year."
"It means a lot because it raises money for children," Michael said.
This is the second annual tournament hosted by Shattenkirk. Thanks to it's increasing popularity, former Rangers and current Tampa Bay Lightning players Ryan McDonagh and J.T. Miller are now throwing their own tournament down in Florida. Also holding his own tournament is Zach Bogosian of the Buffalo Sabres.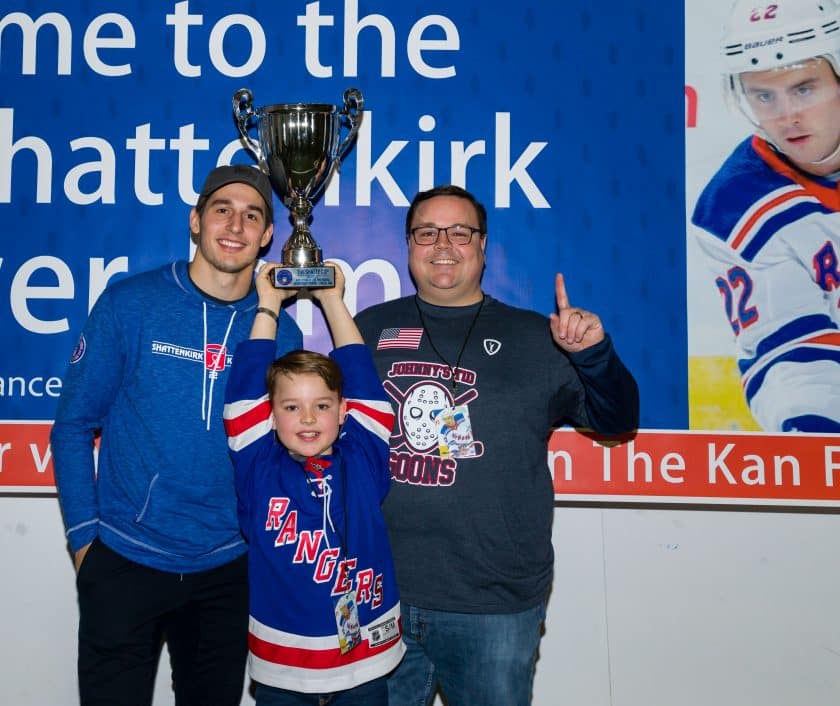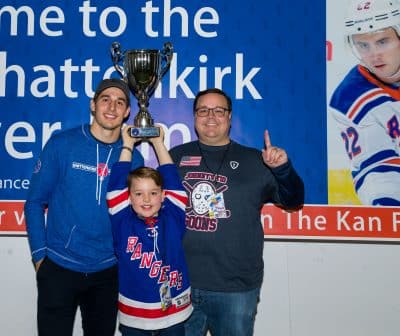 Cancer is something that affects the lives of nearly everyone. Some of the Ranger players have people close to them that they are fighting for.
"It just goes to show there's so much more to life than just hockey," Neal Pionk said. "A couple years ago my cousin, Cade Slattengren, was diagnosed with cancer and it was tough to watch him go through all that. But he beat it and he's recovering now. I think everyone has a personal story to cancer, it motivates me when he gets diagnosed like that and beats it, it shows you can get through anything."
"My grandfather has cancer," Tony DeAngelo said. "It's something that hits close to home for almost everybody. It's nice to do a nice thing and obviously, this is great for the young kids too."
"I have some grandparents that are struggling with cancer too," Jesper Fast. "This is great stuff to be a part of."
"I think it has affected everyone in some way," Chris Kreider said. "My aunt, my uncle, my grandparents, who had it. I've had former teachers and good friends have it. Everyone knows someone."
This event is something that's bigger than sports. But the Rangers did have some time to talk hockey on the side. Despite the roller coaster season, the Blueshirts still have plenty of confidence to make some noise later on.
"You don't play to just play, you play to win," Mika Zibanejad said, channeling his inner Herman Edwards. "Even though it's been tough this year and the way the situation is right now with the playoffs, we certainly do not give up."
"We got to string together some wins," Kevin Hayes said. "Hopefully we can strengthen together a couple in-a-row and get back into the run."
"For us and a lot of the other teams in the Eastern Conference, no one has really been pulling away, especially for the wild card spot," Shattenkirk said. "It's going to take a couple winning streaks, we got to put some things together here, but I love the way our team is fighting right now and the way we're playing and we're putting ourselves in a position to win every night and that's the most important thing."
For more information about Jam Kancer in the Kan and to donate, please visit http://www.jamkancerinthekan.com.