Tony DeAngelo and Neal Pionk are having up and down years for the New York Rangers having some question if they have a future in New York?

It is no secret. The New York Rangers biggest weakness the last few seasons has been the defense.
Last season, they thought they found a diamond in the rough with Neal Pionk, but he has been unable to translate his success this year. As for Tony DeAngelo, he continues to develop at a slower rate than expected and is leaving some wonder if he can ever put all together to become a legitimate everyday defenseman in this league.
When both players are at their best, there is no denying how valuable they are to the Rangers blueline offensively and defensively. But when they are at their worst, it is painfully obvious how much work they truly have left to do before they can become the players the organization thinks they can be.
Neither player does not deserve to be in the lineup on any given night. They just find themselves in the development stage of their career, and when that's at the NHL level things are a little tricky compared to playing at the junior or AHL level.
Simply put, it's way too early in the game to give up on them.
Offensive defensemen are pivotal members to a blueline especially in this day in an age where teams are transitioning to puck moving defensemen.
Both Pionk and DeAngelo are exactly what most teams are grooming their younger defensemen to be nowadays. They have the ability to get the puck out of their end with just one pass or by using their skating ability and speed, which compare to no other defenseman on the team outside of Brady Skjei.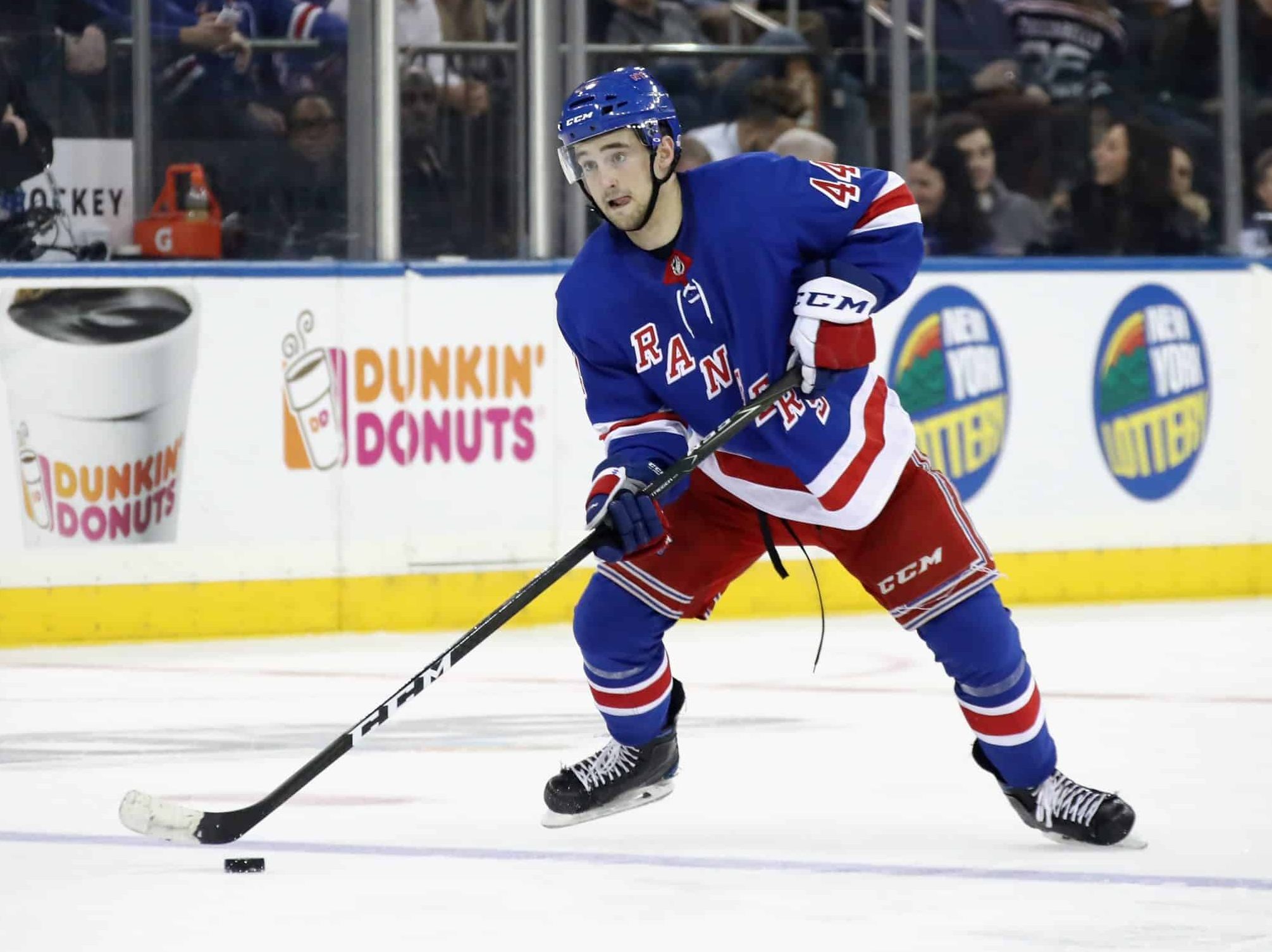 Pionk has been more flashy with some of the plays he's created, like the game-winning goal he scored early in the season against Montreal and Carey Price.
His 20 points lead all Ranger defensemen, while his 15 assists rank fifth behind Chris Kreider, Mats Zuccarello, Kevin Hayes, and Mika Zibanejad.
Unbelievable, Neal Pionk. Brian Leetch anybody? #NYR pic.twitter.com/9nXnI4KHWC

— Elite Sports NY (@EliteSportsNY) November 7, 2018
Pionk has shown the ability he has to join the rush several times throughout his short career. But it does not really stop there with him. He has the ability to defend when he's going well, it's just been the opposite for him lately. Despite being a healthy scratch Wednesday, his potential is still big enough where you cannot completely give up on him.
As for DeAngelo, he really isn't too flashy with what he does on the ice. But like Pionk, he has the offensive potential that made the Rangers ask for him in the Derek Stepan trade. He's on pace to break his career high in games played, goals, assists, and points should he continue to receive consistent playing time.
The one thing that I really like about DeAngelo is that he is not your typical offensive defenseman who shies away from using the body. As an opposing player you don't want to get under his skin because he is not afraid to back down and will take you on should you mess with one of his teammates.
Now even though Pionk has struggled and DeAngelo has had some "maturity issues," as head coach David Quinn has put it, if you find the right defense partner, their games can be taken to another level. Quinn has tried them with Marc Staal which is exactly the right thing to do by giving a younger offensive defenseman a veteran defensive defenseman to play with. But clearly playing with Staal is just not working anymore. Should Quinn find the right match, their play would greatly improve just look no further to how Skjei has played with Adam McQuaid.
Tony DeAngelo and Neal Pionk have shown they can play at the NHL level. Now it's time they prove can do it on a consistent basis.