New York Knicks PG Frank Ntilikina has been the subject of trade talks. A fan-favorite, yet his exit may just be what the team needs.

Despite his mild-mannered and overall good-guy persona, New York Knicks point guard Frank Ntilikina has been the subject of some vicious debates between fans. The French Prince has effectively become one of the most polarizing Knicks since Carmelo Anthony.
Ntilikina, one of the positives from Phil Jackson's tenure, has always impressed fans with his defensive tenacity. Furthermore, there's plenty of people who would also like to see him get some real time at running the offense and not just the nine games where he started at the beginning of the season.
On the other hand, there's also contingent of Knicks fans that are frustrated with the hand full of games where Ntilikina's offensive imprint on the game is M.I.A. Those flashes of a strong drive to the hoop or a smooth and confident shot taken from the perimeter are few and far between.
Ntilikina's supporters will always point to his age and development, and yes it's true that he's 20-years-old and his ceiling is very much unknown.
However, the unfortunate truth is that Frank's current skill set/potential should not be a priority if it comes at the expense of creating cap space to sign greater talent.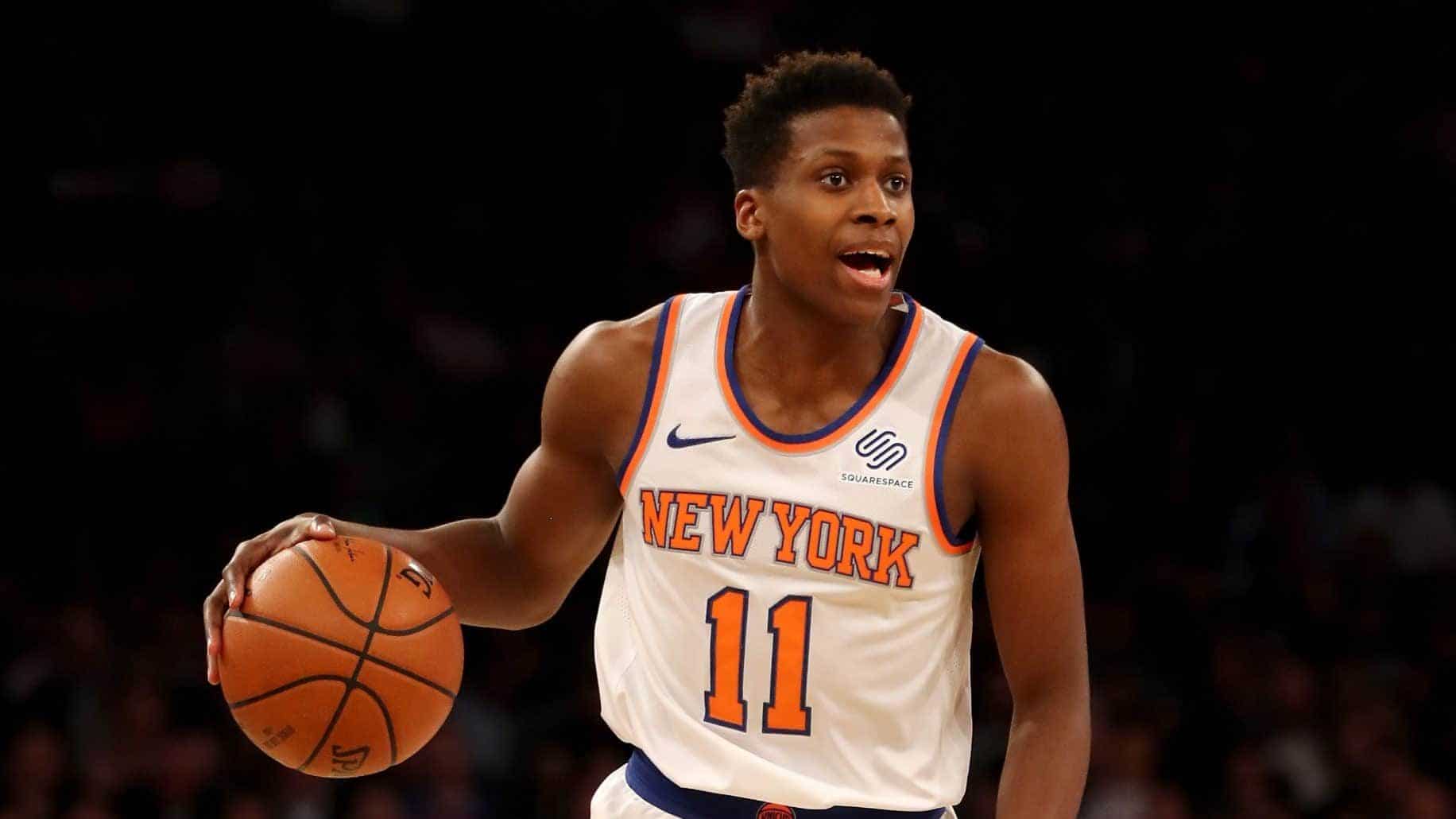 Enter the trade rumors.
ESPN's Adrian Wojnarowski has reported that the Mavericks are interested in trading out-of-favor point guard, and former lottery pick Dennis Smith Jr. As a result, hypothetical trade packages have flooded the internet, some involving the Knicks.
Sean Highkin of Bleacher Report wrote about the idea of trading Tim Hardaway Jr. and Ntilikina for Smith Jr. and the expiring contract of Wes Matthews. The trade could go a long way towards creating the necessary cap space needed for two max contracts.
Undoubtedly fans will be split, but the trade could have a positive impact. Let's review.
Per Spotrac, Hardaway Jr. is set to make $18.1 million during the 2019/2020 season, and $18.5 million during the 2020/2021 season. Back in July Tommy Beer of Forbes Sports wrote about the necessary steps needed to create cap space for two max-contacts.
"In order sign two veterans with 7-9 years worth of NBA experience to max contracts, the Knicks will need north of $65 million in cap space. To get there, New York will need to renounce the cap holds of all their non-essential players (Enes Kanter, Ron Baker, etc.), waive Lance Thomas, stretch Joakim Noah, and trade both Courtney Lee and Tim Hardaway Jr."
When the Knicks used the stretch provision on Noah, it placed a large emphasis on the free-agent class of 2019 which includes names like Kevin Durant, Kawhi Leonard and Kyrie Irving. And while the Knicks would still need to trade Courtney Lee, Lee's contract becomes an attractive expiring deal at the end of the 2018-2019 season.
Now most fans are all in on player development and don't want to give up on a 20-year-old prospect like Ntilikina. I don't blame them. But they're missing the big picture. The NBA is an arms race. You can build a team like the Utah Jazz or the Denver Nuggets, dabble in free agency and build through the draft, but you need All-NBA talent. There's no getting around that.
I'm not arguing that the Knicks should abandon player development and return to the errors of previous regimes. I certainly would not want the Knicks to include any future picks in a deal for Smith Jr. However, Ntilikina, despite his talents a defensive stopper and age, should not be a roadblock that prevents us from clearing cap space for an All-NBA level talent.
Since Scott Perry joined Steve Mills, the duo, along with head coach David Fizdale have talked about their confidence in the ability to attract top-tier free-agents to New York. And while Mills has somewhat backed off those comments recently, if the confidence is still there, the time to strike is now.
Teams in search of cap space have absolutely completed deals like this in the past. As Beer writes, The Los Angeles Lakers traded away a struggling D'Angelo Russell to the Brooklyn Nets in order to get off Timofey Mozgov's contract. This, in part, enabled them to sign LeBron James. The Toronto Raptors attached a first and second-round draft pick to get off DeMarre Carroll's contract when they traded him to the Nets.
Ntilikina is a fine player, and I believe that he has a nice career ahead of him in the NBA. I even believe that he can play important minutes for a contender one day. But, at some point, the Knicks will have to decide whether Ntilikina fits into their plans for future, and that means offering him an extension or not.
I would find it very difficult to commit any future money to Ntilikina when we don't even have a set core of players outside of Kristaps Porzingis. Defense is important, but in the modern-day NBA, core players who are defensive specialists with limited offensive skills are typically rim protectors and not wing defenders. If Ntilikina could shoot the three-ball at a respectable level, this might be a different story, but two years into his development, it doesn't seem to be the case.
In the end, the Knicks have some tough decisions to make. But if the goal is to win a championship and compete with teams like the Golden State Warriors, Houston Rockets, or even the Toronto Raptors, we need All-NBA talent first then we can figure out the complementary role players.