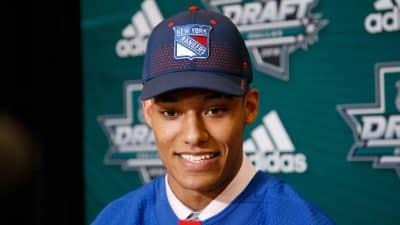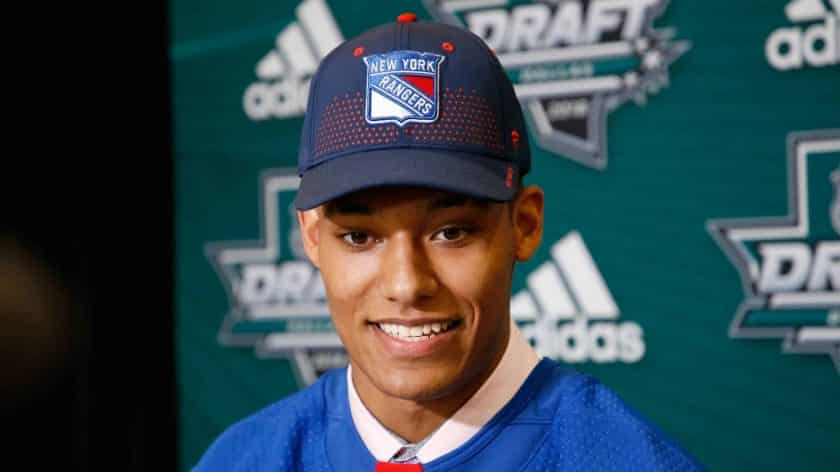 New York Rangers prospect K'Andre Miller is having an excellent season at Wisconsin.

New York Rangers prospect K'Andre Miller had a fantastic week playing for his Wisconsin Badgers.
The #NYR prospect first star of the week is K'Andre Miller. Miller had 1-4–5 in 2GP during the week, and he had 1-3–4, including the GWG vs Penn State.
Miller is tied for 2nd among NCAA freshmen in assists and points this season.

For the full @sportscare1 Prospect Report ⬇️

— New York Rangers (@NYRangers) December 3, 2018
Miller had one goal and five points in two games. In Wisconsin's game against Penn State, Miller scored the game-winning goal, adding three assists for a four-point night.
What a goal from @kandre_miller last night. pic.twitter.com/0yezP6Ai5H

— Adam Herman (@AdamZHerman) December 2, 2018
Miller now has three goals with 12 assists for 15 points in 16 games with the Badgers. K'Andre is tied for second among all NCAA freshmen in assists (12) and points (15) this season, and he leads NCAA freshman defensemen in both categories.
The Rangers drafted the 18-year-old in the first round (22nd overall) of the 2018 NHL draft.
Wisconsin head coach and former New York Ranger Tony Granato has been quite impressed with the young defenseman this year.  speaking to Adam Wodon of Eliteprospect News he had this to say of the future Rangers defenseman:
"The first game, he had the game-winning goal, made seven or eight great defensive plays, and he was playing against the other team's top line. There's no inexperience there. If the draft was today, he'd probably go even higher. But he's gonna continue to grow and develop because he has great work habits. He has a lot of leadership qualities you like a young guy to have."
The defenseman was part of the Rangers' 2018 first-round draft class along with right-winger Vitali Kravstov (9th overall) and defenseman Nils Lundkvist (28th overall).
Kravtsov has had an impressive first year in the KHL, and he was named to the KHL All-Star game in November.
The Rangers are salivating for an opportunity to see these young prospects with the club. However, the team understands patience is the key to getting the most out of these players.
The future is very bright for New York.
Follow Frank on TWITTER