The last two games for the New York Rangers have not been pretty which is why they must take advantage of their week off. 

It has not been pretty for the New York Rangers the last two nights. They are coming off two games where they just simply lacked effort, losing by a combined score of 8-2 to Ottawa and Montreal.
Now as the team prepares to honor Vic Hadfield's career and the great history the Blueshirts have to offer, the Rangers will be facing a daunting task at hand in the Winnipeg Jets. After facing the always dangerous Jets led by Patrick Laine, New York is given a gift in terms of their schedule with a full week off and, it is coming at the perfect time.
As of Saturday night, it is hard to imagine just a couple of weeks ago this Blueshirt team was in the midsts of having one of the best records in the game. A stretch that was all fun, to begin with, but, has then since come back down to reality in that this team might actually be the team thought they were coming out of training camp.
Losing sometimes can benefit a young team more than winning can but, with the way the Rangers have looked this week off becomes crucial. This is not the bye week, which means head coach David Quinn and the rest of his staff can work on some of the Blueshirts problems and find a way to fix them. A way to stop giving up a significant amount of odd-man rushes and actually giving Henrik Lundqvist and Alexandar Georgiev a chance in goal.
The week off should be a week where Quinn gets his team back in sync with some hard practices, along with sitting down players like Brady Skjei who have struggled and work out the issues. Doing this could possibly be more productive for the player instead of sitting out and watching. It allows them to see what the coaches want them to improve on and they can work on their play during practices.
This scheduling blessing will also allow for some key players to work on recovering from injury without having to miss any action. Mats Zuccarello has seen the ice just five times in the month of November thanks to a lingering groin injury. Perhaps the extended break allows for Zuccarello to heal up and get back into some game action. Vladislav Namestnikov is also fighting the injury bug and was in concussion protocol last week. Like Zuccarello, maybe the week off gives no. 90 enough time to recover and get back into game shape. Getting two legitimate NHL players back to replace one of Tim Gettinger, Steven Fogarty, or Vinni Lettieri will go a long way in getting the Rangers back to their winning ways.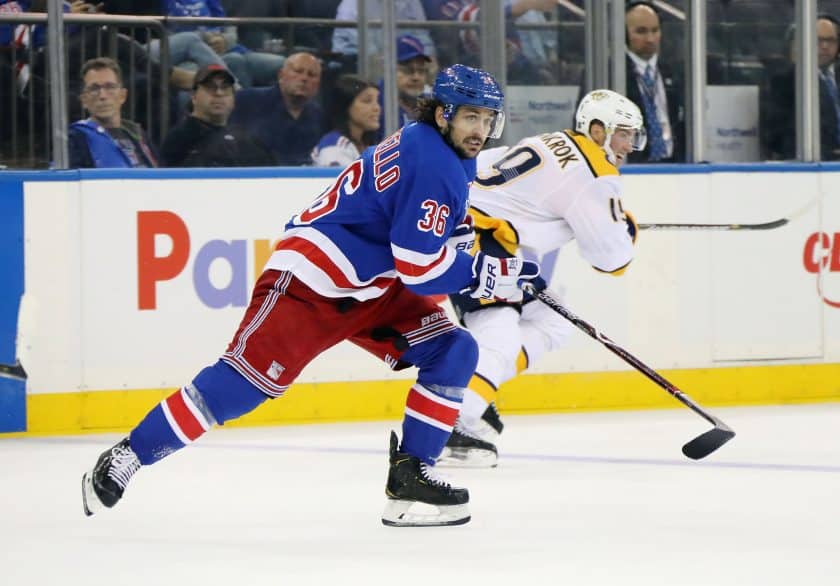 It doesn't just stop with those two, Adam McQuaid is close to a return, and another week will go by without Pavel Buchnevich, but, this time he won't miss any action. Cody McLeod is also a part of the Blueshirts injured group and has been a noticeable loss over the last couple of games.
Lundqvist will get the time a 36-year-old netminder needs to rest up after being in goal for 20 of the team's first 27 games. Kevin Shattenkirk can also benefit from the time considering he missed the second half of 2017-18 due to injury. The break also gives younger players like Brett Howden and Filip Chytil to make the necessary adjustments they have to make as the league adjusts to them.
Now there is room to worry when it comes to having extended breaks like this. We have seen teams come out of the bye week a flat and take some time to get up to game speed. But for the Rangers, this break could not come at a more perfect time. Now they just have to take advantage of it.