The New York Rangers current defensive logjam is a tremendous problem to have, but just how will David Quinn fix it?
David Quinn faces a problem. It's not a matter of the on-ice performance of any of his players, but a New York Rangers personnel dilemma that must be solved.
New York's rookie head coach has eight legitimate defensemen vying for only six spots. There are pros and cons to having each of them in the lineup, and Quinn has done a great job rotating all of his blue-liners in and out in the early going of the 2018-2019 campaign.
However, it's time for Jeff Gorton and the Rangers coaching staff to sit down and make some decisions.
One thing to note before I get into these personnel decisions is that I'm not saying that defense is currently an issue for the Blueshirts. In fact, When David Quinn was hired, he was tasked with shoring up the Rangers' defense and he has succeeded in doing so at the outset of this season.
Henrik Lundqvist's outstanding play deserves a ton of the credit for New York's strengthened defense, but the conservative new system that coach Quinn and Lindy Ruff have implemented has also played a major role.
Although David Quinn's frequent shuffling and his usage of the healthy scratch has been very effective, the Blueshirts need to settle on a top-six to move forward with, as it will allow for better defensive-zone chemistry and for the team to gel more.
Management needs to commit to their top-six defensemen because it will simply help the team progress. Now that almost every defenseman has been scratched (or put into the "Quinn-Bin" as it's now being called) and worked extensively alongside Quinn, it's time to figure out who should be protecting Henrik Lundqvist going forward.
Now onto the players.
We'll start with the only Rangers defenseman who hasn't found his way into the press-box: Marc Staal. Staal, one of New York's many alternate captains, has had a decent start to the season. At 31-years-old, Staal's biggest issue his consistency. There are nights when Staal shows shades of his pre-injury self (Monday night against Dallas in particular), and there are other games where he is a turnover machine and quite frankly a liability on the ice.
Staal has kept himself on the ice not because he has necessarily been better than the Blueshirts' other blue-liners, but because his mistakes are unfixable. Most of his mistakes are a product of him being too slow, rather than poor decision-making. The former first-round pick will likely be on a mainstay on the ice this year, but his ice-time isn't necessarily indicative of his performance. Staal's experience, leadership, and style of play will keep him in the lineup.
The story is a little different for the Rangers' only other defenseman older than 30, that being Adam McQuaid. Jeff Gorton acquired McQuaid in a trade prior to this season, and McQuaid appeared in eight games before suffering an injury that has held him out for the last couple of weeks. The Boys in Blue haven't missed McQuaid's presence, as they have been able to turn things around since his departure.
In my eyes, McQuaid is definitely one of the odd-men out in this situation. He played fine before his injury, yet his production was far from noteworthy. The 32-year-old is a great seventh-option due to his ability to provide short-term relief in case another defenseman were to go down. The only argument for reinserting McQuaid into the lineup would be to showcase him for a trade at February's trade deadline. Draft picks are of great value to the rebuilding Rangers.
Despite this, I think McQuaid should remain scratched when he returns to full health.
Now to someone who definitely should be playing every day: Fredrik Claesson. No, I did not think I would be saying those words when he was signed back in mid-July. Claesson has been perhaps the Blueshirts' best defenseman thus far this season and is proving to be an excellent pick-up by Jeff Gorton.
The Swedish D-man is not a flashy player, but he is very solid defensively. He's not a guy you notice on the ice, but sometimes that's a good thing. Claesson reminds me a lot of a former Rangers defenseman. Another guy who was an under the radar free agent signing, who was given a very cheap one-year contract, and who resurrected his career on Broadway was Anton Stralman. They've got a lot in common. Stralman played 53 games in his first season in New York, hopefully, Claesson eclipses that number.
Not only has Claesson played well as of late, but so has his oft-partner Kevin Shattenkirk. Following the New Rochelle native's early-season scratch because of his porous play, he has rebounded well. Shattenkirk has yet to find his offensive game, but more importantly, his play in the defensive-zone is much improved.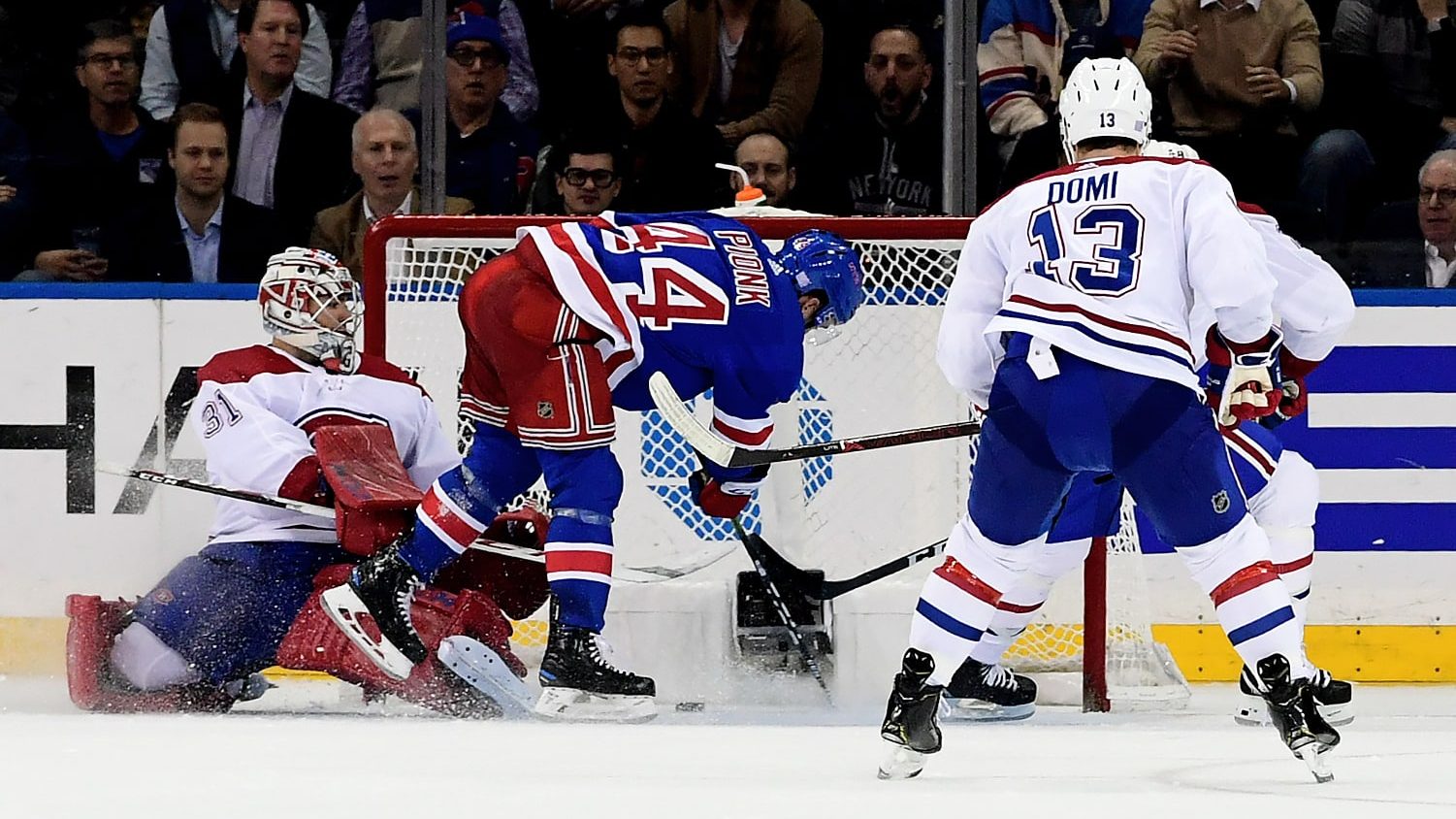 Claesson and Shattenkirk should definitely continue to be stapled to one another, as they have proven to be one of this team's best duos. If Shattenkirk continues to play at this level and is able to boost his production a little bit, then his six and a half million dollar contract won't look nearly as bad.
Another guy who should absolutely be in the top-six is Brady Skjei. This shouldn't come as a surprise to anyone. Skjei hasn't been elevated his game the way I would've liked, but he has shown flashes of brilliance. He as well just needs to find consistency. I don't believe that it has reached the point where Skjei's lack of development is worrisome; however, if he doesn't turn things around come February then that could change. He should not be considered untouchable in trades.
That narrows it down to three defensemen and two spots, and I believe those last two spots should be given to the youngsters, Neal Pionk and Tony DeAngelo.
Pionk and DeAngelo have both spent time in the press-box this season, and they have shown significant improvement since then, bouncing-back beautifully from their respective scratchings.
Pionk has been a beast in the offensive zone, but his play in the Rangers' zone still needs some work. Pionk has posted an impressive 13 points in 19 games. He also has a plus/minus rating of minus-seven. DeAngelo has turned a corner, and he seems to have figured things out on both ends of the ice. The former first-round pick has tallied seven points in 13 games, and he boasts a plus/minus of plus-six.
This scenario would leave Brendan Smith as the other healthy scratch. Smith's play does not warrant this demotion, but unfortunately, the Rangers simply have a surplus of defensemen. If I was Gorton, I'd be looking to trade Smith. His high cap-hit might make that difficult, yet Smith has regained his status as a viable option on the bottom pair. A contending team might be interested in acquiring him.
Just as this is a problem with many of the Blueshirts' other blue-liners, Smith needs to find some consistency. There are nights when he is on his game. He jumps into the attack, reads plays, and brings some much-needed grit and energy. He also has games where he has too many costly turnovers. Smith needs to find some sort of balance between the two before he can be trusted on a nightly basis.
The Rangers have a logjam on defense, which is a good problem to have. At the same time, if the problem persists for too long, then it can become a real issue. David Quinn and Jeff Gorton need to address this right now and create a plan before things get out of hand. Whether that be trading players, or simply choosing a top-six to roll with, a decision must be made, and it must be made soon.
Follow Brian Paget on TWITTER