Almost a quarter of the way through the season and the New York Knicks starting point guard spot is still undecided. Has there been any separation?

In football, conventional wisdom tells you that when you have three quarterbacks on your roster, you, in fact, have none. The idea is that there should be no debate over who is best suited for a position so central to winning. While basketball is a different game with lineups that include multiple guards, ball-handlers, the same can be said for the New York Knicks.
Eighteen games into head coach David Fizdale's open competition, we may have more questions than answers in regards to the point guard position. Trey Burke started the season as the top man on the depth chart. While he proved to be a potent offensive threat, Fizdale opted to give second-year point guard Frank Ntilikina the reigns after six games and a four-game losing streak.
Ntilikina, along with Damyean Dotson gave the Knicks some hope. The offense seemed to run with more efficiency and the defense was improved. With three wins in nine games, Fiz again, decided to go back to the drawing board, giving Emmanuel Mudiay his chance as the starting point guard. Fiz wants his lead guard to push the pace and felt that Mudiay might work out.
In five games Mudiay has been a mixed bag. Mudiay appears to have improved his consistency in shooting from the mid-range and his ability to break down defenses and drive to the hoop has always been his main strength.
Surprisingly enough, if you look a the tape there have been moments where Mudiay got a key deflection and made some good defensive plays. Yet, overall, his defense alone will always be an obstacle towards giving Mudiay more minutes.
However, as we get closer to the quarter mark of the season, coach Fizdale will have to make his decision. He's been transparent with his process, telling fans that he will be experimenting with different lineups. But for the sake of development and continuity, players like Kevin Knox, Tim Hardaway Jr., and Mitchell Robinson will need to have as much time as possible playing with one of these point guards in order to improve their games.
A statistical analysis may shed some light into Fizdale's thinking going forward.
Offense
The Knicks offense has been the equivalent of construction site this season. With not a lot of offensive sets being run, most of the action has come off dribble-handoffs and the pick and roll. Via NBAstats.com Burke appears to have the edge in initiating the offense.
The Michigan alum produces 0.93 points per possession which is good enough for 63rd percentile in the league. Mudiay's stats were not available, however, there is a clear drop-off when it comes to Ntilikina.
The second-year guard is producing 0.72 points per possession and his turnover frequency which is measured at 17.2 percent is higher than Burke's (4.9 percent). Mudiay, however, holds the edge (ranked first on the team) over both Burke and Ntilikina in offensive rating. Mudiay currently stands at 109.4 while Burke is at 107.1 and Ntilikina is at 98.3, which is only above Ron Baker and Luke Kornet.
Defense
On the other side of the ball, Ntilikina has always been seen as head and shoulders above the rest of his teammates. And if you look at the tape he is. Ntilikina more than other guards is very adept at getting his hands in passing lanes and guarding the pick and roll. Yet, this season, the numbers don't always support his reputation.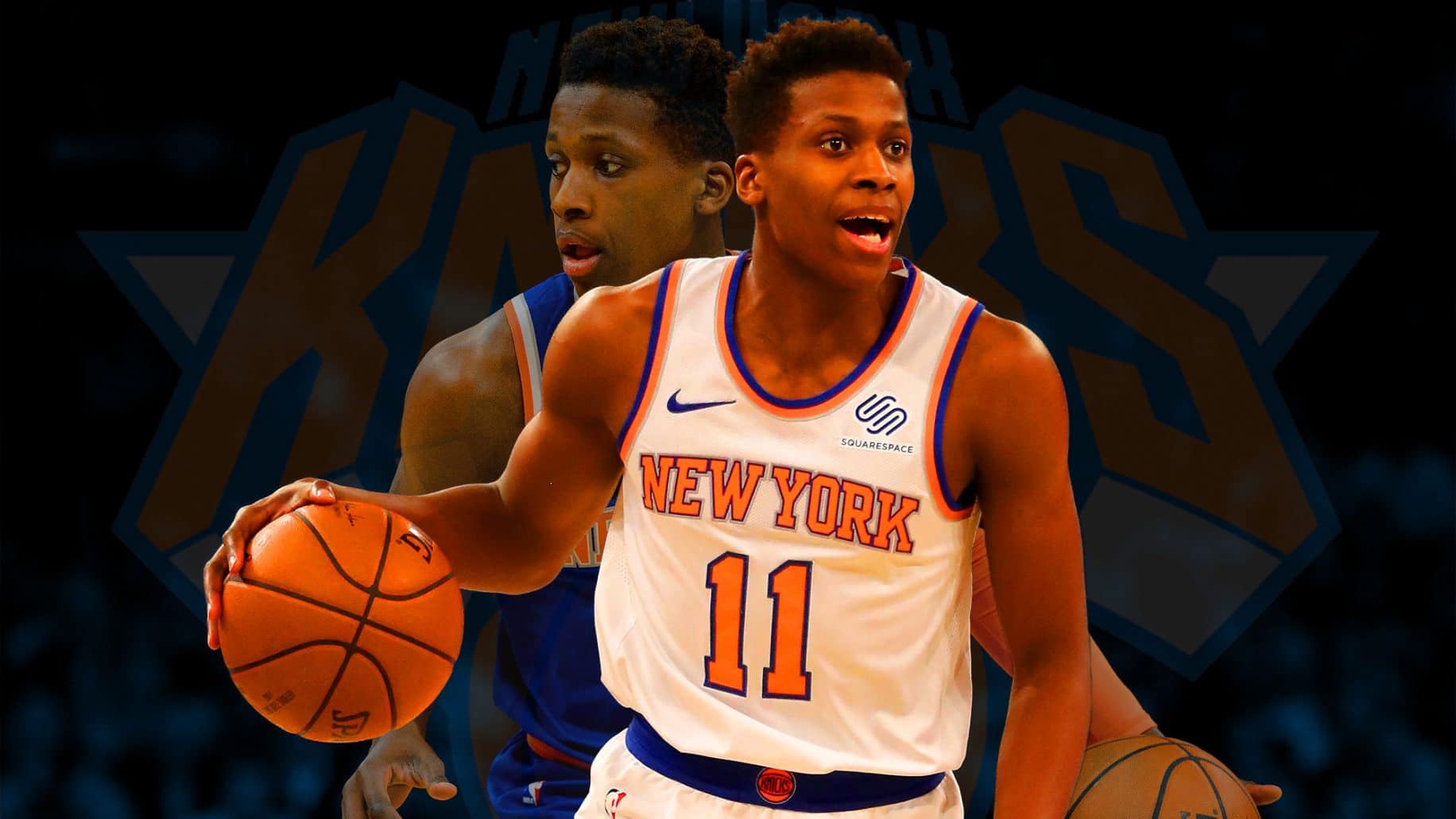 Burke actually leads the three guards in defensive rating (107.9). Ntilikina's defensive rating is measured at 108.1 and Mudiay, no surprise, brings up the rear with a 116.6. Yet defensive rating can be a fickle stat and can often vary depending who you're on the court with. Overall, Burke also holds a lead in net rating -0.8, while Mudiay is at -7.2 and Ntilikina is at -9.8.
In the hustle stats, Ntilikina contests 5.9 shots per game. Mudiay isn't too far behind with 5.1 contested shots per game, and Burke trails with 3.7 contested shots per game.
The truth of the matter is that we have three very flawed point guards with wildly different strengths and weaknesses. But the with the modern game being so heavily dependent on offense an pick and roll, it's hard to see Burke not getting the majority of the starting point guard minutes going forward.
The search for our true point guard of the future will likely continue. The answer may be found in free agency or the upcoming draft. But, for now, it is vital that Fizdale settles on a consistent starting line-up for at least 20-25 games. Fiz has said he will prioritize development of the team's young players, and while that is the correct philosophy, those players need consistent minutes that don't vary so greatly from night-to-night.
Despite the highs and lows of a six-year career, Burke is still just 26 years old with a ton of talent. My take is that Burke needs to be in that lineup.