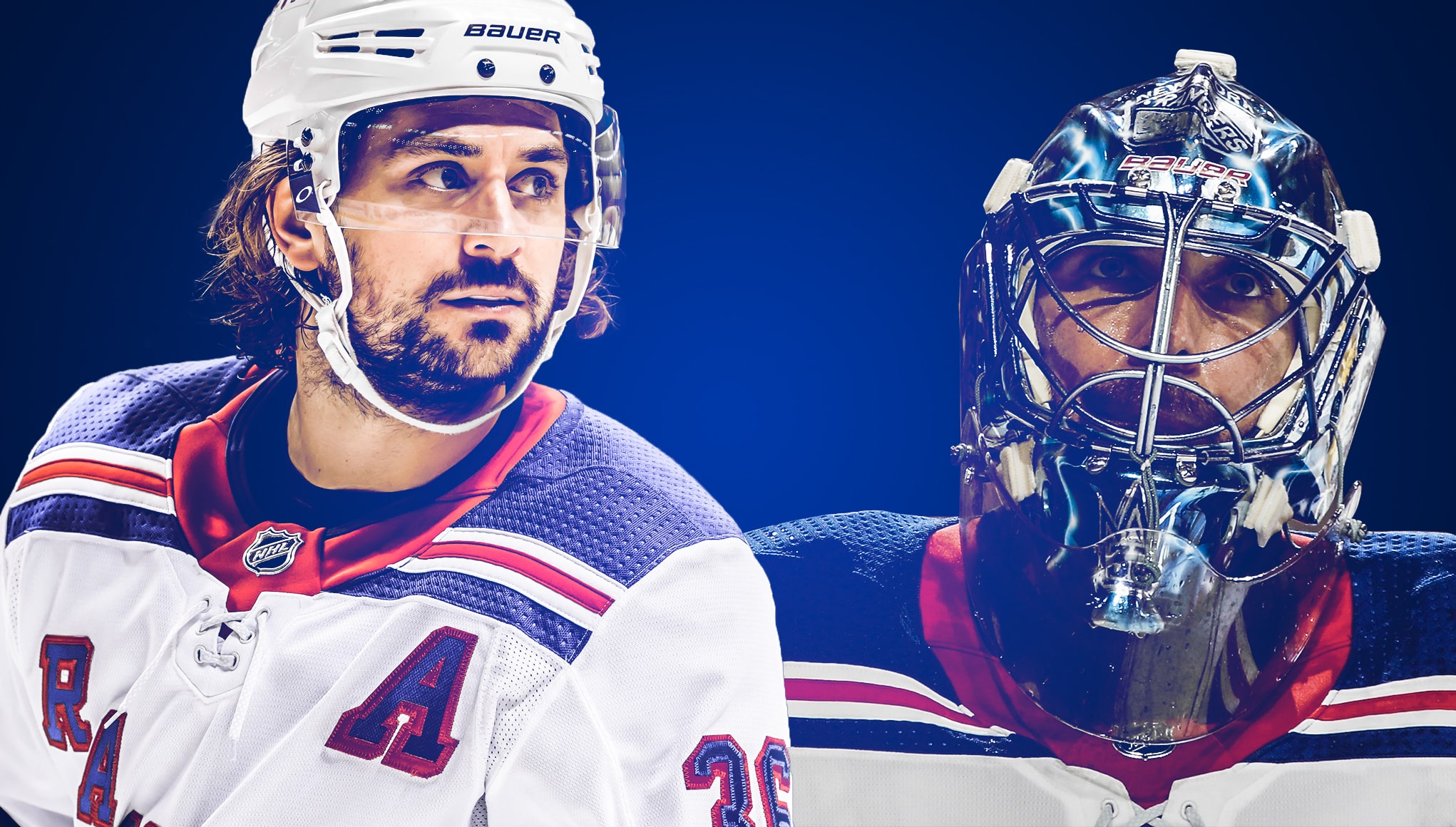 New York Rangers staples Henrik Lundqvist and Mats Zuccarello reminisce with one another on MSG Connections.
The New York Rangers enjoyed an era of great success between 2010 and 2018. Making the playoffs seven years in a row, the Blueshirts came close to achieving their ultimate goal of winning the Stanley Cup. However, in the end, New York fell short, ending this golden age of Rangers hockey with feelings of heartbreak and despair.
Despite the bitter endings that occurred year after year, so many memories were made throughout this exciting period of time.
First came Marc Staal's game-winning goal in overtime against the Washington Capitals in the 2012 playoffs.
Then there was the Blueshirts' inspiring comeback against the Pittsburgh Penguins, in which they rallied back from a 3-1 series deficit, led by Martin St. Louis, who had just lost his mother. The Rangers continued on that year, making it all the way to the Stanley Cup Finals, where they were defeated by the Los Angeles Kings. So close, yet so far.
Fortunately, the Rangers didn't suffer any sort of Stanley Cup hangover. The Blueshirts rebounded, winning the Presidents' Trophy, and making another deep playoff run the next season. Another year meant another 3-1 series comeback for New York. This time it came against the Washington Capitals. Ryan McDonagh kept the Blueshirts alive with his overtime-winner in Game Five, and later Derek Stepan scored an iconic overtime game-winning goal in Game Seven to oust the Washington Capitals. The Boys in Blue would come close again, this time having their season end in Game 7 of the conference finals.
During this eventful and memorable time period, there were many players that endeared themselves inside the hearts of the Garden Faithful. Ryan Callahan, Dan Girardi, Brandon Dubinsky, Ryan McDonagh, Martin St. Louis, Derick Brassard, Derek Stepan, Rick Nash, and Chris Kreider are among this special group. Nevertheless, there are two men that I haven't mentioned yet that have undoubtedly had the greatest impact on the New York Rangers franchise over this span: Mats Zuccarello and Henrik Lundqvist.
Lundqvist was a seventh-round draft pick back in 2000. To put it lightly, he has exceeded expectations. Lundqvist has been the backbone of the Rangers organization since his debut in the 2005-06 campaign. The Swedish netminder is the all-time winningest goaltender in Rangers history and sits seventh on the NHL's all-time wins list. "The King", as he was nicknamed early on his career, has never finished a season with less than 20 victories. Additionally, Lundqvist possesses a Vezina Trophy and a gold medal.
Zuccarello doesn't carry the same accolades as Lundqvist, but he has played just as important a role in the Blueshirts' success, as he has served as the heart and soul of this team since he entered the league back in 2010. Furthermore, the 31-year-old is an inspiration to players across the NHL. Zuccarello not only stands at a mere 5-foot-8', but he also battled all the way back from what looked like it would be a career-ending injury, and he hasn't missed a beat.
Zuccarello suffered a fractured skull, after being struck in the side of the head by a Ryan McDonagh slapshot. The Norwegian couldn't speak for a few days after the incident occurred, and still felt the effects of the injury for a year after it happened. Miraculously, Zuccarello hasn't let this injury hinder his success, as Zuccarello has notched at least 49 points in every season since he became a full-time NHL player. The Blueshirts wouldn't have been where they were without Zuccarello's tenacity, consistency, and stellar play.
Here are Henrik Lundqvist and Mats Zuccarello reminiscing about the good old times on MSG Connections:
The two iconic New York sports and entertainment figures sat down for a candid one-on-one discussion.
"It really helped me, practicing against you all those years," Zuccarello said to Lundqvist in the special. "I mean you're a competitive goalie, you've been the best goalie in the league since I got here and for me to come in every day and make you mad, it gives me a lot of pleasure. And practice during the season can be, I mean, I'm not going to say boring, but like, you just have to be there because you're focusing on the game. So it's always nice to come in and have some fun. And while you have fun, it becomes a competition and makes you try a little bit harder."
Lundqvist echoed the kind sentiments.
"Yeah, I mean, that's why I love this game. To compete in games, to compete in practice, and you got to find different things that makes you keep going. That you know, helps you work even harder every day, and part of that is to go up against certain guys at practice or in games. But it's fun, I like that there's always a couple guys every year that have that extra skill when you go one-on-one, and it definitely helps you stay sharp too."
Aside from their performance on the ice, one thing that separates Zuccarello and Lundqvist from other Rangers is the off-ice respect that they garner from their teammates and other players across the league.
"I just admire how every day is a competition for him, or for you," Zuccarello said. "His mindset is what I admire the most. Everything's about winning. And I think that's kind of grew on me a little bit too. Seeing you, how you compete every day, one win doesn't matter if you sacrifice everything to win it. I think that's the right mindset. I remember being a young guy, and you were here, how you learned, you taught me how this is all about winning, and I think that's admiring to see every day. A lot of the young guys should look at you, this is what it takes to win."
Lundqvist showed that the adoration is mutual, as he said, "I think for years, it was so important for players to be big and have the size, and now I think you and a couple other guys show that you can play this game with a lot of will and a lot of speed and skill. So I think your determination is something that I admire. Determination and you want to win. Whatever you do, if you always want to get better and win, that's something that I admire, so I like to see you come into the rink and be ready and pay the price and win. That gets me going. I get excited to play with guys who have that, and you have it."
Neither Zuccarello nor Lundqvist was ultra-talented when they joined the New York Rangers organization. They obviously improved their skills over the years in order to gain the elite status that they achieved, but their skill sets are not what separated them from anybody else. It was their preparation, their work ethic, their determination, and their attitude. While Zuccarello and Lundqvist don't have a "C" stitched to their jerseys, they are clearly the two captains of this team.
While many New York Rangers have had a major impact on the squad's success over the last several years, nobody has played a more crucial role than Henrik Lundqvist and Mats Zuccarello. Both of them entered the league as afterthoughts, but have proved all the doubters wrong. As they both continue to age, we can only hope that they continue to play at a high-level. As of now, they have shown no signs of slowing down.
Follow Brian Paget on TWITTER