The Red Sox didn't just beat the Bombers in the 2018 ALDS, they rubbed it in by desecrating sacred New York Yankees culture, and now Boston must pay.

It all started when New York Yankees outfielder Aaron Judge walked by the Boston clubhouse at Fenway Park, blasting Frank Sinatra's "New York, New York." Judge was celebrating a win in the 2018 ALDS, not trying to trigger Boston's classless cultural appropriation of the Bombers' theme song.
But the Red Sox took Judge's cheeky act and ran with it. They ran a little too far, though, all the way to the World Series and beyond.
When they bested the Bombers in the ALDS, Boston's champagne-drenched celebration in the Yankee Stadium visitor's clubhouse included strains of "New York, New York."
Thanks to Judge, the Red Sox antics that night made sense. But it didn't stop there.
Fans got involved, chanting "Yankees suck" at World Series games. Then, after finishing off the Dodgers, Boston turned again to a familiar song to celebrate, delivering an off-key rendition of Sinatra's ode to NYC.
Playing "New York, New York" in the clubhouse?

The @RedSox have ZERO chill. pic.twitter.com/xvonvEJ7gr

— Cut4 (@Cut4) October 29, 2018
Even Boston manager Alex Cora got in on the salty action. Just before the Boston victory parade, Cora grabbed the mic and told the world how he really felt.
 "We lost Game 2 and it was panic here. Everybody said, 'Woah, it's over.' Then we scored 16 at Yankee Stadium. Suck on it."
Cora later walked his words back, saying he wasn't referencing the Yankees when he suggested someone "suck on it." Even if that's accurate, the ambiguous statement is a clear Freudian slip.
The Yankees can't just ignore this disrespect, this appropriation of New York culture. It's time for the Evil Empire to strike back.
How the Yankees can get sweet revenge
During the World Series, anti-Boston posters started showing up in the New York Subway system. The posters featured an avatar with a backward Red Sox hat, a Tom Brady Jersey, and a Sam Adams in hand. The caption read, "Keep NYC Trash Free."
That's a good start, but I think the Yankees should take it a few steps further.
Boston has music, too ...
The Red Sox desecrated "New York, New York." The Yankees can easily respond in kind.
Neil Diamond's "Sweet Caroline" is part of a Fenway Park tradition. They play it before the bottom of every eighth inning, and the crowd raucously sings along.
The Yankees can do a little counter-cultural appropriation of their own. They can even take it up a notch.
When the Red Sox visit the Bronx, the Yankee Stadium sound crew can throw on Boston's favorite tune. Instead of yelling "bah, bah, bah," after the first line of the chorus, the crowd should roar as loudly as possible, "Red Sox suck."
There's no need to stop with Neil Diamond. Every time the Yankees take a lead against the Red Sox, they can score their success with "I'm Shipping Up To Boston" by Dropkick Murphys, another Beantown favorite.
Petty? Sure. But it's about time the Yankees started fighting fire with a little fire of their own.
Suck on that, Alex Cora.
Promotional giveaways with an anti-Boston twist
Another way to strike back at the Red Sox is through some clever fan giveaways when Boston comes to town.
Corporate sponsorship makes it hard to get crazy with promotions, but there are some creative options that allow the Bombers to communicate clear disdain for their rivals.
Some giveaways can focus on reminding the Red Sox of their most disheartening moments. A Bill Buckner bobblehead or some bauble commemorating Aaron Boone's 2003 ALCS walk-off would be perfect.
Another theme the Yankees' marketing department needs to harp on is the all-time scoreboard, as far as titles are concerned. Yankees 27, Red Sox 9.
?????????
?????????
?????????

9️⃣ years ago today, the #Yankees won World Series title No. 27. pic.twitter.com/q0vhA2R2Z1

— YES Network (@YESNetwork) November 4, 2018
I'm picturing 27-9 t-shirts and hats. Or, in keeping with the Aaron Judge judicial theme, mini scales with a hefty number 27 pulling down a much lighter number 9.
The possibilities are endless.
Replace A-Boone with A-Rod
The Yankees tried bringing in a Boston nemesis to manage in Aaron Boone, but he failed to provide any magic from his new position at the helm in his first ALDS.
What if—hear me out, now—what if the Yankees replaced Aaron Boone with Alex Rodriguez. It's ridiculous, I know, but there's a good reason.
The only people who hate A-Rod more than Yankees fans are the Fenway faithful. Even though Rodriguez only led the Bombers to one championship in his pinstriped tenure, he had plenty of run-ins with Boston.
His fight with Jason Varitek in 2004 started a brawl, and then there's that time he knocked the ball out of Bronson Arroyo's glove. Varitek still remembers, and Boston fans even jeer at A-Rod when he's on TV.
A-Rod might even be able to talk his broadcast pal David Ortiz into being his bench coach. That would be the ultimate slap in the face to Boston, and it's worth whatever amount of money Ortiz would ask for.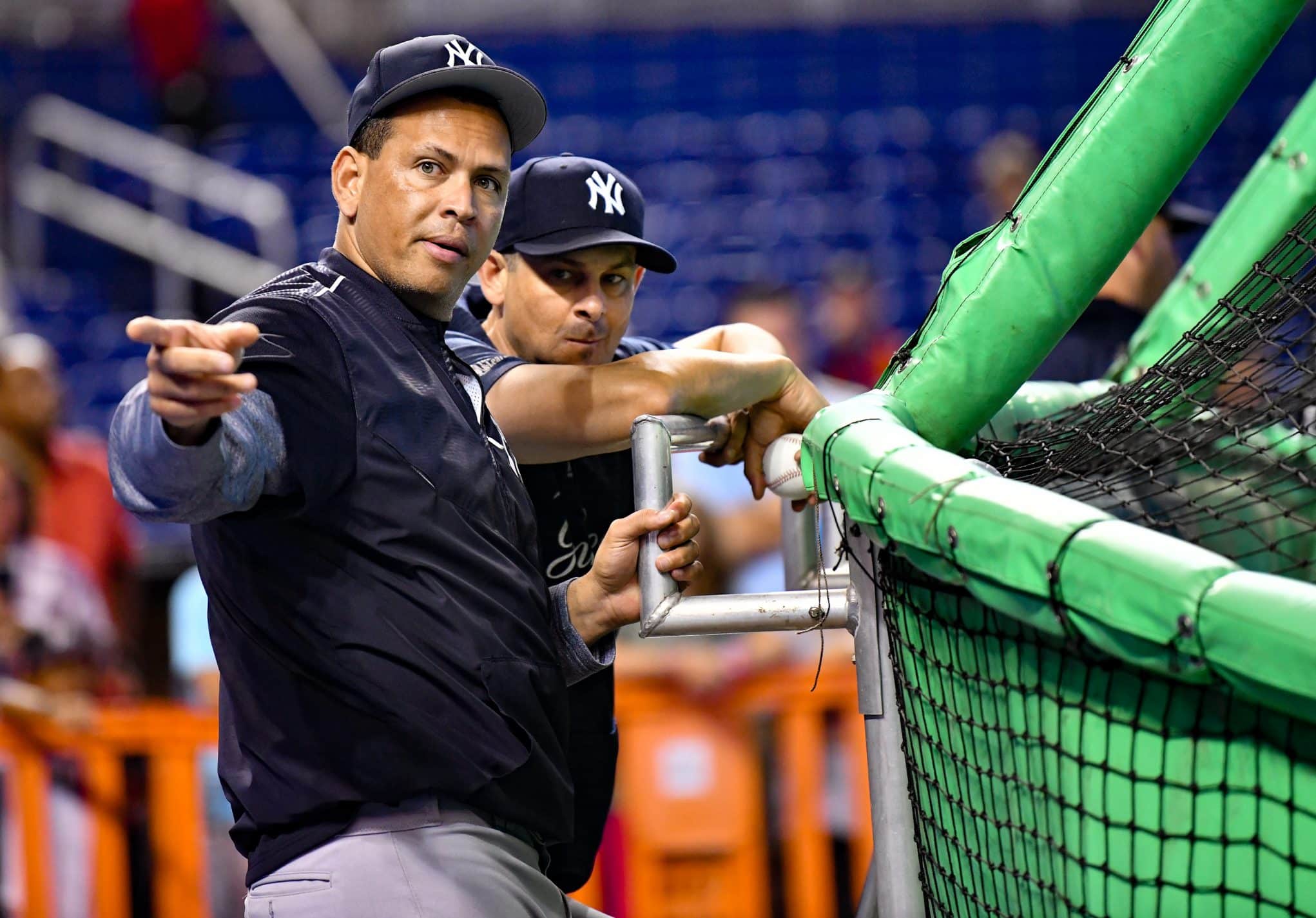 This is obviously a joke because Boone won 100 games in his rookie managerial campaign, and he deserves a chance to see if he can get the Yankees back to the World Series in 2019. However, if he fails and gets the ax, it's an opportunity to go with someone completely repulsive to the Red Sox and their fans.
It's also the perfect way for A-Rod—who despite his many flaws is a serious student of the game—to get some New York redemption. Unless he gets busted trying to use Adderall as a managerial PED, that is.
Most importantly, win
The best way to shut up Red Sox fans is to win. Start by taking the Eastern Division, and just keep winning all the way to championship No. 28.
Brian Cashman and the front office will make some moves to shore up the starting rotation this offseason. The offense, even without Didi Gregorius, has a good chance at breaking the home run record they set in 2018.
This season was a significant letdown, but the excitement in the Bronx for 2019 should be barely containable. There are less than 100 days until pitcher and catchers report to spring training and the march toward vengeance begins.
Whether the Bombers are leading the division by a half game or running away with it, the Yankees and their fans have to let Boston know what's up. If it ever feels too nasty, just remember the Red Sox singing "New York, New York," gloating in your face.
In 2019, karma wears pinstripes.