Has hustling in baseball become a lost art? If so, Manny Machado is ahead of the curve and the New York Yankees should keep their distance.
The days of "Charlie Hustle" seem to be a forgotten notion in today's MLB.
There's a countless list of players who love to "dog" groundouts and others who love to watch their deep fly ball hit the top of the outfield wall. But, what is missing in all of the smoke is the one thing in sports that is hard to teach: hustle.
And it takes no talent to hustle.
Pete Rose, David Eckstein, Martin Prado, and Derek Jeter all set a precedent of maximum effort. Whether it was a regular ground ball to the left side of the infield or being in a position for a cut-off on a play you had no business being a part of, the word hustle stretched into many definitions.
In 2018 the idea of easy-going, nonchalant style of play has infested the Major Leagues. It previously was seen visibly with the star stature of Robinson Cano, the man who merely invented the half-jog to first base on a ball to the right side.
Since then you've seen, one of the two pending, highly touted 2019 free agents, Bryce Harper, start to consistently not run out ground balls he saw as being "easy" outs. Conversely, one of the unwritten rules of baseball is too always put the ball in play and hustle because it simply puts pressure on the defense.
Where this idea disappeared, I have no idea. And why it's become such a second nature norm is also mind-boggling.
Manny Machado, the man connected to the Yankees more than Rudy Guliani and Billy Crystal ever was, is just weeks away from becoming the highest touted free agent to hit the market in a very long time. (Yes we can say JD Martinez but let's be honest, no one saw him having an MVP season for one of the first times in his career.)
For the team residing at 161st St., signing Machado is a bad idea. Why? Take a look:
"Hustling isn't my cup of tea."
– Manny Machado pic.twitter.com/zNqoB95MgI

— BASEBALL VAULT™ (@BSBVAULT) October 17, 2018
Here is a snippet of his quote transcribed via Ken Rosenthal of The Athletic, 
"Obviously I'm not going to change, I'm not the type of player that's going to be 'Johnny Hustle,' and run down the line and slide to first base and … you know, whatever can happen," Machado said in the interview with ken rosenthal. "That's just not my personality, that's not my cup of tea, that's not who I am.

"Should I have run on that pitch? Yeah … but I didn't and I gotta pay the consequences for it. It does look bad. It looks terrible. I look back at the video and I'm like, 'Whoa, what was I doing?'"
The problem here is the contradicting question he asks himself. 'Should I have run it out?' That shouldn't even be a thought. The fact this became a story is more so from his quote afterward than watching him in game action in Game 2. While before he's even sniffed New York, fans and media alike are already singing a doubting-tune:
I hope the @Yankees are watching manny machado in this series,,,,, not thinking this is the guy to pay 30 million to. Not hustling, iffy cheap play at first. I'm not buying him

— dj tynan (@dj_tynan) October 17, 2018
After #MannyMachado answer
for not hustling to 1st base#Yankees would be foolish
for signing him.

— Angel Garcia (@Bklyn57) October 17, 2018
Think of all the drama that Manny Machado could bring to the #Yankees.

— Chris Dixon (@cdixon25) October 17, 2018
As @cdixon25 said, "the drama it would bring" had Machado pulled a stunt like that in New York and then said what he had to say afterward, God Bless.
No one is denying the ball player he is. He is a premier player, an elite right-handed bat that is found every so often, and someone who can play a competent short and stellar third base. He hit .297, hit 37 homers and drove in 107 runs. He slugged .538 and had an OPS of .905.
He's a talent that is hard to pass up but to make the cliche comparison, the Yankees had no problem watching Cano walk and take over $200 million from the Mariners. The Yanks are a franchise that steers away from controversy, drama and handles their organization with the up-most class in sports. Do they really want a Machado-esq player that can "dog" whenever he feels like it?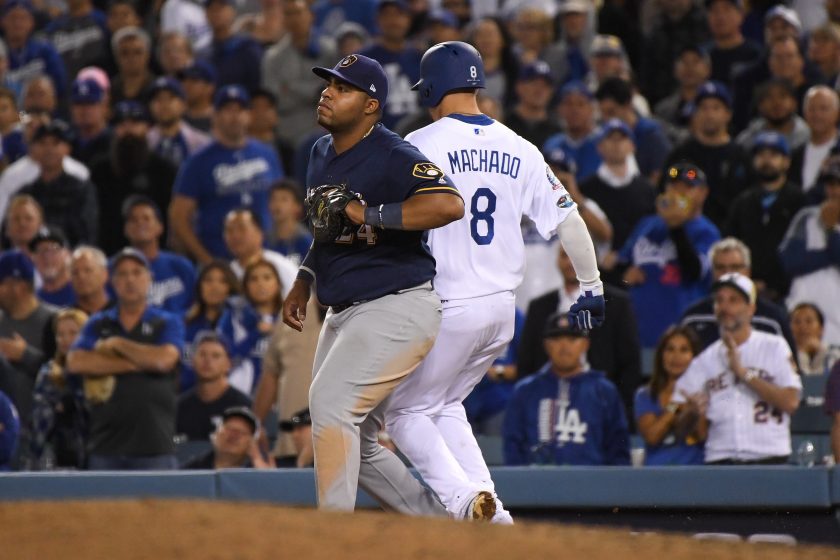 Remember Gary Sanchez's non-hustling run to first, that later became a re-aggravated groin injury? Let's just say the injury may have saved the man a lot of his reputation because watching it with any two eyes, it was clearly seen as a lack of hustle.
The point that shouldn't get lost is the fact of Manny Machado coming to the east coast and the NY market is a terrible relationship. The statement he made and the lack of hustle we've seen on display is a foreshadowing of what can and will happen if he comes to the Yankees.
It appears talent makes up for lack of effort. It's a common trend for the 2018 sports world. However, there is no place it is more scrutinized and put under the city-wide microscope than here.
The 2019 offseason is a time the Steinbrenners and Cashman have been salivating at for quite a while. They did what they needed to get under the luxury tax, and have now put themselves in position to spend as much as they please under the $206 million threshold for 2019.
Miguel Andujar is a growing player. Yes, he has defensive flaws at 3B but, so do many rookies. It's not a far cry to say he can be a solid defender, but his offense makes him a stalwart in the Yankees lineup. First base becomes the biggest question mark with Luke Voit and Greg Bird most likely duking it out in Spring Training.
The biggest concern is the middle infield. Considering how adamant Machado has been on playing short, the fit seems like it could be perfect. Though, Didi Gregorius, who just underwent Tommy John surgery, will be out until mid-season. Thus meaning Manny could slide right in and take over the duties.
To throw away the motor and passion of Didi for a high priced for Machado seems wrong, and it is. Regardless of his stature, Gregorius has earned and warranted a spot at shortstop. If Manny is here, what happens to the Yankees infield upon Didi's return?
Andujar rides the bench? Andujar moves to first? Andujar goes to DH and Stanton plays a full-time left field? Signing Machado brings more question marks than it does answers for a team on the up and coming.
He would answer the struggle with RISP for the Yanks. Machado hit an astounding .331 with runners in scoring position this season alone and has hit .311 lifetime in that respective category. The million dollar question remains: Do you sacrifice moments of hustle for driving in runs?
In my experience, no, because it always will come back to bite you in the "you know what" before it begins to help you.