Manny Machado and Bryce Harper hit free agency at the end of the season. Who should the New York Yankees pursue?
The New York Yankees have successfully managed to keep their budget under the $197 million threshold. All this means is a spending spree is looming in the form of the 2019 free agent class.
We're already familiar with the big names: Manny Machado, Bryce Harper, Patrick Corbin and possibly Clayton Kershaw. Sure, there are others, but these names will command the most attention and the largest pay-days. A contender can transform into a World Series favorite with the addition of one of these guys, so what will happen to an already stacked team that has the financial freedom to go after them?
Free agency is a valuable source of talent at the cost of mere dollars. If done recklessly, a free agent can be a burden that takes years to relieve. Ask Jacoby Ellsbury or any of the Yankee veterans who were signed past their prime in the mid-2000's. The possibilities, however, are worth the risks; JD Martinez transformed that Red Sox lineup this year.
Is he more valuable than Mookie Betts?
It's no secret the Yankees need pitching, but Machado and Harper, who are both 26-years-old and theoretically just entering their prime years, will be the top priority. Why? Well, did the Yankees really need Giancarlo Stanton? No, but can you now imagine if Brian Cashman didn't pull the trigger at a bargain price only to see Aaron Judge go down with injury and no one to replace his prodigious power?
Machado and Harper are generational talents too great to ignore. If the price is right, Cashman needs to go after one or the other. But the question is this: who is more valuable to the Yankees: Machado? Or Harper?
The case for Manny
Imagine Manny Machado, a career-long Yankee killer, joining the same pinstripes as his idol Alex Rodriguez had all those years ago.
With a smooth right-handed swing reminiscent of Rodriguez's, Machado has shown the Yankees how dangerous he can be in the middle of the lineup. His .347/.439/.837 slash line against the Yankees this season comes entirely as the lone superstar on a Baltimore Orioles team that is enduring a historically terrible season.
However, his time spent in Los Angeles with the Dodgers is not as good: his slash of .315/.387/.575 in 92 games with the Orioles dropped to .268/.345/.465 in 49 games with the Dodgers.
Perhaps this could work in the Yankees' favor. After all, Machado is an east coast product, from his upbringing and amateur days on Florida's east coast to the first five and a half years in Baltimore. The AL East region is familiar to him. His widespread success against Baltimore's divisional opponents (.289/.341/.474 line against the Red Sox this year) could make him a dangerous weapon alongside Judge, Stanton, and Gary Sanchez.
But the signing Machado complicates the Yankees' infield.
Machado has expressed that he's a shortstop, even if his defensive numbers aren't as strong as they were when he was a third baseman. Didi Gregorious has cemented himself as not only the Yankees' shortstop of the present, but of the future while simultaneously shaping himself as a leader in the clubhouse.
The Yankees can move Machado to third base, where he's won a Platinum Glove. Except the Yankees have one of the most exciting prospects in Miguel Andujar at that position. At 23-years-old, Andujar has time to transform himself into an adequate defensive third baseman. The bat is already there. It's just the glove that needs more work.
Any other year Manny Machado would be the number one target on the free agent market, but there's another who's challenging him as the most sought-after player available.
Bryce Harper, the $400 million man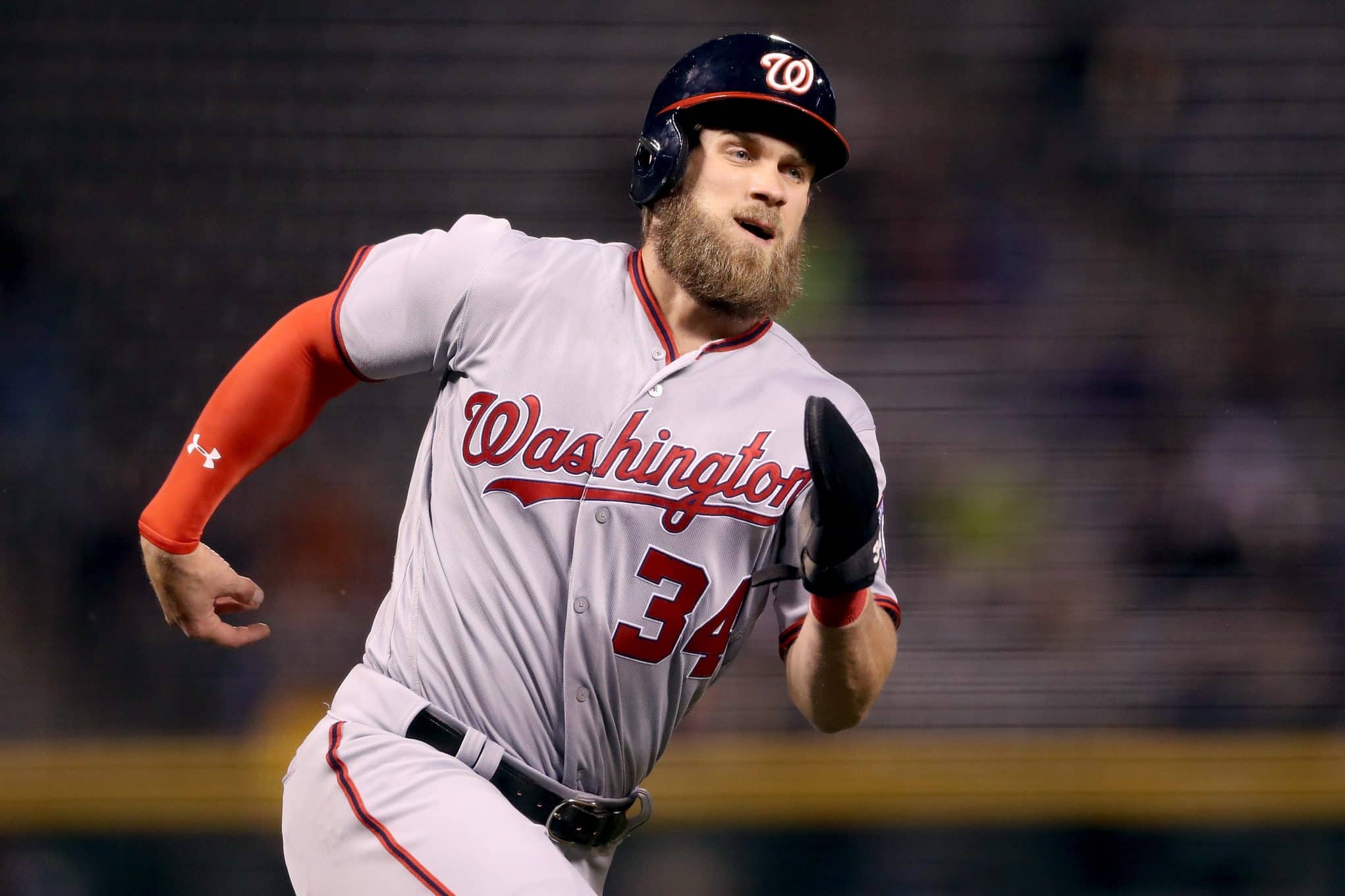 Bryce Harper is, undoubtedly, a marquee talent with an even bigger reputation. Since his arrival as a cocksure 19-year-old in 2012, he's been one of the faces of the game. So how fitting would it be to have one of the most recognizable name to join one of the most recognizable franchises in the world?
Harper has an advantage over Machado: he's a lefty. Plugging his bat into the heart of a righty-dominant lineup featuring Stanton, Judge, and Sanchez, creates versatility. Break up the glut of righties with a lefty whose power is as equally prodigious, then you'll have the finalized reincarnation of Murderer's Row.
Remember, the successful '90s dynasty, and the ever forceful Yankees of the mid-2000s, centered their offensive on powerful lefty hitters. Tino Martinez, Paul O'Neill, Jason Giambi, and Hideki Matsui managed to take advantage of the short porch in right field. Harper, who slashed .330/.460/.649 in his MVP 2015 season and is slashing .247/.388/.503 this year, could see career numbers in a far more hitter's friendly ballpark like Yankee Stadium.
The issue, like Machado, is finding a place to play Harper. Right field is Aaron Judge's, the homegrown talent who's ascended into stardom. Giancarlo Stanton is the left fielder moving forward. Center field is Aaron Hicks', whose 2018 slash of .244/.363/.455 with 24 home runs has been an offensive breakout to match his defense. Do you supplant Hicks and plug in Harper? What about Harper's willingness to play first base? Is that a veiled suggestion directed towards the Yankees, who—let's admit it—are approaching a cross roads with Greg Bird?
Oh, and do you give Harper his $400 million contract?
Final Thoughts
We've seen just how impactful the right free agent signing can be. All you have to do is look at the Red Sox, and JD Martinez's hunt for the Triple Crown. His presence in the middle of that lineup has transformed the Red Sox offense, going from good to scary good, if not great.
Come the end of the 2018 season, the Yankees will have a chance to make a similar splash that could outdo the Stanton trade from a year ago. Two generational talents are available, but each bring their own unique influence on a team that is a mere piece or two away from the World Series. But, each also address different areas on a team that don't really need to be addressed. Will the Yankees pass up the opportunity to lock down either one superstar or the other for more business-savvy moves?
Brian Cashman and Co. have a busy winter ahead of them. The 2019 free agent class could be one of the biggest game-altering markets in recent memory.