The New York Rangers are a team full of youth, but that is not the reason they only have two wins in their first six games.

When a team is rebuilding and struggles like the New York Rangers are, the easy answer is to blame the young talent. That, however, is not the case for the Blueshirts, as their veterans have not performed.
The likes of Mats Zuccarello, Pavel Buchnevich, Kevin Hayes, Mika Zibanejad, Ryan Spooner, Chris Kreider, Marc Staal, Vladislav Namestnikov, and Kevin Shattenkirk just seem like they have not joined the team after training camp ended. Meanwhile, the likes of Brett Howden, Filip Chytil, Brady Skjei, Jimmy Vesey, Tony DeAngelo, and Fredrik Claesson have been putting their best foot forward.
The idea that this team is going to go as far as the young kids take them is one that you cannot be counted on. The fact of the matter is young players cannot take a team to a new level completely by themselves. There needs to be a good mix of both in order for a team to succeed.
Entering play Tuesday night Zuccarello, Zibanejadm Spooner, Buchnevich, Shattenkirk, and Namestnikov have combined to score nine points. Howden, Skjei, Chytil, Vesey, and DeAngelo have scored 11. Yes, it is just a two-point differential but, when you look at the group of veterans the Rangers employ it should not even be close.
Plain and simple the production has not been enough. The production is not giving the likes of Henrik Lundqvist and Jesper Fast the wins that could be there. The wins that the team has lost because there have not been contributions from up and down the lineup. Just look at opening night against Nashville and the losses to Buffalo and Edmonton. All three of those games were winnable games but, the Blueshirts found themselves on the wrong side of the scoreboard due to a lack of a complete team effort.
This lack of production is also starting to begin the process of David Quinn benching his players. Kevin Shattenkirk, Neal Pionk, and Kevin Hayes have already felt the wrath of Quinn. Now, Pavel Buchnevich is starting to feel that wrath. The 23-year-old was scratched for the first time this season in the Blueshirts 3-2 shootout win against the Colorado Avalanche Tuesday night.
You have to ask yourself, "What else is Quinn to do?" He has given Buchnevich, and others, plenty of freedom in a top-six role but, the production has simply not been there.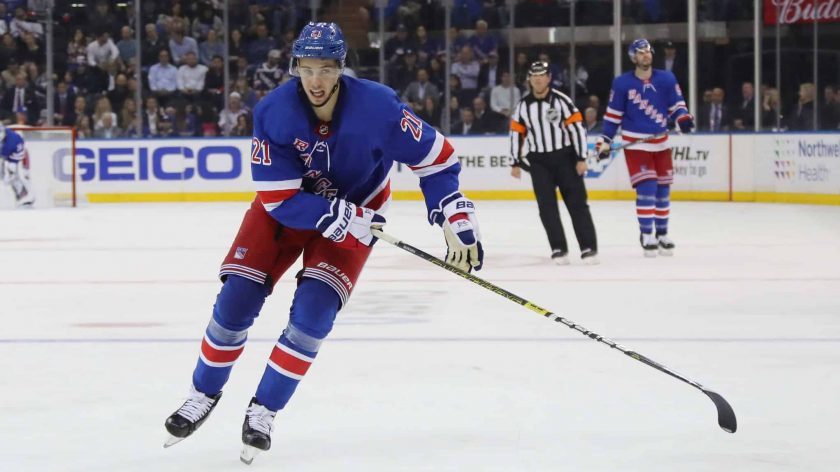 Like his other teammates, Buchnevich has no excuses for the lack of production. The excuse of him not producing because of Alain Vigneault is no longer an option. Now it is time for Buchnevich to use this benching as a wake-up call.
You saw what this team can do when everyone is competing at the same level. They ended up outshooting Colorado 43-33 Tuesday on a night where they looked like a complete team. A night where everyone contributed young and old.
If this rebuild is going to work, their veterans will have to start becoming a factor. There is nothing developing young players around a core who knows what it is like to win. A core that will set the standard for what these young players can expect when these veterans have moved on.
Tuesday night was a good start, now it has to carry over throughout the rest of the season.