ESNY's New York Rangers Garden Party with Jason Bisnoff kicks off a brand-spanking new hockey era at the World's Most Famous Arena.

Welcome to Garden Party, I am Jason Bisnoff. I have been writing about the NHL on and off since 2013 for Hockey This Week, The Hockey Writers, the New York Daily News and Elite Sports New York. Throughout the 2018-19 season, I will be writing a weekly column and attempting to consistently publish on Friday mornings. As the name implies, we will be covering the New York Rangers and New York Knicks, two organizations that have teased and titillated me through most of my life. My goal is to switch off between the two teams every other week, though I will let the news cycle and standings have a say in that decision. Thanks for reading and feel free to leave feedback in the comments or on Twitter.
A lot was the same, but a lot has changed. Heading up the steps to Madison Square Garden, one wouldn't be slapped in the face with the changing of the guard to which some 18,000 fans were about to bear witness.
On opening night of the 2017-18 season, the Rangers were in the midst of a seven-year playoff streak, even better, they had been in the postseason 11 of the 12 prior seasons. Not only had fans of a certain generation (myself included) been blessed by success a majority of their Blueshirt-watching tenure, it had been with a substantially consistent cast of characters. That is a lot to be said for a sport with the constant shuffling of rosters, and even more so for a team known for being aggressive in the offseason, at times to their detriment. Nash is gone, Stepan is gone, McDonagh is gone, Callahan is gone.
As has been written about ad nauseum, the Rangers are in a rebuild. However, the nature of that rebuild lends a bit more intrigue to this autumn evening than your average opening night for a team that just traded their captain for a package containing picks. The Rangers front office did not sign up for a long-term rebuild, they traded their way into three first-round picks and two third-round picks all in 2018, this a year after a two-pick first round in 2017. The only notable extra pick in the three major deadline deals, for Nash, Grabner, and McDonagh and Miller, is the conditional first or second round pick coming next offseason depending on whether the Tampa Bay Lightning win the Stanley Cup.
Pair that emphasis on immediate picks with a handful of names the team chose to hold onto despite some trade buzz and an aging hall of fame goaltender and you have less clarity on the near future than a typical rebuild. Whether the Rangers are looking a full reset or a build on the fly will have a lot to do with a core being thrust into a new level of responsibility. Those players who were intentionally retained will form the new core that will likely have the most to say about this season.
This sets up a sprint to the trade deadline with a dichotomy of outcomes. The Rangers could be at the bottom of the barrel, choosing to part with contract year stalwarts like Mats Zuccarello and Kevin Hayes determining that another year picking as close to the top of the draft is the best for the health of the franchise. On the other hand, they could be a surprise playoff contender, giving their young core a chance to get valuable experience in meaningful games and setting up an offseason as buyers with several valuable free agents have already been tied to the organization (looking at you Artemi Panarin).
Kevin Hayes, Chris Kreider, Mika Zibanejad, Pavel Buchnevich, these were the familiar names heard over the loudspeaker while the team took the ice. They will likely need to make strides in their play and improve in the box score upon previous career highs in the neighborhood of 50 points. Brady Skjei will need to work to shake off a sophomore slump to be reliable as an ice time leader with years in blue under his belt. These are not unrealistic expectations for a group of 23 to 26-year-olds. Dan Quinn was hired chiefly to develop these guys better than his successful predecessors in Tom Renney, John Tortorella and Alain Vigneault.
Even the most optimistic know the ceiling is lower than the years where the finals were possibility and reality. And there will even be those in favor of another year without many points going into a draft with a guaranteed three picks in the first two rounds. It is likely that by the trade deadline if the team is showing signs that a full-fledged rebuild is the move, more veterans will be on their way out. For now, those older guys will be tasked with setting up a situation where the team surprises opponents.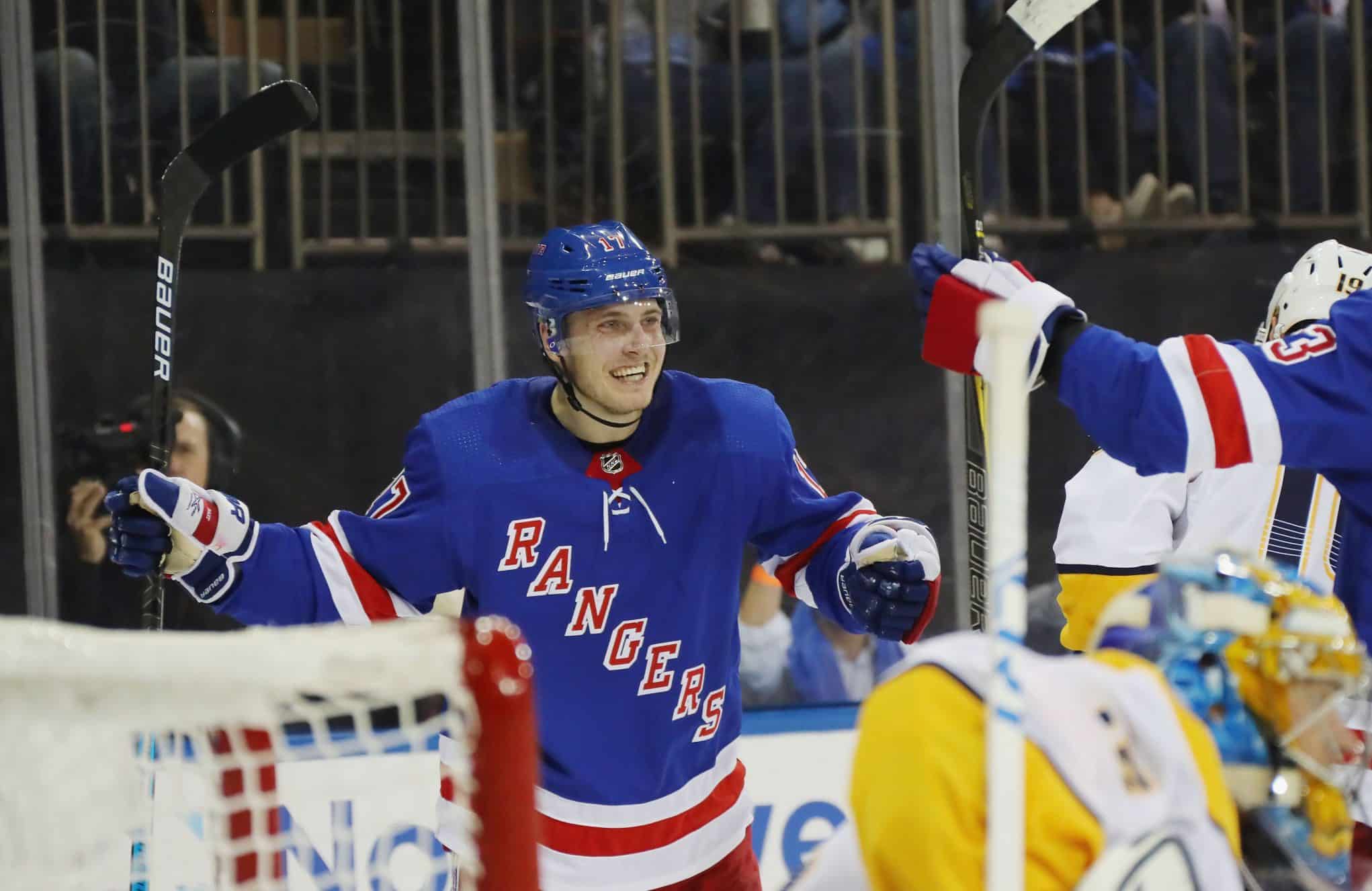 On a team loaded with youngsters, Mats Zuccarello will be a team leader regardless of what letter appears on his sweater. He will be joined by Marc Staal, Brendan Smith, Kevin Shattenkirk, Ryan Spooner and recently added Adam McQuaid, who the Rangers traded a fourth-round pick for, clearly showing they were looking for some experience on the ice.
Even in the names already mentioned, there are lots of new, more new than Rangers fans have been accustomed too, but the big question mark is what will come from all the spoils of those trades. One can hope Quinn will coax Hayes, Kreider and company to fully replace the goals that came off the sticks of Rick Nash, Derick Brassard, Marian Gaborik and so many others. The question remains whether will we see production this season from Filip Chytil or Brett Howden or Vladislav Namestikov or Vinni Lettieri or Jimmy Vesey. On the blueline what can be expected from last year's late-season surprise Neal Pionk or thus far disappointing Tony DeAngelo. Is there production to be found not even on the opening night roster, from prized picks Lias Andersson, Libor Hajek or Vitali Kravstov. It remains to be seen.
If the Rangers fans were as hungry for some comfort among all the shake-ups, between the pipes was Henrik Lundqvist, the same as every opening night since 2006. But even there may be some change. Alexander Georgiev stands to possibly eat into the roughly 60 starts a season that Lundqvist has been good for year-in and year-out. That could be for the better of the king if there are big starts to be made in the spring. What that split will look like and if it can bring back Vezina contending play from the Swedish netminder is another question mark in a season defined by them.
On that Thursday night that on 34th and 7th, the Rangers played stride for stride with a Nashville Predators team that is among the most popular picks as a cup contender. Henrik Lundqvist looked sharp and a few bounces stood between a win and loss. Those bounces over the coming months will determine the direction of a franchise looking to find the quickest route to its fifth Stanley Cup.