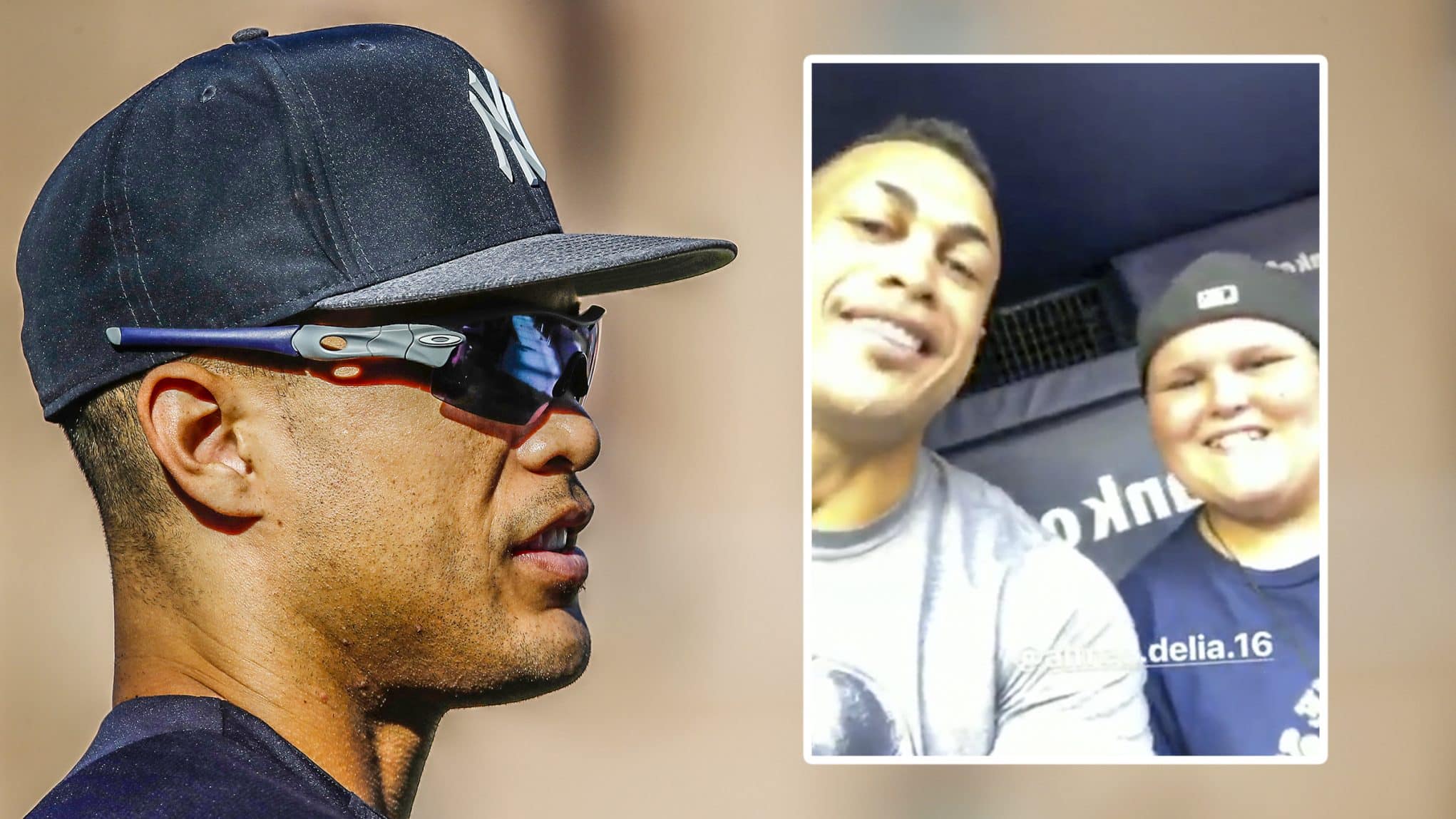 Giancarlo Stanton and the New York Yankees are the latest stop in Big Al's rise to fame as a LLWS sensation.
The New York Yankees put together a special batting practice before their game on Wednesday night as Little League World Series celebrity Alfred "Big Al" Delia showed up. The New Jersey Little Leaguer even got to meet his favorite Yankee, Giancarlo Stanton.
Delia, whose fame springs from his self-proclaimed proclivity for hitting "dingers," chatted with the Yankees' slugger and posed for pictures. Big Al was understandably emotional when he got the opportunity to meet his baseball hero.
"He came up and I was like, 'Oh my gosh! He's here!'" Delia told MLB.com reporters Jessica Kleinschmidt and Mandy Bell. "And then he brought me down [into the dugout] and I was like, 'Really?' And he's like, 'Yeah, come on,' and we took a video. It was just amazing."
Big Al was generous enough to share some of his viral fame with Stanton in a video posted to social media that features the two declaring, "We hit dingers."
An unstoppable dinger-hitting machine… and Giancarlo Stanton
(via @Giancarlo818) pic.twitter.com/3olcyS5BWb

— Sports Illustrated (@SInow) August 29, 2018
Delia is no stranger to encountering famous people.
He's hung out with other Major Leaguers like the New York Mets' Todd Frazier and the Philadelphia Phillies' Rhys Hoskins. Former Met Jose Bautista invited Delia to Citi Field, but the Yankees got to him first.
The sensation has also reached the rest of the entertainment world, as Delia has appeared on Jimmy Kimmel Live and caused a bit of an existential crisis for comedian Chris D'Elia:
The greatest delia? https://t.co/QadRB4WBxA

— Chris D'Elia (@chrisdelia) August 12, 2018
However, meeting with Stanton and the Yankees was obviously extra meaningful.
The youngster also met Gleyber Torres and Aaron Hicks while he was in the Bronx. Hicks seemed a bit star-struck himself, sporting a "Big Al Hits Dingers" t-shirt.
The Yankees' centerfielder even got Big Al to sign his shirt.
Unfortunately, Delia's power-hitting magic didn't rub off on the Bomber, as they went on to put up just one run against the lowly Chicago White Sox. They hit no dingers in the process.