Post-summer league, one thing has become abundantly clear, I was dead wrong about Kevin Knox. Thank God the New York Knicks were not.
It's like going to Shake Shack and not getting a burger. Oddly enough, this was the first sentence that came to mind when coming to terms with my Kevin Knox folly.
Like many, I was smitten with Mikal Bridges. Bridges was an analytics snob's dream and a safe pick.
An efficient shooter, both off the dribble, coming off screens, and from the free-throw line, Bridges' projection as an above average marksman was a no-brainer.
In addition, Bridges' length, defensive tenacity, and background as a key contributor to a winning program gave all the justification needed to name my first born Mikal. I was very much looking forward to a defensive backcourt including Bridges and Frank Ntilikina.
Yet, in the scenario that you find yourself in Shake Shack with the opportunity to purchase an artery-clogging, juicy burger, you must do it. I mean you'll hate yourself two hours later, but you have to do it.
The same logic can be applied to the draft, but hopefully with a different outcome. If you're drafting in the lottery, you have to take a chance, swing for the fences, you have to gamble on potential.
So far Knox has Knicks' fans filled with the kind ecstasy that can only come after a dinner at Peter Lugers. Again, you can mess around with different appetizers, but you get the steak as an entree, medium rare, no exceptions.
But despite the food analogies, let's go deeper into the evaluation process to find out why I fouled this one up. The following is my mea culpa.
Scouting Report
Prior to the draft I watched as much tape including, NCAA games, highlights, and reviewed any credited draft website that I could find.
Across multiple platforms, Knox's strengths were pretty evident. His length is impressive. He is a fluid athlete that can attack close-outs and finish above the rim with relative ease.
Yet for me, Knox's biggest strength was his silky-smooth, repeatable shooting form. I had no fear that this skill would translate well to the professional level.
However, the weaknesses were somewhat glaring to me. For the life of me, I couldn't get over how right-hand dominant Knox seemed to be. It was actually difficult to find any highlights where he finished with his left hand. It was also difficult to find highlights where he passed the ball or created any assists. I literally watched one highlight where he had a three-on-one breakaway and he decided to take it to the rim himself.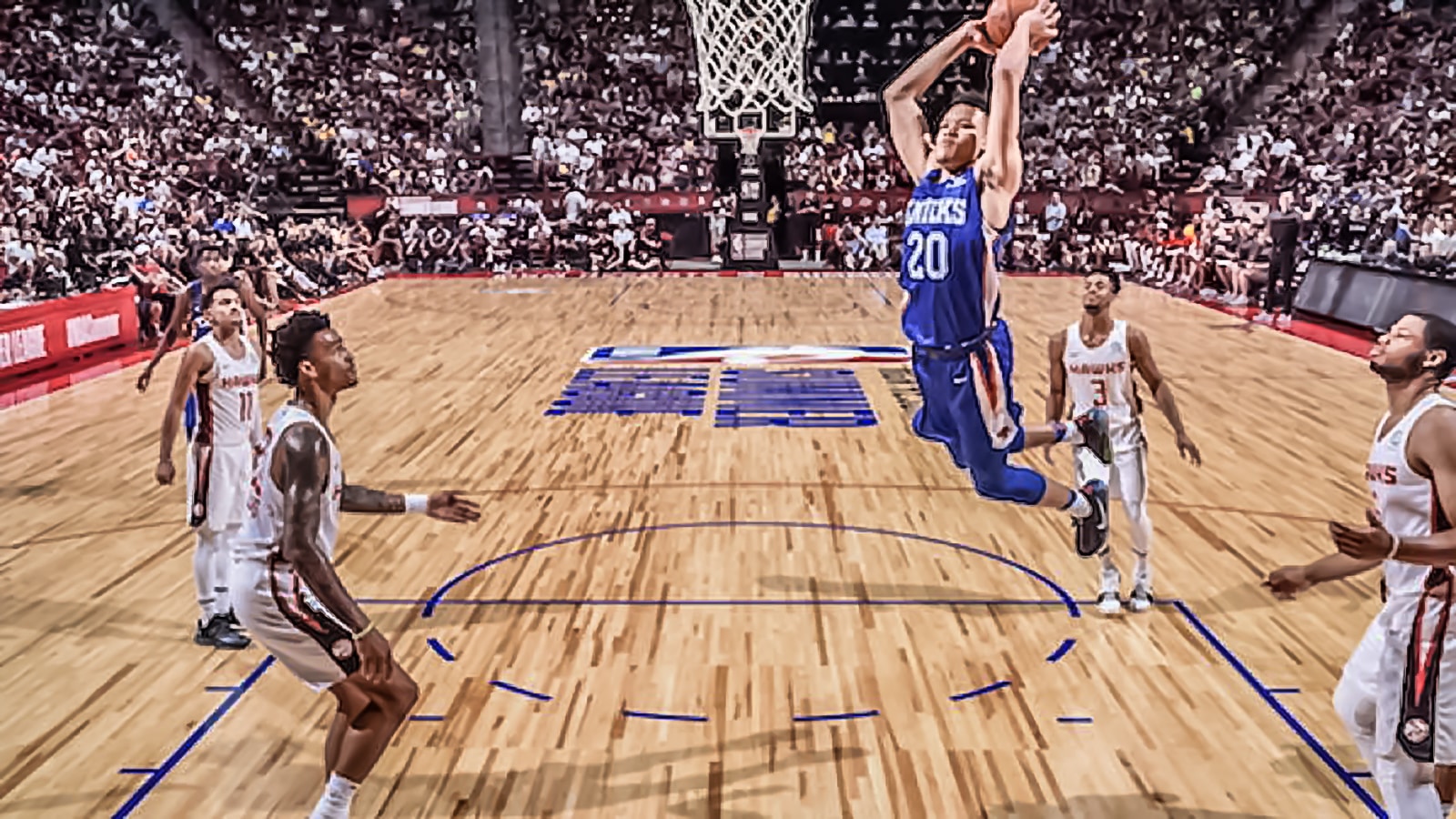 Add in the fact that he struggled with consistency and had a ways to go on defense, I truly felt like this was a player who was at least two to three years away from even sniffing a starter's role in the NBA. Also, I didn't love the Tobias Harris comparison either. I'll pass on a guy that has loads of talent but his basketball skill set doesn't translate to winning.
But … um … I was wrong
As with some Kentucky players, John Calipari's style of play can sometimes hide the potential and skills of some of his recruits.
As Jackson Hoy of The Stepien pointed out back in April, it's not always easy to isolate and pinpoint a player's skills outside of the role they play on their college team. This is precisely the reason that Jayson Tatum might've been lower on some draft boards considering his heavy mid-range game.
This is also important when contextualizing how Knox's game translates to the NBA.
Hoy writes:
"One prospect in the 2018 class who I have really wrestled with when considering college role versus NBA role is Kevin Knox. Whenever he was on the floor, Knox was almost always Kentucky's best or 2nd best shooter in the lineup. He was heavily utilized as a floor-spacing wing, with almost 63 percent of his possessions coming either on spot-ups or off screens, per Synergy. Knox was almost never given the chance to face up and take slower 4s off the bounce, and he was only used as a roll man 5 times all season, only recording 4 field goal attempts on pick-and-pop possessions."
The article also mentions the idea of playing Knox at the four, ultimately giving him the chance to face up against bigger forwards and take them off the dribble.
But the key piece in that quote is the number of times (five) Knox had been used as a roll man in pick and roll attempts. Combine this with Calipari not giving Knox the opportunity and room to isolate against bigger forwards, and you can see why he wasn't a bigger name pre-draft.
Intangibles
Outside of Knox's untapped potential, I wasn't able to get a true feel for Knox off the court.
Most of the sites I reviewed mentioned that Knox doesn't show much emotion in a positive or negative light and his motor was certainly a question mark.
Additionally, when you hear that a player can look "uninterested" on the court, I felt that this was a prospect with talent but not the mindset necessary to become great in this league.
But hey, this is why you don't give the decision power to a guy who plays basketball once a week for the New York Urban Professionals league. Kings of the North made the playoffs last season btw, but that's beside the point.
Listen to David Fizdale talk about Knox and you can see that they were sold on his mentality and competitive nature. In a release from the Associated Press, NBC Sports, Fiz explains:
"I love the fact that he wanted to be at Kentucky, that he wanted to be a Knick," Knicks coach David Fizdale said. "Says a lot about that kid that he wants challenges and so I think he's going to fit exactly the way we want to build our culture."
In the same article, Steve Mills also discusses Knox's learning curve and history at Kentucky:
"That actually is going to be up to Kevin, what the learning curve is and how long the adjustment takes," team president Steve Mills said. "But what I will say is that while all college basketball programs prepare guys to play in the NBA, the sort of pressure and the limelight and the spotlight you're under when you make a decision to play at Kentucky I think does prepare you in a different way to play in a place like New York. So I think some of the things that are tougher for rookies to make adjustments to are some things that he's already been through."
In essence, Knox is not your average 18-year-old. He's used to being around practice with a lot of media and being under a microscope. The bright lights of New York will affect him, but not in the way you would expect. I don't think we'll see too many deer in the headlights looks from Knox this season.
Overall, I've come to peace with my mistake and I'm more than happy to watch Knox grow. For the first time since the Gallinari and Chandler days (I think Knox can be better) and obviously since Kristaps Porzingis, fans have a young player with a ridiculous ceiling and apparent work ethic/media savvy to make it New York.
Stay tuned.