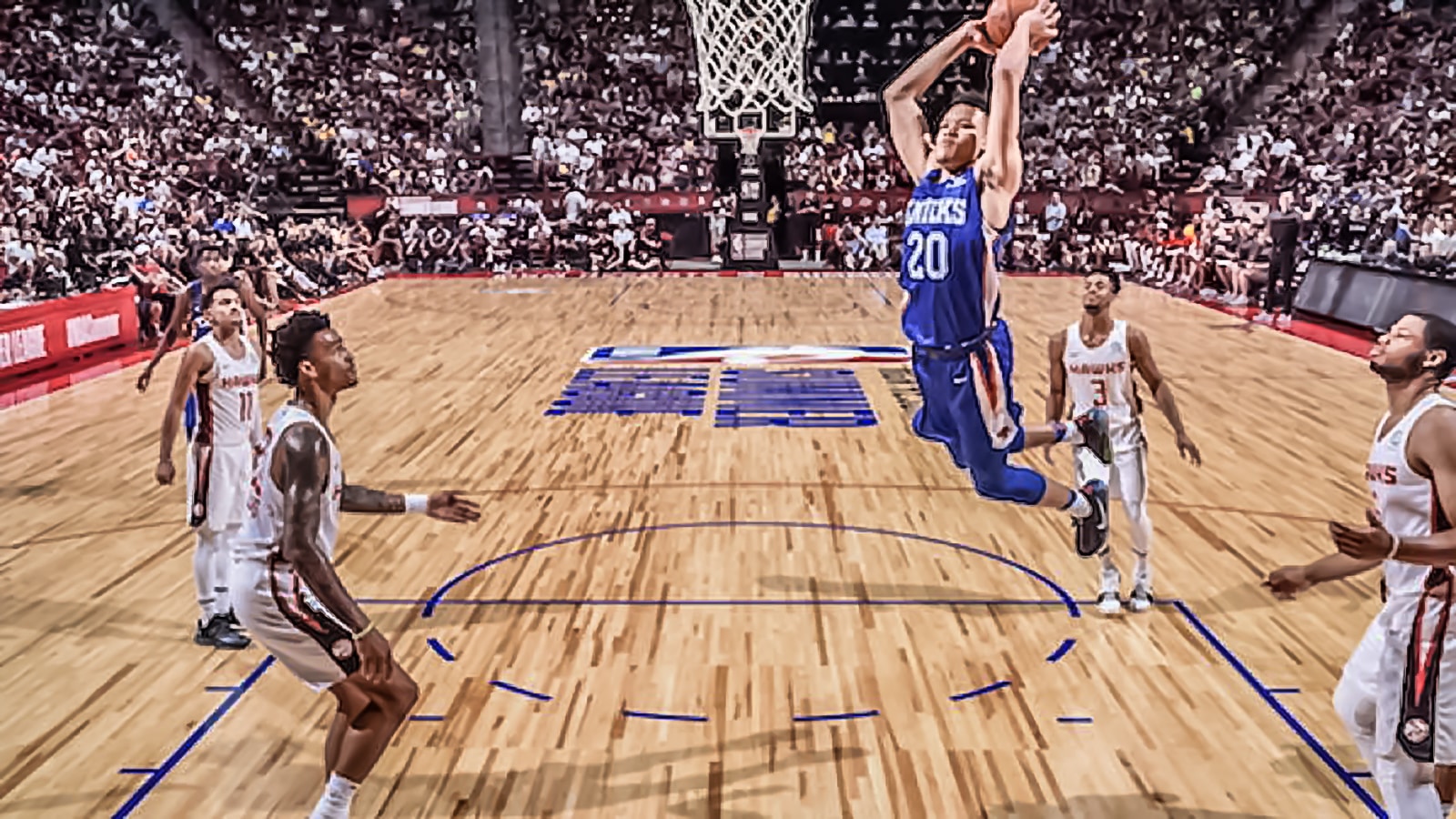 New York Knicks ninth overall selection Kevin Knox not only has Knickerbockers fans excited, he stole the show at the 2018 NBA Summer League.
Welcome to the new, illustrious Fort Knox.
Or as others like to call him, Kevin Knox — has been a force to be reckoned with this Summer League season.
Before we get to the juicy stuff, let's establish the notion that this Summer League is actually NBA basketball. It is not October and November in the midst of the real NBA season. This is what I like to call an extended collegiate league. Everything should be taken with a medium-sized grain of salt.
Nevertheless, Kevin Knox has shown the organization and Knicks' fans alike what he may bring to the table during his tenure. Here is the best of Knox in the 2018 Summer League:
The BEST from @NYKnicks rook @KevKnox at the @NBASummerLeague!

?: https://t.co/RG2mI84HnI
?️: https://t.co/01y0Ht162n pic.twitter.com/smJIBiAJaO

— NBA Draft (@NBADraft) July 14, 2018
If you notice time and time again in the video above is his knack for aggressiveness. Knox has shown the type of aggression shown in Kristaps Porzingis's 2015 campaign when those who saw him in the Summer League immediately knew he'd become the star they expected to receive.
Now three years later, a new sheriff has arrived in Midtown, Manhattan. One who is looking to take control of a team in fluxation since Phil Jackson walked in and out the door within a short period of time. He's simply looking to bring that breath of fresh air back to Madison Square Garden.
Kevin Knox has led all first-year Summer League rookies with 21.3 points per game this season. He sits fourth overall behind ATL's John Collins (24.0), CHA's Malik Monk (23.0), and LAL's Josh Hart (22.5) — all who were part of last year's new arrivals.
Even against Hart's Lakers, Knox shined brightly, like a star in the making:
Kevin Knox is making a splash in Vegas. pic.twitter.com/ycL73kYrT4

— SportsCenter (@SportsCenter) July 11, 2018
Kevin Knox's play in his short sample size has gotten the NBA world chirping of late. Current and former players have shared comparisons amongst Knox and what he can develop into in the future.
Including a former Knick had excellent things to say, via Adam Zagoria of SNY.
"[Knox] is the guy closest to Durant of guys that people have talked about," he said. "His ability to score off the dribble is further along than people would think. A lot of people looked at him as a 6-10 guy who could shoot. I was surprised he didn't do more at Kentucky." – Carmelo Anthony (SNY)
His former teammate, Shei Gilgous-Alexander also dished out praise.
"I would say the biggest thing is getting stronger for kevin," "He's so skilled. Obviously a guy being that young, you're going to need to get stronger. That's for a lot of rookies in the NBA. Once kevin gets stronger, you'll see a different mindset."
In his highlights from the Summer League, you will also notice his ability to spread the floor.
On almost all of his shot attempts and "pick and pops," Knox is able to keep a distance away from his fellow teammates which entail providing more open passing lanes and spaces for off-ball screens. He almost seems to thrive when the ball is working through him, but it is going to be all about adjusting to playing with another star: KP.
Porzingis looks to be back just around the All-Star break in February. Until then it will be Kevin Knox's team along with The French Prince — otherwise known as Frank Ntilikina.
Lastly, there has been a flair for the spectacular play as Knox has shown. Featured vividly in his campaign, Knox has shown his determination to get to the rim. Not only is he able get to the rim but also finish emphatically on each dunk he attempts. He has a dexterity of being able to jam one down each time he drives in the paint. As aforementioned, his aggression is what separates him from the other rookies.
Whether or not these exact skills will be visible come October remains to be seen.