If there is a player in the NBA for New York Knicks rookie Mitchell Robinson to model his game after, it's Clint Capela.
The New York Knicks second-round pick Mitchell Robinson has many question marks around him. After deciding not to play in college, the young big man saw his stock drop in the draft. Many teams remained leery at the prospect of drafting such an unknown quantity.
But regardless of what every other team in the league thinks, the Knicks believe that Robinson possesses the tools to become a success. The former McDonald's All-American is freakishly athletic. Furthermore, he fits the mold of a standout NBA center that doesn't exactly fall into the trope of the modern day, big man.
When you hear that phrase, many think immediately to players like Kristaps Porzingis or Lauri Markkanen. Big men who are long, athletic, can step outside the paint, knock down shots, and defend multiple positions. Robinson checks off some of these boxes, but not all—and that's ok. Most people immediately attribute three-point shooting—or just outside shooting, in general— to the modern day big man.
But the truth is, there are bigs who thrive in today's NBA without having any sort of outside shot. Look no further than Clint Capela. The 6-foot-10 center for the Houston Rockets is one of the best centers in the league and he's a player that Mitchell Robinson should emulate his game after.
Where to shoot
During the 2017-18 season, Capela led the league in field goal percentage. According to NBA.com, Nearly 75 percent of Capela's shots came without taking a dribble this season. Nearly 85 percent of his field goals were on catches where he held the ball for fewer than two seconds. Finally, 99.2 percent of his field goals this season came from within 10 feet. Capela doesn't mess around. When he has the ball he is decisive with it and he takes a vast majority of his shots within his range.
Capela's proof-positive that you can be a wildly successful big man without possessing an outside shot. Robinson and Capela won't be winning any three-point contests anytime soon. But Capela shows that you don't need to. Capela's calling card is the pick and roll with James Harden coming off the screen.
To be fair, Robinson won't have anyone at the talent level of James Harden to play a two-man game with, but the rookie can learn from the way Capela rolls into space and puts himself in excellent positions to receive passes off the pick and roll. According to Synergy, Capela scored 1.34 points per possession as the roll man in pick and roll situations. That puts him in the 91st percentile in the league.
Robinson's athleticism is akin to Capela's. If he can learn how to develop the same type of instinct and awareness in the pick and roll game that Capela has, the Knicks will be over the moon.
How to help shooters
So we know that Capela and Robinson are not the kind of centers who can step outside the arc and knock down a three. But Capela proves that there are other ways for a center to help out shooters. If Robinson hopes to develop into a solid player in the NBA, he'd be wise to focus on these major aspects of his game.
The first and possibly the most simple way to help shooters is by setting good screens. It seems elementary to discuss it at the NBA level, but it's so important that bigs set solid screens in the pick and roll. Every so often, a great screen will free up a shooter for an easy look from three. It's simple and it's a skill that must be developed in today's pick and roll heavy game. Capela does this well and it's a major reason why he's such an effective player.
The NBA is placing further emphasis on a pace-and-space play style that places a premium on three-point shooting. But not every player on the floor needs to camp at the three-point line. Robinson can use his athleticism to become a force on the offensive glass. Capela makes a living on the offensive boards and this often leads to second chance opportunities for shooters.
Robinson doesn't have the tools to be a threat from the outside right now. But he does have the athleticism to help put his teammates in good positions to knock down shots. Capela is the perfect blueprint for how to do this effectively.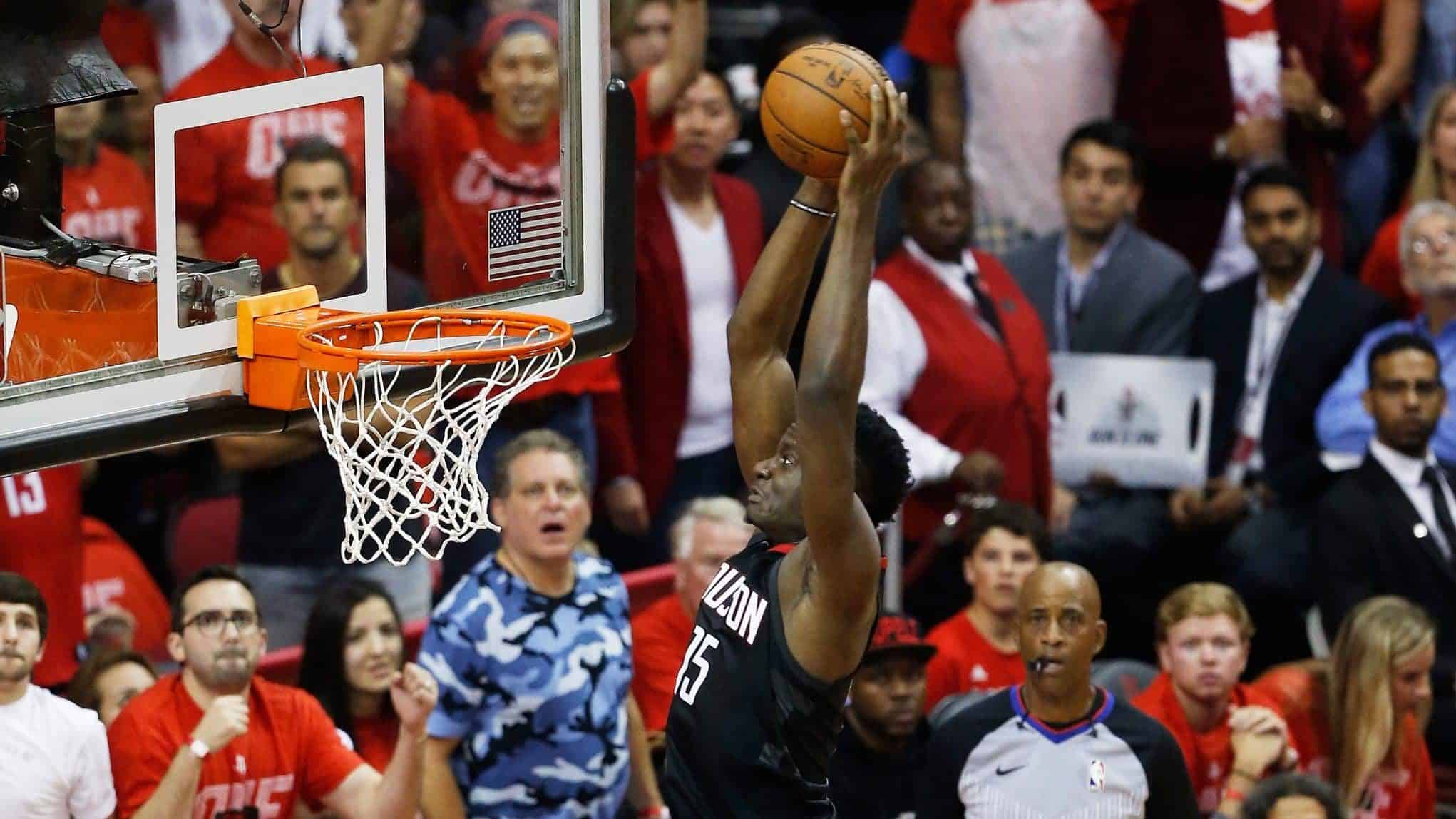 Defense, defense, defense
A big man that can't hold his own on the defensive end of the floor won't be in the NBA for long. The league is becoming increasingly switch-heavy and teams are routinely singling out big men that can't handle quicker, smaller players. Capela is 6-foot-10 with a 7-foot-5 wingspan. He's athletic enough to hold his own on the perimeter and he's long enough to contest shots without getting beat off the dribble. Robinson's 7-foot-1 frame and 7-foot-4 wingspan should allow him to fill the same role, provided he is athletic enough to keep guards from burning him off the dribble.
While switching to cover multiple positions is vital for a big man, rim protection is the glamorous part of the game. Capela is an elite rim protector, averaging 1.9 blocks per game in 2017-18. Robinson has the body to become this same type of player, but whether or not he develops into a rim protector like Capela remains to be seen.
Clint Capela came in second in the 2017-18 Most Improved Player award and is currently one of the better and more efficient big men in the league. Mitchell Robinson is still a fresh-faced rookie with a lot to learn. He's a long way off from being mentioned in the same breath as Capela. But nonetheless, Robinson could learn a lot from the way Capela plays.
It's certainly a tall order, but Robinson may prove to be up to the task.