New York Knicks' big man Enes Kanter faces a player option deadline. Contrary to popular belief, his opting in may benefit New York.
The Carmelo Anthony era ended with a trade that most fans scratched their head at. Last summer, after years of dramatics and front office conflict, the 10-time All-Star was traded to the Oklahoma City Thunder.
In return, the New York Knicks received Doug McDermott (who turned into Emmanuel Mudiay), and big man Enes Kanter. Nearly one year later, the center faces a decision. He can opt-in to his 2018-2019 deal worth $18.6 million, or decline and enter free agency.
The deadline for Kanter's decision is Monday, July 2nd, but Marc Berman of the New York Post reports that he'll be making a public announcement on Friday:
"Kanter, according to a source, is expected to announce his decision Friday on social media, where he is extremely active."
That being said, fans have been dreading this day for weeks, if not months.
Selfishly, they would rather New York have the extra cap space and take a stab at free agents. And while that's all fine and dandy, Kanter opting in very well may be the best thing for the rebuild.
A look at the Turkish big man's game, and the positives that surround his presence in New York.
---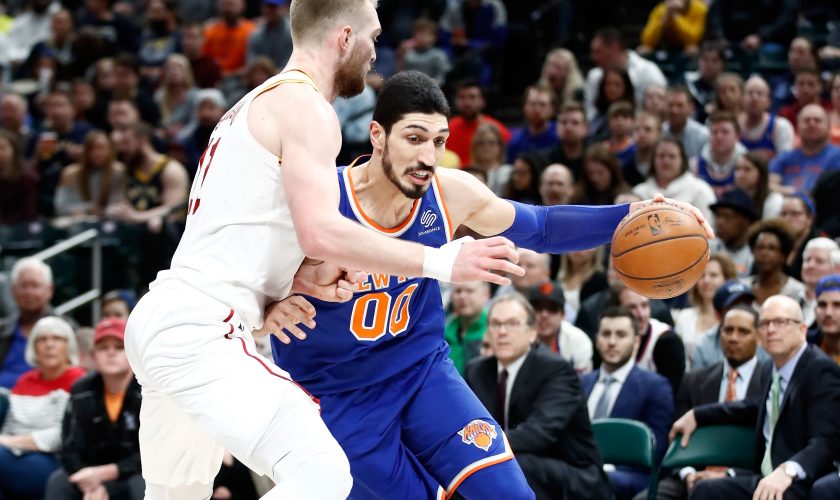 ---
Why Not?
This year's free agent market isn't necessarily ample with talent. There's a big gap between the top three (LeBron James, Paul George, Chris Paul) and the next tier.
Most players being considered are restricted free agents, which should raise some familiar red flags for Knicks fans. As much as Tim Hardaway Jr. gives the Knicks, his contract is sizeable for a player of his caliber.
Regardless, New York isn't in a place to be competing on the restricted market with Joakim Noah, THJ, and even Courtney Lee on the books through 2020.
Having Kanter opt-in makes the Knicks' summer all the more simple. The team and staff alike can focus on the upcoming season, and ignore most of the free agency buzz.
The 2018-2019 season will be monumental to the rebuild, as Frank Ntilikina enters year two, Kevin Knox earns his stripes as a rookie, and Kristaps Porzingis continues the rehab process.
Talent
Kanter is an above average center offensively. His defense could use a tune-up, but he's going to put shots up and grab those defensive rebounds.
Last season he averaged 14.1 points and 11 rebounds on 59 percent shooting from the floor.
He tallied a career-high 780 rebounds and scored 1,000 points for the third consecutive season.
Kanter's best game was a 20-20 performance, and win, against the Brooklyn Nets. Highlights:
Culture
Enes Kanter embraced New York last season. More so than we've seen in a long time. The criticism, the praise, the draft night fans, he's here for all of it. So why rush him out the door?
The big man brings energy to every game, and he's come along way from channeling it into chairs on the sideline. Nowadays it means a scuffle with even the likes of LeBron James and taunting him on social media.
Kanter plays hard and has chosen to ignore the Knicks underdog role, for better or for worse. He feeds much-needed life into a Porzingis-less MSG.
He's made it clear day in and day out, Kanter wants to play in New York. And while these young guys consistently hammer that home with fans, when's the last time an experienced talent enjoyed playing at Madison Square Garden?
Potential Mentor?
With the 36th overall pick of the 2018 NBA Draft, the New York Knicks selected C Mitchell Robinson, a prospect compared to Clint Capela. He'll want to get started on the right foot—behind the right mentor.
Whether or not you think Kanter fits the bill, it's clear New York's staff is ready to give him the green light. Marc Berman also reported that the Knicks' big man fancies the idea, and has been doing his research on the second-round pick.
"I watched videos [of Robinson]," Kanter told The Post of the 7-foot project. "He's athletic. He's going to be really good for us. He can bring a lot of energy and have an effect on the defensive end and he's just going to get better on offense."
This can help fix New York's culture and serve as a testament to what they may one day offer free agents.
Last year, president Steve Mills and general manager Scott Perry brought in Jarrett Jack to mentor the newly drafted Ntilikina.
Whether we saw evidence to the fact, there's little doubt it paid dividends for the young guard. Maybe the same will be said for Robinson at the end of this season, should Kanter choose to remain in New York for the 2018-2019 season.
Probability
But will he? Ian Begley of ESPN New York reports that he's 'leaning' towards opting-in and playing with the Knicks next season.
Enes Kanter is leaning heavily toward opting in to his $18.6 million player option for 2018-19, per ESPN sources. Kanter will continue to survey the market until his Friday deadline but, barring an unforeseen significant change in the market, he will opt-in, per ESPN sources.

— Ian Begley (@IanBegley) June 28, 2018
It makes sense and it is the only logical option for Kanter in a market this thin for big men. When having to compete with the likes of Dwight Howard, DeMarcus Cousins and even DeAndre Jordan for a contract; you take your $18.6 million from the Knicks and keep it moving.
Could he opt out and re-sign with the Knicks on a multi-year deal?
It seems unlikely, as Stefan Bondy of the New York Daily News reports that Steve Mills and the front office won't be interested in any long-term deal.
"Really, it's his (choice if he wants to stay with the Knicks)," Mills said. "He has to choose to opt in." 
It makes sense that New York wouldn't be interested in anything long-term. They've already been tied to Kyrie Irving's free agency next summer, and who knows what 2020 could have in store.
For where New York currently sits as a franchise, it will prove beneficial should Kanter opt-in to the last year on his deal.
This Turkish big man has made home with the Knicks; his voice in the locker room and continuous drive to win may one day prove an essential (though small) piece to a successful rebuild.