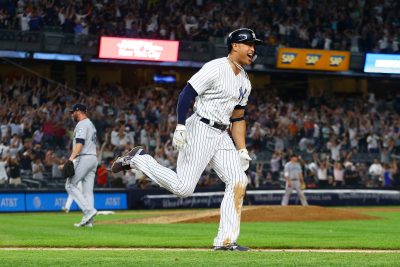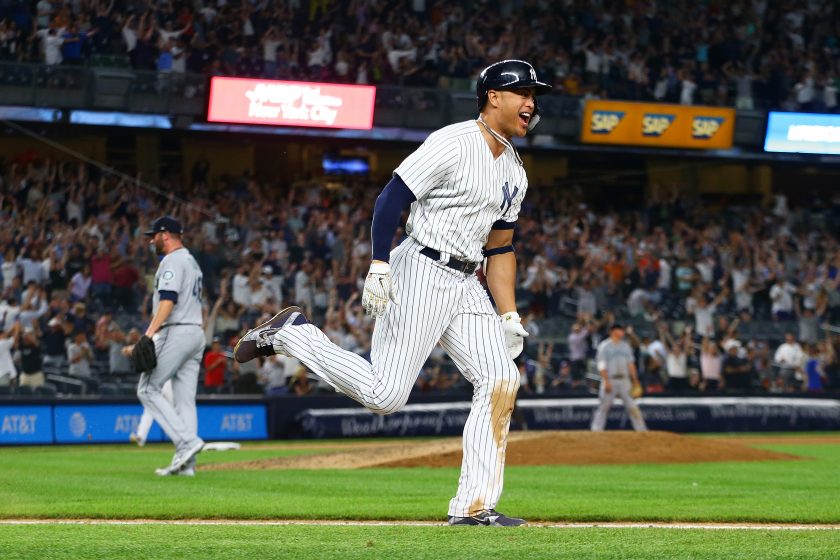 Giancarlo Stanton is finally getting hot for the New York Yankees, and Thursday he delivered his signature Yankee moment.
The moment finally arrived for Giancarlo Stanton, the moment he delivered his first big hit as a member of the New York Yankees.
An inning after Gary Sanchez tied the game in the eighth inning, Stanton came up and demolished a 2-2 breaking ball to left. The two-run home run capped off a five-run deficit for the Yankees leading them to a 7-5 victory.
Giancarlo for the W #Yankees pic.twitter.com/ZK3JwBQwAE

— Elite Sports NY (@EliteSportsNY) June 21, 2018
Stanton has been hot over the last three games. He has seven hits in his last 13 at-bats where he's hit two runs. Both of those home runs have come in his last two games.
The home run was an absolute bomb. It traveled 453 feet and was hit 118 mph off the bat. This is what all Yankee fans have been waiting for.
When the general manager Brian Cashman acquired Stanton, this was the hope. That he would be hitting clutch long home runs that resulted in big wins like the one tonight. Now the adjustment period hasn't exactly been smooth for Stanton, but Yankee fans are starting to see why he won the National League M.V.P. in 2017.
It looks like that adjustment period for Stanton is over and the baseballs can start to be scared, like Stanton said they would be in the offseason.
The Yankees now have six walk-off wins on the season, after collecting just five in all of 2017. That nugget comes thanks to Katie Sharp. It was the first time they trailed a game by five or more runs all season, and their 23rd come from behind win on the season.
Thursday afternoon, Stanton and the Yankees will look to sweep their series with the Mariners. Luis Severino will take the hill for the Bombers against James Paxton.
Follow Dominick on TWITTER