The New York Mets' offense has been atrocious, but just how bad is it when combing through historically awful years?
You don't need to look real hard to see what's gone wrong for the New York Mets since their 11-1 start to this season. In some ways, their putrid performance thus far during the month of June is a microcosm of the season itself.
Manager Mickey Callaway's bullpen has had its struggles recently, but the rotation has actually been solid. Through 81.1 innings this month, they've produced a 3.10 ERA as a group. As a point of reference, that's close to what the Toronto Blue Jays have done in June (3.16 ERA in 77 innings).
Mets starters have a 2-7 record during this time, while the Blue Jays are 4-3. Yes, the offense hasn't helped at all.
Mike Mayer of Metsmerized Online shared this very said tweet the other day:
Mets offense in the month of June:

.137/.221/.227, 27 wRC+, 27.5K%

— Michael Mayer (@mikemayerMMO) June 14, 2018
Sure, the numbers have changed, but not by all that much: they're slashing .155/.236/.276 with a 44 wRC+ and a 26.8 percent strikeout rate.
The past two-and-a-half weeks have really torpedoed the Mets' season-long offensive numbers as a squad — they posted a 99 wRC+ in April, followed by a mark of 97 prior to this nosedive.
Heading into Sunday's finale against the Arizona Diamondbacks, New York is slashing .226/.303/.371 as a team this season, which comes out to an 88 wRC+. Unsurprisingly, all of those numbers are among the worst in the league. This performance has them in the same category as offensively-challenged teams like the Miami Marlins, Kansas City Royals, and Baltimore Orioles.
That would've been hard to fathom a couple months ago. Heck, it would've been hard to fathom even a month ago.
So, this all got us thinking — if the season ended today, how would their performance rank among franchise history dating back to 2000?
The short answer here is not good. Shocking, right?
If we use wRC+ as our benchmark, the 2018 Mets would be tied for the second-worst offense in franchise history since 2000. That's bad enough, but let's make it worse by adding some context.
Four of the 19 teams in this sample finished their respective seasons with a wRC+ of 100 or higher (2011, 2007, 2008, 2017), with the 2011 club taking the top spot by posting a 102 mark. The four playoff teams weren't far behind — the 2006 and 2000 clubs both owned a 99 wRC+, while the 2015 and 2016 clubs checked in at 98.
The teams surrounding the 2018 squad don't instill much help for the rest of the season if they can't turn it around. The 2001 club finished 82-80 despite an 87 wRC+. The 2004 (88 wRC+, 71-91 record) and 2010 (89 wRC+, 79-83 record) teams are on the opposite end of the spectrum, though.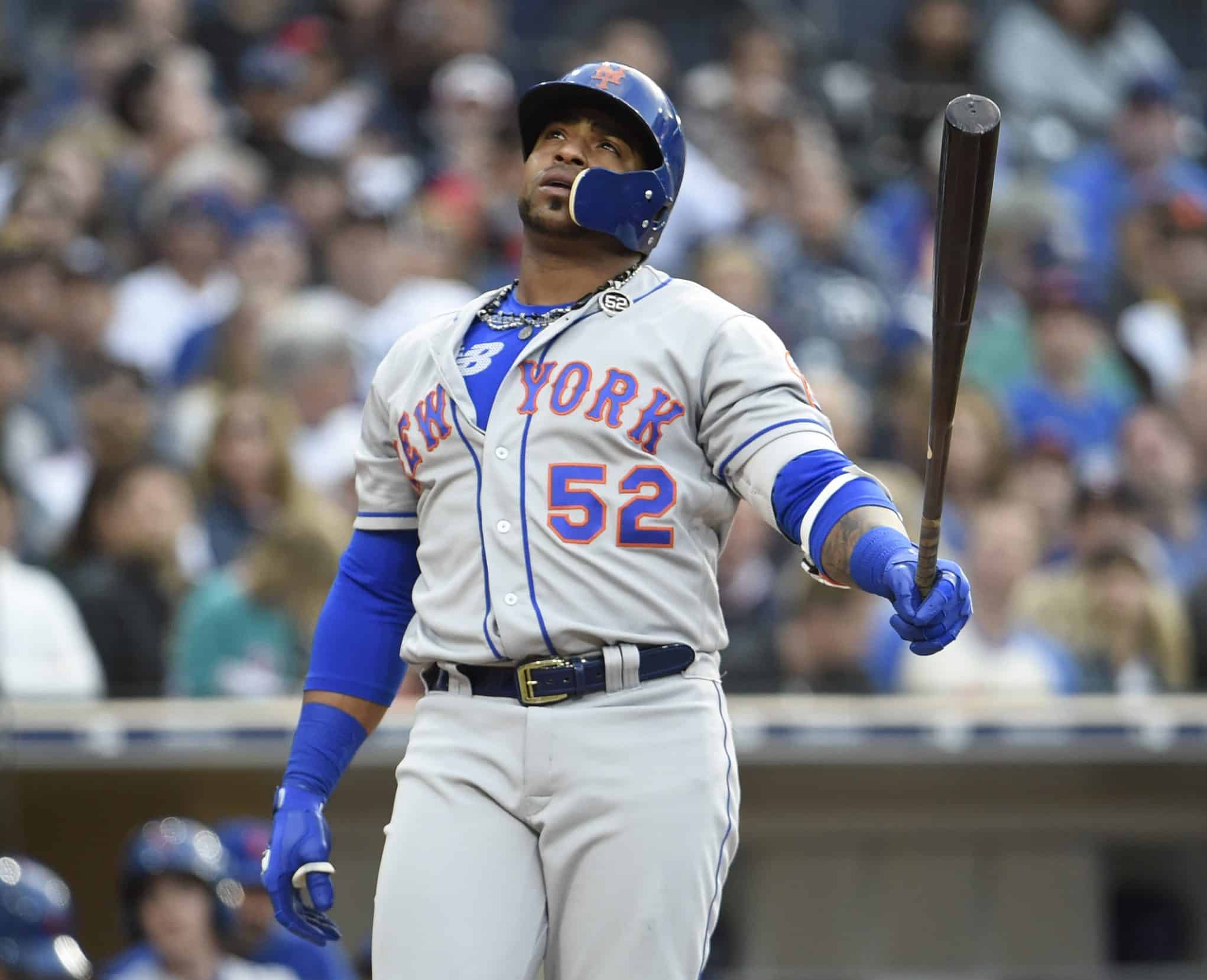 One huge issue has been the absence of Yoenis Cespedes, who hasn't appeared in a game since May 13. He dealt with a slow start but was crawling out of it prior to hitting the disabled list. Through 152 plate appearances, he's slashed .255/.316/.474 with eight home runs, 28 RBI, and a 114 wRC+.
It's been a foregone conclusion since his arrival in August of 2015, but the Mets' offense only goes as far as Cespedes does. His bat is crucial to their overall success. Eventually getting him back into the lineup will be a huge lift, but he can't do everything. Other hitters must play up to expectation if the offense is going to ever come alive again on a consistent basis.
Brandon Nimmo and Asdrubal Cabrera must continue doing the heavy lifting at the top, but they also can get some help. Like from Michael Conforto, who has to figure a few things out, and also Jay Bruce, who needs to get back to what worked so well last year.
When Sandy Alderson took over and began navigating through a rebuild in Queens, he prioritized top-tier pitching. There have been quite a few bumps in the road since them — *cough* Matt Harvey *cough* — but that part has mostly gone well. Maybe there should've at least been some more attention given to the position player side of the house, though.
Watching a starting pitcher allow two runs over seven dominant innings is great, but it doesn't do anything if the team ends up losing 2-0. Just ask Jacob deGrom, he knows what that feels like, more often than he'd care to admit.
Will the Mets' offense continue to be this bad? There doesn't seem to be any consistent signs of life at the moment, but one has to hope they'll turn it around and finish higher than where they currently rank in recent franchise history.
At this point, though, hope is just about the only thing left for this offense.