After being the New York Mets' only All-Star in 2017, outfielder Michael Conforto has been fighting an uphill battle this season.
For the New York Mets to be successful offensively, there are a few key contributors that need to at least perform up to expectation. Those contributors include Michael Conforto, Yoenis Cespedes, and Jay Bruce.
So far in 2018, none of them have been able to anchor Mickey Callaway's lineup the way the front office had hoped. A trip down to the minor leagues is apparently on the table for Conforto, too.
After hitting a home run against Stephen Strasburg in his first plate appearance of the season, Conforto has struggled to a .219/.340/.365 triple slash with seven homers and 16 RBI through 212 plate appearances. His walk rate – which is currently 15.1 percent – is on pace to improve for the fourth consecutive season, but not much else has gone right.
When looking back at his All-Star performance from 2017, Conforto needs to improve in the following three areas.
1. Enjoying Home Cooking Some More
Citi Field is not known as a hitter's park, but that didn't stop the 25-year-old from mashing in front of the home crowd last season.
He was an elite offensive weapon regardless of the setting, but he took things up another notch in Flushing. Through 234 plate appearances, he slashed .292/.410/.590, which led to a 167 wRC+, .417 wOBA, and .297 ISO. While his strikeout rate stayed virtually the same (25.6 percent at home, 25.7 percent on the road), he saw a huge lift in walk rate (15.0 percent at home, 10.7 percent on the road).
These incredible numbers at home haven't carried over to 2018 just yet. In fact, he's looked like two completely different hitters in these situations.
Conforto owns a 139 wRC+ and .204 ISO through 113 plate appearances on the road. In the 99 plate appearances he's accumulated at home, though, those numbers are dramatically lower at 49 and .082, respectively. What could potentially be the main culprit? Well, his batted-ball profile looks just as different as the above numbers.
Away from Citi Field, the left-handed hitter owns a 10.5 percent soft-hit rate and 32.8 hard-hit rate. Although his production in these areas at home help tell the story as to why he's struggled so much (29.8 percent soft-hit rate and 19.3 percent hard-hit rate), his fly-ball rate is rather telling.
He has put the ball in the air at a 45.6 percent clip at home, but that's included a 19.2 percent infield-fly rate – compared to a 35.8 percent fly-ball rate and 8.3 percent infield-fly rate on the road.
These issues throughout Conforto's batted-ball profile go even deeper than this, too.
2. Improve Quality of Contact in Many Places
If we continue using his 2017 season as the measuring stick, Conforto is currently on pace to accomplish the opposite of what he did last year.
Prior to hitting the disabled list last August, he produced career-best (or nearly career-best) numbers in line-drive rate (24.4 percent), infield-fly rate (10.1 percent), and hard-hit rate (41.8 percent). If the season ended prior to Sunday night's finale against the New York Yankees, all those numbers would be career worsts (17.7 percent, 14.0 percent, and 26.6 percent, respectively).
That doesn't include a 41.9 percent ground-ball rate, which would be the first time that number has been greater than 38.7 percent since debuting in 2015.
One thing that jumps out is what Conforto's doing specifically against line drives. Not only is Conforto hitting them at a career-low rate, but his peripheral stats also aren't looking great.
In 2017, he registered a 426 wRC+ and .406 ISO on line drives based off a 40.6 percent pull rate and 54.7 percent hard-hit rate. While he currently owns a 381 wRC+ in this situation, his ISO is just .136 with career-low numbers in pull rate (22.7 percent) and hard-hit rate (31.8 percent) to boot.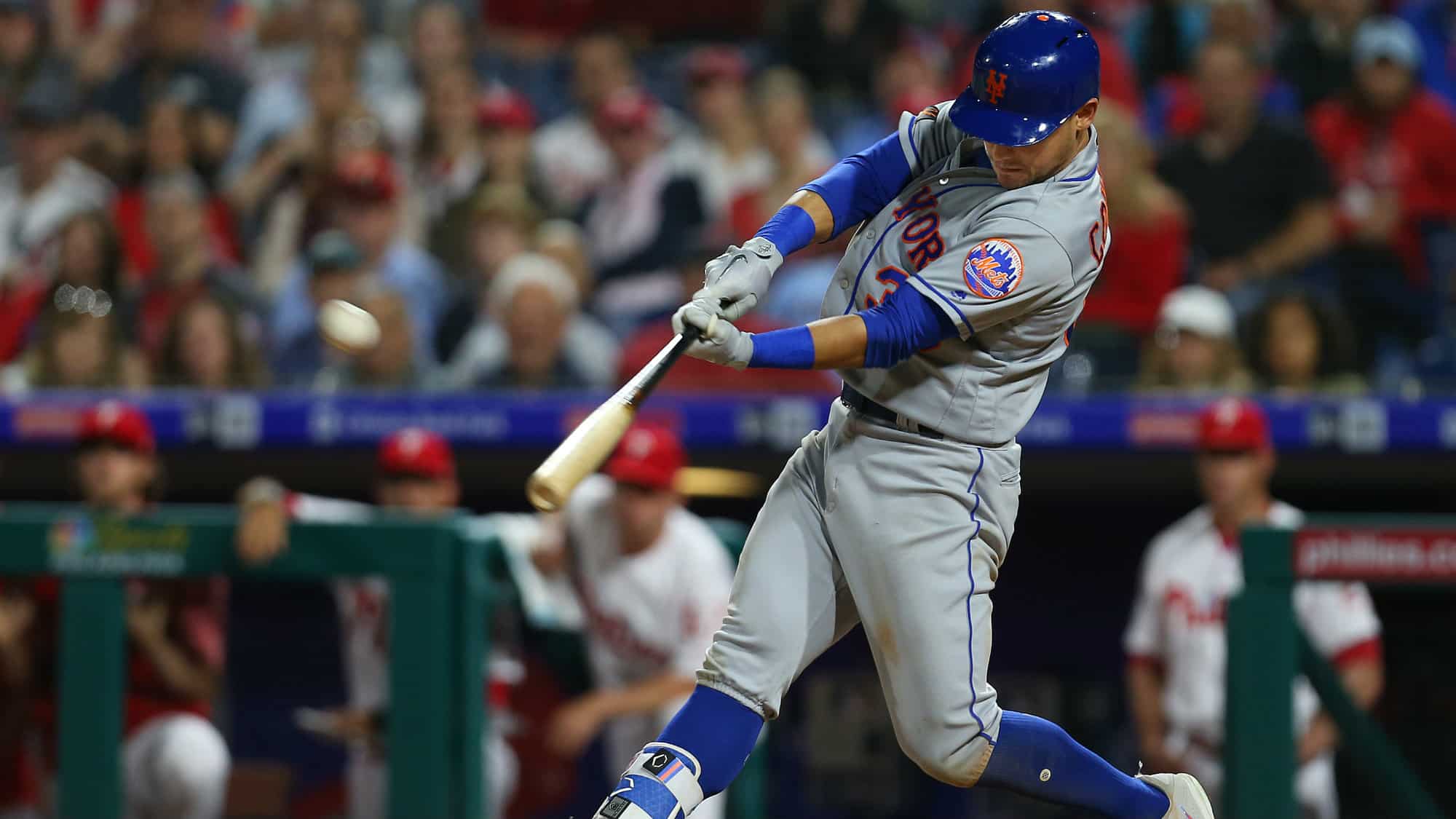 3. Improve Against the Fastball
The four-seam fastball is generally the most popular pitch a big-league hitter will see in any given season. This is no different for Conforto, and after mashing this pitch last year, he's struggled against it so far in 2018.
The outfielder owned a 172 wRC+ with a .421 wOBA and just a 19.6 percent strikeout rate when facing this offering in 2017, but those numbers have worsened to 96, .296, and 29.7 percent, respectively, since his season debut.
While we've already established the fact that his quality of contact hasn't been great, he's also not making as much contact in this situation. Conforto's swing rate on four-seamers in the strike zone has gone up (61.5 percent in '17 to 65.0 percent in '18), but his contact rate has gone down (85.5 percent to 75.2 percent), along with a spike in swinging-strike rate (7.0 percent to 11.2 percent).
Moving Forward
When Conforto tore the capsule in his left shoulder last August, the Mets were initially targeting a return sometime in early May. Instead of missing more than a month of play, he actually returned only about a week after Opening Day on April 5.
Is it possible he wasn't totally ready to return? That's not an outrageous question to ask, but we also have to hope the medical staff was completely sure he was good to go. This is a bit of a unique injury, so it's also worth considering that there's going to be some sort of adjustment period for Conforto.
But by the time this happens, the Mets may be well out of contention based off the terrible month-plus of baseball they've played overall. It would still be encouraging to see Conforto put everything together over an extended period of time, though.
After all, he's very much a part of New York's future, which could be where the organization shifts its focus to in short order.