The New York Mets got off to a great start but their season has taken a turn for the worse. Here are six reasons why.
Since the halcyon days of their 11-1 start, the New York Mets have had the worst record in baseball losing more than twice for every game they have won. After beginning a season with such an air of optimism, the proverbial air has gone out of the sails of the 2018 season.
On April 10, the Mets playoff odds had risen to a staggering 70 percent. At the end of April, the Mets had a better than 50 percent chance of making the postseason. Their playoff odds are now 4.5 percent.
A microcosm of the Mets luck right now was the opening play of Saturday night's Subway Series matchup with the Yankees. The Mets can't close the door, figuratively — or literally. Yankee leadoff hitter Aaron Hicks led off game two of the Subway Series with a double in the right-center field gap and somehow it found a hole—in the outfield fence.
The Mets had neglected a little detail like a baseball game starting and left the outfield bullpen door open. The ball found that very spot and sailed right on through. Aptly the Mets blew a three-run first-inning lead and fell to the Yanks 4-3. The three runs, however, were the most they had scored in a week.
The Mets seem disinclined to pay attention to details on the field too. Ender Inciarte stretched a routine ground ball to right field into a double during which Jay Bruce seemed unable or uninterested in holding him to a single. The Mets just seem like a group in a collective quagmire.
Thus a simple but crucial question needs to be posed: What has gone so terribly wrong with the Mets since their hot start?
Timing: When they pitch they don't hit; when they hit they don't pitch
Good teams seem to slump together and click together, somehow it just happens that way. Earlier in the year when the Mets were putting together runs, the back-of-the-rotation was scuffling. Harvey is now in Cincinnati. Matz and Wheeler have been better of late but now the offense has gone into the abyss.
Matz is pitching to a 2.68 ERA in seven starts since May 5, but the Mets have managed to win just three of those games, with Matz himself notching just one win during that span.
The Mets are 0-8 over Zack Wheeler's last eight starts. Wheeler has been inconsistent. Either really good or really bad, pitching to a 4.43 ERA since May 1, but he has put together some gems. In four of those starts, he allowed two runs or less. The Mets lost three times when Wheeler yielded a lone earned run, including a seven-shutout inning affair against Baltimore.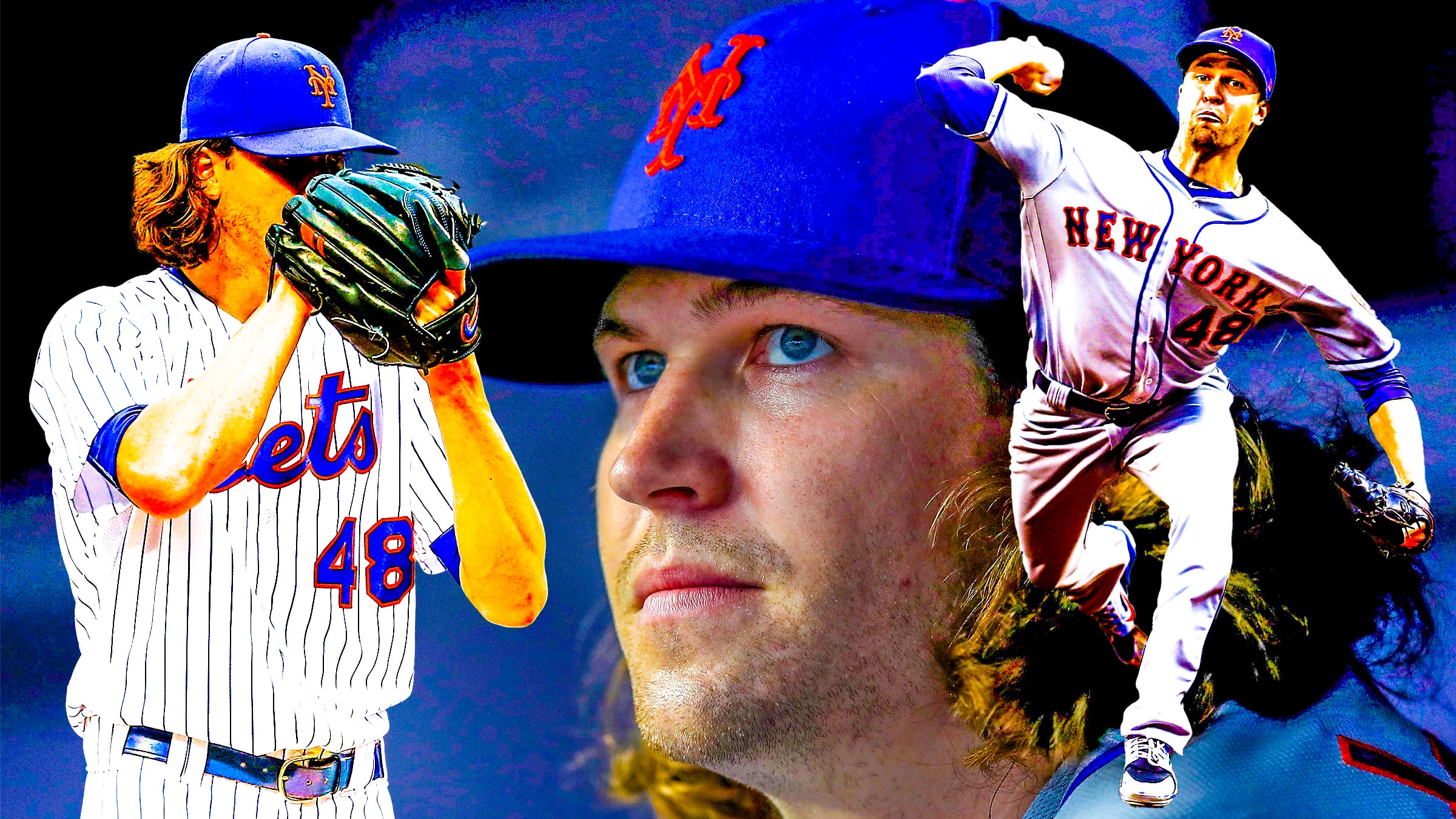 deGromination: win games your ace dominates
Samson, he is not. A shorn Jake deGrom has been plain filthy in 2018 and every bit the ace of a Mets staff that features baseball's second hardest throwing starter whose nickname harkens a Norse God. The Mets have just plain failed Jacob deGrom, who has put himself forward as a legitimate Cy Young Award contender. Jacob deGrom leads the National League with a 1.55 ERA in 14 starts. They have managed no more than a lone run in five of his starts, and nine times they have failed to provide him with more than three runs of support. Over his last 10 starts, deGrom sports an 0.87 ERA. They are 2-8 in those games.
As Andrew Simon of MLB.com notes, deGrom is the first pitcher since Randy Johnson in 1999 to make five straight starts allowing two earned runs or less over seven or more innings and have his team lose each one.
So paltry has his run support been that Todd Frazier felt obliged to personally apologize to him after their latest shutout loss to the Braves in which he gave up one run over seven innings. Said Frazier to Mike Puma of the New York Post: "I told [deGrom] after the game: 'Dude, I am sorry.' I don't know what's going on. I don't know why we're not producing for him."
Left Out: The Mets offensive futility---especially from the left side
The Mets have endured some record-breaking offensive futility. Over their last 11 games, they have scored just 15 runs on 48 hits. They are hitting .136 over that span, as noted by Michael Baron of NYM.news.
The Mets are just not hitting. Granted, they are missing their best hitter, Yoenis Cespedes for the last month but the so-called power bats that Manager Mickey Callaway has penciled into the lineup, especially from the left side haven't produced.
A team that was supposed to rely upon the home run is sixth from the bottom of the league with just 63 long balls yet can't seem to find other ways to score runs. For the season the Mets are averaging just 3.79 runs-per-game, fourth worst in baseball.
Since they were 24-19 on May 21, they have taken a nosedive, going 4-17 over the next 21 games and now sit at 28-36. Over that span, they have been outscored 95-59. As Ted Berg of For The Win points out, the Mets are averaging under three runs since May 1 and are 11-27 during that span.
Aside from Asdrubal Cabrera and Brandon Nimmo, their offensive attack has been an unmitigated disaster.
The Mets gambled that Adrian Gonzalez would return to form after signing him for the league minimum after he was jettisoned by the Atlanta Braves – and lost. Gonzalez had some good moments early on his Mets tenure and hit a pedestrian but respectable .261/.327/.415 through May and showed flashes of power. That said, A-Gon was a stopgap measure and past his prime. He had obviously become a guess hitter and could no longer catch up with a good fastball.
He epitomized the Mets offensive nosedive with a 3-27 June slump and the Mets quickly cut bait in favor of the younger Dominic Smith, who has yet to show he is a viable Major League option. He had a .658 OPS in a 49-game audition in 2017. His numbers in the hitter-friendly Triple-A PCL this season are underwhelming at best. He had a .260/.343/.370 slash line with just two long balls for Las Vegas.
While Gonzalez was a league-minimum gamble, Jay Bruce wasn't. Sandy Alderson aggressively pursued Bruce, bringing him back from Cleveland for what seemed like a reasonable three-year $39 million contract.
Year one has thus far been an unmitigated disaster. It harkens memories of late 2016 when Bruce's lack of production put then-manager Terry Collins between a rock and a hard place, as for whether to bench an established power hitter with a proven track record or go with who is hitting.
Unlike Bruce's post-trade-deadline slump, the 2018 version of Jay Bruce just hasn't looked like the same player. Diagnosed with plantar fasciitis during Spring Training, Bruce has looked slow and been completely bereft of power. The Mets were expecting numbers closer to the .256/.321/.520 he hit with the Mets prior to being dealt to the Indians at the trade deadline. Instead, they have gotten a paltry .216/.296/.328 which has contributed to them having the league's worst numbers out of the cleanup position.
Bruce's OPS is just .624 with three HR and has shown no signs of breaking out. He hasn't homered since May 8, during which time he has a batting line of 185/.265/.239.
Their other left-handed power source, ostensibly, their best all-around hitter, Michael
Conforto typified the Mets early luck when an estimated May return from shoulder surgery became an April 6 debut in which he went yard. But the euphoria, like the Mets early start, was short-lived.
Conforto, who admitted an abbreviated spring training has contributed to him picking up bad habits and his swing feeling out of sorts and is slashing just .214/.336/.353 for the season. They have even contemplated sending him to minor leagues.
On a team that was supposed to rely on the home run ball, the lack of production from the left-side and Cespedes' injury have left the Mets bereft of power.
Injuries: The Mets are missing difference makers
Plain and simple, the Mets are not the same team without two of their best players.
Noah Syndergaard remains on the shelf with a strained ligament in his finger and currently, there is no timetable for his return.
The Mets haven't seen Yoenis Cespedes for a month. Cespedes, who had a team-leading eight long balls at the time of his injury, is simply a difference maker. As has been the trend over the last couple of years the Mets are a winning team when he plays and a losing one when he doesn't. The Mets are 19-18 when he plays and nine games under .500 when he doesn't.
Closer Jeurys Familia is on the shelf with a sore shoulder, which doesn't help a struggling bullpen.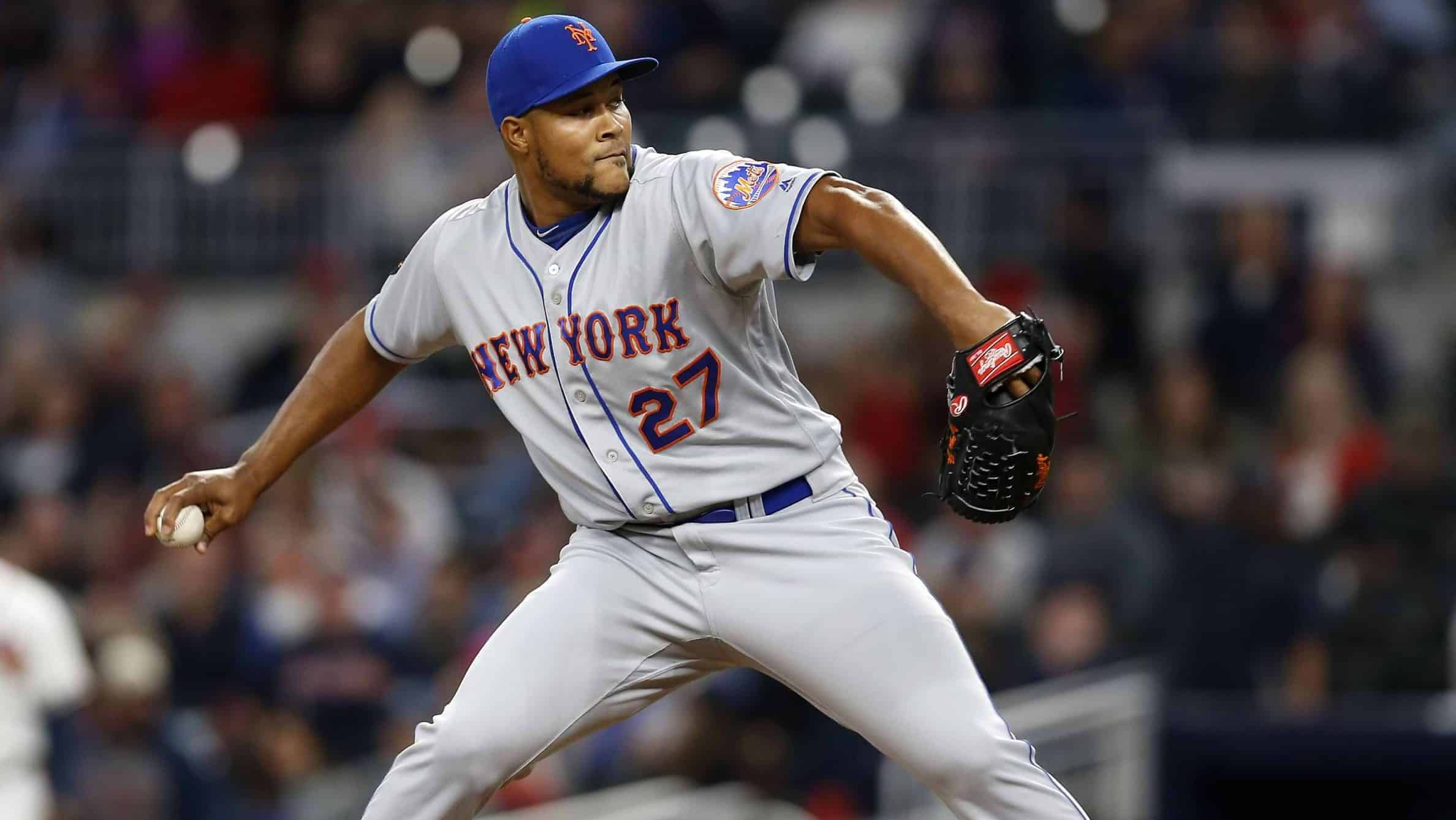 Bullpen: The Mets seem unable to hold a lead and win close games.
The Mets have lost eight consecutive one-run games and are 1-12 in games decided by a single run since May 1.
When you aren't scoring runs you can't win games without a solid bullpen. Now without their stopper in Familia and Seth Lugo moving into the starting rotation, the Mets cannot seem to finish close games. This month alone they have lost three one-run games and two two-run affairs.
While they got off to a good start, the Mets ERA over their last 17 games is an abysmal 6.67. With the Mets scoring few runs, they have been in close games on a nightly basis due to improved starting pitching. Yet when they have a lead they can't hold it.
The Mets added one, really two late-inning bullpen arms. A.J. Ramos was acquired at last year's trade deadline and tendered almost ten-million dollars. Now hurt, he was simply awful. Declining velocity and stuff have caught up to him as he always has a high walk-rate, which led to his inconsistency as a closer. Essentially the replacement for Addison Reed, an inconsistent closer who became a lights-out set-up man with the Mets.
Southpaw Jerry Blevins has struggled all season long pitching to a 5.40 ERA and allowing a .324 batting average against lefties.
Anthony Swarzak got a lot of money for a glaringly short track record based on analytics and one good season. Relief pitching is by nature an unsure business. They gave Swarzak a multi-year contract. Hurt in his second appearance and has been awful when on the field, blowing two leads with long balls in the few appearances he has made. Now the default closer it seems, it was he who gave up the home run to Aaron Judge in the Mets aforementioned loss to the Yankees on Saturday.
Management: Mickey Callaway can't seem to push the right buttons
Mickey Callaway seems in over his head. At the most basic level, he likely cost the Mets a game earlier this season when Cabrera and Bruce batted out of order in a 2-1 loss to Cincinnati. Bruce was automatically called out with runners on base, killing a potential first-inning rally. That sort of thing happens – in little league. If that were his only transgression that would be alright, but it is far from the only one.
He, unlike his predecessor who was a steadying influence in times of struggle, injury and havoc. Callaway has no solutions nor a consistent formula. He has become a tinkerer, trying to find answers where there are none and flying by the seat of his pants.
The Mets seem overwhelmed with their struggles. Callaway called a team meeting recently ago and it has had little impact. He lacks both the strategic and philosophical answers.
With the Mets desperate for a win on Tuesday, Callaway removed ace Jacob deGrom after giving up one run over seven innings and throwing just 86 pitches. He had been allowed to throw over 100 pitches each of his last five starts. While Callaway and deGrom alluded to that as a factor in pulling him, the Mets are in the midst of the nosedive and it just seems foolhardy to pull one's ace in a what was then a 1-0 ballgame.
The lineup for the Subway Series featured three different leadoff hitters. Game one featured Brandon Nimmo in the leadoff spot, where he has blossomed and probably become the Mets most productive player. The quintessential leadoff hitter in any era, he has been the Mets most productive player and best hitter of late. Nimmo promptly led off the series with a home run.
He thus decides the next night to hit Amed Rosario in the leadoff spot. In no era would Amed Rosario be considered a candidate to lead off. Yes, he's fast but is not a stolen base threat. He lacks plate discipline of any sort, with a .267 OBP,  drawing eight walks in 216 plate appearances. He hits for no power. Whether one wants an on-base catalyst at the top or the best hitters getting the most at-bats, Rosario makes no sense as a leadoff hitter.
Sunday night's game featured Asdrubal Cabrera in the leadoff spot. He has been the Mets best hitter all season long and had finally been giving the Mets production out of the cleanup spot.
His rationale for moving Nimmo down in the order to the third was to give his best hitter more RBI chances. Cabrera went deep the night before hitting behind Nimmo. Worse, it flies in the face of how he constructed a lineup to start the year, with the Mets two best hitters 1-2, Conforto and Cespedes.
While seemingly minor, it underscores Callaway's inconsistency. Agree or not with it, a good manager has a clear set of principles by which he abides and a consistent rationale. The Mets are taking a nosedive in the standings and while players win and lose games at the end of the day Callaway seems unable to steer the ship in the right direction. And it is sinking, quickly.