Making the case for goaltender Henrik Lundqvist as the greatest New York Rangers player of all-time. 
The New York Rangers are not like other teams when discussing their greatest player. There are many teams that have very easy choices: the Edmonton Oilers had Wayne Gretzky, the Boston Bruins had Bobby Orr, the New Jersey Devils had Martin Brodeur.
The Rangers are bit different.
While there tends to be a typical choice for the "G.O.A.T." of the organization, that being legendary defenseman Brian Leetch, many other fans and writers have gone as far to claim otherwise with choices such as Mark Messier and Rod Gilbert.
I would take it a step further.
Henrik Lundqvist is easily the greatest goaltender in the history of the New York Rangers. He owns most records and has been the undisputed "G.O.A.T." of Rangers goaltenders.
He is also the greatest player to wear New York Rangers uniform. Bold statement? Not necessarily.
Lundqvist can be classified as the greatest by emphasizing three criteria in particular: value, consistency and playoff performance.
Value
Value is the most valuable criteria in calling Lundqvist the greatest Ranger to ever play the game, no pun intended.
When fans look at things objectively, what help has Lundqvist had throughout his career? Yes, he had one of the greatest players to ever play this game, Jaromir Jagr, record a 54-goal/123-point season in 2005-2006, which happened the be the greatest offensive performance in the history of the franchise. Jagr would also record a 96 point season in 2006-2007.
These two great seasons were in the first two seasons of Lundqvist's career. While he had decent help then, any future offensive assistance would quickly subside as Lundqvist would never have another player score over 86 points for the rest of his career.
To put things into a glaring perspective, only two players since 2007 have scored over 70 points for the New York Rangers in a single season: they are Jaromir Jagr, who had 71 points in the 2007-2008 season, and Marian Gaborik, who had 86 points in the 2009-2010 season, and 76 points in 2011-2012 season; it has been six years since Lundqvist has had an elite producer on the offensive end.
To further exhibit this seemingly perennial offensive ineptitude, 33 players in the NHL had over 70 points this season. The Rangers haven't had a 70 point man since Gaborik in 2012.
While the Rangers have always been a team that has prided themselves on balanced scoring, truly great teams have at least one trigger man. Mats Zuccarello, a very good player in his own right, should not be your leading scorer for three consecutive seasons.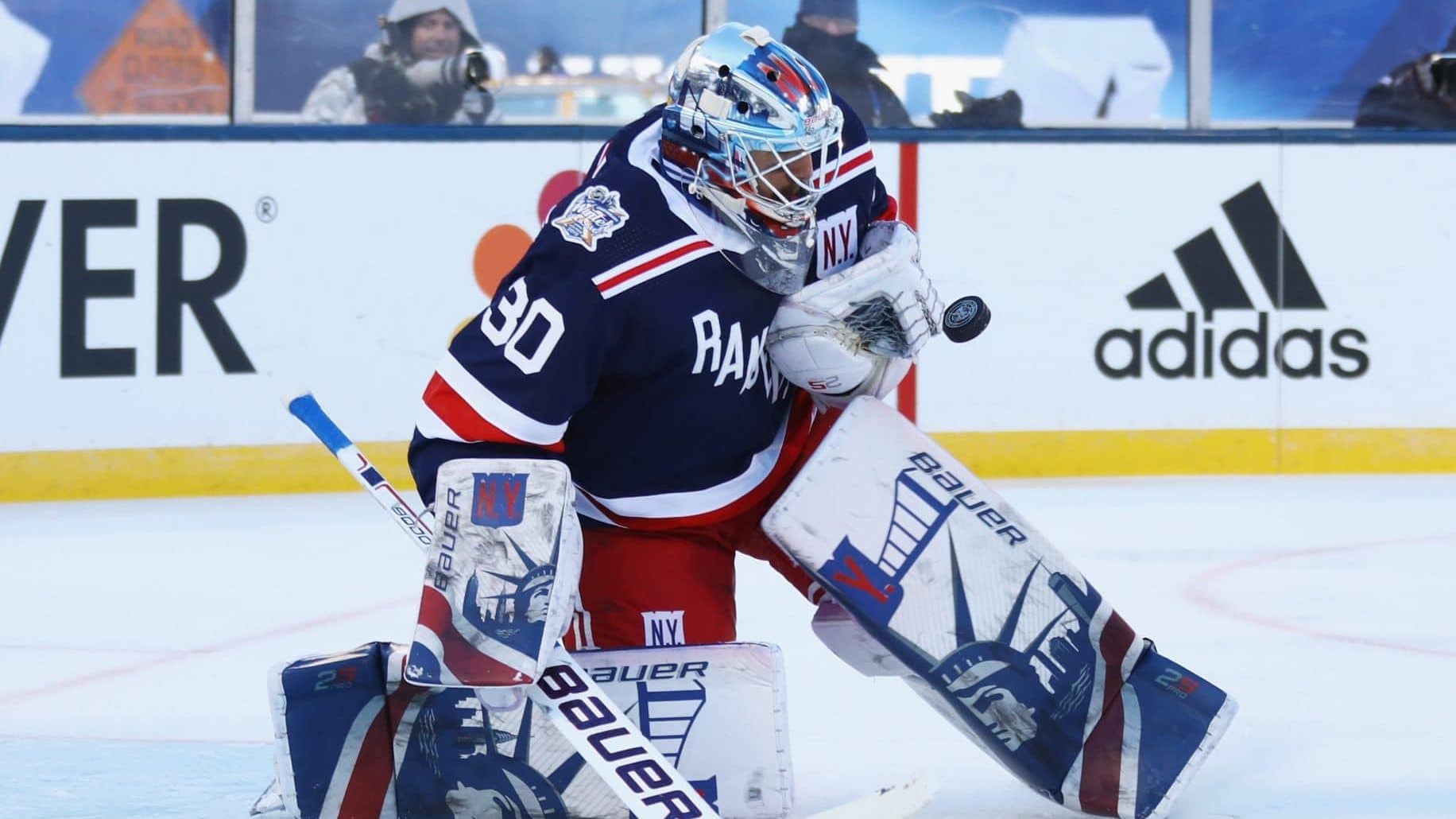 The defense hasn't been anything particularly spectacular either. Marc Staal, Dan Girardi and Ryan McDonagh have been the only Rangers defensemen to be named all-stars while playing with Lundqvist in 13 years. McDonagh is the only one of the three to be named an all-star more than once.
While not having a plethora of all-stars present doesn't mean a defense is poor, it does not help the cause. To add to this, defenseman such as Girardi, Staal, Kevin Klein and Michael Rozsival, while being decent defensemen regarding coverage and zone play, were not possession defensemen. These defensemen comprised the units that Lundqvist would play most of his career with.
What does this mean? Most of the play, game by game, would be played in the Rangers end. Not being able to get the puck out of your zone isn't particularly adequate defense.
Coupled with this, the Rangers have been laden with one-dimensional defensemen throughout Lundqvist's career. Inept defenders such as Michael Del Zotto, Keith Yandle, and everyone on this year's team come to mind.
To be concise, Lundqvist only had one elite defenseman play for him in his entire career, and that is McDonagh. The funny thing is that I'm being very, very generous. McDonagh being classified as an elite defenseman is a stretch. But, I will give it to him because of his great two-way play over the years, but I digress.
Ultimately, Lundqvist has had to endure a weak supporting cast throughout the years. With poor offenses and poor defenses, Lundqvist would be exposed to multiple scoring chances per game. Games, especially during the John-Tortorella era, would often consist of Lundqvist being peppered with shots, while his own team would put up 20 shots-per-game. The final score would usually be 1-0 or 2-1, whether it was a victory for the team or not.
There had been flashes of quality during the Alain Vigneault era, particularly in balanced scoring, but that was it.
Without Lundqvist on those teams, the Rangers are never a perennial contender.
What about greats like Gilbert, Leetch, and Messier?
Well, Leetch and Messier played together, for starters. Additionally, they had greats such as Adam Graves, Sergei Zubov, Mike Richter, Mike Gartner, Luc Robitaille, and Alexei Kovalev. Hell, they even had Wayne Gretzky.
As for Gilbert, the other common choice among fans for being the greatest to ever play the game for the Rangers, he had a variety of stars that he played with.
Players such as Jean Ratelle, Brad Park, Harry Howell, Phil Esposito, and Eddie Giacomin were among the greats to play with Gilbert. Of those five players, all of them are Hall-of-Famers.
As for Lundqvist, he has played with Jaromir Jagr, Marian Gaborik, Rick Nash and Ryan McDonagh. Maybe two of those players are Hall-of-Famers. Who else did Lundqvist have? Brad Richards?
Despite this, Lundqvist has had an incredible amount of success with the Rangers throughout the years, carrying the team on his back for most years.
Now, value alone does not prove the notion of Lundqvist being the greatest Ranger of all time. Just because John Tavares is arguably more valuable to his team's success than Sidney Crosby doesn't mean he's a better player than Crosby. We all know that Crosby is the better player.
But, it is an important factor in assessing greatness. With hardly any help over the years, Lundqvist has propelled the team to great heights. He has had to carry a greater weight than Leetch, Messier, and Gilbert ever had to.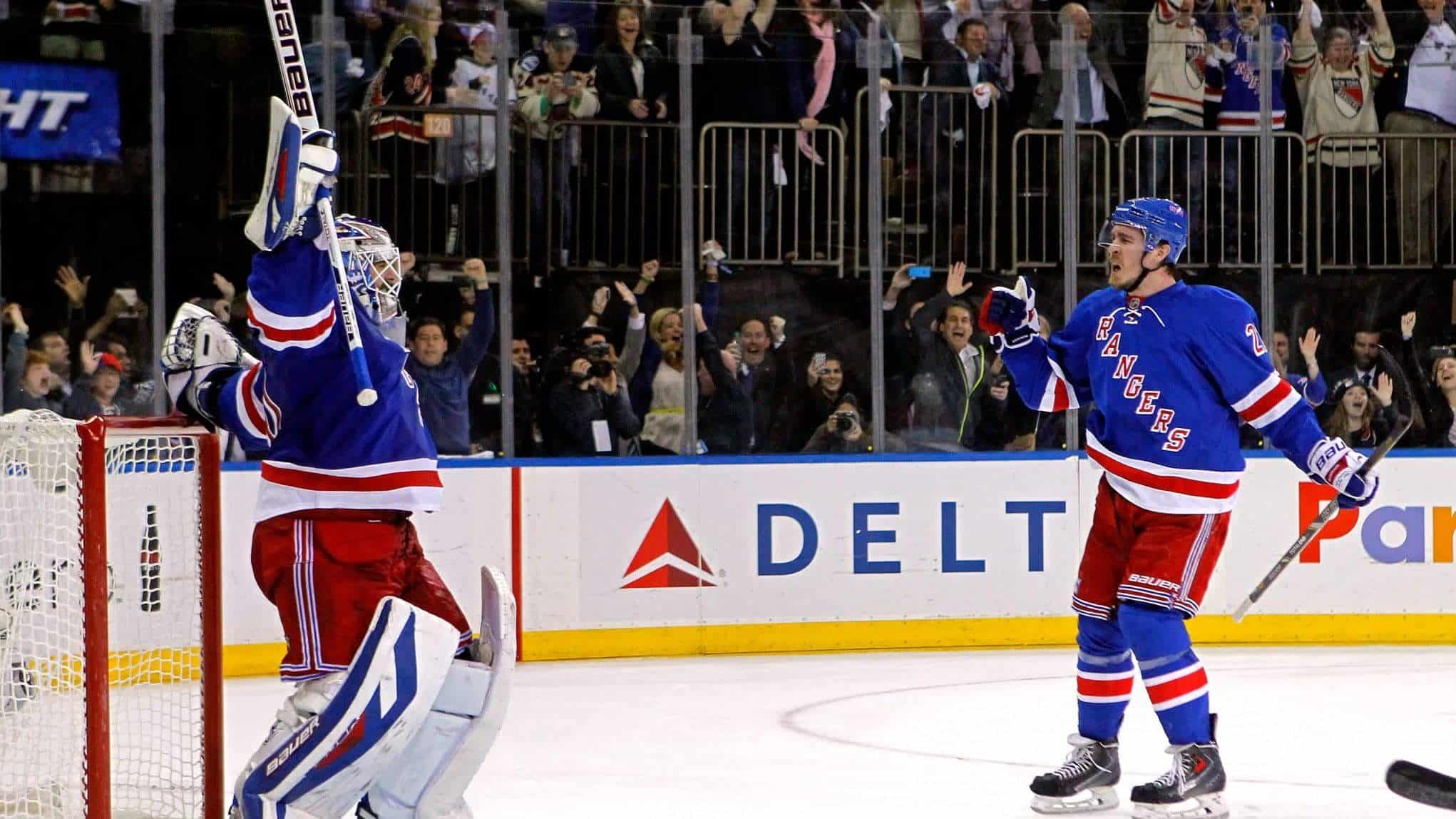 Consistency
Lundqvist has been a model of consistency throughout his entire career. In his first 10 seasons, Lundqvist had been among the top-six in Vezina Trophy voting every single season.
He has won 30 games in 11 of his 13 seasons (in the two he didn't, one was a lockout-shortened season in 2012-2013 where he led the league in wins and the other was one a season where he had one of the worst teams the Rangers have had in years).
Additionally, Lundqvist has career numbers in which he possesses a .919 save percentage and a 2.37 GAA. With numbers at that level, he has clearly been consistently elite throughout his career.
He has a decent chance of ending his career with 500 wins, a save percentage over .915, and a GAA under 2.40. He can very conceivably be remembered as a top-10 goaltender in the history of the game. He has also been the greatest goaltender of an entire generation.
Lundqvist's consistency as a great in the game rivals that of Leetch and Messier. Both put in several years of greatness in Rangers jerseys. Messier was an MVP as a Ranger and Leetch was a two-time Norris Trophy Winner with a Conn Smythe Trophy and a Calder Trophy to his name. But, could you say the all-around greatness of their teams heightened those numbers just a bit?
Maybe. Of course, Messier and Leetch were the drivers of their statistics, but it helped to have the players that they had around them.
As for Gilbert, he wasn't quite as productive until the "Goal-A-Game" line was formed. Even then, Gilbert may not have even been the best player on his own line! Ratelle, who centered the legendary line, could have an argument for being the superior player.
Playoff Production
Like Leetch, Messier, and Gilbert, Lundqvist has had remarkable playoff success. Despite his lack of a Stanley Cup, Lundqvist has proven that this deficiency is through no fault of his own. Lundqvist owns stellar playoff statistics; he has a .922 career playoff save percentage and a 2.28 career playoff GAA.
His performances in the playoffs have carried offensively challenged Rangers teams through the playoffs. Players like Rick Nash, who would put up great numbers all season, would disappear come playoff time, often leaving Lundqvist out to dry.
These performances by Lundqvist carried the Rangers to two Eastern Conference Finals and a Stanley Cup Championship.
One of his most memorable performances came in the 2014 Eastern Conference Finals, where he turned in a 1-0 shutout victory in the clincher and made one of the more incredible postseason saves to date … the remarkable blocker save.
TB to Henrik Lundqvist making a reverse blocker save in the 2013-2014 Eastern Conference Finals ??? pic.twitter.com/SFik2KoVvp

— Bar South N Celly™ (@BarSouthNCelly) July 20, 2017
He has carried the Rangers over Alex Ovechkin and the Capitals and Sidney Crosby and the Penguins numerous times.
On top of it all, he has been widely regarded as one of the greatest Game 7 goaltenders of all-time. He owns a 6-2 record in Game 7's, with a .958 save percentage in these high-stress games.
This legacy he has developed in the most important of games has earned him the vital label of being a "clutch performer."
It's hard to be held in the same regard as Gilbert, Messier, and Leetch. Messier and Leetch, in particular, shined throughout the Ranger postseason careers, particularly in the 1994 championship year. But, with Lundqvist's credentials, he can be held in just about the same regard as those other hockey greats.
Conclusion
These three factors, for me, are enough to propel Lundqvist over the greats of the New York Rangers organization.
Lundqvist's value to the organization has been unrivaled throughout the history of the New York Rangers. His consistency has been dually noted through his records in wins and his various top-six Vezina Trophy finishes. Finally, his playoff success has allowed the Rangers to have one of the greatest eras in their long history.
I feel like if Lundqvist had a Stanley Cup to his name, the conversation would be different. But for now, having Lundqvist at the top, I'd presume, will cause a bit of a stir. Not many will agree. If he had a ring, I believe that people would be far more receptive to this claim.
Nevertheless, it is what it is. Lundqvist's greatness is supported by various statistics and moments in his long tenure as a New York Rangers employee … as the greatest of Blueshirts.