Join me in celebrating Festivus, as I air my 2018 grievances following another abysmal loss by the New York Mets.
Baseball is funny. One day you are off to the best start in franchise history. Another sees you drop a game to the worst team in the American League. It's been a rough couple of weeks for the New York Mets.
First, we watched them drop a series to the lowly Miami Marlins and get pummeled by the Milwaukee Brewers. More recently, the Chicago Cubs dished out some serious payback for the 2015 NLCS, sweeping the Mets in a four-game set at Citi Field last weekend.
On Tuesday night, the Amazins' took on the Baltimore Orioles who sent Alex Cobb to the mound to face Jason Vargas. Despite Cobb possessing an ERA north of six, the Mets only managed to squeeze one run across on a Jose Bautista sacrifice fly. They dropped the contest by a score of 2-1 and if you could measure the temperature of my blood right now, it would be well above boiling.
For all my Seinfeld enthusiasts out there, The Costanza family had an interesting way of celebrating the holidays. Because Frank Costanza hated all of the commercial and religious aspects of Christmas, he invented his own holiday…Festivus.
From the metal pole to the feats of strengths, there were many interesting aspects of the very holiday that ruined George's childhood. But the most important of them all was the airing of grievances. Festivus may not occur for another six months, but as the Mets sit comfortably four games below .500, I would like to take a moment to air some of my grievances.
Another High School Gamble
With the sixth pick in the 2018 MLB Draft, the Mets selected Jarred Kelenic, an outfielder out of Waukesha West High School in Wisconsin. The 18-year-old outfielder was arguably one of the top prep school bats in the draft and seems to have legitimate five-tool potential.
Regardless of what happens, he will be a name hard pressed to forget anytime soon after dropping a cringe-worthy rendition of Demi Lovato's "Heart Attack" on us in his introductory video on MLB Network. The pick is eerily reminiscent of the selection of Brandon Nimmo back in 2011, a sentiment that Tommy Tanous, Mets director of amateur scouting, reinforced when addressing the media following the pick.
"I would say the main characteristic they both hold is they control the strike zone extremely well," reported Danny Abriano of SNY. "They know the zone. They know which pitches they're looking to hit. They, more importantly, know what pitches to take. I would say Jarred is a little stronger at the same age and has played at a little higher competition, but there are some similarities."
Here's the rub. As Newsday's Laura Albanese reported, Kelenic still has a ways to go in terms of developing his power. Additionally, we learned from Brian Sakowski of Perfect Game USA that the Wisconsin-native might be a better fit as a corner outfielder long term. Just once, I would like to see the Mets draft a center field prospect that actually projects to stay in center field. Organizationally speaking, I think this team has enough corner outfielders.
Ultimately, the Mets draft strategy was thrown for a loop when Florida third baseman Jonathan India came off the board one pick earlier, but it's hard to look into a crystal ball and predict what kind of player an 18-year-old will be at 23.
Obviously, every draft pick brings an infinite amount of variables to the equation, but you cannot ignore the fact that there is an inherent advantage in drafting players that are more physically mature. The last three high school bats the Met selected in the first round were Dominic Smith (2013), Gavin Cecchini (2012), and Nimmo (2011). Both Smith and Cecchini look as if their major league futures will leave a lot to be desired. Nimmo is finally starting to pan out at the major league level, but it took him seven years to get to that point.
I really hope we do not have to wait that long to see Jarred Kelenic producing at the major league level.
Please Let The Injury Plague Stop
Maybe Ray Ramirez wasn't the problem after all.
Despite parting ways with a trainer often referred to as Dr. Kevorkian, the Mets are still finding themselves decimated by injuries once again. Yoenis Cespedes, Todd Frazier, Anthony Swarzak, Kevin Plawecki, Travis d'Arnaud, Juan Lagares, Wilmer Flores, Hansel Robles, and Jacob deGrom have all dealt with at least one stint on the disabled list since the season began.
Is it me or is this a little bit insane? Injuries are a natural occurrence in the league, but it feels like the Mets always fall victim and are forced to field a minor league lineup.
The Mets are also notorious for mishandling their players when they go down injured. Just look at what happened with deGrom a few weeks ago. After hyperextending his elbow, the Mets expected him to be out six weeks before pivoting and saying he's fine. Then, he winds up on the DL only a few days later. This team really needs to get it together and change the way they approach injury prevention and rehabilitation.
Please Turn It Around Jay Bruce
I have one friend who is never going to let me live this down. Before Spring Training started, I strongly advocated for the Mets to bring back Jay Bruce because he represented adding a legitimate major league bat to the lineup. In 2017, he was one of this team's best hitters before he was shipped off to Cleveland. When the Mets did, in fact, sign him to a three-year, $39 million pact, I thought it was a bargain.
Turns out, I could not have been more wrong. Bruce has been abysmal in 2018. The only thing more painful than watching him labor around right field has been stomaching his lack of offensive productivity. At least Bruce isn't naive to his own struggles.
"I haven't been good this year," Bruce told Zach Braziller of the New York Post. "That's just the bottom line. There's no ifs, ands or buts about it."
Since entering the league in 2008, Bruce has averaged 27.7 home runs across 10 big league seasons. With only three on the year more than a third through the season, it feels like we would be lucky to get 12 out of him.
Pretend that Yoenis Cespedes is healthy for a moment. What incentive does Mickey Callaway have to play Bruce at this point? You wouldn't sit Conforto or Cespedes in favor of Bruce and you're not keeping Brandon Nimmo on the bench with a .421 OBP.
A .635 OPS is just not going to cut it for $13 million a year. Jay Bruce, I am begging you to turn it around so that I don't look like a complete buffoon for campaigning for your return.
Can Somebody Please Help deGrom?
Watching Jacob deGrom pitch is fun. Watching the Mets' bullpen blow a dominant deGrom outing is not fun.
There is no reason why the National League leader in ERA (1.49) should have only four wins more than a third of the way through the season. When your ace is boasting an ERA+ of 253, it is laughable to discover that the Mets are only 5-7 in deGrom starts. Sadly, this feels like Johan Santana all over again.
In 2018, the Mets have averaged 3.73 runs per deGrom start. That number could stand to be a little higher, but ultimately, the offense isn't the problem here. The Mets are no stranger to bullpen ineffectiveness and inconsistency, but it feels as if the majority of it comes whenever they are asked to back deGrom.
If this team has any hope to turn things around, they have to immediately stop wasting excellent outings from their ace. Honestly, I never thought I'd see the days where we would start entertaining trade talks surrounding deGrom, but you have to wonder if he is better served elsewhere.
If deGrom was receiving the proper support, we could be looking at a hands down Cy Young contender. Instead, we can only imagine what could have been if the Amazins' provided just a little bit more support.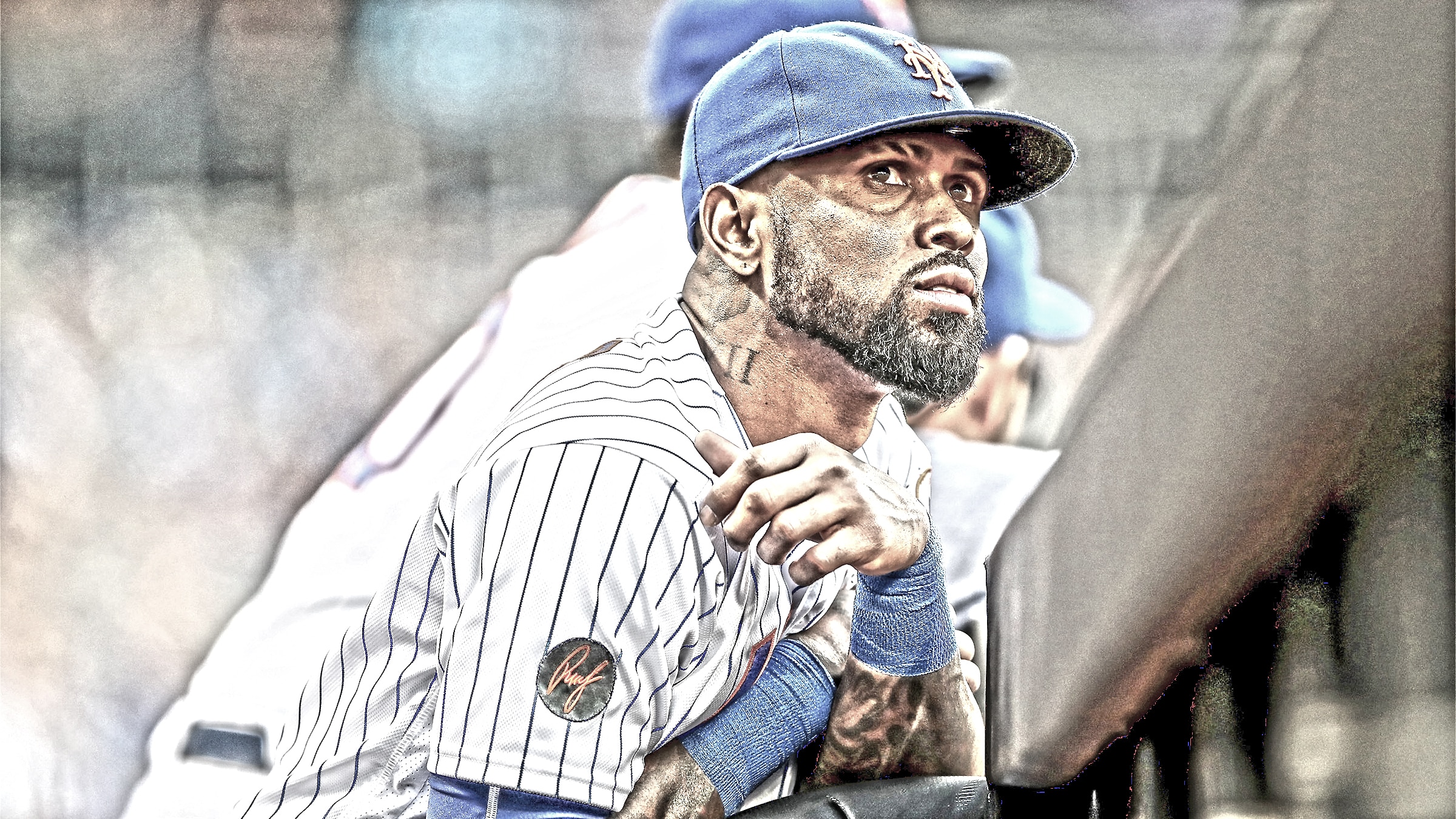 Enough is Enough: DFA Jose Reyes
Utterly ridiculous. Those are the only words I can scrounge together to sum up my feelings on Jose Reyes still being on this team's 25-man roster.
Reyes is a shell of his former self. A decade ago we had the privilege of watching Jose Reyes run the basepaths like a bat out of hell and wow us all with stellar defense at short. The 2018 version of Reyes features a guy who cannot hit for contact, hit for power, play defense, or run well. Hey, at least he still has a pretty good throwing arm, right?
With a putrid slash line of .141/.208/.197, the 34-year-old is a black hole on the Amazins' roster. To make matters worse, Reyes couldn't do the one thing this team desperately needed him to do over the past few weeks — play an adequate third base.
There is no longer any upside to having him on the bench. I admit, I truly believed that entering this season Reyes had some productive baseball left in his bones, but I am fully ready to concede that I was wrong. Cut him immediately. And for the record, no player accused of putting his hands on his wife should be welcomed to this organization with open arms.
And for the record, Festivus does not end until somebody pins me. Let the feats of strength begin. Mark your calendars for December 23.