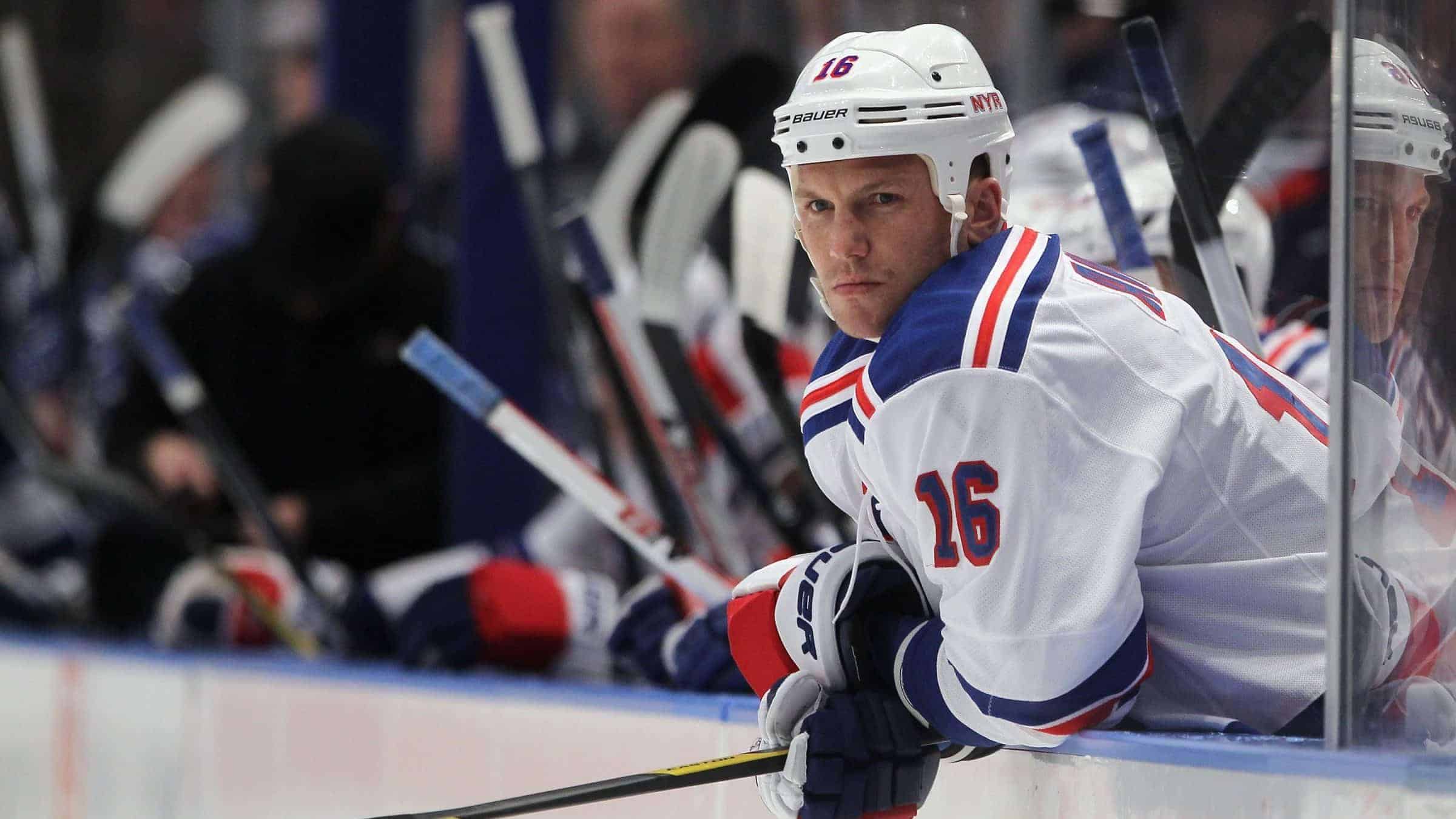 Former New York Rangers forward Sean Avery actually speaks out against Brad Marchand's licking of Ryan Callahan, calling it "dumb."
While National Hockey League (NHL) fans alike didn't appreciate Boston Bruins forward Brad Marchand's licking antics in Thursday night's Game 4 against the Tampa Bay Lightning, New York fans arguably disapproved the agitator's actions just as much as Tampa's fans.
Marchand, 29, just so happened to get it the face of former New York Rangers captain, Ryan Callahan. Yes, some of the hockey world's biggest names took to the media to speak out against Marchand's actions, but a former Rangers' agitator did recently as well.
If you don't think Brad Marchand is an embarrassment to the Boston Bruins… You're right. He's an embarrassment to the entire NHL. pic.twitter.com/NxTGxQ2xy3

— Mike Armstrong (@ArmstrongGN) May 5, 2018
One of the NHL's most controversial players over the last decade was two-time New York Ranger (2006-2008; 2009-12), Sean Avery. The former pest wasted no time commenting on Marchand's frowned upon actions, too.
"It's really stupid because it's so visible. It's much different than trash talking or slashing behind the play or whispering in a guy's ear terrible things over the course of three or four games and trying to build up that momentum of trying to get a guy off his game," said Avery to Dave McCarthy of the Sporting News.
If you're wondering if Avery ever licked another player on the ice, or thought about doing something similar during his 12-year NHL tenure, he made it clear that was never the case when attempting to get under an opponent's skin.
"No, it's the dumbest thing. It could be the dumbest thing I've ever seen in sports," said Avery, per McCarthy. "It's actually probably one of the only unwritten rules that an athlete doesn't think about crossing. I can't think of anything else. I've never seen a player do it."
It's probably not a surprise that Avery publicly didn't agree with Marchand's licking debacle, or maybe the former agitator was just disappointed he didn't think of doing it first?
Keep in mind that Avery's staple was trashing talking and borderline disrespecting not just any players, but some of the NHL's biggest stars such as Martin Brodeur of the New Jersey Devils and Joe Sakic of the Colorado Avalanche.
The "Avery Rule" was created after the undrafted forward decided to stand in front of Martin Brodeur, away from the play in the offensive zone, and waved his stick and trash talking the legendary goaltender during the 2008 Stanley Cup Playoffs. There were reports that the agitator also made comments about Brodeur's ex-wife and recent marriage problems at the time.
Similar to Marchand's recent and odd actions, it was fair to say that no one had ever seen anything like Avery's 2008 agitating antics during an NHL contest before … let alone a playoff game.
Though Avery and the Rangers did win that series in five games against Brodeur and the Devils and his agitating presence on the ice that series was a difference maker—much different than Marchand's, who finds his team on the verge of playoff elimination.
However, like Avery's fearless thoughts and actions to getting under opponent's skin, he didn't think twice about commenting about Marchand's licking as an unwritten rule that athletes don't ever think about "crossing," but should the former Ranger crossed that line with his comment about No. 63 on the Bruins?
Avery was once suspended by the NHL back in 2008 after he was quoted saying that NHLer Dion Phaneuf's girlfriend (at the time) was his "sloppy seconds."
While Avery appears to be playing it off like he was classier than Marchand, was he, in reality?