The New York Islanders are loaded in terms of representation at the IIHF World Championships. Here's how to stay on top of it all, the ESNY player tracker. 
Gold Medal Game:
Team Sweden wins Gold at the World Championship for the second straight year.
Former New York Islander Nino Niederreiter opened the scoring for Switzerland but Gustav Nyquist of the Detroit Red Wings tied it up a minute and change later.
Switzerland restored their lead on a goal from Timo Meier of the San Jose Sharks but this time it was Mika Zibanejad of the New York Rangers who tied things up for Sweden. Even at 2-2 after 60 minutes, another 20 minutes were added onto the clock for 4-on-4, sudden-death overtime.
Scoreless through overtime, the Gold Medal game went to a shootout for the second straight year and Sweden, again, came out victorious.
Former New York Islander goaltender and current Vancouver Canuck, Anders Nilsson, got the win for Team Sweden and secured Gold by stopping Niederreiter in the shootout.
Bronze Medal Game:
Anders Lee and Team USA have won Bronze at the 2018 IIHF World Championship over Mathew Barzal, Anthony Beauvillier, Jordan Eberle, Josh Bailey, Ryan Pulock, and Team Canada.
Lee scored the third goal in a 4-1 win, an empty net goal after Nick Bonino of the Nashville Predators scored with the eventual go-ahead goal with under eight minutes to go. Chris Kreider of the New York Rangers had two goals in the game, as he opened the scoring and finished it off with another Team USA empty-netter.
#MAY20 #BRONZEMEDAL #CANvsUSA
3RD PERIOD
Anders Lee into the open net makes it 3-1 USA pic.twitter.com/mkcp73rVIB

— John Smith (@NJviDs) May 20, 2018
Pulock was a healthy scratch for Team Canada and the four Isles in the lineup for Canada were not a part of the team's only goal.
At 2:15 pm EST, the Gold Medal game will be played between Sweden and Switzerland as Sweden looks to win back-to-back championships.
Semi-Finals:
It was just Team USA's second loss of the tournament but it came against Sweden in the semi-finals (6-0) and so tomorrow, Lee and Team USA will be competing for Bronze at 9:45 am EST.
Their opponent you might ask? Team Canada. Canada was upset by Switzerland 3-2 despite out-shooting them 45-17.
After Team USA and Team Canada play from Bronze, Sweden at Switzerland will battle it out for Gold at 2:15 pm EST
Quarter-Finals:
And then there were four. The quarter-finals have come to an end at the World Championship and the semi-finals will be played on Saturday.
Team Canada is moving on with a 5-4 overtime win against Russia. McDavid set up O'Reilly for the overtime winner on the power play and Eberle had an assist on Canada's first goal. They will face off against Switzerland, who upset Finland 3-2, at 9:15 am EST on Saturday.
Lee and Team USA are moving on as well after a 3-2 victory over the Czech Republic. They'll face Team Sweden at 1:15 pm EST on Saturday after Sweden defeated Latvia earlier today. Sound Tigers goaltender, Kristers Gudlevskis, backed up for Latvia in the loss.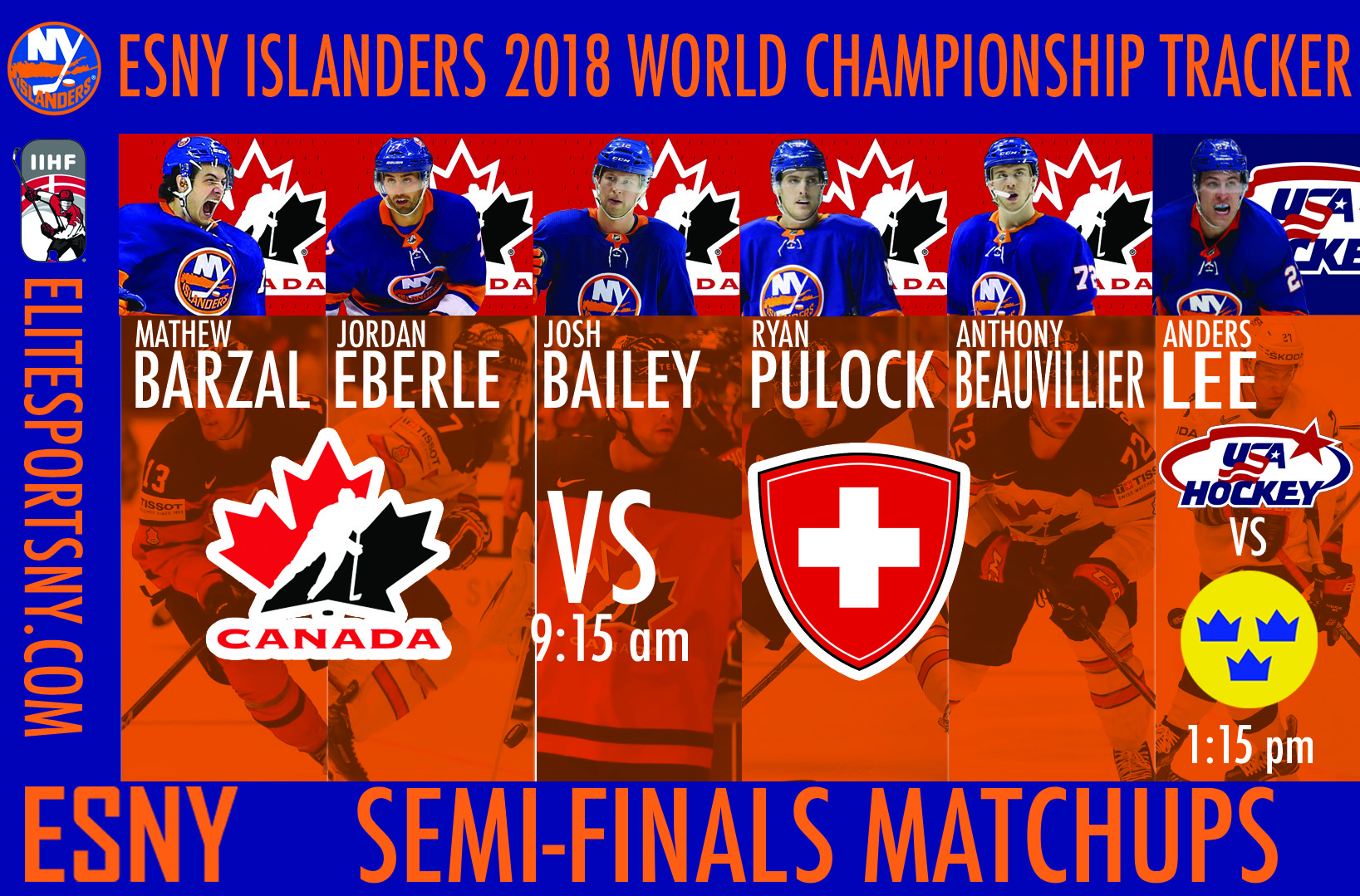 Day 12:
The preliminary round has come to an end. Lee and Team USA lost their first game of the tournament, 6-2 against Finland. Team Canada shutout Germany 3-0 which means that Seidenberg was held off the scoresheet in all seven games. Eberle got a secondary assist on Tyson Jost's goal, the third goal for Canada. After being a healthy scratch for yesterday's game, Pulock was back in the lineup for Canada.
The quarter-finals begin on Thursday as Team USA will take on the Czech Republic and Team Canada will face Russia with both games at 10:15 am EST. At 2:15 pm it will be Sweden vs Latvia and Finland vs Switzerland.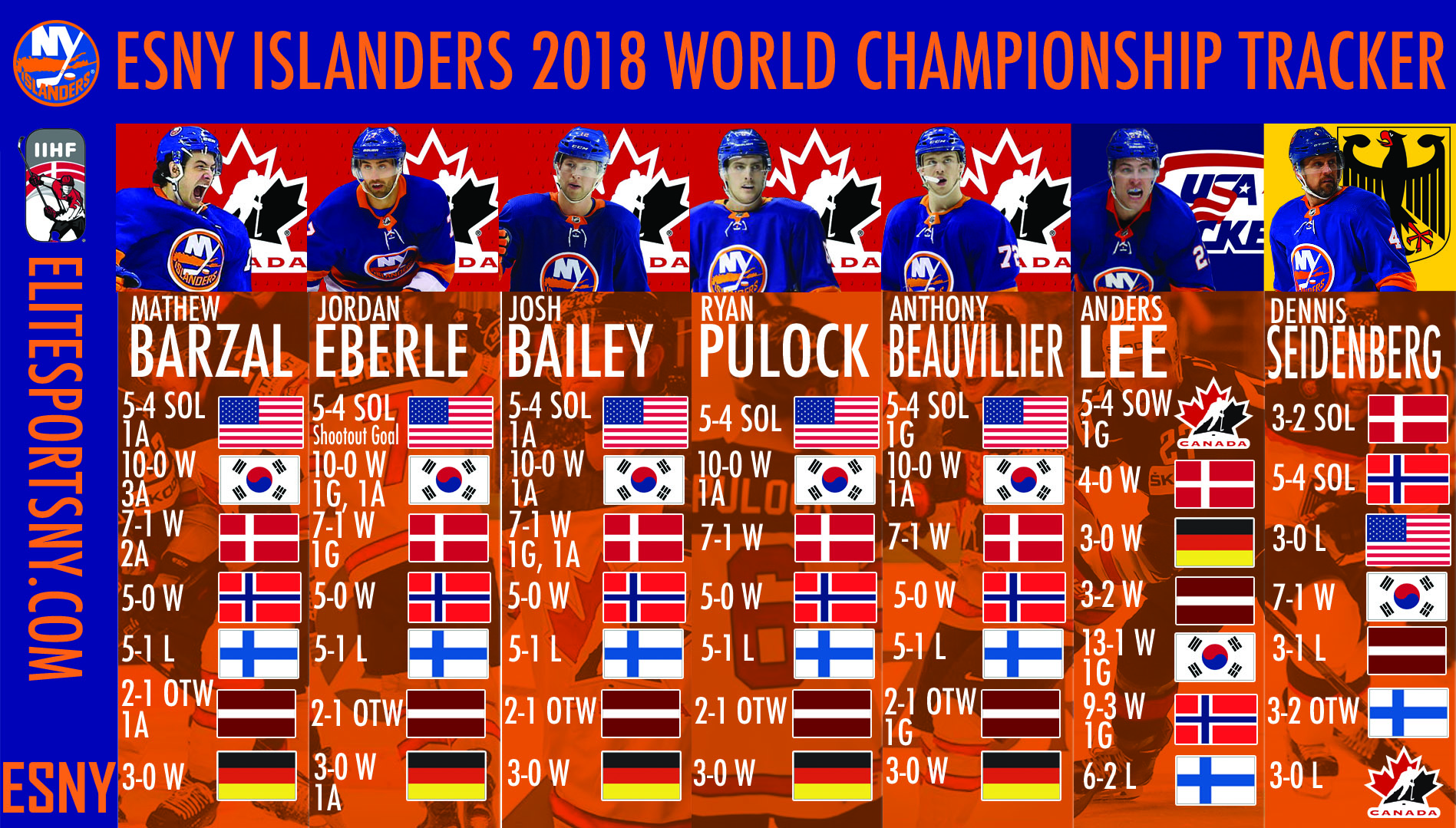 Day 11:
Despite 31 saves on 33 shots from Bridgeport Sound Tigers goaltender Kristers Gudlevskis, Latvia fell to Team Canada in overtime. Anthony Beauvillier opened the scoring with his second of the tournament for Team Canada and Connor McDavid scored the overtime winner for a 2-1 win. Mathew Barzal picked up the secondary assist on Beauvillier's goal, his seventh point of the tournament in his sixth game. Ryan Pulock did not play, an apparent healthy scratch for the game.
.@NYIslanders forward Anthony Beauvillier jams a loose puck in to give Team ?? (@HC_Men) an early 1-0 lead over Team ??.#IIHFWorlds ? #Isles pic.twitter.com/AYZwpFCkDl

— TSN (@TSN_Sports) May 14, 2018
Day 10:
Anders Lee scored his third goal of the tournament as Team USA defeated Norway to remain perfect in the tournament with just one game to play in the preliminary round.
Seidenberg and Germany won their second game of the tournament, 3-2 in overtime against Finland. There's just one game left in the preliminary round and Seidenberg is still searching for his first point.
Day 9:
The Islanders have had some pretty good days at the World Championship so far but today just wasn't one of them.
At 6:15 am EST Seidenberg and Team Germany lost 3-1 to Latvia. Seidenberg has been held off the scoresheet in all five games of the tournament so far.
At 2:15 pm EST, Team Canada faced Finland and they were handed their first regulation loss. It was the second straight game in which none of the five Islanders on Team Canada recorded a point as Canada lost 5-1.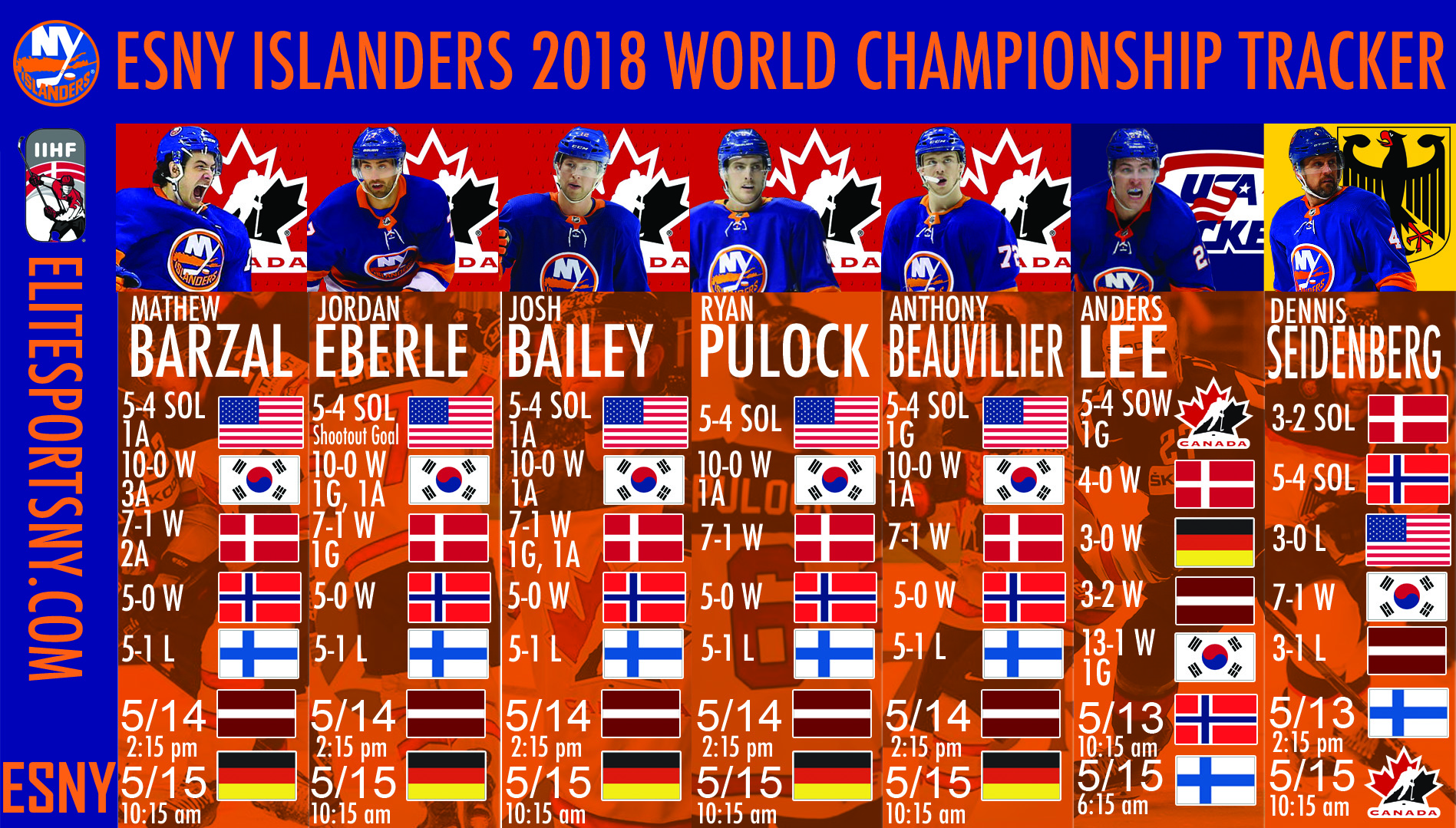 Day 8:
With a 13-1 win over Korea, Team USA remains perfect at the World Championship with only two games left in the preliminary round. Down 1-0, Lee tied the score and Team USA never looked back in another dominant win. It was a game for Long Islanders as well as McAvoy scored twice in his first game of the tournament and Sonny Milano scored Team USA's 13th goal.
Anders Lee bats it in and ties it up for Team USA 1-1 #IIHFWorlds pic.twitter.com/iVknMX5JW1

— Marina Molnar (@mkmolnar) May 11, 2018
Day 7:
Anders Lee and Team USA won yet again, but it was the third straight game in which Lee did not record a point. For their game tomorrow against Korea, Team USA will get defenseman and Long Island native Charlie McAvoy who just finished his rookie season with the Boston Bruins.
None of the five Islanders playing for Team Canada got onto the scoresheet in a 5-0 win over Norway but Connor McDavid of the Edmonton Oilers recorded a hat-trick in the win.
Day 6:
Seidenberg was the only Islander in action on day six and his team, Germany, picked up their first win of the tournament. Despite a 6-1 win over Korea, Seidenberg is still looking for his first point of the World Championship through four games. His brother Yannic, on the other hand, found the scoresheet three times (one goal, two assists) in the win.
Tomorow at 10:15 am EST, Lee and Team USA look to stay perfect in the tournament as they take on Latvia.
At 2:15 pm EST, Bailey, Beauvillier, Barzal, Pulock, Eberle, and Team Canada will face Norway.
Day 5:
There were only four games on day five and the Islanders' seven representatives played in none of them. Finland beat Norway 7-0, Latvia shut out Korea by a score of 5-0, Slovakia defeated Austria 4-2, and the Czech Republic edged Switzerland 5-4 in a shootout.
Day 4:
Day four of the World Championship began at 10:15 am EST with Seidenberg and Team Germany taking on Lee and Team USA. Both were held without a point in the 3-0 USA win in which Patrick Kane of the Chicago Blackhawks had three points (one goal, two assists).
At 2:15 pm Team Canda faced the host team, Denmark, and won in convincing fashion by a score of 7-1. Barzal had two assists in the game for a total of five through Canada's first three games. His first assist set up Bailey's first goal of the tournament and Barzal would appear to get a goal of his own, only for it to be called back for goaltender interference back when the score was only 2-0. Eberle scored the 3-0 goal that counted, set up by his former teammate and occasional linemate in Edmonton, Connor McDavid. Bailey also had an assist in the game, setting up O'Reilly to give Canada a 4-0 lead. The second Barzal assist was a secondary helper on Tyson Jost's 7-1 goal.
Day 3:
It was another productive day for the Islanders representing the team at the World Championship. All five Islanders on Team Canada recorded at least a point in a 10-0 win over Korea. Barzal had three assists and Eberle scored his first goal of the tournament while adding an assist. Beauvillier, Bailey, and Pulock each recorded an assist as well.
Seidenberg and Germany lost in a shootout yet again, this time to Norway. Seidenberg was held off the scoresheet in the 5-4 loss.
Day 2:
Anders Lee was the only Islander in action on day two of the World Championship but did not record a point despite a 4-0 win for him and Team USA over Denmark.
Day 1:
All seven Islanders took part in day one of the World Championship action and four found their names on the scoresheet by the end of it. The tournament kicked off at 10:15 a.m. ET with Beauvillier, Barzal, Bailey, Eberle, Pulock and Team Canada facing off against Lee and Team USA.
Bailey was the first Islander to record a point, getting stopped alone in front by goaltender and Long Island native Keith Kinkaid of the New Jersey Devils off a turnover. However, Bailey located the rebound and found Ryan O'Reilly for the tap in goal and a 2-0 Team Canada lead.
Then, Lee responded. On a 2-on-1 rush with New York Rangers defenseman Neal Pionk, Lee elected to snap it stick-side on Darcy Kuemper of the Minnesota Wild instead to cut Canada's lead in half.
Another two Team USA goals later and they led it 3-2, that is until Beauvillier fished out a rebound in front after the shot from Florida Panthers defenseman Aaron Ekblad got through and Beauvillier roofed over Kinkaid to tie the game.
Tied at 4-4 through regulation and overtime, the game went to a shootout and Canada sent Eberle out onto the ice to start off round two, down 1-0 in the shootout already. Calmly, Eberle went right down the middle and put the puck through the legs of Kinkaid to tie the shootout.
International rules allow for a player to go more than once in the shootout and that was the case for Cam Atkinson of the Columbus Blue Jackets. Atkinson, who had the only USA goal of the shootout, went again at the top of round six and scored to put the pressure on Canada. With that, Canada elected to go with Eberle again with hopes to extend the game but Kinkaid made the save for a 5-4 shootout victory.
At 2:15 p.m. ET, Seidenberg and Team Germany played the tournament's host, Team Denmark and Denmark won 3-2 in the shootout. Former Islander and current Detroit Red Wing Frans Nielsen scored the shootout winner while Seidenberg was held off the scoresheet.
World Championship Preview: 
The New York Islanders season will live on through seven of their players. Dennis Seidenberg will play for Team Germany at the World Championship in Denmark. Anthony Beauvillier, Josh Bailey, Mathew Barzal, Ryan Pulock and Jordan Eberle will do the same for Team Canada while Anders Lee will play for Team USA.
Here at ESNY, we'll keep you updated on how they do throughout the whole tournament which begins this Friday (May 4) and runs through May 20.
Dennis Seidenberg's second season with the Islanders definitely didn't go as well as his first. Despite being healthy all season, Seidenberg played in just 28 games, scratched in the other 54 in favor of younger players like Ryan Pulock and Adam Pelech. Even with injuries to other defensemen, the 36-year-old never became a regular in the lineup as the team continued to opt for youth and help from Bridgeport in the form of Sebastian Aho.
Last season, Seidenberg scored five times and added 17 assists for a total of 22 points through 73 games. Through his 28 games this season, Seidenberg had five points, all assists that came from three games. Seidenberg had a two-assist game in a win over the Vegas Golden Knights on Oct. 30, an assist on a Nov. 24 overtime win against the Philadelphia Flyers, and another two-assist game against the Flyers on Jan. 4 in which he received a season-high 23 minutes of ice time (a 6-4 win). Seidenberg was a -9 rating through his 28 games, a huge drop for his +25 from a season ago which was second on the team.
At the World Championship last year, Seidenberg was a point per game player with one goal and seven assists for a total of eight points in eight games. In addition, he was named the top defenseman of the entire tournament. This summer Seidenberg is set to become an unrestricted free agent and it is unlikely the Islanders re-sign him unless it is to provide veteran experience with Bridgeport.
In his second NHL season, 20-year-old Anthony Beauvillier has received and accepted his invite to play for Team Canada at the World Championship. The 2016-2017 campaign was Beauvillier's first in the NHL and he finished it off with nine goals and 15 assists in 66 games. To start the 2017-2018 season, Beauvillier looked to be on pace for similar numbers if not worse with just four goals when the clock struck midnight and the year changed to 2018.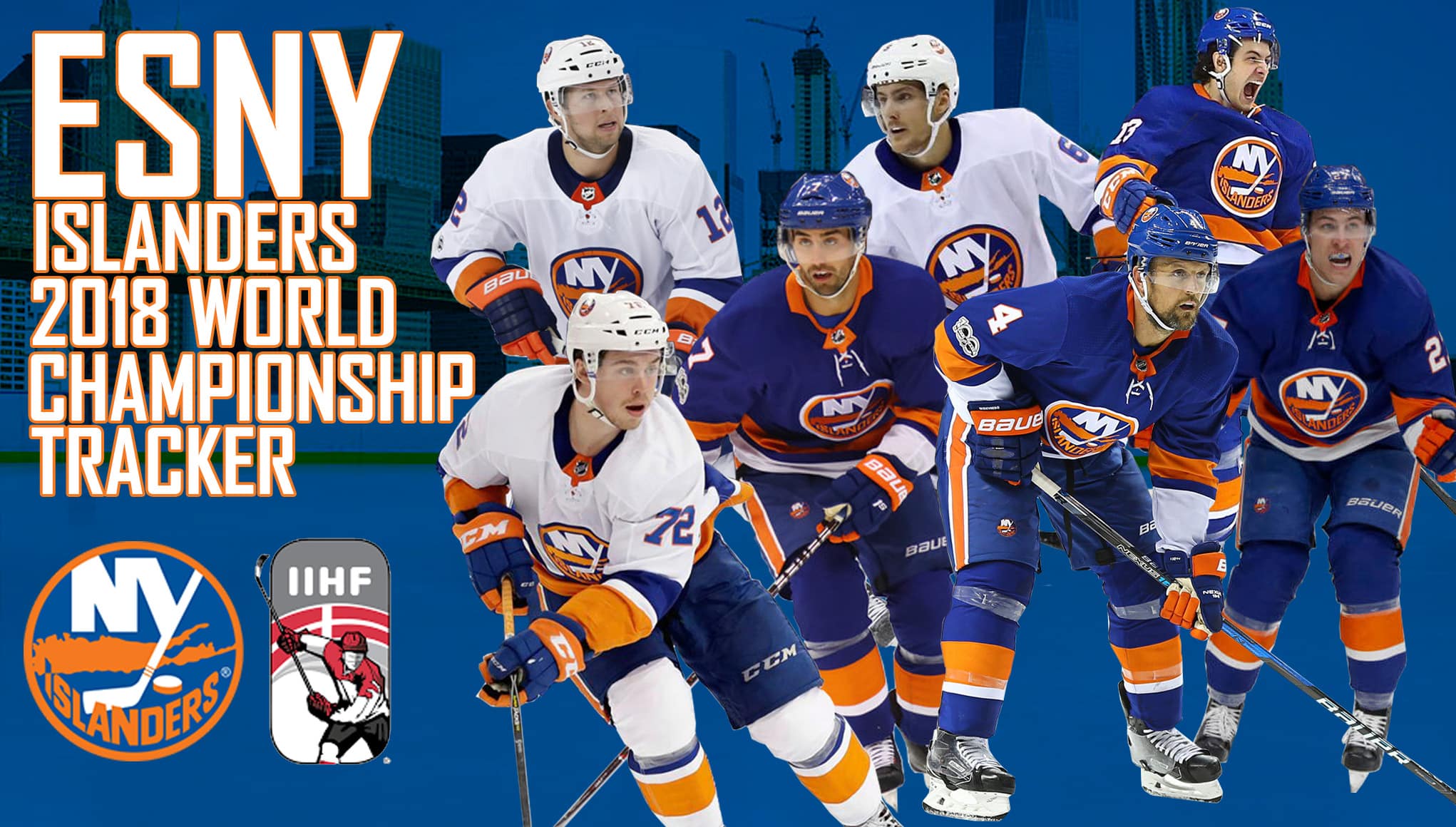 On New Year's Day, he was sent down to the AHL for the first time in his career and responded by scoring twice in three games with Bridgeport before being recalled. From that point on, Beauvillier never looked back, scoring 17 goals (the most by any Islander in the calendar year) in 40 games. Beauvillier finished off the season scoring in five of the team's last six games and with 36 points (21 goals and 15 assists) through 71 games and also started off the season on the team's third line but after being recalled from the Sound Tigers he found himself on the second line where he immediately found chemistry with Jordan Eberle and longtime friend Mathew Barzal.
It took awhile but the 23-year-old and former 15th overall pick Ryan Pulock is finally an NHL regular. At the beginning of the year Pulock often found himself a healthy scratch but once he got the opportunity to stay in the lineup, he ran with it.
In 68 games, Pulock scored 10 goals and 32 points in a mainly third-pairing role. For the most part, Pulock played alongside Thomas Hickey and also saw ice-time on the team's second power-play unit. Pulock was the guy everyone was trying to set up for the one-timer on the two-man advantage. By mid-February, Pulock averaged around 20 minutes of ice-time a night and was one of, if not the team's best defenseman over the final month and a half of the season. Now he joins Barzal, Beauvillier, Bailey, and Eberle on Team Canada at the World Championship.
So far in practice with Canada, Pulock has been paired with Thomas Chabot of the Ottawa Senators and most recently Joel Edmunson of the St. Louis Blues.
Islanders fans knew they had a special player in Mathew Barzal but 85 points in 82 games as the team's second line center? That's just insane! I don't think anyone is surprised by this invite to the World Championship as the 20-year-old dominated with 22 goals and 63 assists in his first NHL season. He led what might be the best second line in hockey with, as previously mentioned, Beauvillier and Eberle.
There's not much else to say here. It was a historic season for Barzal who for all practical reasons, deserves to be the recipient of the Calder Memorial Trophy this June, awarded to league's best rookie.
In his first season with Islanders, Jordan Eberle put up one of his better seasons. The off-season acquisition (traded from the Edmonton Oilers for Ryan Strome) played in 81 of 82 games scoring 25 goals and 59 points (five more goals and three more assists than last season). Eberle had six assists through 10 games on the first line with John Tavares and Anders Lee but before a game in Nashville, he was moved to the second line with Barzal and Andrew Ladd where he would then score his first two goals as an Islander.
From that point on, Eberle was one of, if not the most consistent performer on the team. From an international standpoint, Eberle is seen as a Canadian hero for his play during the 2008 World Juniors. In practice with Team Canada, Eberle started off on a line with Barzal alongside Ryan O'Reilly of the Buffalo Sabres but Beauvillier has since taken O'Reilly's place on that line.
Josh Bailey was the fifth Isle to accept the invite from Team Canada. It was another career-high year for Bailey in all categories with 18 goals and 53 assists (71 points) in 76 games, playing mainly on the first line with Tavares and Lee. On Feb. 23, just days before the Trade Deadline, Bailey (a pending free agent) inked a six-year contract extension with the Isles worth $30 million ($5 million AAV). So far in practice and exhibition play, Bailey has been used in a top-six role. He started off playing right-wing on Canada's top line alongside two Edmonton Oilers in Connor McDavid and Ryan Nugent-Hopkins. Most recently he has played with O'Reilly and BryaBraydenenn of the St. Louis Blues.
Anders Lee scored 34 goals in the 2016-2017 season and many questioned if he could do it again this season. He responded with 40 which led all Americans and the seventh best goal total in the league. This will be Lee's third time representing Team USA at the World Championships and last year he had five goals and eight points in eight games.
Johannes Johannesen completely missed the puck going through his legs and Larkin sets up Anders Lee to make it 6-1. That's Larkin's third point of the period. #IIHFWorlds pic.twitter.com/oRlzRcBLGJ

— Steven Ellis (@StevenEllisNHL) May 13, 2018