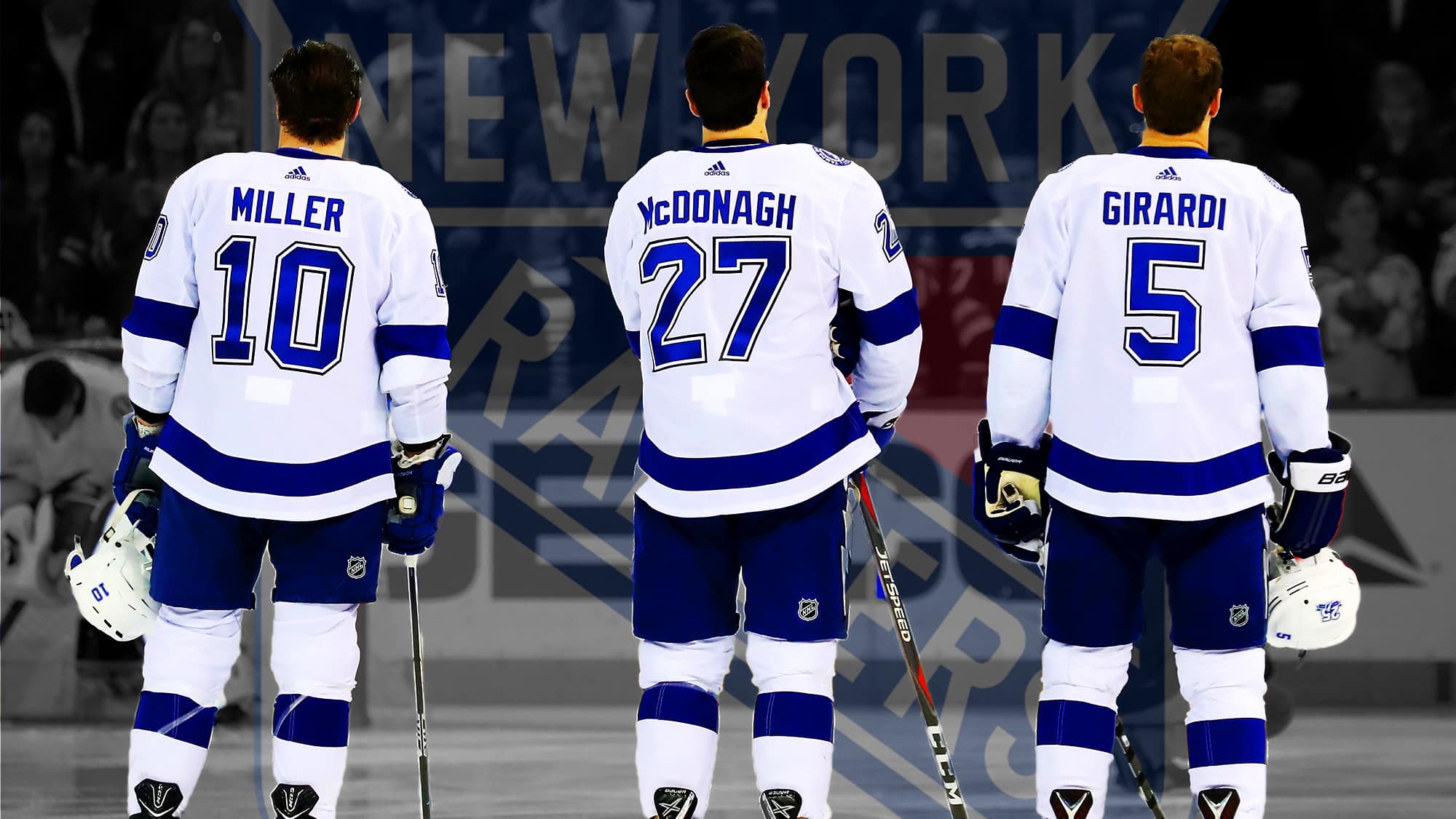 The New York Rangers organization paid tribute to Tampa Bay Lightning players J.T. Miller, Dan Girardi and Ryan McDonagh the only way Madison Square Garden knows how: in stellar fashion. 
The New York Rangers and Madison Square Garden did it again. They provided the perfect tribute.
Following the National Anthem, Madison Square Garden public address announcer Joe Tolleson asked everyone to look up at the scoreboard. It was the time to say thank you to three former players.
JT
G
Mac

We thank you. pic.twitter.com/Ol6WD3NcQo

— New York Rangers (@NYRangers) March 30, 2018
The Rangers organization displayed a video acknowledging and thanking Ryan McDonagh, J.T. Miller and Dan Girardi for their time on Broadway.
Normally with a video like this, it would be played during the first television timeout. Tonight, the organization decided to do it prior to the opening faceoff. MSG Network isolated on each player as the video played was broadcasted. It was obvious that all three were emotional as the clip went on.
When the video concluded, all three were standing next to one another in front of the Lightning bench, the three acknowledged the crowd and then seemingly a little uncomfortable took their positions on the ice as all three were starting the game for Tampa Bay.
Prior to the game, Miller spoke with Brian Engblom of FOX Sports about what it was like to return to MSG in a different color jersey after six years with the Rangers.
.@TBLightning's J.T. Miller on returning back to his former home arena, Madison Square Garden, for the first time in a different uniform. #GoBolts pic.twitter.com/562JSQduUP

— FOX Sports Florida (@FOXSportsFL) March 30, 2018
"You try to treat it like a normal game, but there are a lot of friends over there," Miller said during the interview. He went on to say "we definitely came here to get two points"
Dan Girardi was bought out over the summer by the Rangers and signed with the Lightning as a free agent. Miller and McDonagh were traded to Tampa Bay at the last minute of the trade deadline in February.
Girardi was paired with McDonagh on defense, a long-ago memory of the two who were partnered together during the 2015 Stanley Cup Playoff run.