Jose Reyes will play a new role for the 2018 New York Mets. How he adjusts is key to the team's chances of success.
Given the New York Mets notorious injury history, depth is never a bad thing. This year the Mets have it. For Jose Reyes, that means venturing into unchartered territory.
For most of his career, Reyes didn't even have to look at the lineup card. It was a foregone conclusion that his name would be penciled in at the top-of-the-order. Even after returning to the Mets, he might have had to take a gander as to where, but in all likelihood, the switch-hitting Reyes could rely on the fact that he was going to get at-bats no matter who was toeing the mound for the opposition.
Now entering his 16th year, Reyes is beginning a new phase of his career and being asked to do something he never has before: ride the pine. He will likely be a spot starter in the infield, a pinch-runner late in games and pinch-hitter.
La Melaza will have a new role in 2018: "super-sub."
With a strong infield and an exceptionally deep bench, finding at-bats for Reyes represents something of a conundrum. Veterans Asdrubal Cabrera and Todd Frazier are slated to start at second and third, while the young Amed Rosario is following in Reyes' footsteps, having been given the reins to shortstop at age-20.
Reyes gives the Mets a unique element. Even entering his age-35 season, Reyes brings athleticism and speed that can change the course of a game on a dime. Last year, the departed Curtis Granderson and Michael Conforto shared leadoff duties, neither of whom are threats on the bases.
Reyes gives the Mets their only prototypical leadoff hitter with speed at the top of the order, if Mickey Callaway chooses to bat him there when he is in the lineup.
While his days of stealing 60 or 70 bases are over, Reyes still represents a legitimate threat on the bases. His legs can still impact a game. In 2017, he swiped 24-of-30 bases and has swiped bags at an 80-percent success rate since coming back to New York, right in line with his past several seasons. Since his age-30 season, he's swiped bags at an 82-percent (102-for-124) success rate.
Reyes is part of a strong, deep bench, even with backup outfielders Brandon Nimmo and Juan Lagares likely to platoon in CF with Conforto not expected to play until May.
Wilmer Flores, who is sharing backup infield duties with Reyes, demands playing time. Callaway and the Mets brass seem determined to get him at-bats against lefties somehow, even experimenting with playing him in the outfield. Last year, Terry Collins did likewise with Reyes – he saw two games in the OF – but that has not been mentioned this year.
Flores is likely to be in something of a platoon and see at-bats against lefties.
Reyes, more than Flores, has never been a bench player. Reyes may be in for more of a playing-time squeeze than Flores, given that Cabrera is also a switch-hitter and Rosario is likely to play nearly every day if he's healthy. Flores will also likely see the bulk of the 1B at-bats against lefties.
Last season as a sub, Reyes was just 3-for-19. Pinch hitting is not something that he is adept at either. In 2017, Reyes was just 2-for-11 as a pinch hitter. In his 14 other big-league seasons, Reyes has pinch-hit a grand total of just eight times.
Unlike Flores, the switch-hitting Reyes doesn't really profile as a platoon-type player; at his best he hits both lefties and righties. His splits are relatively even, with a slight edge against southpaws. Reyes' career numbers are .283/.332/.427 as a left-handed hitter compared to .294/.349/.440 right-handed.
Last year, however, he enjoyed a decided advantage from the right side of the plate, with a .267/.343/.500 batting split as a righty, to only a .239/.306/.386 lefty slash line. If that repeats, that creates more of a conundrum given Flores' differentials and role as lefty-masher.
How many at-bats and where Reyes will see time is awfully dependent on performance and health. So far, he has seen time at second base, third base and extra time at SS, with Rosario being held out with a sore left leg. While that injury is not considered major the Mets are being cautious early in camp.
The Mets health around the infield, and moreover their performance, will dictate how many at-bats Reyes gets and when. If someone goes down, Reyes will likely step in, but if everyone is playing optimally he will find himself the victim of a squeeze.
Of course, Reyes' own performance will dictate that. If we see the Reyes of the second half of last year, with numbers in line with his spectacular career, he might force Callaway to find at-bats for him.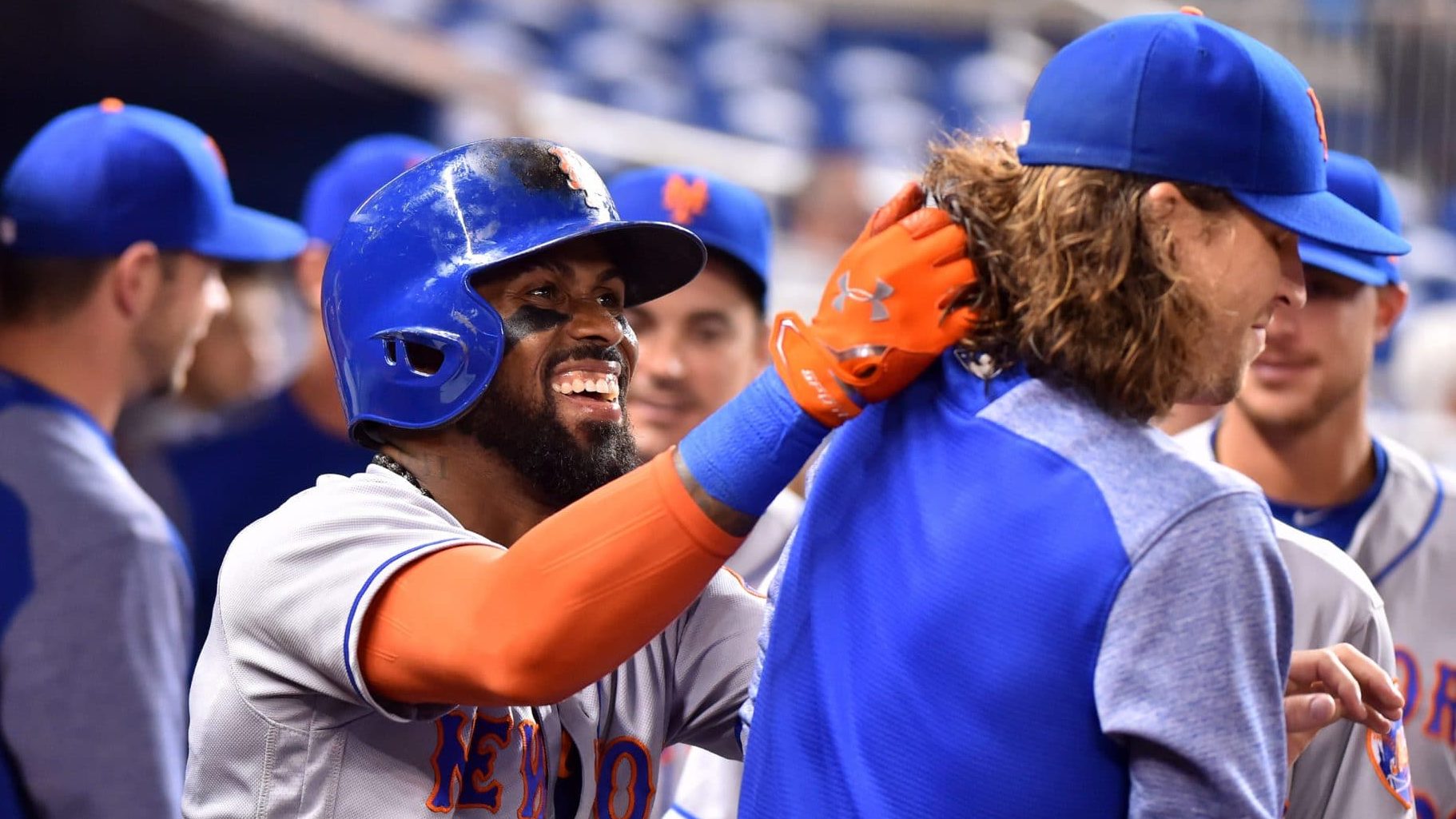 Reyes got off to an awful start in last year but finished in spectacular fashion.
Reyes first half: .215/.284/.370
Reyes second half: .288/.356/.472
If he gets off to a start similar to that of 2017, he'll likely ride the pine.
Irregular play is not something Reyes is used to or has had to deal with. While pinch-running will keep his legs going, the question is how to keep his bat sharp, and whether will it suffer if he plays sporadically. That remains to be seen. Often these things work themselves out.
Can Reyes adjust to not getting regular at-bats and coming into games late as a pinch-hitter and/or runner? That's not an unimportant role, especially in today's game where managers make multiple pitching changes.
A switch-hitter that can come off the bench and get a big hit and supersede managerial machinations to negate an advantage is a boon for any club.
If Reyes can master that art, he will thrive in his new role as a proverbial super-sub.