Mickey Callaway and the New York Mets have to give Wilmer Flores a chance to play, even against right-handed starters. The question is, where?
"He can play center, right, left, third, short. Boy, that kid is something, he is everywhere," said Vin Scully about Kevin Mitchell, whom the New York Mets nicknamed "World" for his ability to play anywhere in 1986.
Hopefully, Gary Cohen will utter similar sentiments about Wilmer Flores in 2018. Well, sort of.
The 2018 Mets have a good problem with depth, which is something they've severely lacked in recent years.
Wilmer Flores' bat got him to the major leagues and is ultimately what puts his name on the lineup card. His bat has always warranted him playing time, but the question is often where in the field he could be best utilized. Flores has established himself as a juggernaut against southpaws.
History and numbers prove that to be an impact bat Flores needs to play against lefty starters—and get enough at-bats against righties to keep him sharp. The question has always been, "Where?"
Being strictly a platoon player doesn't suit Flores, and even that may not come to pass with the amount of depth the Mets currently possess. He has likewise never been suited to irregular playing time. Entering his fifth year in the majors, it looks like the Mets are experimenting with finding different ways to get Flores' ample right-handed bat in the lineup, especially against left-handed pitching.
Flores has now added an outfield glove to his vast collection. New manager Mickey Calloway has said that Flores will spend some time learning how to play the corner outfield positions as a vehicle to find him additional at-bats.
The Mets have an exceptionally strong and deep bench, especially on the infield. Flores and Reyes are both penciled in as utilitarian backups, each warranting a share of playing time for the unique elements they bring. In Reyes' case that is speed and athleticism; in Flores' case, that is his uncanny ability to hit left-handed pitching.
Where to play Flo has been an issue ever since he signed with the Mets as a 16-year-old in 2008. In trying to find him a position, Flores has become a versatile albeit shaky gloveman.
After initially playing shortstop through A-ball, he was seen as too big and slow for the shortstop position. The Mets tried to find the position for which he was most well-suited. Flores spent time learning to play second, third and even a little first base as he came up through the Mets system, before moving back to short in an ill-fated experiment during his first full season of big league action in 2015. Last year his first-base glove reemerged.
Never fleet of foot, his glove has always been a question mark but his prowess from the right side of the plate has always found him a spot somewhere on the diamond, especially against tough left-handed pitching. As the roster is currently constructed, finding Flores his requisite share of at-bats may be the issue.
That said, as they found out last year, health is precarious in the big leagues. Though the Mets have made that a point of emphasis, one never knows who will remain on the field.
While he has been known to wear down playing daily or against tough righties as he did in 2015, Flores' history shows he is most effective when getting regular playing time. Flores is not ideally suited to be strictly a part-time player.
Two years ago is a perfect microcosm of how Flores thrives when used optimally.
2016 was essentially the tale of two seasons for Wilmer Flores. To begin the year, the Mets had four firmly entrenched starters on the infield and saw few left-handed pitchers. Through June 2, Flores started only 15 of the first 52 games and was limited to 66 at-bats. He hit just .167 with 1 HR, 2 RBIs, a .267 slugging and .509 OPS.
Thereafter, with David Wright on the shelf for the remainder of the season, Flores began to see regular playing time, especially against left-handers. He hit .291 with 15 HR, 47 RBIs, a .518 slugging and .857 OPS, playing 80 of the last 110 games, mostly at first, second and third base.
Last season was Flores best all-around year. Again, he was used optimally.
Though he got off to a slow start, with just 1 HR and 3 RBIs in April, after a stint on the DL he excelled, hitting .282 with a .824 OPS from his May 3 return to the end of his season. Overall, he hit .271 with 18 HR, 52 RBIs and a .795 OPS. Flores was about a league average (102 OPS+) hitter with pop against righties – in 233 AB he hit .262 with 11 HR, .459 slugging and .765 OPS.
Against lefties, he was a force, with a 127 OPS+. In 103 AB, he hit .291 with 7 HR, a .553 slugging and a .862 OPS.
The one constant Flores has always had as a hitter is little plate discipline, walking just 17 times.
He played in 110 of the Mets first 135 games before a foul ball to the face ended his season prematurely. A fixture in the lineup against lefties and sometimes sitting against tough righties, Flo received semi-regular playing time to stay sharp. Jose Reyes' early struggles earned him playing time at third early on, then injuries and trades seemed to usually accord him a spot in the lineup.
This season is different.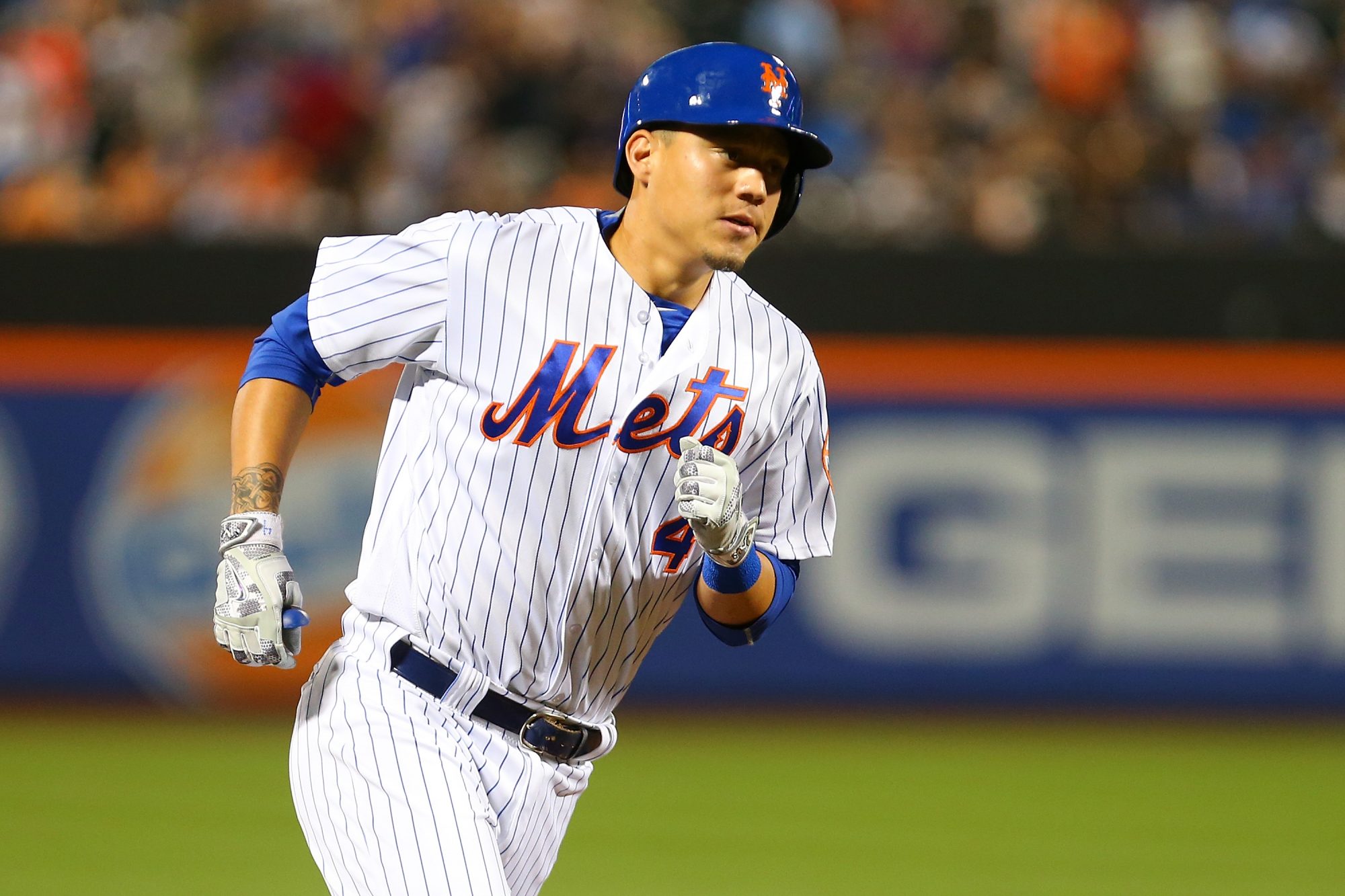 The Mets seem to have three penciled-in starters on the infield: Todd Frazier at 3B, Amed Rosario at SS and Asdrubal Cabrera at 2B, with veteran Adrian Gonzalez a decided favorite to win the first base job.
Gonzalez has always been an everyday player until his injury-plagued 2017. If a semblance of his former self, he is a dominant force against righties but also hits lefties. A career .297/.371/.519 hitter against right-handed pitching, he still slashes .270/.332/.419 against southpaws.
However, Gonzalez is also no sure bet to hit consistently and stay healthy in this his age-35 season. Last year he struggled mightily with just 3 HR, a .355 SLG and .642 OPS. That said, it was an injury-marred season, limited to just 236 plate appearances. He spent portions of 2017 on the DL with a bad back before losing his job in Los Angeles to breakout rookie Cody Bellinger.
The plan is for Gonzalez to start with Dominic Smith waiting in the wings, but Smith is slated to start the year in the minors and already tardiness and injury have hampered him early in camp.
A lot depends on Gonzalez, an unsure commodity going into 2017. If he returns to form, the five-time All-Star could hit enough to warrant everyday play.
First base, however, seems the most logical vehicle to accord Flores the necessary at-bats against left-handed pitching. The most likely scenario is Gonzalez sitting against most lefties with Flores donning the first-base mitt. Flores provides insurance, given Gonzalez' down year in 2017, and may very well earn at-bats in some semblance of a platoon situation.
Flores could even see more time if Gonzalez doesn't hit. However, starting southpaw hurlers are few and far between, and at present, there seem to be few obvious paths to regular reps for Flo.
Frazier was brought in as a free agent to slug against lefties. Frazier owns a .513 SLG and .836 OPS for his career against southpaws. Despite his prodigious power against southpaws, he did hit just .207 last season but is unlikely to sit. Against righties, however, he struggled, hitting with a .388 slugging and .215 average, though he did get on base at a .348 clip due to a career-high walk rate.
Flores could overtake Frazier if he struggles against righties. Shortstop Amed Rosario is penciled in as the everyday shortstop of today and the future. He is likely to play virtually every day unless he struggles mightily. Reyes, given his experience at short, is the natural backup.
Cabrera, slated to play 2B, himself moved over from short and can also play third. A switch-hitter, like Flores he hits lefties exceptionally. He hit .392 and slugged .512 with a .946 OPS against southpaws in 2017 and has an average and OPS about thirty points higher against lefties than righties for his career. Reyes is more suited to second and at this stage in his career is his primary position, so while depth is a good thing, it may be difficult for Flores to see any time at 2B.
Reyes is also a factor off the bench, forcing Calloway to find creative ways to find time for both Flores and the switch-hitting Reyes, who is being asked to be a part-time player for the first time. Injury aside, his name has been penciled into the lineup daily for the entirety of his 15-year career. Reyes warrants playing time if he picks up where he left off in 2017.
During the second half of last season, the switch-hitting Reyes made up for his awful start with a .288 BA, a .472 SLG and .828 OPS in the second half, proving he could still be an impact player. He also swiped 24 bags while being caught only six times, showing in his age-34 season that he is still a force to be reckoned with on the base paths. He is the Mets' only legitimate stolen-base threat.
That's where the Flores outfield experiment may come into play. The plan seems to include him taking fly balls and possibly seeing spring action in the outfield.
It is Flores' bat, though, with which the Mets are concerned, if he can manage to catch what is hit to him and without embarrassing himself. That is not a foregone conclusion: see former Mets opening day LF Daniel Murphy. It's early but if it can get him the at-bats that will keep him sharp, it is worth a try. Flores has shown the ability to move around the field and adapt to new positions.
Cespedes is going to play every day—if healthy—in left. Lefty Jay Bruce, while far less prodigious against southpaws, is the Mets everyday RF, all things being equal.
Bruce could get the occasional breather against tough left-handers to make room for a spot start for Flores in the outfield, especially if the Mets have a righty on the mound.
Early in camp, Bruce has been hindered by minor plantar fasciitis, generally, a chronic type injury that worsens with use and notes monitoring. Cespedes himself is dealing with a mildly sore wrist.
The injury bug has hit the Mets hard over the last few seasons, and came to a head last year, with multiple impact players missing significant time. It is often health that dictates how much playing time bench players are given. In the case of the Mets, they are indeed well fortified on the infield.
Sometimes injuries and performance have a way, like in 2017, of working issues of playing time out, but as it stands Flores finds himself in a squeeze for playing time. A good problem to have, one hopes that Flores forces his way into the lineup somehow, as has been his tendency throughout his career, especially when a pitcher wears a glove on his right-hand.