With the New York Mets bringing Jason Vargas into the rotation, they should use Zack Wheeler to bolster their bullpen.
After the New York Mets signed left-hander Jason Vargas to a two-year, $16 million deal on Friday, manager Mickey Callaway now has more depth in the starting rotation and a good innings-eater to help a staff that has dealt with its fair share of injuries. With a competition now in Port St. Lucie for the fifth starter's spot, it begs the question: who will be the odd man out?
If everyone is fully healthy—a big "if" for the Mets—the pitcher that might be the best fit for the bullpen is right-hander Zack Wheeler. Wheeler only made 17 starts last season due to injury and he has gone through interesting procedures to try to stay healthy this season:
Zack Wheeler told the New York Post he has spent the last six months injecting a bone growth drug into his stomach, daily, in an attempt to prevent injury.

But yes the Mets definitely have enough starting pitching depth.

— Anthony DiComo (@AnthonyDiComo) February 12, 2018
Since Wheeler is three seasons removed from throwing 100 or more innings (185.1 in 2014), it would make sense to shorten his workload in an attempt to keep him healthy by making him a reliever. At spring training on Friday, Wheeler was asked about the Vargas signing and did not seem to happy about it if you looked at his facial expressions.
Wheeler focused on starting, not worried about potential move to 'pen https://t.co/IWfKBzMBhz pic.twitter.com/nsMWQl2NFG

— SportsNet New York (@SNYtv) February 16, 2018
At this point, the Mets need to find a way to maximize Wheeler's value, as he is under team control through 2019. If Wheeler can succeed in the bullpen, then there is still a chance he can earn big money because of the way teams are placing high values on relievers.
Unlike Steven Matz (coming back from an elbow injury), Seth Lugo, and Robert Gsellman, Wheeler can still bring the fastball out of the 'pen. Last season, the average velocity on his heater was 94.6 miles per hour (according to Fangraphs). He also used his slider more than he ever has before, setting him up for a solid fastball/slider combination that many relievers use.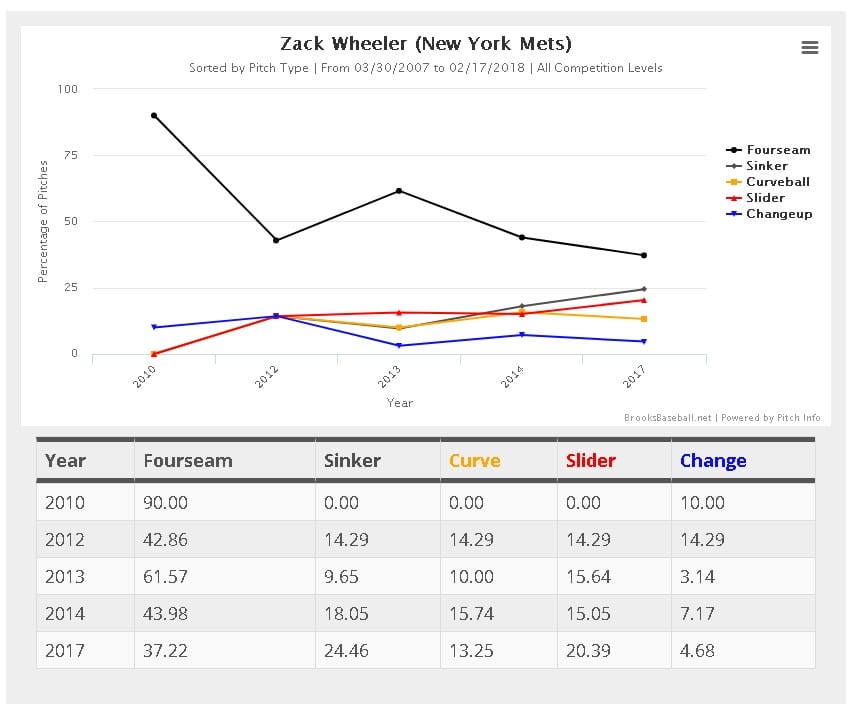 Now, the Mets have a strong duo at the back end of games with A.J. Ramos and Jeurys Familia, even though Callaway won't name a set closer for this season. They have Jerry Blevins, who can get both lefties and righties out as well as a new right-hander in Anthony Swarzak. But, what can set the Mets bullpen apart is finding something the Yankees found last year.
It may be a stretch right now, but what is stopping Wheeler from being the Mets' version of Chad Green? Last season, Green was a key part in the Yankees bullpen as a former starter and New York wouldn't have made it to the ALCS without his contributions.
If you look at Wheeler's numbers in the first inning last year, he showed better command as he had 25 strikeouts to just five walks. Those 25 first-inning Ks were the second most in the Mets rotation behind Jacob deGrom's 43. With that being said, the batting average against was high (.314).
As for how Wheeler did the first time going through the order, teams hit .237 against him last year and struck out 40 times. Back in 2014, that number doubled as he struck out 80 batters in those situations in a full season. As for the second time he faced hitters, he struggled big time in 2017 (.311 average).
The fact of the matter is that Wheeler has to prove to the fans, the coaching staff, and the front office that he can stay on the field and make 30 starts in a year before he is guaranteed a spot in any rotation.
Callaway and the coaching staff should give Wheeler every opportunity to win a rotation spot, but he has to be behind Matz, Lugo, and Gsellman if we were handicapping the rotation battle right now. Of course, there is always the option that Wheeler could be sent down to Triple-A Las Vegas. He does have two minor-league options left according to Roster Resource.
Wheeler may not like it if the team puts him in the bullpen at first, but he would have the chance to make an impact on a playoff contender in that role. Plus, you never know what kind of doors could open in the future for a player that will be 28 this May.